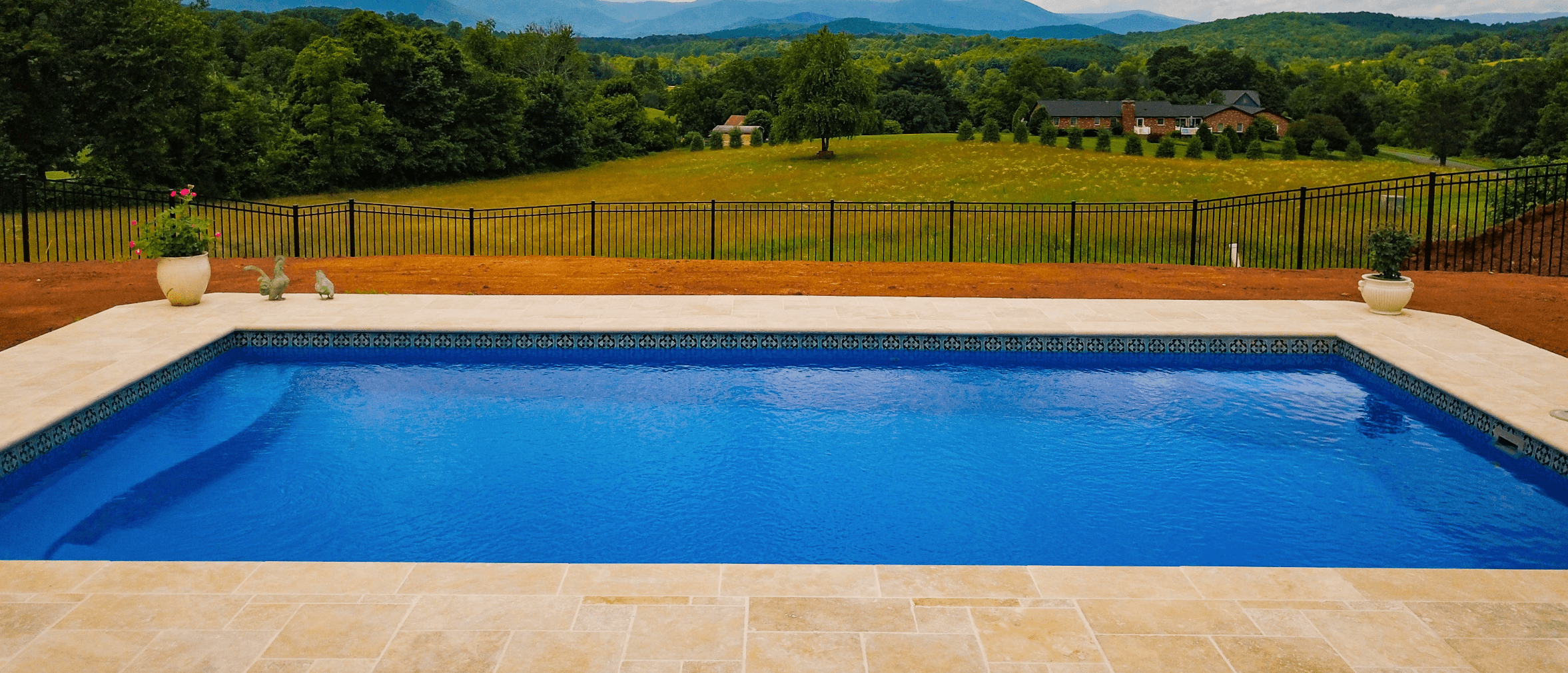 Subscribe
An Honest Look at Fiberglass Inground Pool Prices and Monthly Pool Payments in 2021
Fiberglass Pool Information | Cost and Pricing
We say this a lot, but buying a pool is kind of like buying a car.
If we've saved enough for the car, we can pay for it all upfront.
Most of the time, we make payments until it's paid in full.
So, chances are, when you get quoted for an inground fiberglass swimming pool, you're not getting the number that's going to apply to your day to day life: the monthly payment.
At River Pools, we manufacture and install fiberglass pools for customers across North America, and we have seen a wide range of financing options.
While you could use a pool payment calculator (like this one) to calculate your hypothetical monthly payment, we decided to do some of the work for you to help you get started.
In this article, we're throwing in some possible scenarios that you may encounter, and we're giving you a broad overview of what your fiberglass inground pool prices and monthly pool payments could be based on the size of your pool, your pool package, and your pool loan interest rate.
So, how much is a monthly pool payment?
A fiberglass pool typically costs between $40,000 and $85,000, and the average interest rates on pool loans fall between 5% and 10%. To give you an example, if your pool costs $50,000 and you get a loan with an interest rate of 8% over 84 months, your monthly payment should be around $775.
However, your monthly payment can vary widely depending on the size of your pool and the interest rate of your loan, so keep reading to see some variations. We hope that by the end of this article, you'll be able to figure out which pool size and installation package will work best with your monthly budget.
Let's start by briefly breaking down some fiberglass pool costs and package options.
Fiberglass Pool Packages
Since we manufacture and install fiberglass pools, we'll use our packages as an example (you'll find similar options throughout the industry).
As we explained in our pool cost guide, there are several package options for your inground fiberglass pool. Most people will choose between a standard package and a turn-key package for their inground pool project.
Keep in mind that these packages will be the highest-priced, so if you go with an assisted installation, for example, your monthly payment will be lower than the estimates provided in this article.
A standard installation package includes the pool shell, delivery, installation, maintenance and cleaning equipment, and some concrete around the pool. A standard package generally costs between $40,000 and $65,000, depending on the size of the pool and the number of add-ons.
A turn-key pool package includes everything in a standard installation plus scheduling and overseeing work, hiring contractors, and getting bids. Turn-key installations typically cost between $45,000 and $85,000.
Now that you know how your installation package can affect the final pool price, let's explore some fiberglass pool prices based on the size of the pool.
Fiberglass Pool Cost by Size
12x24 ft Fiberglass Pool
We already wrote an extensive guide on inground pool costs by size and type, so we'll try to keep this part brief. For the sake of simplicity, let's say that a 12 by 24 fiberglass swimming pool with a standard installation package costs $40,000.
With most pool loan interest rates falling between 5% and 10% depending on your credit profile, let's say that you qualify for a pool loan with an interest rate somewhere in the middle, at 7%.
With a 7% interest rate on an 84-month loan of up to $40,000 (and no down payment), you would pay about $600 per month for a fully installed 12x24 fiberglass swimming pool.
This monthly cost would be lower if you add an initial downpayment to that. For example, with just a $5,000 down payment, you could reduce your monthly bill to about $530.
To give you some examples of 12x24 fiberglass pool designs, here are some of our pools in this size category:

But what if you want a small swimming pool with all the bells and whistles? Let's say you can get a 12x24 swimming pool with water features, fencing, landscaping, and the whole nine yards for a final price of $50,000.
At a 7% interest rate on an 84-month loan and no down payment, you're looking at a monthly payment of about $750. What if that interest rate was at 5%? Your monthly payment would be about $700. And 10%? You're looking at about $830. Remember, this is for a fully finished backyard.
15x30 ft Fiberglass Pool
A 15x30 ft fiberglass swimming pool generally costs $45,000 and up for a standard package. For the sake of simplicity, let's say a turn-key installation for a pool of this size costs $55,000.
Remember, these are base estimates to help you get a feel for how much you can expect to pay, not exact quotes. To get an accurate and personalized quote, feel free to contact us to request pricing for your fiberglass pool.
To give you an idea of what your 15x30 ft range fiberglass pool design options are, here's what we have to offer:

16x32 ft Fiberglass Pool
For a standard installation package, a fiberglass pool in the 16x32 size range would cost an average of $45,000 and up. Let's round up and say that your pool is going to cost a minimum of $50,000. For a turn-key installation, you might pay up to $65,000 or more.
Here's are some examples of our fiberglass pools that are around this size: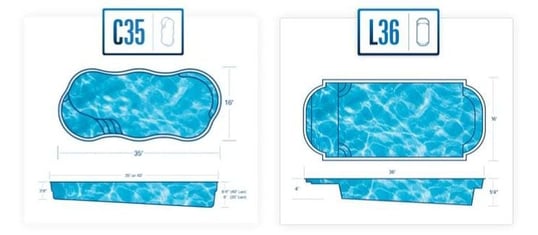 16x40 ft Fiberglass Pool
If you choose a standard installation package on a 16x40 fiberglass pool, you'll pay a minimum of $50,000, but you'll likely pay more than that depending on your add-ons and other options. For a turn-key installation, you can pay as much as $85,000 or more.
Again, we encourage you to reach out to us for an exact quote as every yard and pool shopper is different.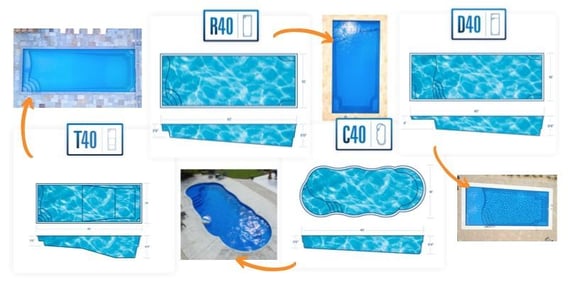 To simplify all of your fiberglass pool payment possibilities, we broke them down into this infographic (we use 84 months as a standard, but you can expect your payment to increase or decrease if your loan period is shorter or longer).

We hope that this has given you a better idea of what your average monthly pool payment will be based on the size of your pool, your installation package, and your pool loan interest rate.
If you want the most accurate pool price based on your preferences and the needs of your yard, click the button below to request pricing today. In the meantime, you can also try out our fiberglass pool pricing calculator for a fast estimate.
If you want more details on how to get started with buying a fiberglass inground pool, be sure to download our free ebook below. Thanks and happy swimming!
Up Next:
How Much Is My Fiberglass Pool Really Going to Cost?
What Maintenance Does a Fiberglass Pool Need?
What Is the Life Expectancy of a Fiberglass Pool?