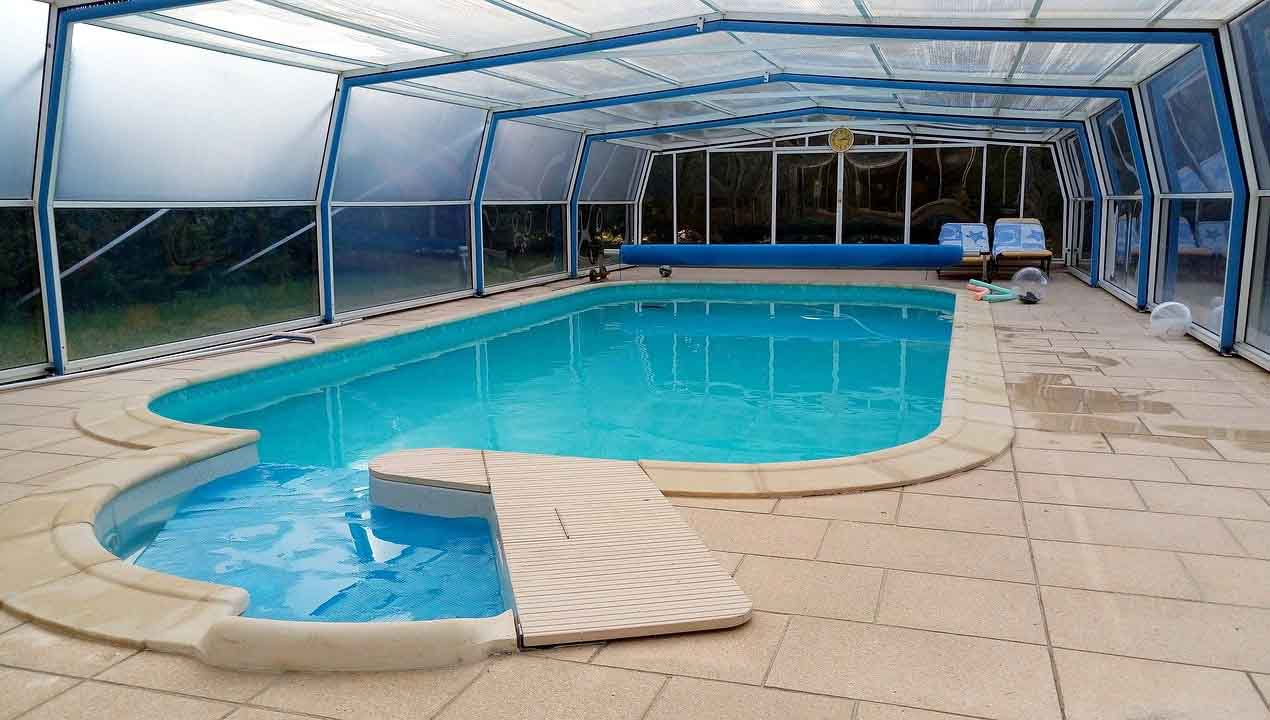 Subscribe
6 Things You Need to Know Before You Buy a Home with a Pool
Pool Maintenance | Swimming Pool FAQs
Thinking about buying a home with a swimming pool? Purchasing a home with an inground pool in the backyard is one of the fastest and easiest ways to get a pool this year.

But what are some of the red flags that you need to look out for when buying a home with a pool? What are the drawbacks that you need to research before signing on the dotted line?

As fiberglass pool manufacturers and seasoned pool maintenance and installation professionals, we'll walk you through the key points that you need to think about before purchasing a home that already has a pool installed. By the end of this article, you should have a better idea of whether buying a home with a pool is a good investment for you.

Let's jump in.
The Pool Might Need Some Work
When you buy a home with a used pool, you risk getting a pool that is damaged or in need of upkeep. Oftentimes, you can negotiate to have the seller do a pool repair or renovation before you buy the home, but the problem is that you may not know whether the pool has issues before you buy it.

Vinyl liner pools need regular liner replacements as they can easily get holes and tears. Even worse, there could be major rust or damage underneath the pool liner in the walls of the pool that you might not know about until it's too late.

With a concrete pool, your plaster surface might also be worn down and in need of refinishing (and it costs around $10,000 to replaster a pool).

Any pool can have leaks or problems during storms due to improper construction, so be sure to hire a professional pool inspector to look at the pool's condition before buying the home.
There Might Not Be a Valid Warranty on Your Pool
Depending on the pool's age and the details of the warranty, there is no guarantee that your pool will be backed by a warranty when you move into your home.

Our fiberglass pool shells come with a one-time transferrable warranty, which means the warranty can be transferred to a new owner when someone buys the home, but not all pools are alike. Many pools may have a non-transferable warranty, or depending on the age of the pool, the warranty might be expired.

Not having a warranty can increase out of pocket expenses if the pool is ever in need of repair due to a manufacturer or builder issue. Be sure to ask the home seller about the pool's warranty and any warranties on pool parts and accessories before buying.
It Might Not Be the Right Pool for You
Many people buy a home with a pool only to realize that it's not the right pool for them. Every year we replace concrete and vinyl liner inground pools with fiberglass units because the homeowners realize that they like having a pool, but they don't like that particular type of pool (usually because of the high maintenance).

Ultimately, it will cost more to replace a pool than to build a new one.
Pool Safety Is Number One
If you have children, you may want to be prepared to spend the extra money on pool safety equipment. This might mean getting an automatic pool cover ($12,000 to $22,000) or upgrading your pool fence.

You might even want to get a combination of pool security devices such as alarms, sensors, cameras, and a pool cover.

Read more: The Ultimate Guide to Pool Safety Equipment: Prices, Uses, Tips


Pool Maintenance Is Not Cheap
Most pool shoppers are surprised to learn just how much maintaining an inground pool can cost.

Over a ten year period, you might spend close to $30,000 on a concrete pool, over $10,000 on a vinyl liner pool, and around $4,000 on a fiberglass pool.

Your typical expenses across all pool types will be chemicals and electricity to maintain the pool, but vinyl liner pools also need liner replacements (about $4,500 each time), and concrete pools need acid washing and resurfacing.

You might also find that you need to hire a pool service professional to help you maintain your concrete pool, which will make upkeep more expensive.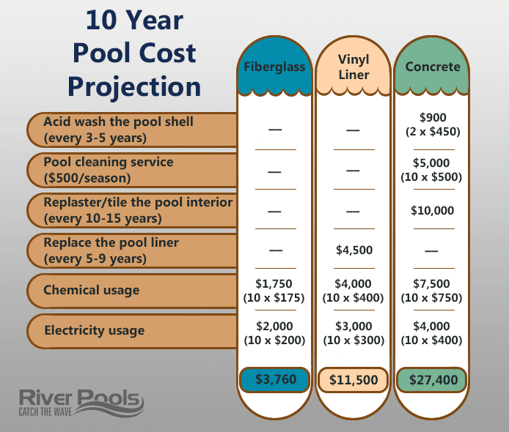 In addition, your homeowners insurance may increase with a pool in your backyard, so you'll need to factor that into your overall maintenance costs as well.
You'll Have Fewer Options
Building your own pool gives you tons of options, including the type of pool, the size, materials, location of the pool, and built-in features.

For example, you can choose the best pool type for your lifestyle (vinyl liner, fiberglass, or concrete), and you can choose a size that fits your needs and gives you the yard space that you want.

When you buy a home with a pool, however, you're stuck with the size and design that you have. You might be able to upgrade it with waterline tile or some nice add-ons like a pool slide, but you won't have much control over any other design elements.
If you're considering building a new pool for your home instead and you want to explore your fiberglass pool options, feel free to browse our pool models, try out our free pool pricing calculator, or request a custom quote using the button below. Happy swimming!
Up Next:
How to Choose the Right Swimming Pool Size for You and Your Family
Should I Get a Fiberglass Pool?