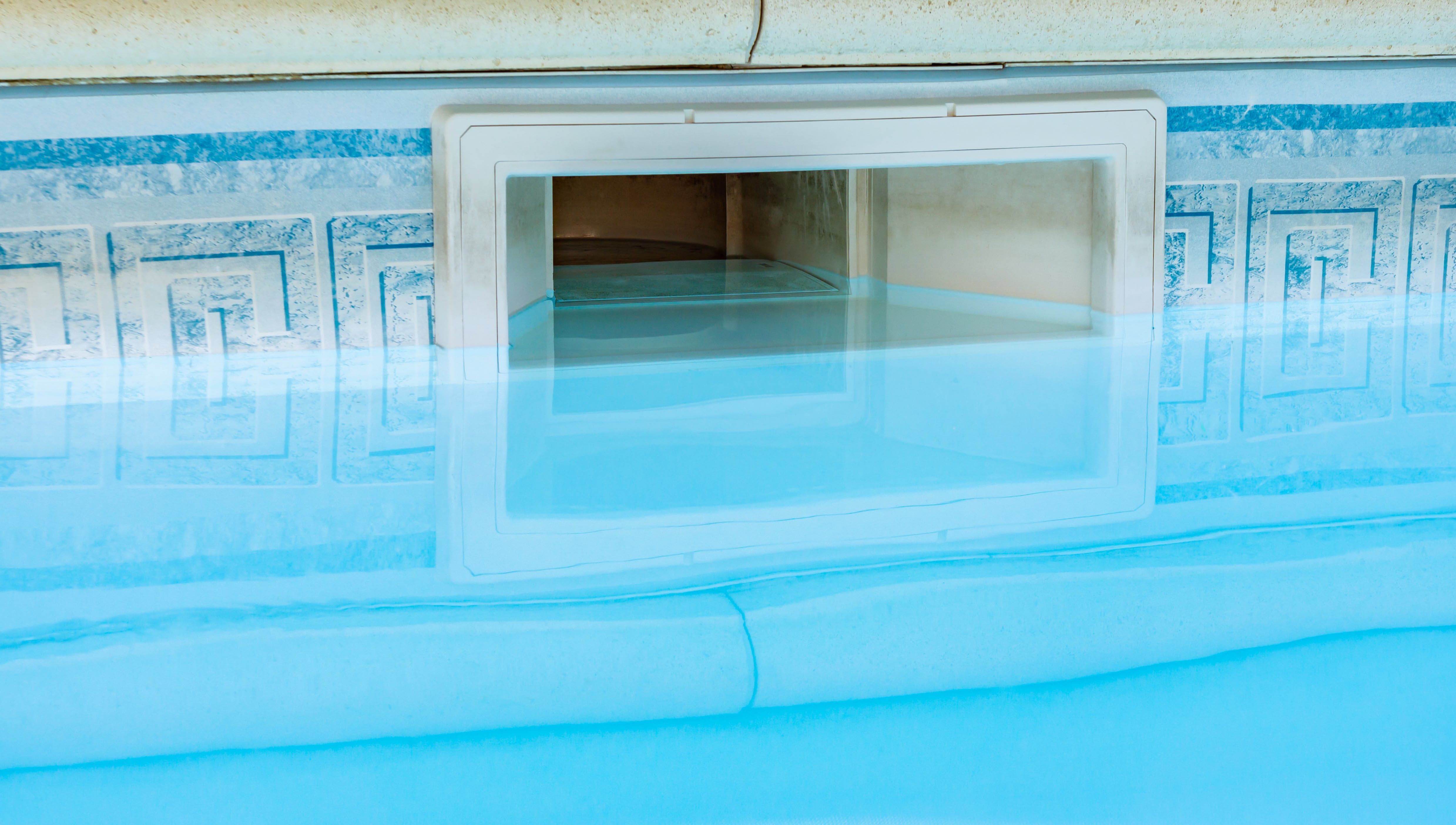 Subscribe
How to Repair a Tear in a Vinyl Pool Liner
Pool Maintenance | Vinyl Liner Pool Information
When swimming season rolls around, nothing can get in the way of a pool owner's happiness except for maybe a thunderstorm, a cold front, or one of the most dreaded...a new tear in the vinyl pool liner.
It happens. Despite the upsides that vinyl pools offer, one of the biggest downsides is that tears or holes can occur. The good news? There are easy fixes to this problem.
At River Pools, we manufacture fiberglass pools, but we used to install vinyl liner pools and worked with them for many years. Here, we'll cover how to identify a pool liner tear and a few methods for fixing them so that you can get back to your summer plans ASAP.
How to Find a Hole in a Pool Liner
Before you panic, we want you to know that it's not uncommon for inground pools to see a loss of water each day. Most of the time, evaporation is the culprit. In fact, you can expect to lose anywhere from ½ inch to an inch of water per day (pool covers can help with this, though).
If you're still paranoid, there are two sure-fire ways to determine if your liner has a hole or tear.
The Bucket Test - Fill a 5-gallon bucket with water and set it on the steps of your pool. Make sure the water level in the bucket matches the surrounding water level in the pool. Mark the water level in the bucket with painter's tape to keep track of changes. Turn off the pump and come back to it after one full day (24 hours). Measure the difference between the water level in the bucket and the surrounding pool water. If the water level in the bucket is higher than the water level in the pool, you have a leak. If it's similar, breathe a sigh of relief because it's just evaporation.
Food Coloring - Walk around your pool and identify any spots that feel squishy and apply food coloring in those areas. If there is a hole or tear, you'll see the food coloring get swept in the flow of water leaking through the tear, which will reveal the location of the damage.
If you are unable to locate a tear and your pool seems to be still leaking, check the electrical and filtration systems. Better yet, call a professional to check out your pool to make sure that you catch any costly or dangerous leaks early on.
Many times, people can see the tear while swimming or lounging poolside, so they don't have to go through the trouble of testing for leaks. Since you're reading this article, you're probably already aware that there's a hole in your pool liner, but it's always a good idea to have these tricks up your sleeve for the future.
How to Fix a Hole in a Pool Liner
You've found the tear. Step one done! Let's work on fixing it.
First, if it's an emergency, do yourself a favor and grab the duct tape. No, we're not kidding. It will work temporarily.
Now, time for a real repair. You'll have two main options depending on the type of tear.
Option 1: Patch It
Patching your pool liner can work on a tear as little as 2-inches and as big as 8-inches depending on location and pool age. For example, if you have a 2-inch tear near your filtration system and your pool is ten years old, you can temporarily patch it while shopping for a new vinyl liner.
Alternatively, if you have an 8-inch tear on the side of your 3-year-old pool that is in otherwise good condition, a patch might suffice for a while longer.
An important thing to remember about patches is that they are unpredictable. Sometimes, they can hold up for years, and other times, simple and very small patch repairs can fail within days. Keep an eye on your patch and check on it at least once a week to make sure it's still in place.
Types of pool liner patches to consider:
Waterproof tape - Similar to duct tape, waterproof tape can be used underwater, it's UV resistant, and it's clear (so your pool can stay beautiful).
Vinyl patch kit - This is a better option for larger tears and lasts long-term. Most include large chunks of vinyl and adhesive that can be applied underwater.
Peel-and-Stick- This is as easy as it sounds. It's made from vinyl and designed specifically for swimming pools. Go for round stickers as they are less likely to peel up.
Option 2: Replace the Liner
Yeah, we know. This is a worst-case scenario. However, you can use one of the patching options as a temporary fix while you shop around for a new liner. The price of a new vinyl pool liner is typically a thousand to several thousand dollars (though the total cost to replace the liner is $4,500 on average). The benefit of replacing the liner is that you'll have another 5-9 years of worry-free pool enjoyment.
Read more: Vinyl Pool Liner Replacement: Cost, Steps, Tips

How to Patch a Pool Liner
You can patch a pool liner hole or tear above or below water. A dry patch might be an option if the water receded below the tear, for example, or if your pool has already been drained for other repairs or maintenance work.
Warning: we strongly advise against draining your pool unless absolutely necessary. If you do need to drain your pool for any reason, call a professional for help.
Keep in mind that most repairs will need to be completed underwater, as draining your pool could cause it to collapse or create further liner damage. Additionally, exposure to sunlight can make a dry liner brittle and unmanageable.
How to Patch a Pool Liner in 4 Steps
Step 1: Clean the area. Get rid of any algae or build-up on the pool wall or ground.
Step 2: Trim the patch as needed. Make sure the diameter of the patch is 2 inches away from the tear on all sides.
Step 3: Apply adhesive if you're using it.
Step 4: Stick it and immediately apply pressure. Push on it to remove air bubbles. If it's possible, put a weight on it to apply pressure for 24 hours.
Fiberglass Pools as an Alternative Option
All this talk about tears and patches can seem daunting, but the reality is most punctures and tears are easily repaired using cost-effective methods. With that said, if you are planning to upgrade your backyard paradise, a fiberglass pool might be a better option.
Fiberglass pools aren't in the same price range as vinyl liner pools, but they are low-maintenance and have significantly lower lifetime costs compared to concrete and vinyl liner pools.
If you want to learn more about your fiberglass pool options, you can browse our catalog of models, try out our free pool pricing calculator, or contact us to request pricing and information using the button below.
Want to replace your existing pool with a fiberglass unit? Read our article below to learn about the benefits and how much it might cost:
How Much Does It Cost to Replace a Vinyl Liner Pool with Fiberglass?
To research more inground pool options, download our free ebook below, visit our learning center, or check out our extensive educational video library today!
Up Next:
How to Remove Stains from a Pool Liner
Shopping for a Fiberglass Pool Shell? 6 Things to Look for