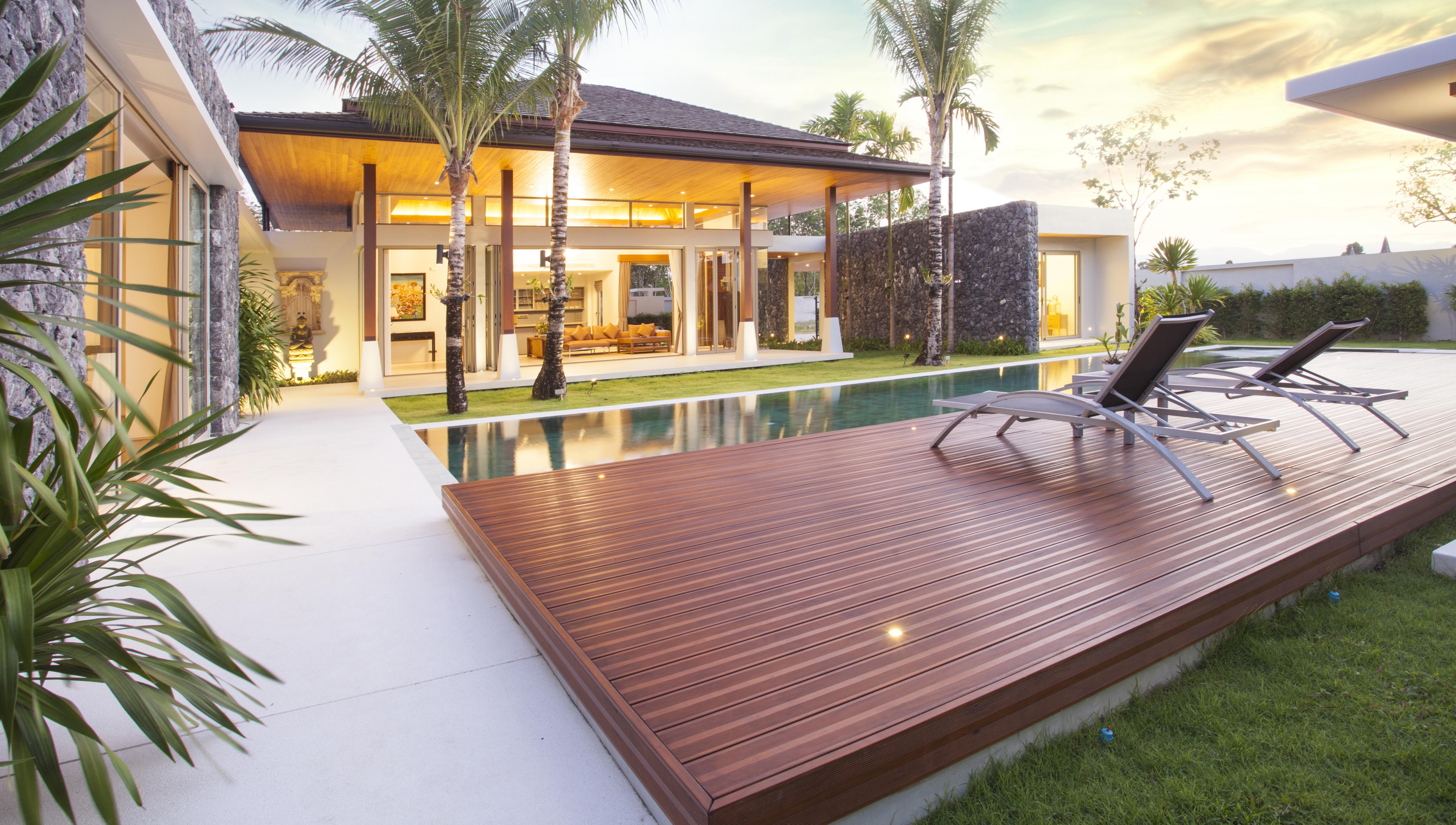 Subscribe
Sliding Deck Pool Covers: Cost, Designs, Pros & Cons
Let's face it - the swimming pool cover is rarely as pretty as the pool itself.
They make having a pool safer for your family and the neighborhood, but you lose all of that yard space when the pool is covered up...not to mention that some pool covers can be an eyesore.
That is unless you have a sliding deck pool cover.
A sliding deck pool cover is exactly what it sounds like: a removable pool cover that is also a deck.
Just take a look for yourself.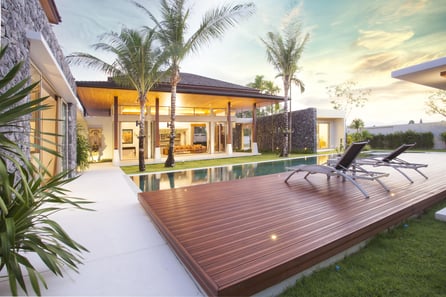 Some of them even provide enough support for furniture, dinner parties, or even dancing, and people might not be able to guess that you have a swimming pool when the cover is on.
At River Pools, we've worked on countless pool designs over the years, so we've seen it all when it comes to swimming pool covers and accessories. In this article, we'll compare sliding deck pool covers to other inground pool covers, break down the price, and explore some of the pros and cons of going with this design.
Are Sliding Deck Pool Covers Safe?
Sliding deck pool covers (also known as roller decks and mobile decks) are generally considered safe because they provide a stable barrier between the pool water and the surrounding area. In other words, there's no way your toddler is going to move the deck and get to the pool on their own.
While there are different design and operating options for mobile decks, small children should find it difficult to access the pool with either manual or automatic cover designs.
As an added safety precaution, automatic mobile deck pool covers typically require a key or code to operate, leaving very little chance for misuse.
Manual rolling decks usually have safety locks to keep them from sliding around when the pool is open. When the pool is closed, the deck cover will likely be too bulky and heavy for a small child to move, especially with the locks back in place.
How Much Does a Sliding Deck Pool Cover Cost?
One drawback for many people is that pool decks can be costly. By that, we mean it can cost as much as your swimming pool, sometimes more. Automatic sliding pool deck covers that can support the weight of people and outdoor furniture can cost $25,000 to $75,000 and up for residential-sized pools. However, some sliding pool decks can cost much more depending on the manufacturer or builder.
The smaller the pool, the more affordable it should be, but the cost of your pool deck cover will also vary by builder or manufacturer. Manual designs may be more affordable in general as well.
Keep in mind that the more weight the deck needs to support, the more it will probably cost.
Compare the cost of a mobile deck with other pool covers below:
| | |
| --- | --- |
| Sliding deck pool cover | $25,000 - $75,000 |
| Automatic pool cover | $12,000 - $22,000 |
| Solid vinyl security cover | $1,200 - $3,000 |
| Mesh security cover | $1,200 - $3,000 |
| Tarp winter cover | $75 - $225 |
What Are the Sliding Deck Pool Cover Advantages?
They Create More Space
One key advantage of owning a sliding pool deck cover is the extra space that you get back. If your mobile deck can support furniture and the weight of several people, you can use it for virtually anything that you want. The best part is that you likely won't have to move your furniture when you want to open and close the pool.
They Can Save Energy
Sliding deck pool covers also help to prevent evaporation and keep heat from escaping. This can dramatically reduce energy costs and keep your swimming pool warm in the process.
They're Effective
These sturdy security covers are very good at keeping unwanted guests out, and they keep out dirt and debris that change the chemistry of the water and cause stains.
They Look Nice
Sliding pool deck covers are among the most attractive, if not the most attractive, pool cover options available. When the pool is open, no one will know that your poolside deck is actually a cover. And when the pool is closed, no one will know that you have a pool!
They're Safe
There's almost no way (at least that we can think of) that a small child can get under the wooden deck and into the pool unless they have access to the operation panel or can move the deck. Hiding the pool may also reduce the temptation for children to try to access the pool on their own.
They Last a Long Time
Sliding deck pool covers are sturdy and can last many years. Compare this to the vinyl used with automatic pool covers, which needs to be replaced about every five years and costs $2,000 to $4,000 each time. Solid vinyl security covers can last 6-10 years and cost $1,200-$3,000 to replace. Tarp winter covers have the shortest lifespan at only 1-3 years and cost between $75 and $225 to replace.
You can read more about your different pool cover options here.
Want to see how much a new pool project might cost with a sliding cover, or any other accessories and options you might want? Try our Design and Price tool now! It'll help you understand the price ranges for fiberglass pools of all sorts of shapes and sizes, with a wide range of potential add-ons and features. Start customizing your perfect pool by clicking the button below:
What Are the Disadvantages of Having a Sliding Deck Pool Cover?
They're Expensive
Most people are concerned about the cost and for good reason. A sliding pool deck cover can cost as much as or more than the swimming pool itself. However, they are very effective, look great, and last a long time.
Your Poolside Features May Be Limited
You may not want to get a sliding deck pool cover if you are thinking about getting a pool slide, a diving board, a handrail, rock features, or water features. Anything that's installed very close to the pool could obstruct the cover's path and prevent it from fully closing over the pool opening. This would make it both ineffective and unsafe.
They're Not Very Compatible with Large Pools
A sliding deck may also not be the best choice for very large swimming pools. In general, they work better with narrower, small to medium-sized pools. You also have to consider the fact that the larger your pool is the more space you'll need to remove the deck cover. As a general rule and for most designs, you'll need double the area of your swimming pool to accommodate both the pool and a rolling deck.
Sliding Deck Pool Covers vs Automatic Covers
If you like the convenience of being able to open and close your pool with the push of a button, you might find yourself torn between a rolling deck and a traditional automatic pool cover. There are a few key differences that you should consider, including:
Automatic pool covers cost $12,000 to $22,000 on average, whereas sliding deck pool covers can cost double or triple and even tenfold that price to build. You'll also need an engineer to approve the design and make sure that its load-bearing capabilities are suitable for what you want to do with it. For example, some can be walked on but aren't sturdy enough for furniture or using as a disco dance floor. Other models with industrial designs can support almost any activity.

Sliding deck pool covers may be a little bit easier to maintain. You won't have to continually remove water with a pump or watch as cautiously for snow and ice buildup in the winter (read about automatic cover winter maintenance here). You also won't have to worry as much about the water level, though it's a good idea not to let your water level get too low.

Sliding deck pool covers aren't as prone to damage as automatic pool covers (a tree branch in a wind storm can easily tear an automatic pool cover while a wood deck would be able to withstand the blow.)

Automatic pool covers work best with rectangular designs while sliding deck pool covers can work with a wide range of shapes. They tend to look better with linear pool models, but you shouldn't have a problem installing one over a freeform pool.
Sliding Deck Pool Cover Designs
You might be surprised to learn about the number of options that you'll have if you decide to build a sliding deck cover for your pool. Let's take a look at some of the current popular choices:
Pool cover that opens from both sides of the pool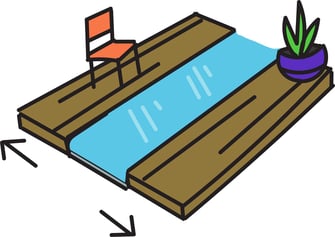 Single piece sliding deck pool cover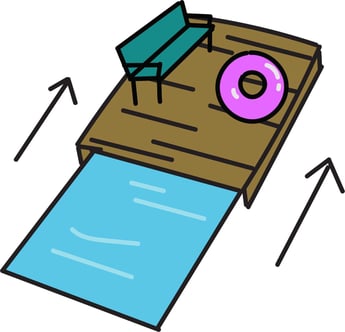 Sliding deck that opens from both ends of the pool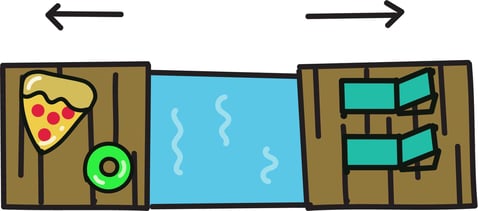 Pool deck cover that folds upwards to save space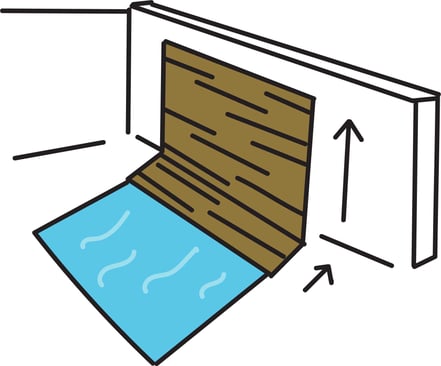 Nesting deck pool cover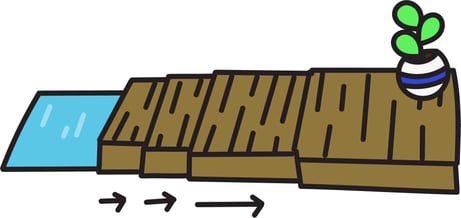 Or, as an alternative option you can choose:
A cover that has removable deck panels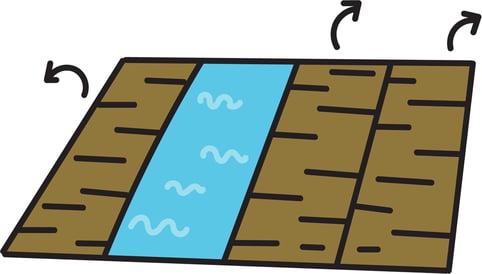 A retractable turf pool cover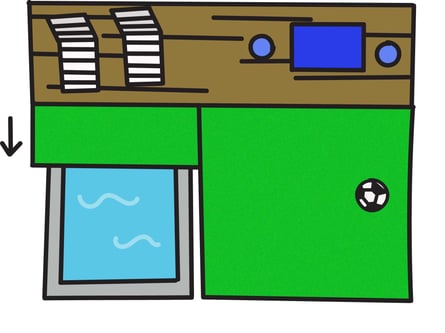 Side note: Sliding deck pool covers are perfect for fiberglass swimming pools. Why? Fiberglass pools are typically no wider than 16 feet, making a sliding deck both manageable and affordable for pools in this size range.
Want to learn more about fiberglass pools? Check out our extensive video library, try out our pool pricing calculator, or request custom pricing using the button below.
You can also download our free ebook or browse our fiberglass pool models online.
Is a Sliding Deck Pool Cover Right for You?
A sliding deck pool cover is a top choice for many pool shoppers, especially those who have big budgets and small yards, or those who want to make the most of their outdoor space.
However, sliding deck pool covers may not be the best fit for everyone. Let's see if it's a good match for your needs.
You might want to get a sliding deck pool cover if…
You can spend at least $25,000 on it (manual options may be cheaper, but always be prepared for higher costs with designs like these).

You have enough space for the cover to open (double the size of your pool).

You don't want a slide, waterfall, or any features that would obstruct the path of the pool deck.

You want a simple, linear pool design (freeform designs are compatible but don't always look as nice).

You want a pool that's around 16 feet wide or smaller.

You want to hide your pool to deter unwanted guests from trying to break in for a swim.
If you answered "yes" to most of these points, a mobile deck could be the right choice for you. Your next step would be to get in touch with an engineer and a sliding deck pool cover manufacturer or builder to learn more about cost, installation, and requirements for getting one in your backyard.

Have any other questions? Feel free to ask away in the comments below!
Up Next:
What's the Best Small Fiberglass Pool for Your Needs? Costs, Sizes, Features
Shopping for a Fiberglass Pool Shell? 6 Things to Look for

Inground Concrete Swimming Pool Cost and Price Guide 2020