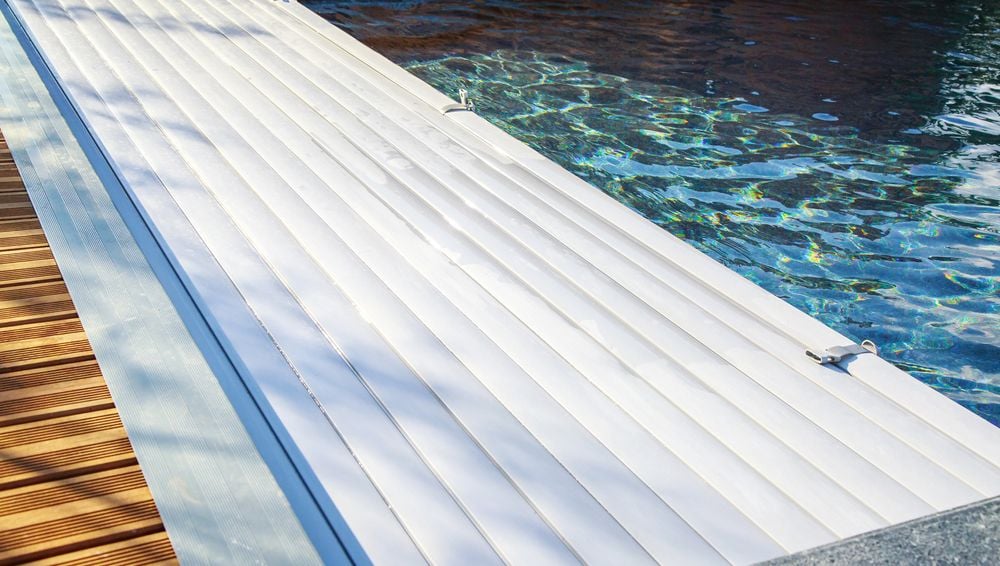 Subscribe
Automatic Pool Cover Winter Maintenance: Everything You Should Know
Pool Maintenance | Pool Closing/Winterization
Winters can be harsh.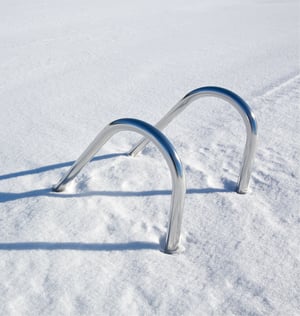 We're talking pipes bursting, driveways cracking, and roofs collapsing harsh, and you need to know how to maintain and protect your pool equipment during these cold months.
After all, you want to be able to enjoy your pool again when the warm weather rolls back around.
One of the things that you need to take care of is your automatic pool cover. (Don't have one yet? Read about the pros and cons of automatic pool covers here.)
Automatic pool cover systems are beneficial to have mainly for safety reasons, but they also help to keep out dirt and debris.
As tempting as it might be, you can't just put the cover on for the winter and hope for the best. You also have to take care of it to make sure that snow, ice, and water don't damage it.
At River Pools, we specialize in manufacturing and installing fiberglass pools for customers across North America, and this often includes installing automatic pool covers. Given that they cost between $12k-$22k on average, your automatic pool cover is a big investment that you probably want to protect, so we decided to share some key tips for maintaining your cover during the winter months.
By the end of this article, you'll learn how to prepare your pool for winter, how to maintain your automatic pool cover, what to do before a storm, and some dos and don'ts to follow.
Let's start by answering one of the most commonly asked questions...
Can an automatic pool cover be used as a winter cover?
Although you can use your automatic pool cover throughout the winter, it's not specifically designed to be a winter cover. It will be vulnerable to the elements (especially if you live in a snowy climate) and can be damaged if you neglect to care for it properly.
In our opinion, a spring loaded safety cover is the best choice for the winter months, but an automatic pool cover will do if that's all you have.
Watch our video below to learn more about the differences between winter covers, security covers, and automatic covers.
Concerned about your warranty? Every automatic pool cover warranty will be different depending on the manufacturer. Here are a few example points to consider based on what we found:
The warranty will likely not cover weather-related damage unless there is evidence that some part of the cover system is faulty.
The primary function of the cover system is to cover and uncover the pool, and it must be used in accordance with the manufacturer's accompanying manual in order for the warranty to remain valid.
Neglecting the cover and allowing too much water, snow, or ice to accumulate on top of it can void the warranty.
Preparing Your Pool for Winter
Before you prepare your pool cover for winter, you need to make sure that the pool is ready for the cold weather as well. Follow these key tips to learn when and how to winterize your swimming pool.
It's sad to say goodbye for the season, but absence makes the heart grow fonder, right?
After you winterize your pool and before you cover it, you need to make sure that the water level in the pool is filled to the normal operating level or even a little bit higher. This high water level is what supports the snow and ice throughout the winter, so it's a critical step that you don't want to skip.
A rule of thumb to remember: keep the water at least halfway up your skimmer opening.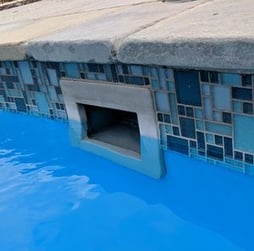 Routine Maintenance Steps
To keep your automatic pool cover in good shape throughout the winter, you'll need to use your cover pump to remove melted snow and ice whenever possible. Even if you think there's only a small amount on the cover, it's better to remove it before it builds up and becomes a problem.
It is especially important to do this towards the end of winter when snow and ice start to melt all at once.
Be careful not to leave your pump on the cover throughout the winter. Although your pump may be able to detect water and turn itself on and off, allowing it to operate on its own increases the risk of it breaking down and burning itself out when there is a lot of snow and ice.
What happens if I don't remove water from my automatic pool cover?
When snow and ice buildup starts to melt, the water can accumulate in a centralized location, which is bad news for your cover. This puts extreme weight and pressure on both the cover and the tracks and can cause a lot of damage.
As often as you can, you should 1) pump the water off the pool cover and 2) check the skimmer to assess the water level in the pool. If it's running low, put your hose into the skimmer to add water as needed.
How much weight can an automatic pool cover hold?
Automatic pool covers are rated to hold around 2,000 pounds, which is a lot of weight. However, snow, ice, and water can be very heavy, too, especially if it becomes concentrated in one area.
Snow alone can weigh between 12 and 20 pounds per cubic foot, and ice and water can both weigh around 60 pounds per cubic foot. If you think you might need something a bit more heavy duty than an automatic cover, you might want to invest in a spring loaded safety cover for the winter months.
Note: Do not operate or remove your automatic cover during the winter, especially if there are any signs of freezing. You could risk damaging the tracks or other parts of the system.
What To Do When Winter is Over
When spring finally comes around and all of the snow and ice has melted, it's a good idea to call in a trained professional to service your pool cover system. This will help ensure that your automatic pool cover system is running optimally after a long winter of sitting idle.
It will also help to have a professional there to catch and prevent any issues that may arise when you first start up your cover again.
Automatic Pool Cover Maintenance Overview
As a recap, here are the steps that you'll need to take:
Winterize your swimming pool

Make sure the water is about halfway up the skimmer before covering it

Regularly remove the water from the pool cover using the cover pump

Don't remove your cover during the winter, especially if it's freezing

Maintain the water level throughout the winter by putting your water hose into the skimmer

Call in a professional to restart your pool cover in the spring
Important Dos And Don'ts To Keep In Mind
Do
Winterize your pool before covering it for the season

Maintain the pool water level at halfway up the skimmer throughout the winter

Regularly remove the water from your cover using the cover pump

Call a professional to service your automatic cover system in the spring
Don't
Leave your cover pump on the entire time

Drain your pool or allow your water level to fall below halfway up the skimmer

Overfill your pool either (this can flood parts of your pool cover system and cause significant damage)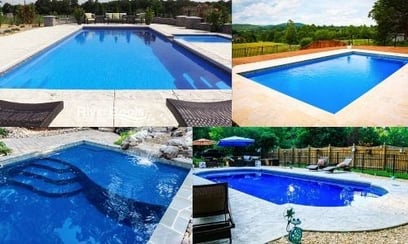 At River Pools, we manufacture and install world-class fiberglass pools for customers across North America. Why not take a look at our full line of fiberglass pool models today? We have designs for small and large backyards and with built-in tanning ledges, benches, and spas.
Wondering how much a fiberglass pool might cost? Contact us to request pricing and discuss the needs of your pool project. In the meantime, try out our fiberglass pool pricing calculator below for a fast estimate.
---

Want to see about how much that cost will be with all your favorite pool accessories?
Use our Design and Price Tool to walk through your options and approximate price!
---
If you're still shopping around for the right inground swimming pool, be sure to download our free ebook which breaks down the key differences between fiberglass, vinyl liner, and concrete pools.
As always, if you have any questions for us, please leave them in the comments below.
Up Next:
Does My Pool Need Winter Maintenance?
Trying to Close Your Inground Pool? Avoid the 5 Most Common Mistakes
Swimming Pool Sanitizers: The 7 Best Options to Consider (Pros/Cons)