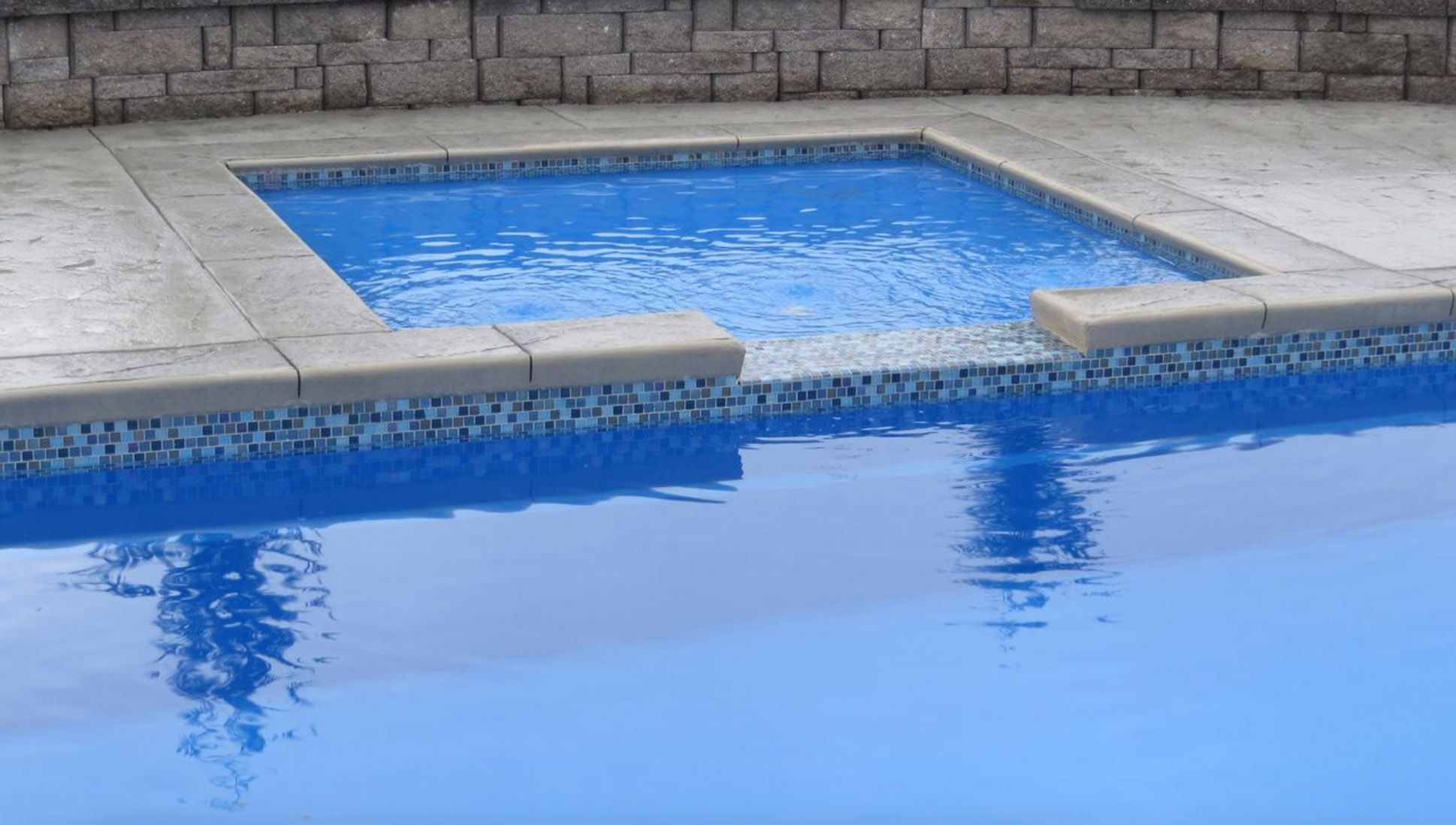 Subscribe
How Much Does Inground Pool Resurfacing Cost?
Fiberglass Pool Information | Pool Maintenance | Cost and Pricing | Concrete Pool Information | Vinyl Liner Pool Information
You knew it was coming. You tried to put it out of your mind. Maybe one more year, you hopefully thought. But as last year's summer came to a close, you knew that resurfacing your pool was inevitable.
Resurfacing an inground pool is a regular and necessary maintenance task for most pool owners. The plus side is that it will improve your swimming experience, and it can also extend the pool's lifespan. The downside is that the cost can be...a lot.
At River Pools, we have spent years in the swimming pool industry working with the various pool types before exclusively manufacturing fiberglass. If you want to know how much resurfacing your swimming pool will cost, here are the different options based on each type of inground swimming pool.
Cost to Resurface Fiberglass Pool
The great thing about fiberglass pools is that if you purchase a high-quality pool and perform regular maintenance to care for it, your pool can last decades and even its entire lifespan, without needing to be refinished.
However, it's important to remember that not all fiberglass pools are created equal, and even if you have a high-quality fiberglass pool, neglect can lead to damage and that can require you to refinish your pool sooner.
ecoFINISH Coating
If you do need to refinish the entire surface on your fiberglass swimming pool, you will most likely use a product like ecoFINISH.
ecoFINISH is a long-lasting, chemical-resistant, thermoplastic coating that can be applied to fiberglass pools as well as concrete pools. Resurfacing your pool with ecoFINISH can be completed within days and there is no wait time once it's done. In fact, you can begin refilling your pool with water right away.
It can also be purchased in several different colors or even custom made to match your current pool.
Cost of resurfacing pool with ecoFINISH
The cost of using a product like ecoFINISH can vary depending on the pool size and contractor. For a small to medium sized pool, you can expect to pay a minimum of $10,000 to $13,000.
Epoxy Paint
Epoxy paint is a solvent-based pool paint that works on multiple pool types, including fiberglass and concrete. The benefit is that it can create a smooth, beautiful surface in your pool on a budget. The problem is it can only be used on bare surfaces, meaning if you've had any other paint or surface type, it won't adhere. Additionally, it can take up to two weeks for the pool to cure and be usable.
Cost of resurfacing pool with epoxy paint
A major benefit of epoxy paint is the cost. You can choose to use the DIY method, but even if you hire professionals, it might only cost you around $1,500. You can expect an epoxy paint finish to last up to five years.

Cost to Resurface Concrete Pool
Is there anything worse than wading through your pool on a warm day and feeling a sharp pain on your foot, only to realize it's the chafing plaster? This is when you know it's time to resurface your concrete pool.
The three most common interiors to choose from are plaster, aggregate, and tile. Here is an in-depth look at each.
Pool Plaster
If you're looking for an inexpensive, classic pool look, then plaster is the way to go. Plaster is made of white cement, white sand, or marble aggregate, and water. It can be used on any concrete pool shape or size and can be dyed different colors.
The downside is that plaster is high maintenance, requiring surface maintenance every week to deter algae build-up and acid washings every 3-5 years. It's also the least durable, lasting only 5-10 years.
Cost of resurfacing pool with plaster
You can expect to pay a minimum of $10,000 and up to replaster a concrete swimming pool. This might be what you would pay for a pool that's 15x35 ft., so expect to pay much more for larger pools.
Pool Aggregate
Replacing cement or sand with pebbles, glass beads, or quartz mixed with water gives you an aggregate finish. Aggregate finishes are more aesthetically pleasing, though they might be more uncomfortable to walk on (it can be like walking through a concrete parking lot barefoot).
The main benefit of using an aggregate finish is that it is longer lasting. Quartz may last 7-12 years, while pebbles can last longer if taken care of properly.
Cost of resurfacing pool with aggregate
The materials to refinish your pool with aggregate cost around $5 per square foot and up, not including the cost of labor, water, supplies, and additional fees to complete the project. To give you a rough estimate, you can expect to pay a minimum of $13,000 for aggregate on a medium sized pool.

Pool Tile
Tile finish is made up of a mixture of porcelain, stone, or glass. In fact, all three can be used in the same pool. Tile is well-known as the longest lasting and most durable finish for a concrete pool. Glass, specifically, is nonporous and fire, heat, and UV resistant as well as frost-proof.
Cost of resurfacing pool with tile
A tile finish is more durable and can often be more aesthetically pleasing, but that comes at a cost. Some tile refinishing jobs can cost as much as $30 and up per foot. However, on average, you can expect to pay a minimum of $25,000 to resurface your swimming pool with tile.
Remember: You can also use ecoFINISH and epoxy paint on concrete swimming pools as an alternative option.
Cost to Resurface Vinyl Pool
On average, you can expect to replace your vinyl liner every 5-9 years. With that said, neglected pool liners need to be replaced much more often.
Vinyl Pool Liner
You'll know when it's time to replace your current vinyl liner when you see these signs:
Pool is leaking

Liner is dry and brittle

It needs constant patchwork or repairs

It has a hole or tear larger than six inches
You can certainly replace the liner yourself. However, without experience, it may be smarter to hire professionals.
Cost of resurfacing pool with vinyl liner
Pool liners cost around a few thousand dollars on average, but it's important to take chemicals, water to refill the pool, and labor into account. Because of these additional costs, the average price to replace a pool liner is around $4,500.
Fiberglass Switch
We do several vinyl to fiberglass conversions every year. Why would anyone want to tear out their pool just to put another one in?
With 3-6 weeks of construction time, choosing to replace a vinyl liner with a fiberglass pool might sound crazy. However, the benefits far outweigh the hassle of replacing one inground pool with another.
By installing a fiberglass pool, you'll never have to replace the liner again because a fiberglass pool has no liner. This is also the reason it's least likely of the inground pools to leak.
Cost to switch to fiberglass
You might want to sit down. Replacing a vinyl pool with fiberglass costs around $50,000 to $65,000 (removing the liner pool adds to the cost). We know. It's a lot to pay when you already have a swimming pool. However, when you take into account that fiberglass pools are the least expensive to maintain long term (and the easiest to maintain!), it may be well worth it for you if you enjoy being a pool owner.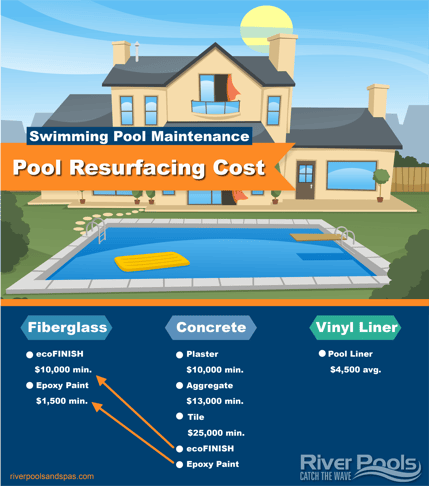 Pool Resurfacing Cost graphic
Have questions about pool resurfacing costs or inground pools? Leave them for us in the comments and we'll get back to you as soon as possible.
At River Pools, we manufacture world-class fiberglass swimming pools for customers across North America. If you're in the market for a fiberglass pool, feel free to browse our pool models, try out our free pool pricing calculator, or contact us for a custom quote using the button below.
Still shopping around for the right inground pool? Be sure to download our free ebook below for a full comparison of the three main inground pool types.
Up Next:
Fiberglass Swimming Pools 101: Manufacturing, Cost, and More
Fiberglass vs. Vinyl Liner vs. Concrete Pools: An Honest Comparison