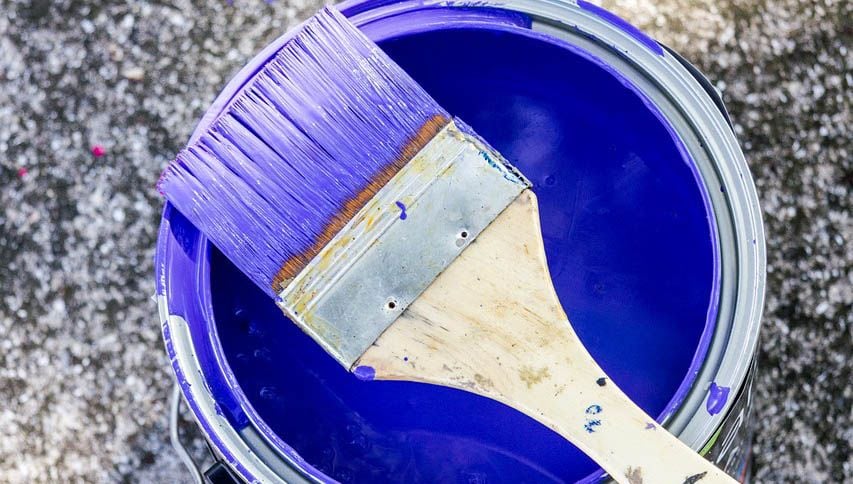 Subscribe
What is Pool Epoxy Paint? Cost, Maintenance, and More
Fiberglass Pool Information | Options and Accessories | Swimming Pool FAQs | Concrete Pool Information
One of the main things that you have to consider when choosing an inground pool is the interior finish.
You've got a lot of options for this part, but which one is the best?
You want it to transform your pool into an oasis, a relaxing space that makes you forget the responsibilities waiting outside the water. With that in mind, you don't want something that just looks nice. You probably want something that's easy to maintain and lasts for years.
At River Pools, we've worked in the swimming pool business for many years and know all about swimming pool finishes and their pros and cons.
Epoxy paint is one possibility among many for putting that final touch on your pool. It's sometimes marketed as the DIY option for pool interiors (though we recommend calling in the professionals, and you'll see why).
Let's take a look at the details, and you can see for yourself if epoxy paint is your best option.
What Is Pool Epoxy Paint?
Epoxy paint is a solvent-based pool paint. It can be used on various pool types, like concrete and even fiberglass, and it creates a unified, finished surface.
The problem is, this paint can be kind of finicky. You can only use it on bare surfaces (as in, surfaces that were not previously painted) or surfaces already painted with epoxy paint.
One thing to note is that epoxy pool paint isn't known for its speedy application process. It takes up to a full week for a painted outdoor pool to cure, and for an indoor pool, it can take up to two weeks.
How to Use Epoxy Paint
If you want to use epoxy paint to finish your pool, there's a lot of prep work involved. In fact, this is the hardest part.
If your pool has been painted before, make sure it was done with epoxy paint. If it wasn't, the new paint won't adhere, and you'll have wasted a lot of time and money.
Next, the surface has to be totally smooth before you start painting. This means lots of sanding, especially for fiberglass pools. You also have to thoroughly clean the pool surface to make sure it's free of debris (this can mean acid-washing, too).
These are some of the most important steps, and if you don't pay careful attention to them, you'll end up with paint bubbles and peels from the start.
Epoxy paint is a two-part paint, which means you mix each gallon by itself, and then mix them together before applying it. Once you've applied the paint, it takes several days to dry (up to 7 days without rain for an outdoor pool).
Using epoxy paint is a lengthy process, but in the end, your pool will have that fresh finish that you're looking for.
How Much Does Epoxy Paint Cost?
Epoxy paint comes in a two-gallon kit. For a smaller size pool (we're talking 12x24), you'll need about 8 gallons, which amounts to 4 kits of epoxy pool paint.
For very large pools, you can go up to twice that. Each kit costs up to $270, so 4 of them comes out to $1,000 or more. Keep in mind that this is for the paint alone.
When you're painting your pool, you'll need to apply at least two coats, though three is ideal. The cost also depends on the size of your pool and the type of pool that you have.
Pro tip: If you're painting a concrete pool (the most likely scenario), you'll need a primer.
If you get it done professionally (which you should if you want maximum quality), labor costs will vary. That can be well over $500, so you're looking at around a minimum of $1,500 for the whole process.
What Kind of Maintenance Does Epoxy Paint Need?
Epoxy pool paint can last around five years, but it can keep longer if you maintain it properly. That said, even though you shouldn't have to do a ton of maintenance for epoxy paint, it's very important that you actually do the proper maintenance.
In the heavy use months when the weather is warm enough to keep the pool running, you'll want to do this maintenance routine every month:
Give the pool walls a thorough scrubbing

Then filter your pool for 8 hours after that
This will keep the epoxy paint from deteriorating as quickly, and it will keep your pool sparkling clean and help to ward off algae growth.
In low use months, you can go up to two months between brushing, but we can't stress enough that doing this regularly is important for the life of the paint.
Epoxy Paint Pros and Cons
Epoxy pool paint has its pros and cons, so let's lay those out to help you decide if it's a good option for you.
Pros
Helps to resist algae and prevent damage to the pool

Creates a smoother surface than plaster or aggregate

Comes in many colors

Good at filling small cracks and imperfections in the pool's surface
Cons
Longest and most painstaking application process

Lots of prep work before painting

Can only be applied to bare surfaces or those previously painted with epoxy paint

More expensive than some other options

Gets chalky over time as UV rays and outdoor elements break down the surface

Smooth surface can make it very slippery unlike the gelcoat on a fiberglass pool which is smooth but slip-resistant
Is Epoxy Paint a Good Choice?
One of the things about this is that it's easy to make big mistakes when you're applying epoxy pool paint. It might come highly recommended for certain types of pools, but we also highly recommend hiring the pros to apply it.
If you're not experienced and get lazy in preparing the surface, you'll ruin the finished product. Given the expense of the paint alone, you definitely don't want to do this twice.
Keep in mind that most of the issues happen with the application. If you get past that part with no problem, you'll have a nice new finish that you won't have to worry about for several years.
At River Pools, we manufacture world-class fiberglass pools for customers across North America. While some people paint their fiberglass pools with epoxy paint, we don't recommend it. A good gelcoat will last you much longer and provide a better overall experience and appearance.
While you're here, why not take a look at our catalog of models? We have sizes for small to large backyards as well as different shaped pools with built-in tanning ledges and benches. Here's what our pools with the gelcoat finish look like: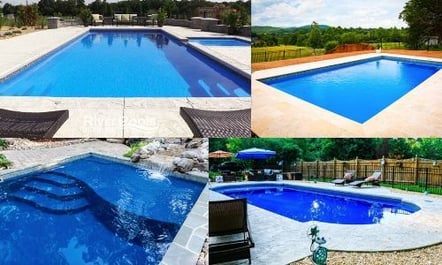 If you want to know more about pricing, check out our inground fiberglass pool cost calculator or contact us directly for a custom quote.
Not sure which type of pool is best? Download our free ebook below for a full comparison of the three main types of inground swimming pools.
Up Next:
Best Interior Finish for a Concrete Pool: Plaster vs. Pebble vs. Tile
How Much Is My Fiberglass Pool Really Going to Cost?

Your Swimming Pool Color Options: Concrete, Vinyl Liner, and Fiberglass