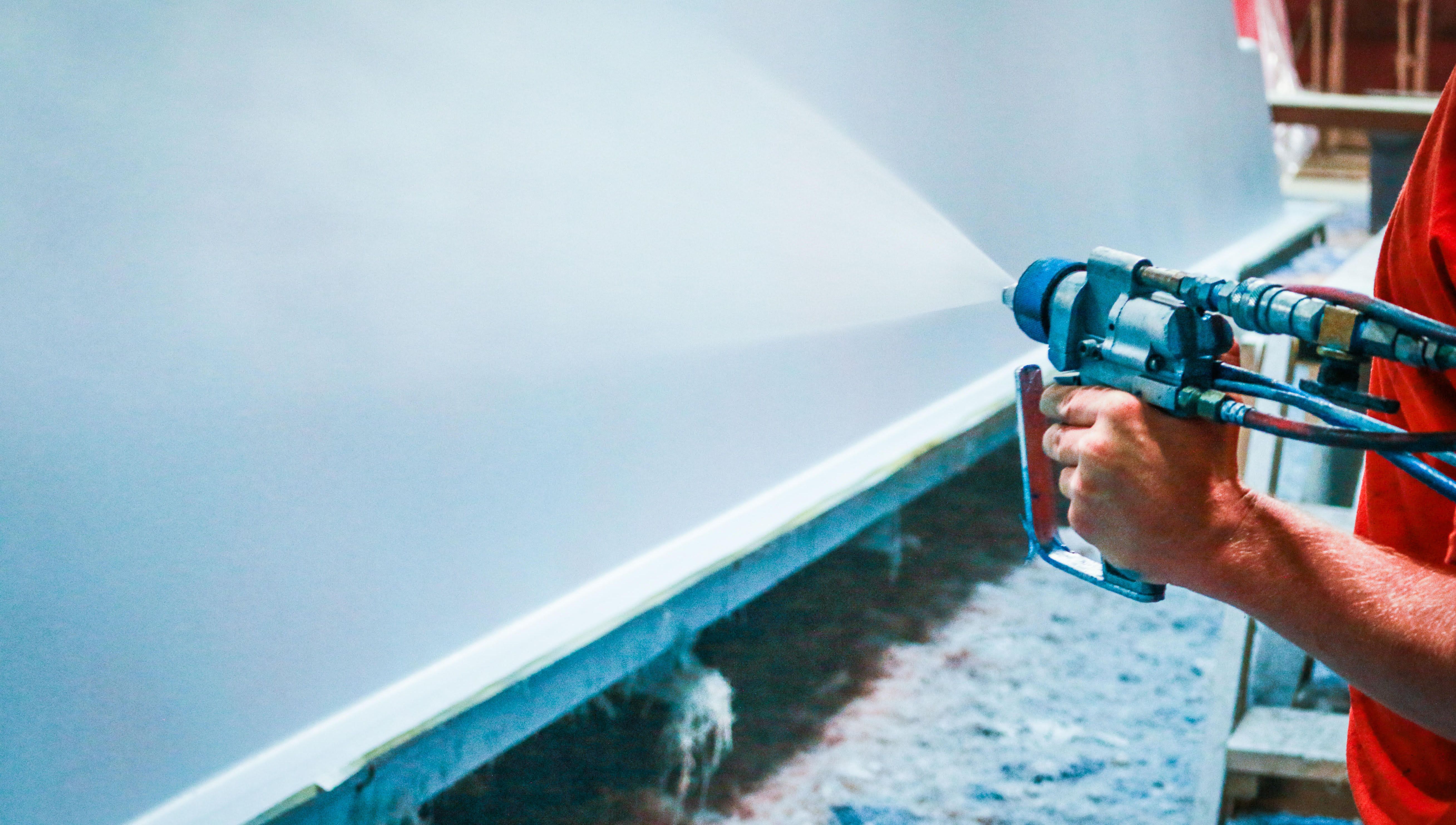 Subscribe
Do Fiberglass Pools Need to be Resurfaced?
Fiberglass Pool Information | Pool Maintenance | Pool Manufacturing Process
We've covered fiberglass pools extensively in our previous guides and articles, but there's something that's been missing from our content...
We haven't said much about resurfacing fiberglass pools.
At River Pools, our fiberglass pools are made with high-quality materials, and they really don't need to be refinished when cared for properly, even after several decades.
However, we also acknowledge that not all fiberglass pools are made equal. Some fiberglass pool shells are made with lower quality materials that may be less durable over time.
But even with a well-manufactured fiberglass pool, you can wear down the surface by using harsh chemicals and not maintaining it properly.
In these cases, when the gelcoat wears down, it will need to be refinished.
In this article, we'll explain how and when you might need to resurface your fiberglass swimming pool, how much it might cost, and a few points to consider while shopping around for a fiberglass pool with a high-quality gelcoat.
Let's start by going over the essentials of the fiberglass pool gelcoat.
What is gelcoat for fiberglass pools?
The gelcoat is the surface of your fiberglass pool. It's the smooth, sparkly outer layer that you see and touch while swimming or walking in your pool. But what is it made of?
Basically, it's a liquid colored resin that is applied to the pool shell with compressed air and a spray gun.
The gelcoat is by far the most durable pool surface that you can find (lasting several decades or longer) depending on how well your care for it and the quality of the manufacturing.
Compare this to concrete pools which need to be refinished every ten years or so and vinyl liner pools which need a fresh lining every 7 to 9 years.

At River Pools, we ensure that the gelcoat on our fiberglass pools will last decades by using the highest grade materials, but there is more to a good gelcoat than using the right materials. It needs to be applied at the right thickness as well.
Too thin and it can get blisters. Too thick and it could crack. Your fiberglass pool manufacturer should know how to do this correctly so that the swimming pool can last as long as you want to keep it.
We spray on the gelcoat in our manufacturing facility where we can create a smooth and even layer.
So, if you find yourself in a situation where you need a new gelcoat on your fiberglass pool, you're probably wondering how you would go about doing this if the gelcoat is applied when the pool shell is in the manufacturing plant.
Good question. Let's dive into that.
How do you redo the gelcoat on your fiberglass pool?
The short answer: you don't. Gelcoat is applied in a controlled manufacturing plant for several key reasons:
It takes a long time to dry and cure. Leaving gelcoat to dry in a manufacturing plant is fine. Leaving it outside in the elements is not a good idea. This is because it needs to be kept at a consistent temperature of about 77 degrees to cure properly, which would be nearly impossible to control outdoors.
It requires a very precise application. A manufacturer would know how to do this the right way in a controlled and fully-equipped facility. It's just not the same when you're outdoors and the pool is already in the ground.
Take a look at how the gelcoat process is carried out in our River Pools manufacturing plant:
So, how do you resurface a fiberglass pool?
Typically, you would use a product like ecoFINISH if you need to have your fiberglass pool resurfaced.
ecoFINISH is a long-lasting, chemical-resistant coating that can be applied to a variety of concrete and fiberglass pool surfaces.
This coating is applied to the surface of the pool while it's in the ground, and it comes in different colors. The application can be done within days and cures almost immediately, which means you'll be back to swimming in no time.
How much does it cost to resurface a fiberglass pool?
If you're using a product like ecoFINISH to resurface your swimming pool, you can expect to pay about as much as you would to refinish your pool with plaster. To give you a rough estimate, you can replaster a small 12x24 inground pool for about $10,000 and up. This price can double for larger pools, but the final cost will also depend on where you live and the contractor that you hire.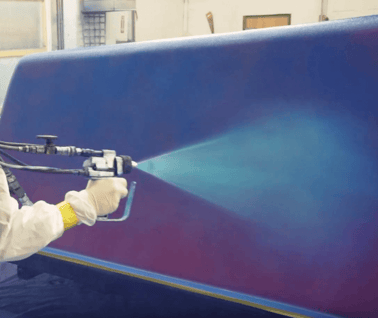 How to choose a fiberglass pool with a quality gelcoat
Our best advice is to choose a high-quality fiberglass pool in the first place and to take excellent care of it. This means no harsh chemicals not meant for fiberglass pool use and keeping up with regular maintenance.
But how do you know if your fiberglass pool is high-quality?
Take a look at the company's manufacturing materials. See what they say about their manufacturing process and evaluate how open and honest they are about it.
We not only have plenty of information available about our manufacturing steps, but we also make tons of educational content including videos, guides, and more to walk you through how your pool is made before you buy it.
As a general rule, the cheaper the fiberglass pool is, the poorer the quality may be. Unfortunately, the old adage of "you get what you pay for" is often true.
We would advise against investing thousands of dollars in a poor quality pool. It may be nice for a while, but it will only give you problems and cost even more later on. If you invest in a high-quality fiberglass pool, you'll save yourself a lot of headaches and a lot of money in the long-run.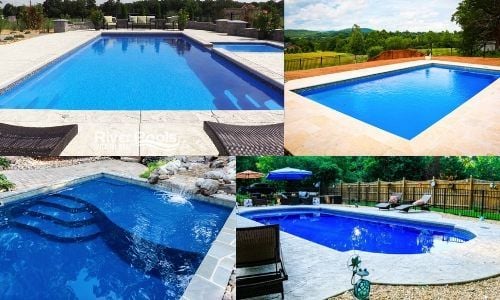 At River Pools, we manufacture world-class fiberglass swimming pools for customers across North America. Take a look at our catalog of models today and browse our gallery to see what we can do for your pool project.
Wondering how much a high-quality fiberglass pool costs? Try out our fiberglass pool pricing calculator or contact us directly for a custom quote.
Before you go, be sure to download our free ebook below to learn how to get started on your journey to buying your own fiberglass pool.
Up Next:
Your Swimming Pool Color Options: Concrete, Vinyl Liner, and Fiberglass
Inground Swimming Pool Maintenance Costs: Chemicals, Electricity, and More