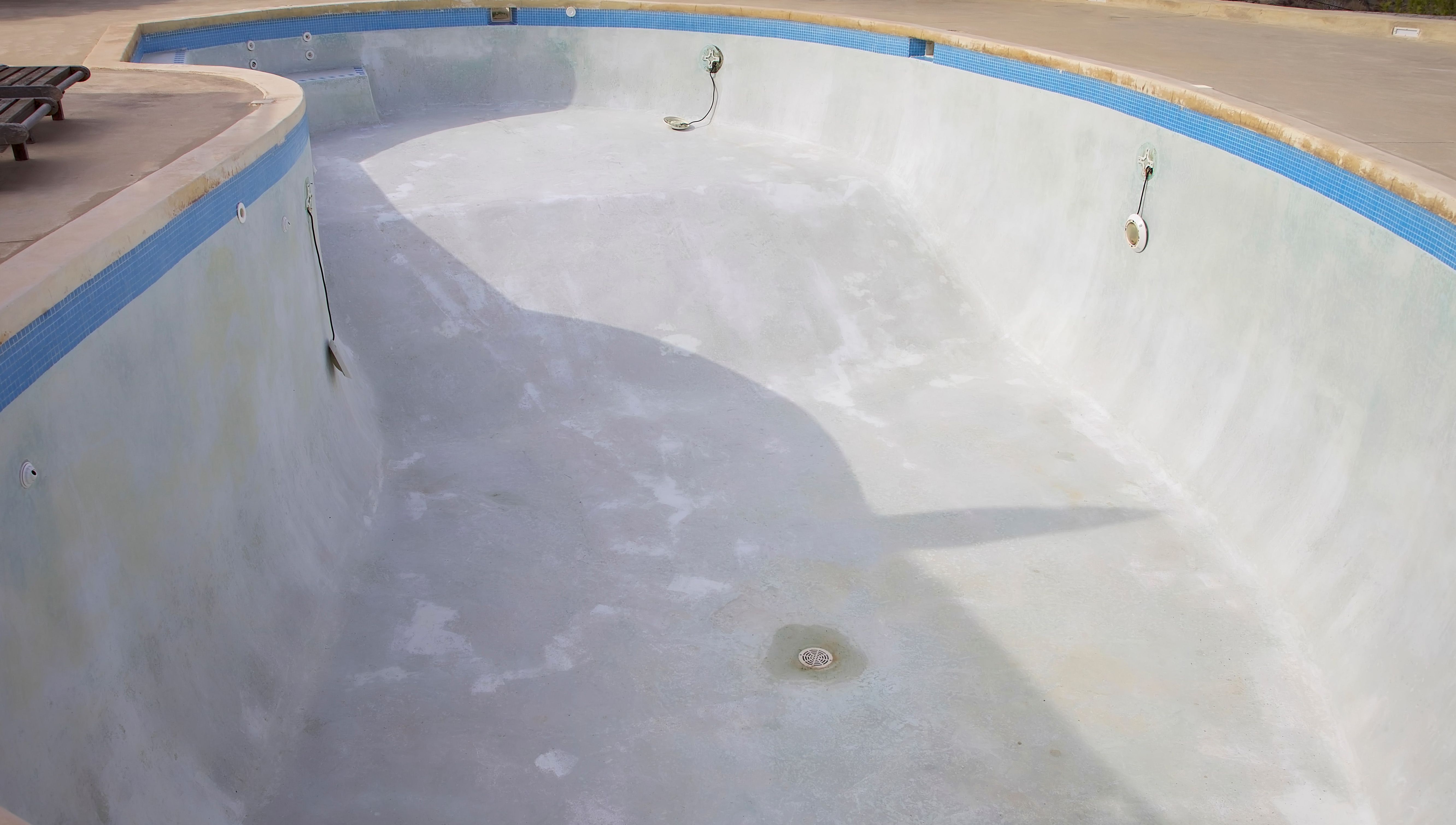 Subscribe
A Complete Review of ecoFINISH for Swimming Pools
Fiberglass Pool Information | Options and Accessories | Concrete Pool Information
Looking for a new finish for your swimming pool? If tile, plaster, or aggregate aren't your jam, you still have a few other options.
One viable option that we sometimes recommend is ecoFINISH. You might have heard of it before, so we want to help you learn more about it and explain how it works.
Because we're in the fiberglass pool business, we often get asked how to refinish a fiberglass pool if the surface wears out or gets damaged. Since it isn't practical to reapply a gelcoat across the entire surface when the pool is in the ground (we'll explain this later), we typically tell people that a product like ecoFINISH is their best option.
So, what is ecoFINISH exactly and how does it differ from other pool resurfacing options? Who can use it and how is it applied? We hope that by writing this article, we can provide the answers to all of these questions and more so that you can decide if this is the right product for your pool or spa.

What is ecoFINISH?
ecoFINISH is a polyethylene powder coating that can be applied to a variety of swimming pool surfaces. It's applied using a compressed air gun and set into place with heat (usually with something that looks a lot like a flame thrower).
Can I use ecoFINISH on any type of pool?
ecoFINISH makes products for a wide variety of uses, including refinishing concrete and fiberglass swimming pools. Their products can also be used on steel and aluminum pools, but since fiberglass and concrete pools are most common in homes, we'll focus on these two in this article.
But what about vinyl liner pools?
Although you can't apply a finish to a vinyl liner (that would be really weird), you can refinish any fiberglass steps or slides that you may have installed around your inground liner pool with an ecoFINISH product.
How is ecoFinish applied?
One of the reasons why people like ecoFINISH is that it can be applied and cured quickly. As we already mentioned, ecoFINISH is a powder in its raw form, so to make it stick to the pool surface, there are a few essential things that need to happen:
First, you may need to have your pool sandblasted if there is paint or residue stuck to the surface. It also needs to be cleaned and examined to ensure that there aren't any imperfections before the application process begins.
Once the pool is sanded, cleaned, and ready, a layer of epoxy needs to be applied to the entire surface of the pool. The epoxy will help to create a longer-lasting finish and provide something for the powder coating to stick to.
After the epoxy is applied, the powder is sprayed onto the tacky surface with a compressed air gun. Heat is applied to the surface to cure the coating, and a strong bond is formed between the epoxy and the plastic powder, creating a smooth texture.
The ecoFINISH product should be applied in a few layers, with the second layer making sure that the color is as uniform as possible. If you want textured steps, tanning ledges, and entry or exit points, the coating can be applied differently in the final layer to make it more slip-resistant.
The great thing about ecoFINISH is not only its quick application but also its fast curing time. It dries almost immediately, so you can begin refilling your pool that same day.
ecoFINISH for Concrete Pools
Most people will opt to resurface their concrete pool with plaster, tile, or aggregate, but ecoFINISH products make another great option if you want a lower-maintenance surface that's easy to repair and replace.
The ecoFINISH brand has several products that tailor to different surfaces, and their concrete pool coating is called aquaBRIGHT. aquaBRIGHT comes in several different colors and offers this same fast application for any concrete pool or spa.
ecoFINISH for Fiberglass Pools
ecoFINISH is our standard recommendation for fiberglass pools that need to be refinished. Whether the pool is really old, poorly made, or poorly maintained, if it needs to be totally resurfaced, a new gelcoat won't be the most practical option. A gelcoat can be applied to make smaller repairs, but it's not suitable for an entire resurface job.
The gelcoat is an extremely durable and long-lasting surface, but to get it onto your pool, it needs to be applied in a controlled environment where it can cure at a stable temperature and without being exposed to the elements. Because resurfacing it this way won't be an option with your pool already in the ground, a polyethylene product is the next best thing.
ecoFINISH has a product made specifically for fiberglass pools and spas (and other fiberglass pool parts like steps and slides). They call their fiberglass pool finish polyFIBRO. PolyFIBRO is much quicker to apply and cure than a gelcoat, and it can be applied easily when the pool is already in the ground. This is important because you'll want to be able to refill your pool with water as soon as possible to safeguard against any rare but major problems.
ecoFINISH Colors
ecoFINISH comes in a variety of colors for both fiberglass and concrete surfaces. These include black, blues, greys, white, and shades of sandstone. You may also be able to get a custom color made for your pool or spa if you don't like the colors that they have readily available.
How much does ecoFINISH cost?
The cost to refinish your pool with an ecoFINISH product will depend on a few factors. First, the more gallons that your pool or spa holds and the larger the surface area, the more you can expect to pay. If your pool has paint stuck to the surface, it may need to be sandblasted beforehand, which can also add to the cost.
For a small to medium inground pool, you can expect to pay about $10,000 to $13,000 or more, which is around the same cost as resurfacing your pool with plaster. The price can double for large inground pools, but the price that you are quoted can also depend on the area in which you live and the contractor that you work with.
At River Pools, we manufacture and install world-class fiberglass swimming pools for customers across North America. We create our pools with a durable, high-quality gelcoat surface that can last several decades or even the entire lifespan of the pool, but we still frequently get asked what will happen if and when the pool needs to be refinished. In these cases, we would recommend a coating like ecoFINISH.
We hope that this article has helped you learn a little bit more about your inground pool surface options. If you have any questions, feel free to leave them in the comments below and we will get back to you with an answer as soon as possible.
If you're interested in buying a fiberglass swimming pool, check out our catalog of models and visit our gallery to see what we can do for your inground pool project.
Wondering how much your fiberglass pool might cost? Contact us today to request pricing, and in the meantime, try out our pool pricing calculator for a fast estimate:
---

Want to see about how much that cost will be with all your favorite pool accessories?
Use our Design and Price Tool to walk through your options and approximate price!
---
Before you go, be sure to download our free ebook below to learn how to get started on your journey to getting a fiberglass swimming pool. Happy swimming!
Up Next:
Do Fiberglass Pools Need to be Resurfaced?
An Honest Look at Fiberglass Inground Pool Prices and Monthly Pool Payments in 2020
Your Swimming Pool Color Options: Concrete, Vinyl Liner, and Fiberglass