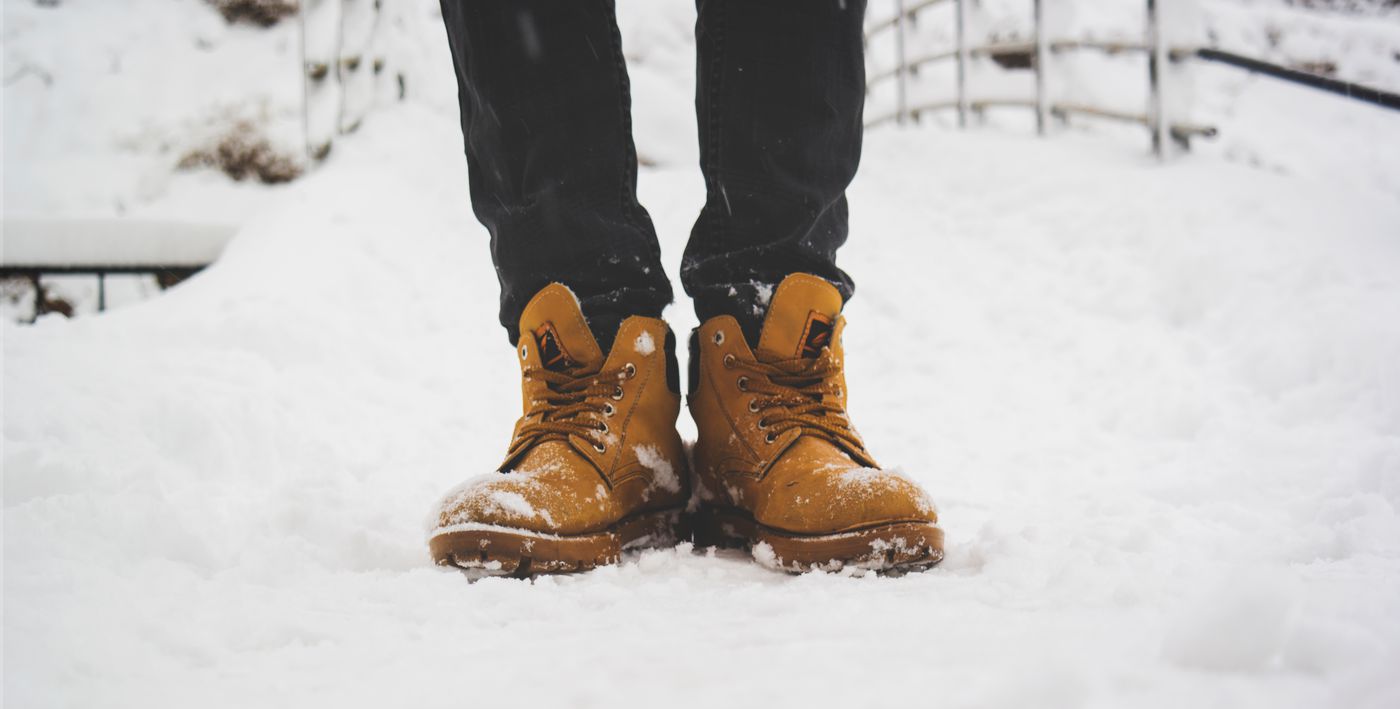 Subscribe
When Should I Close My Pool for the Winter?
Pool Maintenance | Swimming Pool FAQs | Pool Closing/Winterization
I have zero tolerance for the cold. My family teases me for my wimpiness. I've accepted it.
Around November or December every year, I vow to move to Hawaii. I spent most of my life in a pretty chilly area and now live in a warmer climate—and I still hate winter. If I have to wear a coat outside, I don't want to go outside. I'd rather huddle indoors with blankets and hot chocolate for four months.
Like me, your pool can only last so long before the cold wins out. So when does your pool need to hibernate?
Factors for closing your pool
Temperature
The closing time depends on your region of the country and its seasonal temperatures. For example, you may never need to close your pool at all if you live in Florida or Arizona. If this is the case, I'm jealous. Being cold is the worst.
For those of us who suffer through winter, most public pools tend to stay open from Memorial Day to Labor Day (May–September). Residential pool owners often follow the same schedule.
From the service side of things, we're often the busiest around Memorial Day (for openings) and around Labor Day (for closings).
One big factor is whether or not you have a pool heater. Pool heaters can extend your pool time by a month before and after the standard pool season, so you could swim from April to October.
We all know that one guy who refuses to put on long sleeves until it gets down to -20°, but your pool is not that guy. Definitely close your pool before the temperatures fall under 30°F (-1°C) at night.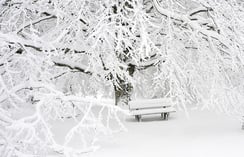 As long as the pump is running, the water is moving, so it won't freeze. But if you lose electricity during a storm and it gets down below freezing, the water will freeze in the pump and filter.
You also need to consider the fact that there may be some plumbing lines (like for a slide, for example) that may not have water moving through them. If that's the case, better go ahead and winterize your pool.
Once you've closed the pool, you don't have to worry about the pump and filter system freezing. Winterizing the pool includes draining the water out of the system (but not out of the pool itself).
Side note: If you have a robotic pool cleaner, follow the manufacturer's instructions for the "remove from pool" temperature. This will probably be sooner than the overall "close the pool" temperature. Running a pool-cleaning robot at low temperatures can damage its motor.
Take care of your robot. Cherish your robot.
Tree cover (specifically leaves)
If you have a lot of tree cover in your yard, it's best to cover your pool before the leaves fall.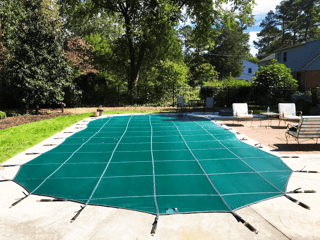 Once they start dropping, it's a lot of maintenance to scoop them out.
Don't leave them in the water all winter, either. They can stain your pool, and no one wants that.
Winterize properly
You can close your pool at the right time, but if you close it incorrectly, you may still do more harm than good.
Follow these basic steps:
Brush, shock, and sanitize and balance the pool thoroughly.

Add 10 ounces of algaecide per 10,000 gallons of pool water. Add metal remover/sequestering agent as per manufacturers instructions.

Vacuum any debris off the pool bottom.

Allow pool chemicals to filter for 24 hours.

Drain water down as necessary, but not below the skimmer for fiberglass.

Remove all plugs and water from pump and filter system, including any heating elements like a heat pump.

Blow out pool's plumbing lines and plug all lines. We recommend using an air compressor. Be sure to add a skimmer plug, called a "Gizzmo," to the skimmer.

Remove any ladders or handrails.

Place the cover on top of the pool and secure it. For solid vinyl or tarp covers, remember to place a pump in the center of the cover to pump off any rainwater.
Side note: If this sounds not-so-fun, you can hire a professional pool cleaning service. They might ask you to brush and vacuum the pool yourself before they come and do all the technical stuff. Be sure to ask what you're responsible for!
Our policy for fiberglass pools is not to lower the water level below the skimmer. It can void the warranty. It also runs the risk that water around the pool can build up hydrostatic pressure, which is bad news.
Remember these aspects of pool closing that many people overlook:
Clean the salt water generator

Winterize the heater

Clean the filter

Turn off all electrical components
If you live in Virginia or Maryland and would like a professional to close your pool, contact us! River Pools provides pool-closing/winterization services.
Want more info about pools?
Even when it's cold (and I am very aware of when it's cold), River Pools manufactures and installs freeform and linear fiberglass pools in Virginia and Maryland. We also operate in other areas of the country through our nationwide dealers.
If you'd like to learn more about the different types of pools, check out our comprehensive ebook "Comparing Fiberglass, Concrete, and Vinyl Liner Pools in the Modern Age." It discusses cost, design, surface durability, installation… basically any aspect you might want to compare before you make a big pool decision.
You can also check out our guide to pool maintenance for any other issues you may encounter. We want to help you make the most of your pool!
Up Next:
Automatic Pool Cover Winter Maintenance: Everything You Should Know
An Honest Look at Fiberglass Inground Pool Prices and Monthly Pool Payments
Should You Buy a Fiberglass Pool? (Infographic)