Subscribe
Automatic Pool Covers Pros and Cons
Options and Accessories | Swimming Pool Accessories
We have already discussed automatic pool covers in another blog article that discusses all covers, but this past year I have had many requests for automatic pool covers and mostly I have found that those people have not read our article on pool covers.
The reason we are getting requests for them is because the homeowner has already had a couple of pool companies out to their house and they tell the salesman that they want an automatic pool cover, or the salesman in his attempt to up sell will pitch an automatic pool cover.
Regardless, the salesman doesn't take the time to educate the consumer on what they are getting ready to invest in.
We would love to sell you an automatic pool cover, but before we do, we want you to know what you are buying.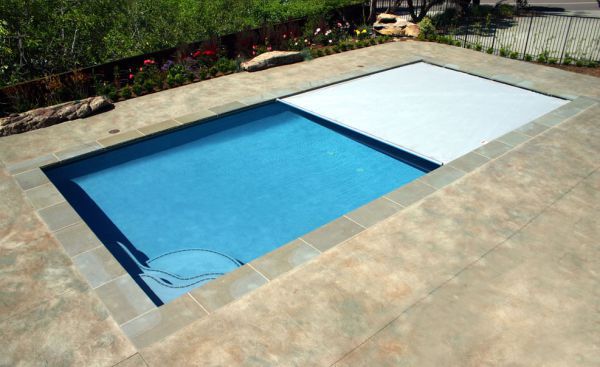 So here is your information on automatic pool covers, the pros and the cons.
As with anything, cost will vary on the type of the automatic pool cover and the manufacturer that makes them.
You get what you pay for and sometimes you don't even get that.
Cost: $12,000 to $22,000
People think that they will fall in the $5,000 range all the time with the automatic pool cover, but in reality most people spend between $12,000 and $22,000. This is a more realistic number you can expect to spend.
If you are looking for a cover lid that matches your decking, plan on $22,000.
If your pool is not a true rectangle, you will have tracks that mount on top of the decking of your pool. These tracks can be toe stubbers, and are somewhat unsightly.
The less expensive automatic pool covers that are mounted on top of the deck can run around $8,000 to $10,000 installed, not including electrical hook up.
The drill or manual pool covers are top mount and usually run between $5,000 to $8,000.
Pro: They will help heat your pool
Automatic pool covers are made of a heavy vinyl and work much better than a solar cover. It is not uncommon for them to add 10 to 15 degrees to the temperature of the pool.
If you have a heat pump, the cover will help keep cost down by not letting a lot of the heat dissipate into the air, also reducing evaporation.
Con: They will heat your pool too much sometimes
When a customer calls and says that their pool is getting too warm, we advise them to leave their cover open to try and cool the pool off.
At this point the automatic cover is a huge expense that is not being used for the intended purpose.
If you have a heat pump with a chiller, you can cool the pool with the chiller. It does run the operational cost up, though.
Pro: Keeps People Out
Automatic pool covers work good for keeping children and even adults out of the pool if you do not wish to have them in the pool.
You can even walk on the cover; it feels like walking on a water bed.
Con: Keeps People Out
If you buy an automatic pool cover for your pool, I suggest when you are planning to entertain on the weekend with a pool party that you open your cover on a Wednesday and leave it open until after the party. Then if the cover does not open, you will have time to have someone come out and repair it before your party.
I have had this happen where the customer went to open their cover during a cook out swim party and the cover would not open. It being Saturday, there was no way we could help them so they went without swimming.
Want to know how much your pool project might cost with an automatic cover, or any other options, accessories, and/or add-ons you might want? Try our Design and Price tool and get a general estimate with just a few clicks! It's free -- just click the button below:
Pro: Keeps Dirt Out
With an automatic pool cover your pool will be easier to keep clean.
It will also save you time in taking care of your pool.
Con: Keeps Chlorine In
Whether you are on a salt generator or chlorine, your automatic pool cover will hold the chlorine in and not let it dissipate the way it should.
It is advised that you keep your chlorine levels to the bare minimum when using an automatic pool cover.
Chlorine and salt are both corrosive to the metal parts of your automatic pool cover.
Pro: May Replace a Fence
Some counties allow the automatic pool cover to take the place of a fence.
Con: Generally Costs Much More Than a Fence
So you may be able to use the auto cover to replace a fence, but if you're choosing only one or the other, a fence is often the cheaper option.
The Rest of the Story
While automatic pool covers save you in some areas with time and maintenance, it's advisable to budget about $1,000 a year for your automatic cover.
Why?
When you replace your cover in usually about 5 to 6 years, it will cost you close to $5,000. This does not even take into account replacing the motor or pulleys and ropes in the webbing.
During the winter months, if snow is in the forecast, you will need to open your automatic pool cover. Even though automatic pool covers can carry the weight of several people on them, they will not carry a snow load.
A heavy load of snow can pull the rope out of the tracks and sometimes even collapse the tracks.
We advise our customers to purchase a regular security cover and use that during the winter months to keep from having to worry about opening their automatic pool cover due to snow.
So there you have it, the pros and the cons of owning an automatic pool cover.
After being in the fiberglass swimming pool business since 2001, there is a reason I chose not to install an automatic pool cover on my personal pool. The cons far outweighed the pros in my opinion.
Up Next:
How Late Can I Install a Pool Cover?
Automatic Pool Cover Winter Maintenance: Everything You Should Know
---
Editor's note: This blog article was originally published in November 2013 and has been updated and revamped for accuracy and appearance.