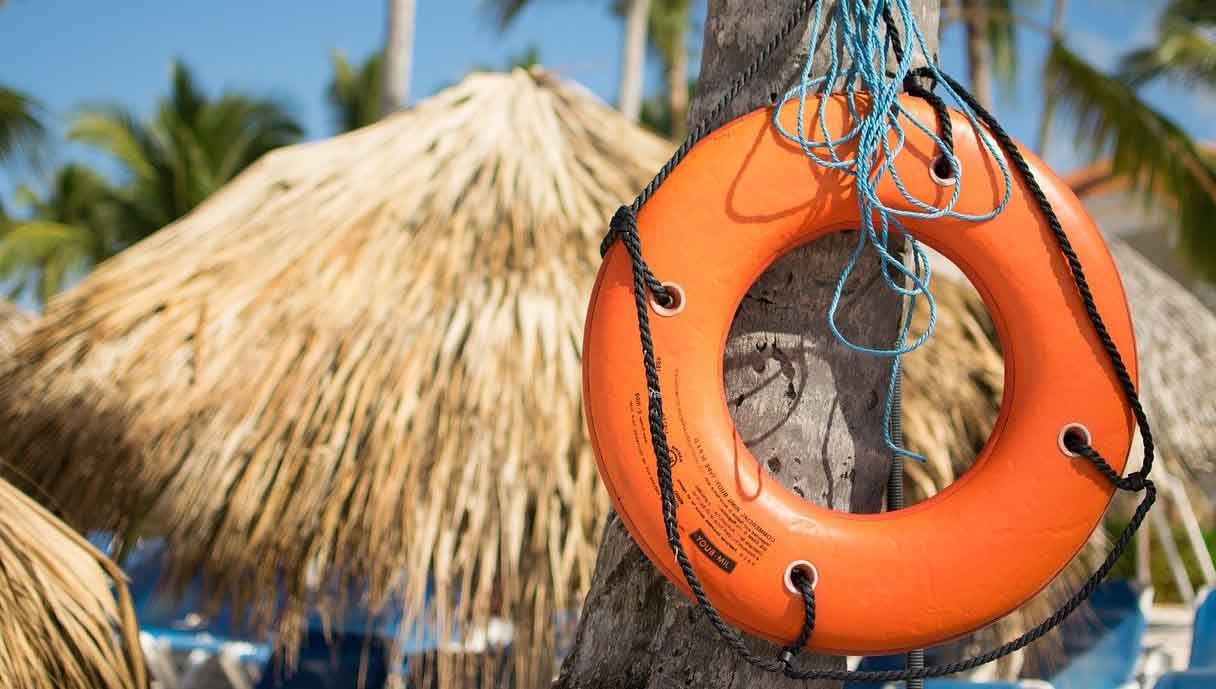 Subscribe
The Ultimate Guide to Pool Safety Equipment: Prices, Uses, Tips
When you have a swimming pool on your property, there are few things more important than safety. The value of pool safety increases if you have children or pets, or if you live in a neighborhood where children reside.

As a new pool owner, that means you'll have to consider investing in some pool safety equipment to ensure the continued security of your pool area.

We know...you might prefer to save for an in-pool furniture set or a cool poolside tiki bar, but if we've learned anything over our many years as fiberglass pool manufacturers, it's that safety must always come first. Plus, many pool safety accessories are surprisingly affordable!

So, in this article, we'll list some pool safety equipment that you need to know about to keep your pool area secure year-round. Be sure to read on to the end to learn some of our top pool safety tips, including safety tips for diving boards, pool lights, and pool slides.

Let's jump in and start with some essential pool safety equipment.
Pool Safety Fence
A pool safety fence is typically a fence around the pool area that is self-closing and self-locking. These are usually permanent and are often made of aluminum or wrought iron (not to be confused with temporary pool safety gates).
For a fence to qualify as a safety fence, it must serve as more than just a barrier. That means it needs to be self-closing and self-locking (to eliminate the chances of leaving the door open or unlocked), and it may need to meet specific height requirements and cannot allow children or pets to slip between panels or bars as well as under or over the fence.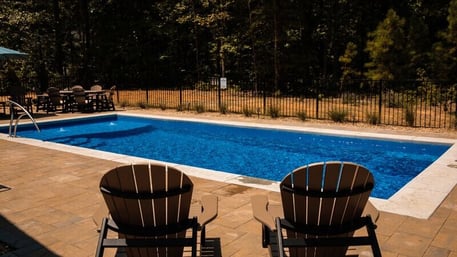 How much does a pool safety fence cost?
A pool safety fence will likely cost upwards of $1,000 and, more accurately, several thousand depending on your pool's size or the area that you need to gate off. If you're using it as a perimeter around your entire backyard, you can expect your pool fence to cost much more than if you're looking to close off just the pool.
Your pool fencing might cost an average of $10 to $30 and up per linear foot, depending on the materials (check out this article to see approximately how much the different fencing materials cost per foot). If you already have a fence around your pool or backyard, you might be able to buy and install self-closing gate hinges and a self-locking latch to increase the safety of your pool area.
Pool Safety Gate
A pool safety gate is much like a pool fence, but it is temporary and generally shorter at around four feet tall. Safety gates usually go around just the pool, whereas pool fences might go around a larger area or the whole backyard.
Temporary safety gates are also usually made out of mesh, and while they aren't permanent, they will likely require you to drill holes in your pool patio. (Some designs might not require drilling into your patio, but these may not be as sturdy or durable.)
Like a safety fence, a pool safety gate will probably have a self-closing door with a self-locking latch. These are generally effective for keeping both small children and pets out of the pool. If you're looking to keep adults or teenagers out of the pool, you might want to consider installing a more permanent and taller pool safety fence.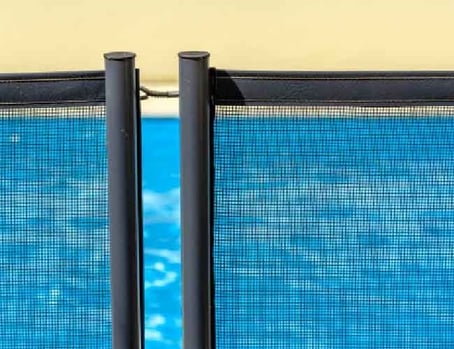 How much does a pool safety gate cost?
In total, you can expect to pay about $1,500 or more for a pool safety gate.
The price of a mesh pool safety gate will vary by manufacturer and the size of your pool (or the size of the section that you want to gate off). Each panel may need to be purchased separately, which gives you the chance to save some money if you have a smaller pool. To give you a rough estimate, you might pay around $100 to $150 per 10 to 15-foot panel and over $400 for the self-closing door.
Pool Safety Cover
Pool safety covers or security pool covers are the ultimate inground pool safety barrier because they can support a lot of weight (like a whole car), and they are installed flush with the pool patio.
This means that even if you or a child were to step onto the pool cover accidentally, there would be very minimal danger of falling through. The cover is also anchored to the patio every few feet on all sides leaving no room for children to slip between the cover and the pool deck and into the pool.
On the downside, safety covers only keep the pool area safe during the offseason when the pool is closed and covered (they can be a lot of work to put on and take off). For year-round safety, you might want to consider adding an automatic pool cover to your inground pool.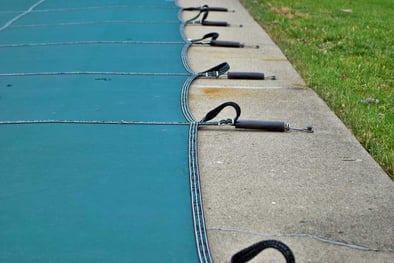 Automatic Pool Covers
An automatic pool cover can't hold the same amount of weight as a spring-loaded security cover, but it can support up to 2,000 pounds distributed across the surface, and that means it can protect you from drowning if you happen to fall onto it. It also acts as a deterrent in addition to being an effective barrier. Read more about automatic pool cover pros and cons here.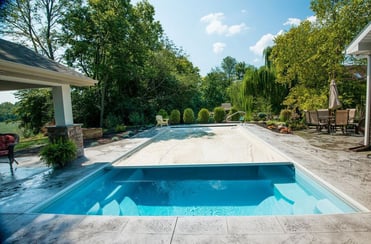 How much does a pool safety cover cost?
A pool safety cover might cost you $1,200 to $3,000, and it will likely last 6 to 15 years, depending on the type (compare the two types of safety pool covers here). You will also likely have to pay a pool service provider every year to help you put the cover on in the fall and take it off in the spring.
An automatic pool cover will be more expensive at $12,000 to $22,000 on average, but you can open and close the pool all year with the push of a button.
Pool Safety Net
A pool safety net is a net that goes over the top of the pool to prevent children or animals from falling into the water. The net typically has wide loops and is fastened all the way around the pool to prevent children and pets from crawling between the net and the coping. Swimming pool nets are also a good solution for above ground pools that need extra security.
Note: Like with a security cover, you may need to drill holes into your pool deck to install a pool safety net, which can be a drawback for those who spent a considerable amount on their patio materials.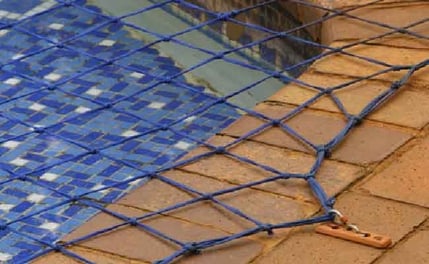 How much does a pool safety net cost?
A pool safety net may cost several hundred dollars to more than $500, depending on the size and manufacturer. However, it may not be as durable as a pool safety cover and will likely need to be replaced more often.
Pool Safety Cover vs. Safety Net
Pool safety nets don't keep debris out of the pool like safety covers, and they can't hold as much weight. They also don't last as long as any of the safety pool cover types, which means they can cost more to replace in the long-run.
On the other hand, swimming pool nets typically have lower upfront costs and can be sufficient at keeping children and pets out of the pool. A safety pool net might also be a good option if you can't afford a safety pool cover at the moment but still need an added layer of security.
Pool Safety Alarm
If you want to take your pool security a step further, you can install a pool alarm (available for both inground and above ground pools). Pool alarms use underwater sensors to monitor the pool area and alert you when people, animals, or objects enter the water.

But don't worry - your alarm won't be blaring with every leaf or berry that falls into the pool. The sensor only goes off when something with a substantial amount of weight, like a small dog or child, enters the water.
How much does a pool safety alarm cost?
The average price of an inground or above ground pool safety alarm system is around $175. There are more sophisticated drowning detection systems with underwater cameras that continuously monitor the pool for signs of drowning, but these are typically used in commercial pools and cost tens of thousands of dollars.
You may choose to install a smaller drowning detection camera system for your residential pool, but it may still cost you a pretty penny. And by a pretty penny we mean several thousand dollars minimum.
Pool Security Camera
If you put a security camera near your front door, why not put one by your pool? Monitoring your pool area from an app can be the simplest way to ensure that pets, children, and wandering animals aren't getting into the water. Some, if not most, outdoor security cameras come with night vision so that you can check on your pool at any time.
Keep in mind that pool security cameras are a good investment for peace of mind, but they don't do much to prevent drowning. While you can check on your pool at any time, there is no way for a security camera to stop someone from entering the pool on its own. Outdoor security cameras for the pool area are best paired with gates, alarms, and other safety features.
How much does a pool security camera cost?
Prices for pool security cameras range from as little as a few hundred dollars for equipment and setup to over $1,000 depending on the provider. In addition to the cost of equipment and setup, ongoing service for your security system should be factored into the total cost.
Pool Safety Accessories
There are a myriad of smaller and more affordable pool safety accessories that can make your pool area a much safer environment for all swimmers. Some of these include:
Life ring

Pool safety rope

Pool signs (no running, no diving, pool rules)

Pool safety hook

Pool mats

First aid kit
Pool owners sometimes overlook the little things that keep people safe, like life rings or pool hooks. These are accessories that actually come in handy in the event that someone is struggling to stay afloat and in need of help.

Many of these pool safety accessories go a long way in preventing accidents as well. For example, if your pool is not a suitable size and depth for diving, be sure to put up a "no diving" sign where guests can see it. Diving into shallow water can cause serious injuries, which can lead to drowning or death. If you have a deep end pool, you can also keep it roped off with safety rope to prevent children from wandering too far from the shallow zone.

Hanging "no running" signs can also prevent accidents as well as keeping a sign with all of your pool rules somewhere visible to swimmers. Placing slip-resistant pool mats around the perimeter of the pool can prevent slipping and related injuries, especially if your patio is made of slippery materials like tile or stamped and sealed concrete.
How much do pool safety accessories cost?
Pool safety accessories are often less than $50 to purchase and keep by the pool. Here are some average prices for the top pool safety products:
| | |
| --- | --- |
| Pool Safety Accessory | Average Price |
| Life Ring | $75 |
| Safety Rope | $20 |
| Pool Sign | $10 |
| Pool Safety Hook | $30 |
| Pool Mats | $50 |
| First Aid Kit | $25 |
Pool Safety Bracelet
A pool safety bracelet is a device that you attach to your child's wrist or the collar of your pet to monitor their whereabouts. If the device enters the pool water, an alarm will sound immediately to notify you that they have gone into the pool.
This is a great option if you want to take extra precautions with your kids or pets, especially if you worry that your current pool safety measures aren't enough. Pool safety bracelets are also relatively affordable compared to other pool safety equipment and accessories.

How much does a pool safety bracelet cost?
Pool safety bracelets typically cost around $150 to $220 and up, depending on the manufacturer. This should include the bracelet and the soundbox for the alarm, along with some other necessary equipment to get the system up and running.
Pool Safety Rail
Pool safety handrails are a staple on many inground pools because they can help you get in and out of the water without slipping. Safety rails are especially necessary if elderly, disabled, or very young people will be using the pool.

Typically, a handrail is something that should be installed when your pool is built so that it can be bonded correctly, but you can always easily add a plastic or other non-metal safety rail later on.
How much does a pool safety rail cost?
You can buy a pool handrail for around $100 to $300 and up. Most of your options will be stainless steel, but you can also find other types like polymer and aluminum. You'll also need to factor in the cost of installation for your handrail if it's not taken care of by your pool builder.
Pool Gate Alarm
Maybe you already have the self-closing and self-latching gate, but why not go the extra mile and put an alarm on it? Just to be on the safe side.
Pool gate and door alarms attach to the pool gate and notify you when it has been opened. These are also great to use in the house, like on the back door leading to the pool area or a backyard facing window. Most alarms can fit onto doors, gates, windows, or wherever the added security is needed.
How much do pool gate alarms cost?
A pool gate or door alarm can cost less than $100, making it one of the more affordable pool safety features available. These primarily function to keep small children from opening doors to the pool area and don't necessarily work as traditional safety systems or use a passcode.
Safety Pool Drain Cover
If you have an inground pool in your home or backyard, you'll want to ensure that your drain is properly covered. A poorly fitted or run down drain cover can lead to entrapment (the suction or grate of the drain can catch a limb, hair, or a piece of clothing and prevent the swimmer from returning to the surface).
Installing a drain cover that eliminates the possibility of entrapment can help keep everyone much safer and bring you more peace of mind. You'll also want to ensure that your safety drain cover fits properly and is the right size for your pool drain.
Pro tip: Be sure to implement a rule that no one swims up to the drain at the bottom of the pool.
How much do safety pool drain covers cost?
Pool safety drain covers may cost you no more than $150 to buy and install, making it a definite must-have for every inground pool owner. Installation may cost extra if you need to hire a professional to work underwater (it's not a good idea to drain your pool unless absolutely necessary, and even then, you should have a professional assist you).
Read more: 3 Reasons NOT to Drain a Fiberglass Pool!

Tips for Pool Safety
One of the best ways to keep everyone in the pool safe is to be vigilant and mindful of your surroundings. As fiberglass pool manufacturers who work with pools and pool owners every single day, we've collected a long list of pool safety tips to consider if you're thinking of getting a swimming pool. They include:
Teach your children to swim.

Make a list of pool rules and keep them somewhere visible by the pool where everyone can see them.

Hang up "no diving" signs if your pool is not deep enough for diving and verbally notify your guests that diving is not allowed.

Don't consume alcoholic beverages while supervising children in the pool.

Avoid overcrowding your pool with guests. Overly crowded pools can make it nearly impossible to detect when someone is drowning.

Don't allow running, horseplay, or inappropriate use of diving boards and pool slides.

Rope off the deep end to help small children stick to the shallow zones of the pool.

If you have an automatic pool cover or a sliding deck pool cover, replace the pool cover whenever the pool is not in use.

Never swim in water that is too cold.

Consider adding a self-closing hinge and self-locking latch to your pool gate or fence.

Never swim up to the pool drain or allow guests to do so either.

Never swim in the pool while it's being drained of water.

Avoid swimming in dirty or untreated water (pool parasites are no fun).

Don't host gatherings or allow children to swim if the water is cloudy and visibility is poor (it's best not to swim at all until the water is clear).

Never swim outdoors during a storm.

Learn CPR.

Make sure your drain cover is on correctly and has no cracks.
Read more: Important Ways to Keep Your Children Safe in the Pool
Diving Board Safety
Diving boards are pretty awesome, but they can also be a safety hazard if used incorrectly. There are a few things that you need to consider before installing a diving board.

First and foremost, never put a diving board on a pool that's not rated for diving (diving pools must have at least eight feet of water and meet several other design requirements). Second, don't use the diving board while intoxicated. Third, unless you're a pro gymnast, leave the fancy flips to the trampoline where you'll have a softer landing.

Every year there are countless neck and back injuries due to people attempting to somersault into the deep end only to land on the diving board or hit it on the way down. Not only is this unpleasant, but these injuries can be life-threatening.
If you're going to put a diving board on your pool, here are some rules to stick to:
Don't attempt to dive into the deep end from either side of the pool (you could crash into the diving board while aiming for the water or end up in an area that's too shallow for diving)

Don't do any fancy flips unless you have been trained by a coach

Only one person should use the diving board at a time

Don't dive into the deep end while people are swimming in it

Avoid doing handstands or other "tricks" on the diving board

Never hang off the edges of the board

Don't jump on the board before you dive if you're unsteady (and try to avoid jumping multiple times before your dive)

Don't jump or dive to the left or right of the diving board, only front and center
It might be a good idea to print or paint a sign with your diving board rules and keep it near the deep end of the pool where everyone can see it.


Pool Light Safety
Occasionally, people will tell us that their pool lights are broken, filling with water, or otherwise malfunctioning. If you notice that something is wrong with your pool light, we urge you to get it checked out by a professional immediately and avoid using the pool until the electrician or pool service professional says it's okay.
We have heard of several unfortunate accidents connected to electrocution and pool lights over the years in the industry, and it's not something we want any of our readers or customers to have to experience.
A few general pool light rules to follow include:
Avoid touching the pool light fixture and teach your kids to avoid it as well, just to be safe.

Never change the pool light on your own or attempt to repair the pool light casing unless you are an experienced professional.

If you feel a tingling or shocking sensation in ANY part of the pool, get a professional to check it out immediately and close off your pool until you have a diagnosis (may or may not be related to a light).
Pool Slide Safety
If you have a pool slide, you'll know that while they can be great fun, there are dangers to using them incorrectly. Make sure that everyone follows these rules while the slide is in use:
Only one person on the pool slide at a time

Never try to climb up the slide

Don't go down the slide until the bottom is clear of other swimmers

No standing on the slide

No diving from the slide

Avoid consuming alcohol while using the pool slide

Go down feet first only

No playing or roughhousing around the pool slide

Only use the slide when there are at least two people at the pool
What are your best safety tips for the pool area, and which pool safety equipment do you depend on most? Let us know in the comments!

At River Pools, we manufacture high-quality fiberglass pools for customers across North America through our network of certified dealers and installers. If you're interested in getting a fiberglass pool for your home (or if you just want to discuss pool features and inground pool pricing), feel free to get in touch with us using the button below.
In the meantime, you can try out our pool pricing calculator for a fast estimate or visit our extensive video library for more information on inground pools. If you still haven't decided which inground pool type you want to build, you can download our free ebook below for a full in-depth comparison. Happy swimming!

Up Next:
Swimming Pool Accessories: The Ultimate Cost and Comparison Guide

7 Pool Extras That Won't Break the Budget