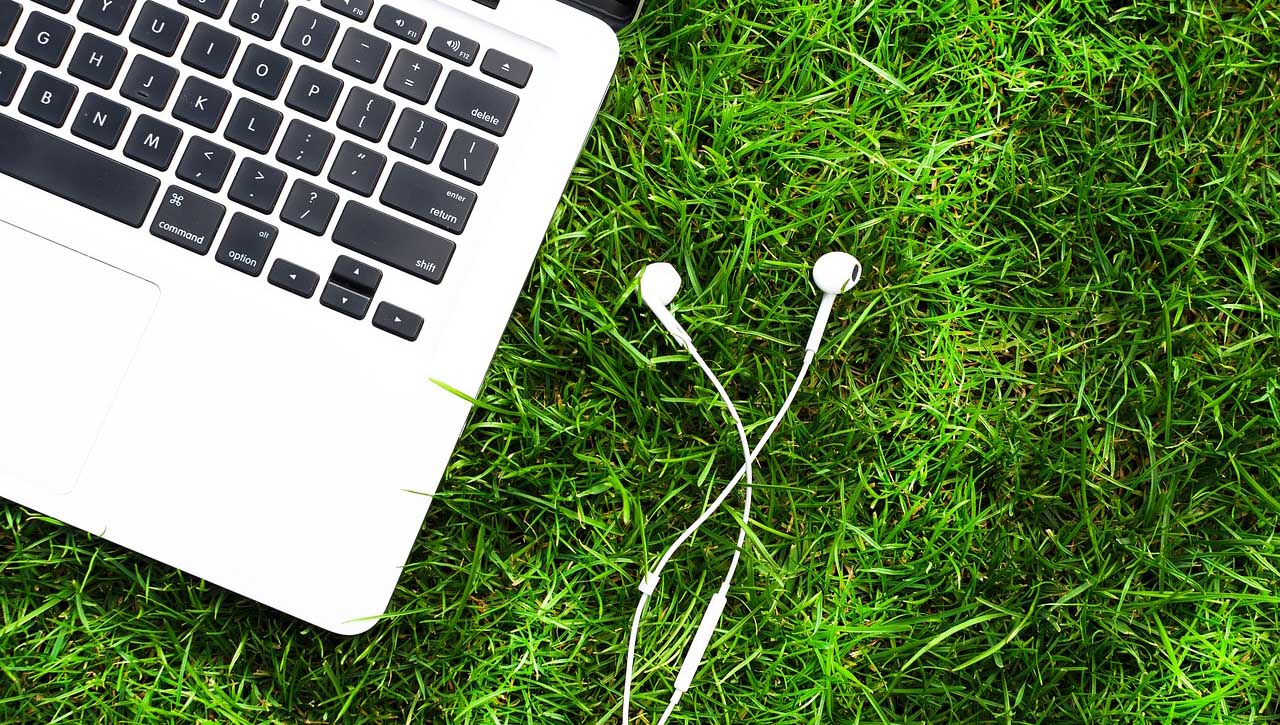 Subscribe
How to Extend Wi-Fi to Your Pool Deck or Outdoor Living Space
Options and Accessories | Swimming Pool Accessories
Lying on your lounger by the pool requires a few important essentials: sunglasses, a drink, a book, and something to browse the internet with.
Let's be honest, you'll quickly tire of squinting to read the book and inevitably move to your phone or tablet. Why? To post pictures, check e-mail, peruse the internet, watch a show, listen to a podcast, or shop.
But what happens when you're lounging with your feet in the water taking a video on Snapchat and it doesn't go through? You load Facebook...nada. E-mail? You just see that little circle loading thing.
There is little more frustrating than the lack of internet access. Luckily, technology has come a long way and there are great ways to ensure that your pool lounging experience is equipped with full access to endless entertainment and, equally important, connection to your pool's smart devices.
Here at River Pools, we've watched pool technology evolve over the years, and many of the smart devices used nowadays require a connection to the internet.
But what happens if you can't get connected outdoors? In this article, we'll share how to extend your Wi-Fi to your pool patio or deck to connect your smart devices and boost your poolside entertainment.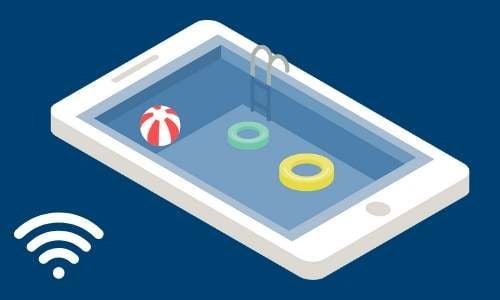 Why use smart automation systems for your pool?
Automation devices for your swimming pool can help you maintain your chemicals, turn the lights on and off, manage the pool temperature, turn your pump filter system on and off, remove and replace the cover, and even control your landscape lighting.
Connecting these automation systems to your swimming pool often means less work for you and let's be honest, less chance of letting your pool become neglected when you don't feel like going out there for the maintenance chores.
In short, Wi-Fi enabled devices, panels, and monitors make pool maintenance a little bit easier.
How to extend your Wi-Fi to your pool area
As with most things, you have many options that affect price, connectivity, and ease of use, but the first thing to consider is the placement of your Wi-Fi router inside.
As a general rule, you should keep it away from electrical cords and avoid having it in the kitchen where it might be too close to anything that emits electromagnetic waves (like the microwave). Most importantly, try to put it in the middle of the house to get even coverage.
Once you have your router placed inside, you can decide the best way to boost the signal to get Wi-Fi outside. Here are some options:
Extender, Booster, Repeater
Extenders, boosters, and repeaters are essentially the same thing. They take in the Wi-Fi from the router, increase the signal, and push it back out. Unfortunately, you'll lose some of your bandwidth during the process. The prices for these vary, but on average, they cost around $100. They're also relatively easy to install.
Keeping It Indoors
It's important that your router is placed in the center of your living space to ensure even coverage throughout, unless you want more coverage in a specific area...say, for example, outside. You could place your router in a spot that's indoors but closer to your back patio, which may allow for Wi-Fi surrounding the pool, depending on the size of your property.
One of the most cost-effective options is to purchase an extender, booster, or repeater and keep it indoors. Again, its easy installation and low cost makes it a great option for a quick fix.
The problem is the signal from the router is cut in half when an extender is used. So, although it may still reach the outside area around your pool, it will be slow. Remember that maddening little circle loading thing mentioned earlier? You might see it more often than you'd like. The good thing is there are other options.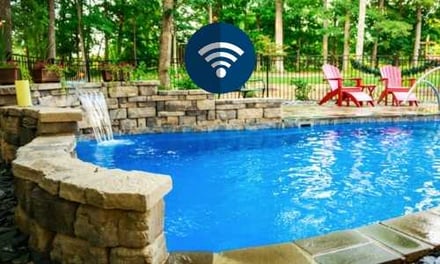 Wi-Fi for Outdoors
One of the best ways to ensure that you have Wi-Fi by the pool is to install an outdoor access point that is weather resistant.
It's not as easy or cost-effective as plugging in an extender or strategically placing the indoor router, but the result is full Wi-Fi capabilities.
A wireless access point or outdoor Wi-Fi extender is available mostly for commercial use, but luckily, a few companies have started selling consumer options as well. Your first steps will be making sure it's compatible with your current router and that it's weather-resistant for the area in which you live. You can expect to pay around $100 for one of these.
Pro tip: For the most hassle-free setup, look for extenders with universal router compatibility.
You could also install an entirely different router specifically for the outdoor area. This is the least cost-effective option (costing up to a few hundred dollars), but depending on the size of your pool area, it may be the best way to get full coverage all around your outdoor living space.
Things to remember about extending your Wi-Fi to your pool
Quality of Equipment
Whether you choose an indoor or outdoor extender or you decide to go for gold and install another router, keep in mind that each piece of equipment is different. My suggestion is to research the highest quality routers and extenders so that you can increase your chances of having full Wi-Fi bars.
A few best practices to keep in mind:
Be sure to place your router in a central location, whether it's in the home or on your patio.

Set up password protection to avoid neighbors stealing your bandwidth.

Stay up to date on upgrades. We all know that tech moves at lightning speed, and staying up to date on new technology can make a huge difference in your experience.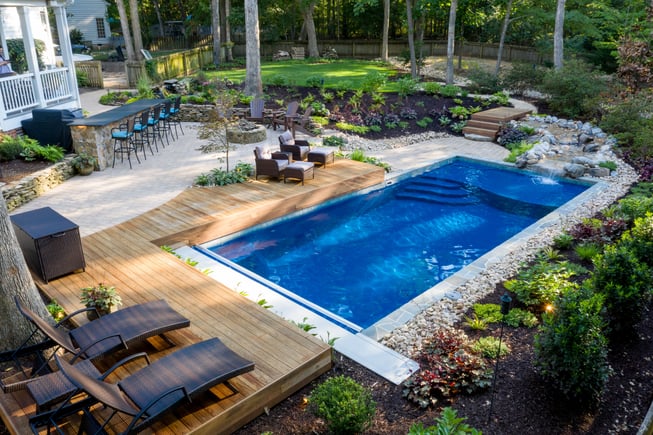 At River Pools, we manufacture world-class fiberglass swimming pools and create amazing, customized outdoor living spaces (including decks, patios, landscaping, and more) for our customers across North America. View our catalog of models and our pricing guide today to see if a durable fiberglass pool would work for you.
You can also check out our inground fiberglass pool cost calculator or contact us directly for a custom quote.
Want to learn about the different types of inground swimming pools? Download our free ebook below comparing fiberglass, concrete, and vinyl liner pools.
Up Next:
Pool Patio Ideas and Options: A Personalized Guide
Types of In-Pool Furniture: Chairs, Tables, and Other Options
Inground Swimming Pool Maintenance Costs: Chemicals, Electricity, and More