Subscribe
Should I Get a Fiberglass Pool?
Fiberglass Pool Information | Swimming Pool FAQs
Considering a fiberglass pool? Every pool type has its advantages and disadvantages, and these are no exception. Weird, I know—a fiberglass pool manufacturer is saying that? Out loud? (Well, metaphorically out loud.)
Yeah.
At River Pools we believe pool buyers should have all the information, regardless of whether you buy a fiberglass pool from us. So we're going to go over the things you should know about fiberglass pools, both good and bad, so you can make an informed decision on whether or not it's the right choice for you and your family.
Advantages of a fiberglass swimming pool
Low maintenance

Low lifetime cost

Non-abrasive surface

Integrated steps and benches

Manufactured in a controlled environment

Quick installation

Beautiful aesthetics
Low maintenance
The gelcoat surface of a fiberglass pool shell is smooth and algae-resistant—it doesn't have big pores and cavities like concrete. Translation: algae has nowhere to hide.
In a concrete pool, algae finds these pores and sets up home there...and once it gets in, you can never really get it out. You use tons of chemicals to penetrate the surface, steel-brush the surface every week, acid-wash every 3–5 years, and completely resurface every 10–15 years. Yikes.
Fiberglass pools are also inert, so they don't affect water chemistry.
By contrast, concrete pools are alkaline-based, so they constantly increase the pH (because they make it more alkaline). To lower the pH back down, you have to add muriatic acid to the water every day.
This all adds up to 75% less time and money maintaining a fiberglass pool. Someone who owns a fiberglass pool will spend more time relaxing in the pool and less time maintaining it.
Low lifetime cost
Although a fiberglass pool costs a bit more than a liner pool upfront, you spend far less in the long run.
The shell of a fiberglass pool needs no upkeep other than the most basic maintenance, like scooping or vacuuming debris and keeping the water chemistry within the correct ranges.
You don't have to replace a liner, acid wash the pool, or replaster the surface—all of which cost thousands of dollars each time.
You also spend less on chemicals and energy because the pool itself doesn't attract algae or affect the water chemistry.
Durable
Fiberglass pools are incredibly strong and durable—you won't puncture or damage them through daily use, even if you have a dog that plays in the pool with you.
By contrast, vinyl liners are easy to puncture in basic pool use, and on top of that, you have to replace them every 5–9 years, at $4,000 or more each time.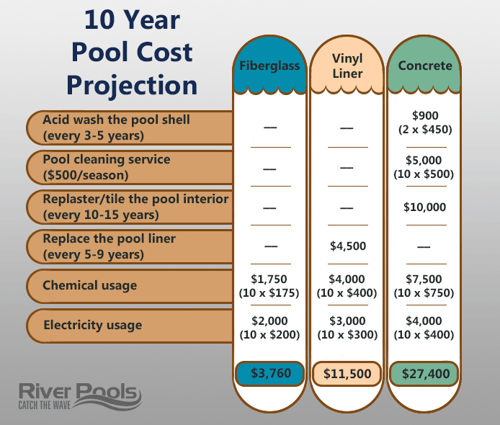 Non-abrasive surface
The gelcoat surface of fiberglass pools is smooth to the touch.
Not only does the rough surface of concrete pools harbor algae, it can also scrape your skin. Kids especially need to wear water shoes to protect their feet.
With a fiberglass pool gelcoat, you never have to worry about your kids getting scraped up.
Integrated steps and benches
All fiberglass pools have steps incorporated into the shell of the pool, and most have built-in seating as well.
Here at River Pools, we build bench seats into every fiberglass pool we design because we know that pools are for relaxing and socializing as much as for exercise and play.
Because these steps and benches are integrated into the design, you don't have to pay extra for them and won't worry about them detaching from the rest of the pool.
Manufactured in a controlled environment
Fiberglass pools are manufactured in the controlled climate of a factory. This keeps the atmosphere and environment regulated, which in turn helps produce a consistent, high-quality product.
By contrast, both concrete and vinyl liner pools are constructed completely outside, where they're subject to the whims of weather.
Compatible with salt water systems
A salt water generator electronically converts salt into chlorine to keep your pool clean. However, the chlorine level in a salt water pool is much lower, proving better for your skin and swimsuits. A saltwater pool stays clear, feels silky, and is super easy to maintain.
Fiberglass pools work perfectly with a salt chlorine generator. You can enjoy the low maintenance benefits without worrying about pool damage.
However, salt water systems can damage vinyl liner pools with metal wall panels. The salt will corrode the panels as well as any handrail and ladder anchors made with galvanized steel.
Salt water is also abrasive on a concrete/gunite pool, especially if the interior has a plaster finish.
Quick installation
The fiberglass pool shell is manufactured off site, which saves you from spending that time looking at a messy yard. Then we bring the shell to you. It typically takes about 2 days to install the pool shell. You can actually swim in it after that!
After the pool itself is ready and working, we work on the patio and landscaping. This takes longer, so the complete backyard project takes about 3–6 weeks altogether.
For comparison, a concrete pool takes 3–6 months, and none of that time is available for swimming. That is a long time for your yard to look like a disaster zone. Plus, if you start too late in the year, construction might take up most or all of your swim season.
Beautiful aesthetics
Although fiberglass pools started out with plain colors and basic shapes, technology and innovation have expanded the repertoire to create elegant pool designs and gorgeous features to match.
You can do amazing things with a fiberglass swimming pool:
Beautiful gelcoat colors

Waterline tile

Tanning ledges

Water features such as waterfalls and deck jets

Multicolored lights around the pool and patio

Spas and splash pads

Poolside walls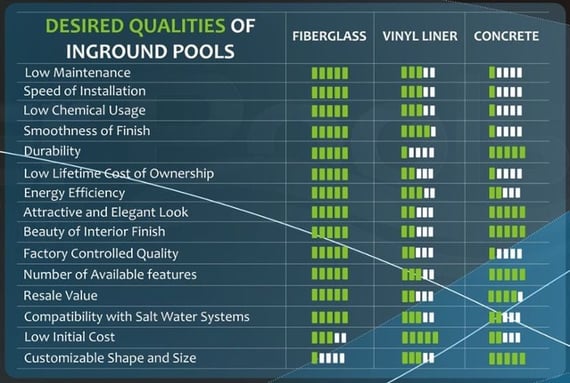 A River Pools designer works with each of our customers to create their dream backyard oasis. To see some of these masterpieces for yourself, check out our pool photo gallery.
Disadvantages of a fiberglass swimming pool
Higher initial cost

Repairs on some gelcoats don't match original color

Limited shapes and designs
Higher initial cost
Fiberglass pools are more of an initial investment, at $45,000–$85,000:
usually at least $10,000 more than vinyl liner pools

about the same as concrete pools
This can be a deterrent for some people.
However, the long-term costs for a fiberglass pool are drastically lower than for a concrete or vinyl liner pool. Thank you, low maintenance.
Repairs on some gelcoats don't match original color
The vast majority of fiberglass pools don't need repairs within the first 20 to 40 years.
However, sometimes an issue merits repair work—a small rock hitting the pool during shipping, or even a structural crack. These instances are super rare, but they've happened.
Some colored finishes are applied in multiple overlapping layers (solid color, metallic flake, and clear coat, for example). However, when someone attempts a field repair with these multi-layered finishes, it's impossible to duplicate the manufacturing process.
In contrast, a solid surface finish is applied only once. Field repairs tend to be a closer match to the factory finish.
At River Pools, we only use solid surface gelcoat finishes, in a single application.
Limited shapes and designs
Because fiberglass pools are built from a preexisting mold, you're limited to the shapes and sizes that fiberglass pool manufacturers offer. Plus, fiberglass pools are shipped via the road, so shipping restrictions limit the width of the fiberglass pool shell.
For the most part, this means a maximum of 40 ft. long, 16 ft. wide, and 8.5 ft. deep.
If you need a super-customized pool—think 70 feet long, or 10 feet deep, or the shape of a duck—fiberglass may not be the best fit for you. However, about 90 percent of people can find a fiberglass pool that perfectly meets their needs.
Although you can't customize the shape of each individual fiberglass pool, we design our pools to meet the greatest need.
At River Pools, our R Series, T40 model, and D Series models all use a rectangular frame.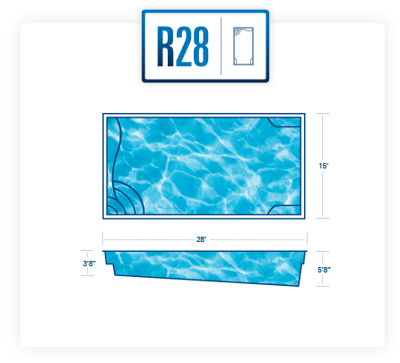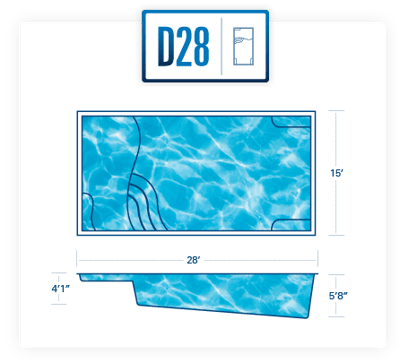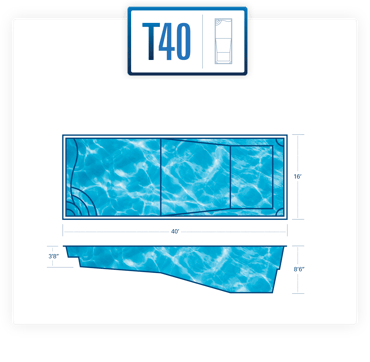 If you want a cool twist on the linear look, check out the L36 pool, modeled after ye olde pools of Pompeii.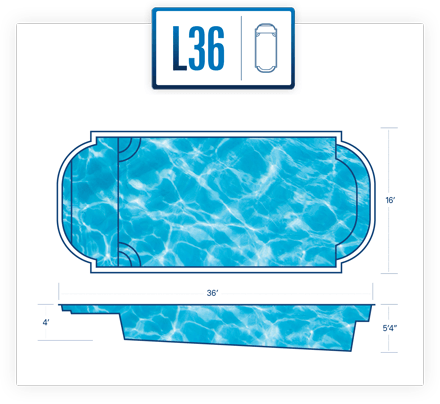 Our I Series and C Series models are freeform to create casual lagoon-y curves.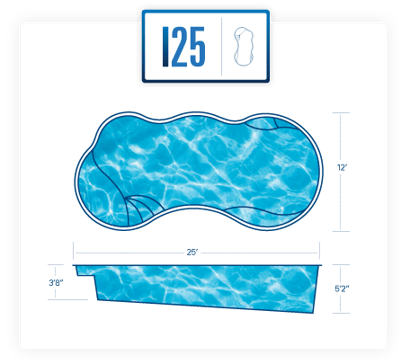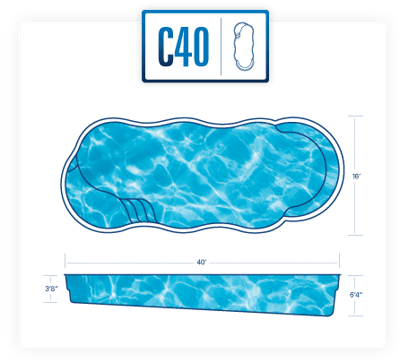 Fiberglass pools are extremely easy to maintain, can be installed quickly, are very durable, and can be beautifully designed.
However, their initial cost can be higher than vinyl liner pools, and the shapes and sizes are not customizable.
Based in Warsaw, VA, we at River Pools specialize in manufacturing and installing fiberglass pools in the Richmond area and in other states across the country through our dealers.
For more information, check out our in-depth comparison of the three pool types, which provides the pros and cons of each.
Still have questions about these three types of inground swimming pools? If so, contact us directly or comment with your thoughts below!
Up Next:
Fiberglass FAQ: 14 Most Common Questions about Fiberglass Pools
---
Editor's note: This blog article was updated on April 17, 2019.