Subscribe
How Much Does Resurfacing a Concrete Pool Cost?
Pool Maintenance | Cost and Pricing | Concrete Pool Information
When I'm not taking the pool industry by storm, I like to write novels. I plan ahead obsessively: think 10-page character sheets, hand-drawn world maps, and color-coded plot diagrams. "Congratulations on overthinking everything," you say, "but I'm not writing a book. I'm buying a pool." Don't give me that look! For pool purchases and maintenance, you, too, need to plan ahead. Maps and diagrams included, probably.
All the details count, both the initial costs and long-term maintenance. More specifically, what upkeep will your concrete pool require in the next 10 years? How much time, money, and effort are you prepared to spend over the lifetime of the pool?
A concrete (gunite) pool lasts 10–15 years before it needs to be resurfaced. In addition to redoing the interior finish, you'll usually need to replace the waterline tile at the same time. The average cost for this is $10,000–$20,000.
The cost depends on multiple factors:
Condition of the pool

Area of the country

New surface finish

Size of the pool

Type of interior finish

Type of waterline tile
How much does it cost to resurface a concrete pool?
It can cost $10,000–$20,000 to resurface the interior finish of a concrete pool, which usually includes replacing the waterline tile at the same time. This cost depends on many factors, such as the type of interior finish and tile, the pool size, the area of the pool, and more.
Condition of the pool
If any plaster areas are hollow underneath, you may need to grind off the existing plaster before you can refinish it. Otherwise the old, loose plaster could de-laminate and take the new finish off with it.
You may be able to do this yourself, but for concrete pools, we generally recommend that you hire a professional. Concrete is complicated. There's only a tiny margin for error, so unless you have experience with pool plaster, you don't want to risk a bigger issue coming up.
Area of the country
Different areas of the country have different pricing due to climate, business and supply availability, and overall cost of living.
Typically northern states are more expensive than southern areas like Florida.
Type of interior finish
When you resurface a pool, you have the option to keep the surface material you had before or to replace it with a new type. For example, you may decide you don't like basic plaster anymore and choose to change to a Pebble Tec-esque look.
Pretty much all interior finishes fall under one of these three categories:
Plaster is the least expensive type of surface finish. It's white but stains easily. It's also rough to the touch.
Aggregate finishes include, well, an aggregate: pebbles, quartz, glass beads, and so on. The material can be either exposed aggregate (bumpy) or polished flat. Either way, it's generally more expensive than standard plaster.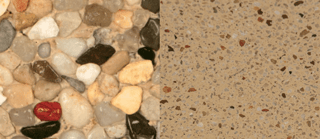 Tile is the most expensive option. It's sleek and smooth, with only the potential for a sharp edge if installed incorrectly. You can also get it in different materials such as porcelain or glass.
Plaster may cost $3.60–$4 per foot, while an aggregate material may cost $4.75–$5 per foot. Glass tile can cost $30–$50 per foot to install (and that estimate is in Florida, where pools are less expensive).
Type of waterline tile
Even if tile isn't your overall interior finish, you need it along the waterline to avoid staining. We call this… wait for it… waterline tile.
Your tile option will affect your price. (So will the size of your pool and the width of the line.)
Again, the most common materials for tile:
Glass

Porcelain/ceramic

Stone
Square Footage
You spend more money for every square foot that you resurface. It's simply more material.
Keep in mind that this applies both to the finish for A) the body of the pool and B) the perimeter lined with tile.
For special customized shapes especially, this cost can add up quickly.


Other pool options
If the expense of maintaining a concrete pool doesn't sound like your cup of tea, you have another option! And if you already have your concrete pool, you can actually replace it with a fiberglass unit.
Fiberglass pools cost $45,000–$85,000 upfront, but they have incredibly low lifetime expenses, which saves you money in the long run.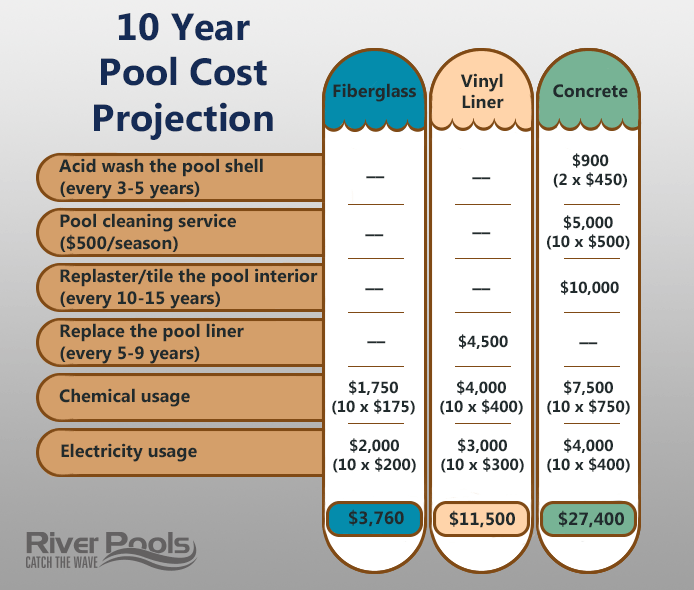 While the shapes and sizes are less customizable, most people can find a model that fits their needs. They're super durable and low-maintenance—not to mention pretty!
At River Pools we offer fiberglass pools in Virginia and Maryland (and in other areas of the country through our dealers).
Read through our ebook about the three pool types, and get in touch with us to see if fiberglass might be the right choice for you. We look forward to helping you!
Up Next:
When Is It Time to Replaster Your Pool?
---
Editor's note: This blog article was updated on January 30, 2019.