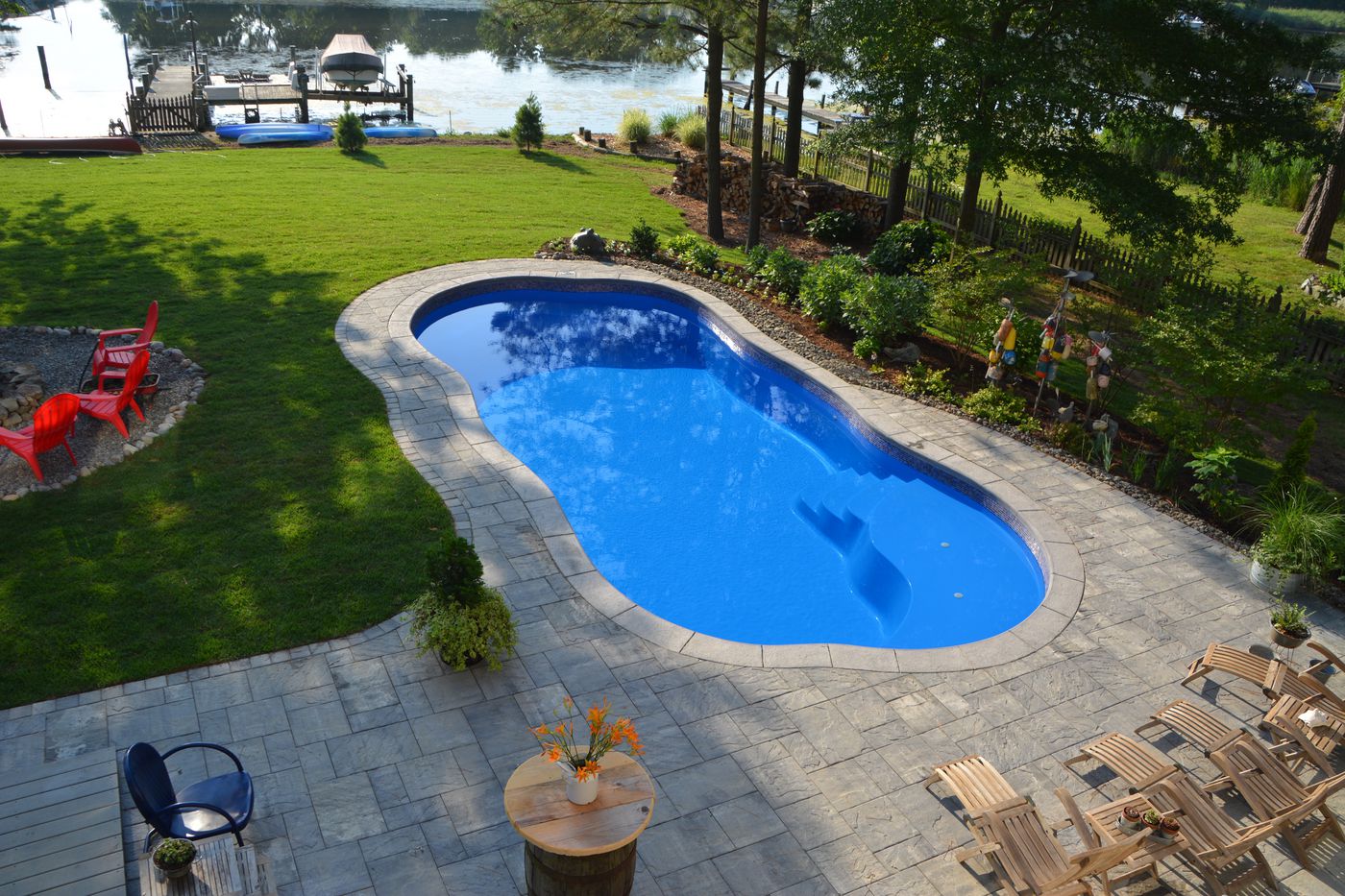 Subscribe
Freeform Pools 101: Designs, Cost, and Construction Questions Answered
Fiberglass vs Concrete vs Vinyl Liner | Pool Design Guides
If you are in the market for an inground pool, whether fiberglass, concrete, or vinyl liner, one of the first things you're likely to consider is the shape of the pool you'd like in your backyard. Being that you're reading this article, there's a good chance you're interested in a freeform or curvy shaped pool. You likely have some questions about freeform pools such as:
Is there a cost difference between freeform and straight pools?
What are some of the most popular freeform pool designs?
What are some of the pros and cons of owning a freeform pool?
Is there a difference in the way fiberglass, concrete, or vinyl liner freeform pools are constructed?
Well, you're in luck because at River Pools we have been answering these types of questions for years. In fact, in the following video, shot on a construction site of a Wellspring 40 freeform fiberglass pool, I address these questions firsthand.
As I mentioned in the video, all freeform pools fall somewhere on a spectrum between maximizing swim space and focusing solely on curve appeal. To better understand this, let's take a quick look at two of our freeform pool designs.
Freeform Pools with Maximum Swim Space
In terms of swim space, you'd be hard pressed to find a freeform pool that provides more open swim/play area than our O Series design.
What makes the O Series different from other freeform pools is the depth of the curvature of the pool, which we kept to a minimum (around 8") while still maintaining the pools flowing lines.
Our O Series is available in 27- and 30-ft. models (tanning ledge on 30' only).
Freeform Pools Focused on Curve Appeal
On the other end of the spectrum, there are freeform pools designed with another objective in mind: sheer elegance. Our C Series is a perfect example of this style.
We set out to design a pool with stunning lines and packed it full of fun features like a spacious tanning ledge, bench seats, etc.
It's available in 35- and 40-ft. models (tanning ledge on both).
Fiberglass vs. Concrete vs. Vinyl Liner Freeform Pools
Are there many considerations regarding the differences between freeform fiberglass, concrete, and vinyl liner pools?
There are general differences between the three types of inground pools. Each has its inherent advantages such as the ability to customize the shape of a concrete pool, the low maintenance and aesthetic benefit of fiberglass, and the low initial cost of vinyl.
Each has disadvantages as well. Concrete pools, for example, require significantly more time and money to maintain. With fiberglass pools, you cannot customize the shape of the pool. And with vinyl, you can expect to pay at least $4k every 5–9 years for a liner replacement.
However, there are not substantial differences between fiberglass, concrete, and vinyl liner pools specifically related to the shape of the pool...with one exception. As I mentioned in the video, you can expect a freeform vinyl liner pool to cost significantly more per square foot than a rectangular vinyl liner pool.
If you'd like to learn more about the differences between fiberglass, concrete, and vinyl pools, check out the most comprehensive and unbiased comparison you'll find anywhere.
We hope you've found this informative. If you have any questions or comments, we'd love to hear from you, so feel free to leave them below.
Check out our full line of fiberglass pool designs, and give us a shout if you want to receive a quote.

Thanks and happy swimming!
Next: Small Inground Pools: Sizes, Shapes, Cost, Pros, & Cons

---
Editor's note: This blog article was updated on April 17, 2019.