Let's Talk Pool Options!
"Pool option" is a very broad term...let's see if we can narrow it down a bit. First, we have the accessories that are intergated into the pool such as salt water chlorinators, pool lights, heaters, covers, water features, pool color, tile selections, automatic cleaners, etc. Then there is an entirely different set of options regarding the pool patio and coping that outlines the pool. Finally, there may be other options to consider in your budget such as a pool fence, electrical hook-up costs, retaining walls, and landscaping.
If you're interested in learning about pool patio and coping options click here.We'll cover everthing else on this page.
Let's take a look at each pool option, its pros and cons, and also discuss how much each costs.
Pool Color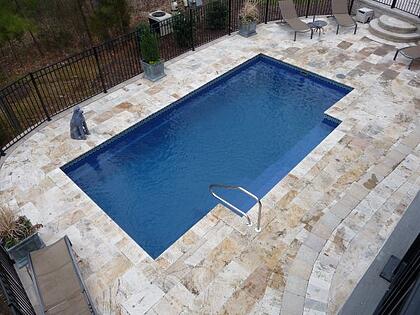 We always recommend colored pool finishes because they not only make the pool more attractive, but they're also more durable and stain resistant than the standard white gelcoat that is traditionally used.
In regards to choosing a pool color, most manufacturers offer at least five choices. This typically includes a variety of blues, a tan, a black, and sometimes a grey.
The most important factor when selecting a color is the way it is applied. Most manufacturers use colors that are applied in a single application, which makes a repair, if necessary, easier to accomplish. Avoid manufacturers who use colored finishes which are applied in multiple layers. You can find this information from each manufacturer.
Regarding the cost of colored finishes, most dealers include it in their base package prices. However, if there is an upcharge, it is typically $1,500-$2,500. It's also important to note that the availability of certain colors may be limited, based on what pools are available. Because of the high freight cost associated with shipping pools, we take them by the truckload. This allows us to offer these pools at a better price than special order pools that are shipped alone. For this reason, many people typically choose a color we have in stock to take advantage of those savings.


Pool Color Articles:
Salt Water Chlorinators
Watch this video to learn what Jim and Jason have learned about salt water pools over the past decade:

Salt Chlorinators work by converting salt, which is dissolved in your pool water, into pure chlorine. Sounds simple, and it is! What you get as a result is great water quality without the harsh side effects typically associated with chlorine pools like burning eyes and strong odors.
Simply maintain the proper salt level in your pool by adding salt directly to the water once or twice a season, test your chlorine on a regular basis, and enjoy. Considering the low maintenance benefits and exceptional water quality, salt water chlorinators, in our opinion, are a no-brainer. They typically cost between $1,700 and $2,500.


Salt Chlorinators and Concrete Pools
Ever seen what salt does to a concrete sidewalk? It does the same thing to the surface of concrete pools. But don't worry, salt has no adverse effects on the surface of a fiberglass pool.


Salt Water Chlorinator Articles:
Pool Lighting
The vast majority of lights installed in fiberglass pools today are low voltage lights like the Pal 2000. As one of the first in the industry to embrace this product, we have found it to illuminate the pool well and stand the test of time. Colored LED bulbs that are available allow you to change colors with the simple flip of the light switch.
These lights come encased with a cord long enough to extend above the water level so the bulb can be changed easily without lowering the water level in the pool. These lights typically cost between $700 and $900 installed.


Pool Lighting Articles:
Security Covers
What is a security cover? How is it installed? What is the best type? How much does it cost? All these questions answered and more in the following video: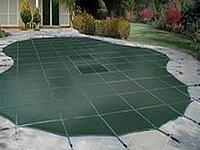 Most pool packages come with at least a standard tarp cover, but the majority of pool owners will upgrade to a security cover for their long term needs. These covers, which are strictly used to cover the pool when closed during the winter, have somewhat of a trampoline appearance, with spring-loaded straps connected to the cover that anchor into the concrete. They provide safety, they look far better than tarp style covers, and they are extremely low maintenace. Security covers typically cost $1,800-$2700 installed.
Automatic Covers
Automatic covers come in many forms, and this is the reason for their broad price range of between $6,500 and $15,000. Auto covers typically do well at keeping out debris, keeping the pool water warm, and protecting the pool against unwanted guests/swimmers.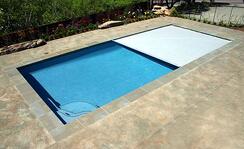 The downside, however, is that the cover fabric will typically last between 5 and 8 years at a replacement cost of $4k to $6k. Plus, because auto covers slide in a track that runs the length of the pool, freeform pool shapes require the tracks to be installed on top of the patio, which is very unsightly. Consequently, most folks feel limited to a rectangular shaped pools which allows the tracks to be hidden under the pool coping. Finally, the biggest issue with automatic covers is their propensity to break down. If this happens with the cover closed, no one's swimming that day.
So, are automatic pool covers worth the investment? We feel that in most cases, especially considering their incompatibility with salt chlorinators because of corrosion issues, it's very difficult to justify the expense. However, even though they are in the minority, there are certainly situations where auto covers can and should be used.
Solar Covers
Solar covers work exceptionally well for one thing: extending the swim season. They simply retain the heat during the night that the pool absorbed during the day. On average, the use of a solar cover will extend your swimming season about 4-6 weeks, 2 to 3 weeks on each end of the season.
So why doesn't everyone use solar covers? Because they're cumbersome to work with. Reel systems are the best way to remove and re-install the cover, but they span the width of the pool and take up a ton of space.
One common misconception about solar covers is that they are effective at keeping debris out of the pool...not so. Sure the stuff does collect on top of the cover, but you still have to take the time to remove it or it all ends up in the pool anyway. It's just as fast to vacuum the pool. A solar cover typically costs between $100 and $250, and the reel system $350-$600.


Cover Articles:
Waterline Tile
Watch the following video to learn the pros and cons of waterline tile, what other types of tile are installed in fiberglass pools, how tile is installed, how long it should last, and more.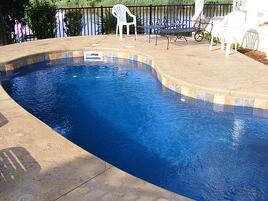 Waterline, or perimeter tile, on a fiberglass pool is actual ceramic or glass tile that is adhered to the surface of the pool with a specially formulated silicone product. The tile is grouted with a silicone product as well, allowing the tile to flex and move with the pool shell.
Even though the number of tiled fiberglass pools has decreased with the advent of colored pool finishes, the main benefit of tile continues to be its aesthetic appearance. It can accent the waterline very nicely and make the perfect transition between pool and deck. But unlike a concrete pool, waterline tile is not needed to keep the waterline free of staining. It is merely for aesthetics, and with a price tag of $2,700-$3,200, it isn't cheap. Another drawback is that waterline tile will eventually break down and/or fall off, usually within seven to ten years and at a higher cost of replacement, usually between $3,500 and $4,000.


Waterline Tile Articles:
Cascades and Water Features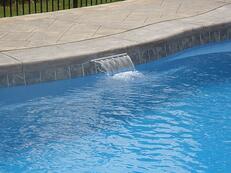 The design of a water feature is only limited by two things: imagination and budget. In most cases, less is more. Often times, the audible sound of falling water in the environment is just as important as the visual impact. There are many simple ways to integrate water features into a design, but the most popular is a cascade waterfall that spills a sheet of water from the coping of the pool. These are typically 18" inches wide and cost around $1,000.
Some more elaborate water features are elevated poolside walls with spillways, scuppers, sconces, or spouts, natural water features integrating real or artificial stone, and deck jets that launch a stream of water from the patio into the pool. These can range anywhere from $2,500 to $25,000. If you think you might add a water feature in the future, have the contractor run a plumbing line for future use. This usually costs around $350 and will make installing the future water feature much easier.


Water Feature Articles:
Hot Tubs/Spas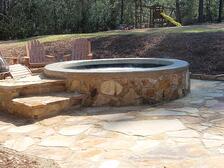 Inground vs. Above Ground Spas
We'll keep this one short and sweet. In terms of performance, above ground spas blow inground spas out of the water in every category: jetting, seating, efficiency, etc. and are a fraction of the cost. The average above ground spa costs between $6k and $10k and average inground spa between $15k and $25k, so it becomes very hard to justify the cost of an inground hot tub unless it is utilized for its aesthetic value. Inground spas, when incorporated properly into a design, can serve as a gorgeous water feature by implementing spill ways, lighting, and other features, and in our opinon, this is how they are best used.


Hot Tubs/Spas Articles:
Automatic Vacuums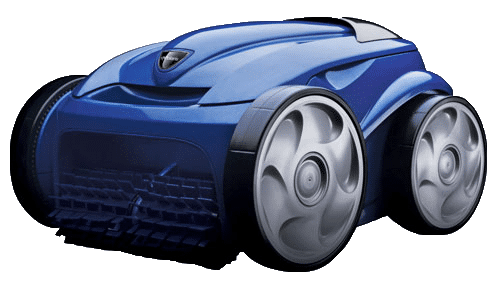 The number of automatic vacuums available on the market has increased exponentially just in the last five years. Where there were once only about 3 or 4 options, now there are about 50. Automatic vacuums range in price from about $400-$2500, and vary in their effectiveness as well. The three main types of automatic vacuums are suction-side, pressure-side, and robot cleaners. We tend to gravitate toward the robotic cleaners because they are a stand-alone unit that does not require additional plumbing or booster pumps which can fail over time. Because they can be added later, we typically suggest not getting an automatic cleaner with a new pool because fiberglass pools are so easy to maintain, most find it unnecessary.
To see how easy it is, check out this video:
Pool Heaters
Let's discuss the two most common types of pool heaters on the market today: Natural Gas/Propane Heaters and Heat Pumps. As a general rule, pool heaters are only used during the beginning and ends of the swim season, adding about a month of swim time to each.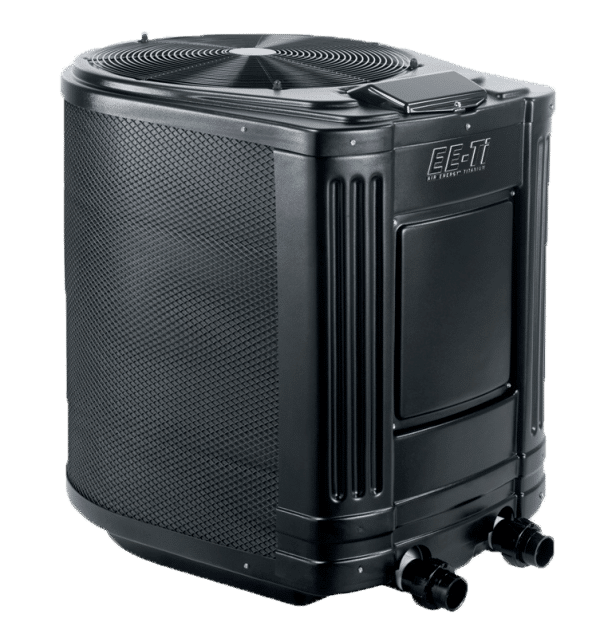 Natural Gas/Propane Heaters
These heaters burn natural fuel to heat the water. They do require hookup to a fuel source as well as electricity to operate. They typically cost $3,000-$4,000 plus the cost of gas and electrical hookup which is often at least $1,000.
Pros:
Heats the water very rapidly
Heats the water regardless of outside air temperature
Lower initial cost
Cons:
Grossly inefficient
Very high cost to operate (as much as $300-$800/month)


Heat Pumps
Swimming Pool heat pumps work on the same principle as heat pumps for a home. They condense the heat from the outside air to heat the water. They require electrical hook-up, which because of the amp draw of the units, will cost more to wire than natural gas/propane heaters. Heat Pumps typically cost between $4k-$6k.
Pros:
75% more efficient than lp/ng heaters
Low operating cost (usually $50-$100/month)
Cons:
Higher initial cost
Only works when air temperature is approx. 55 degrees or higher
Heat the water much slower than lp/ng heaters
We find that about 19 of 20 of our customers who install heaters choose heat pumps simply because of their dependability and low operating cost. Basically, if you want absolute control of your pool temperature year round with no concern of fuel cost, go with the lp/ng heater. If you're looking to extend your swim season at the lowest cost, a heat pump is probably for you.


Pool Heater Articles:
Electrical Hook-Up
Various components of your pool require wiring such as the pool pump, light, salt system, heater, etc. The price for this work varies depending on certain factors such as the location of the pump and filter system, whether there is a heat pump, spa, or other component needing to be wired, and whether the home has a crawl space or basement.
A basic electrical hook-up package would typically cost between $2,750 and 3,250. This price would be for a project where the pump and filter system are located at the house, therefore not requiring trenching to run power to the equipment, a house with a crawlspace -- not a basement, and hooking up a basic pump, salt system, and pool light.
Homes with basements typically cost an additional $750, adding a heat pump typically adds $1,000, and trenching into the yard typically adds $500-$1,500 depending on the amount of trenching and wire size.
Pool Fence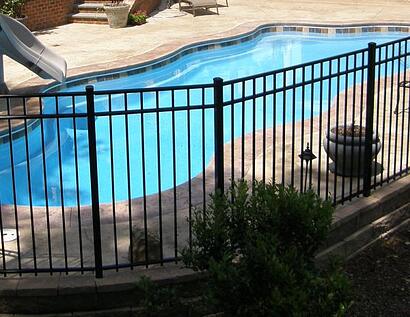 The most popular pool fence on the market today is made of powder coated aluminum. This sleek looking low maintenance product is perfect for pool projects where a privacy fence is not a requirement. The typical color is black, but white, green, and copper colors are also available. Aluminum fence typically costs around $30-$45 per linear foot.
PVC fence is also a viable option around pools, especially when a six foot tall or higher fence is needed. It is also relatively low maintenance and durable. PVC privacy fence typically costs between $35 and $55 per linear foot.
Wooden and chain link fence are by far the most budget friendly options. Wood requires much more maintenance than aluminum or PVC. With chain link fence, be sure to check your local fence codes because the standard size diamond openings do not pass in most areas. Wooden and chain link fence can cost between $20 and $30 per linear foot.


Fence Articles:
Pool Options Summary
A lot to consider, huh? Other than the required electrical and fence work, we ultimately advise our customers to at least get three options: salt, light, and security cover, because those three greatly impact your pool experience. Many of the other options such as heaters, automatic cleaners, and fancy water features can be added later, so it may be beneficial to consider which options you can and cannot add in the future so you can potentially add features down the road.
Well, that's it for pool options. If you'd like to learn about Pool Patio and Coping options, click here.
Ready to Request a Quote?