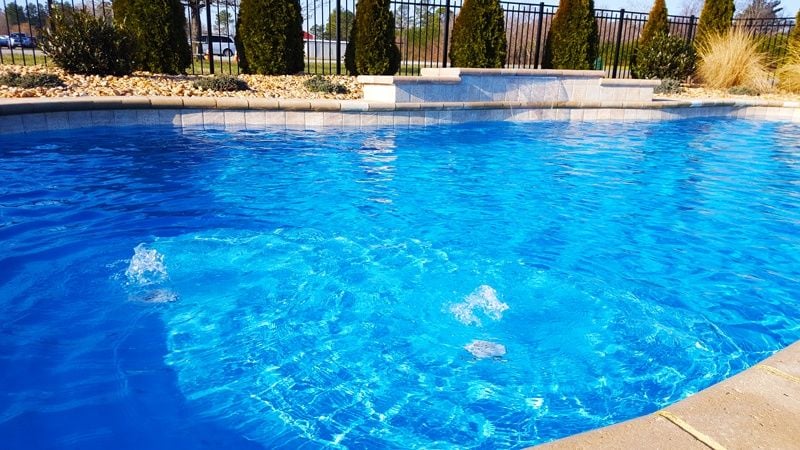 Subscribe
How to Install a Fiberglass Pool with a Tanning Ledge—the Right Way
Fiberglass Pool Information | Installation & Construction | Swimming Pool Accessories
Are you considering an inground pool or, more specifically, a fiberglass pool with an integrated tanning ledge? Are you a fiberglass pool installer looking for best practices regarding tanning ledge pool installations?
If so, you're in luck! Today we're going to share our system for installing tanning ledge pools—and reveal our unique manufacturing process to ensure your tanning ledge pool is super awesome.
Let's dive right in!
As fiberglass pool manufacturers, we at River Pools think tanning ledges (also called sun shelves or Baja ledges) are awesome, and we love that we can integrate them into our pool designs.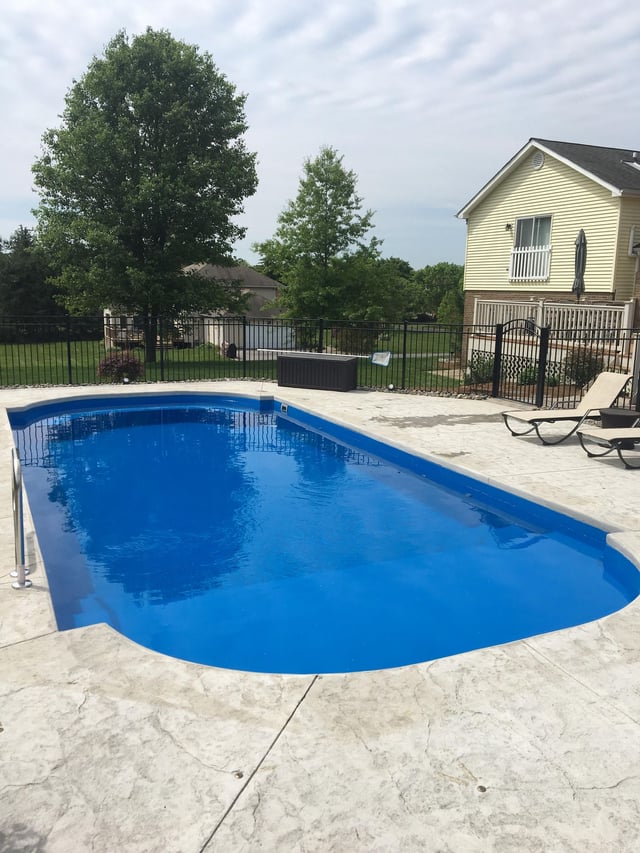 We follow two core principles for the best possible support in installation:
Support the tanning ledge with a pier structure

Use grout underneath so it doesn't feel hollow
Note: This is all regarding fiberglass pools with an integrated tanning ledge —a tanning ledge that's built into the pool shell.
If you buy and install your shelf separately from the main pool shell, it will need special care that we won't go into today.
Pier structure to support the tanning ledge
The tanning ledge needs to be supported by a pier structure to keep it from sagging. Positive pier pressure, if you will.
We place a cinder block on the outside edge to serve as a support pier. One pier every six to eight feet is sufficient.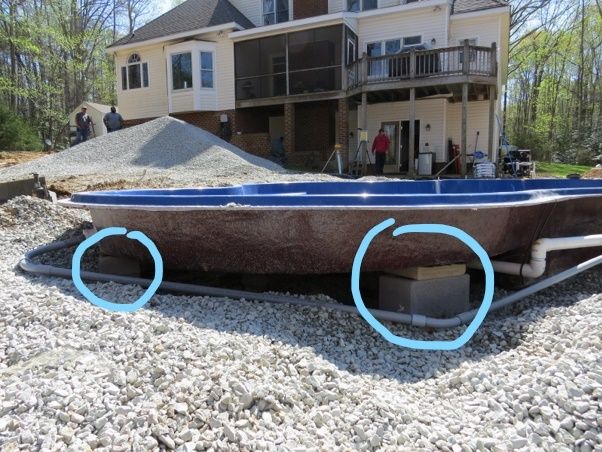 We place the pier along the outside edge, as that's the strongest point. Placing it in the center would cause the floor of the tanning ledge to bulge upward…no good.
Grout to fill in the void beneath the tanning ledge
When installing a fiberglass pool, we use crushed stone as the pool base under the pool and for backfilling around the sidewalls.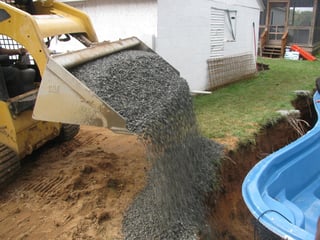 To give tanning ledges a more solid feel, we grout beneath them.
(Reminder: grout is a mixture of sand, cement, and water.)
We bring it in via a ready-mix concrete truck and typically use about 4 cubic yards.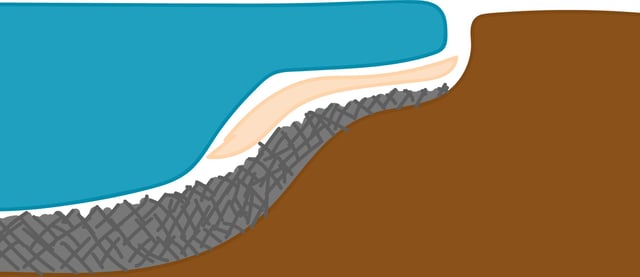 The process is pretty quick, typically taking about 20 minutes to shoot the grout beneath the ledge.
Grout is only to improve the user experience. When we first began installing fiberglass pools with integrated tanning ledges, we backfilled them with stone. We had one or two customers mention that they felt it sounded a bit hollow even though we packed it tight with stone. Because we want every customer to have an amazing experience with their pool, we immediately switched to grouting the tanning ledges, and it's been all good since then.
How we manufacture our fiberglass pools with tanning ledges differently
Up to this point, we've discussed how to install a fiberglass pool with a tanning ledge. It just so happens that we manufacture pools shells as well, and a bunch of our pool designs just happen to have integrated tanning ledges. Wouldn't it be cool if we did something to make those tanning ledges extra strong and awesome?
Yes, it would be cool, and here's what we do:
Honeycomb material for support
We cover the whole bottom side of the tanning ledge with our honeycomb core material.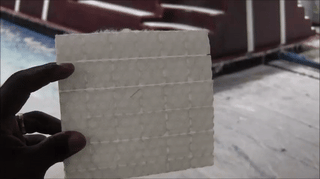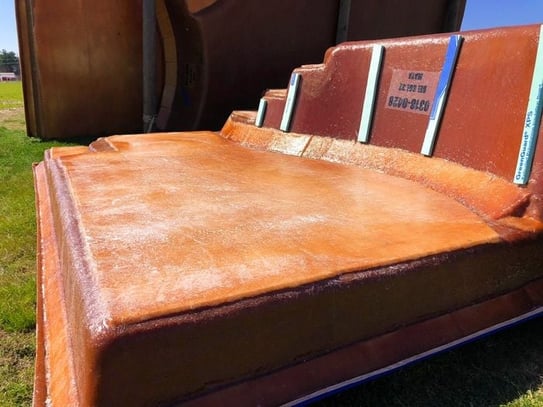 Fun fact: We cover our steps and benches with that material as well.
Sandwiching the honeycomb material between layers of fiberglass laminate add tremendous strength to our tanning ledges. You can totally feel the difference!
Benefits of integrated tanning ledges
Tanning ledges are great for adults, kids, and pets. Win-win-win.
You can lounge partially in the water even if you don't want to swim.
The kids and dog can play there safely.
Bonus: you can add fun water features and small colorful LED lights to pretty that area up even more.
Why do we recommend getting a pool with an integrated tanning ledge rather than buying it separately?
If you get a separate tanning ledge, your cost would go up $6,000–$15,000. Fiberglass pools with integrated tanning ledges cost little to no more money than any other design. It's like you're adding an entirely different dimension to your pool experience for no extra charge. That's value!
Our fiberglass pools with integrated tanning ledges
At River Pools, we've integrated tanning ledges into our D Series, C Series, and L36 model. If you're interested in an inground pool with a tanning ledge, you might want to check out these fiberglass pool designs.
D Series
The rectangular D Series has a big tanning ledge in the shallow end as well as two-person seats on each corner of the deep end.
The D32 is shown below, but this design is also available as 24, 28, 36, and 40 feet long!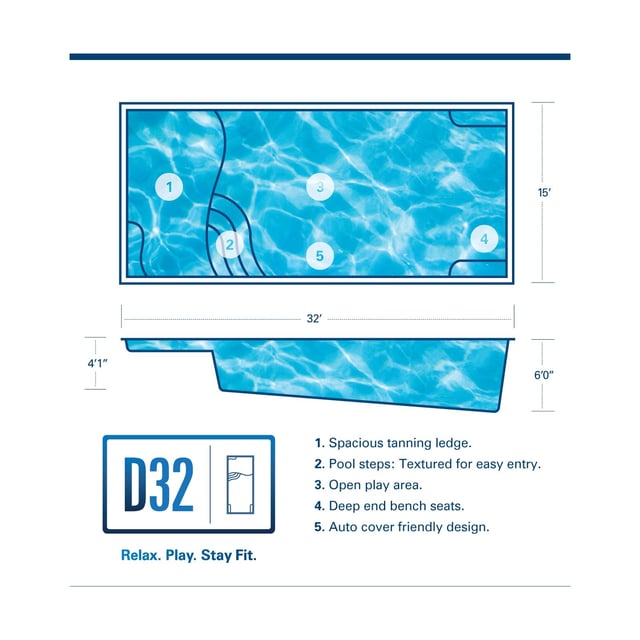 L36 Model
The 36-ft.-long Roman-end L36 model mixes an open swim area in the middle with both a giant tanning ledge and a long bench seat.
This is one of our best-selling models as it melds the modern ledge with a classical design.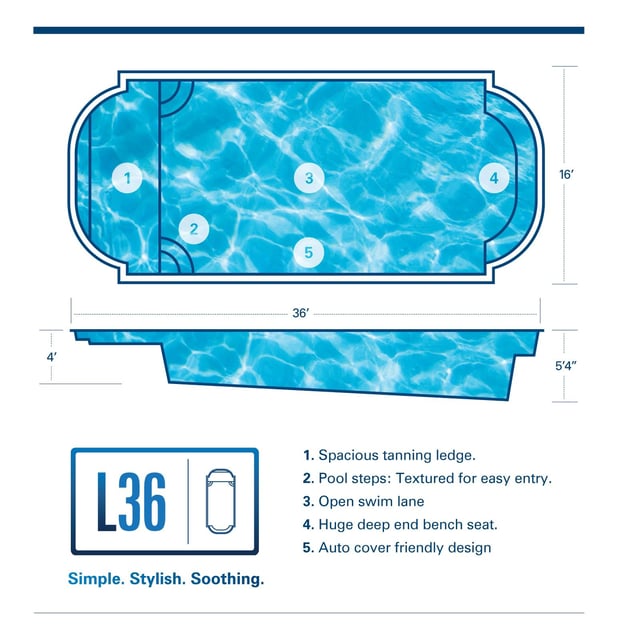 C Series
The freeform C Series' tanning ledge mirrors a crescent moon and is surprisingly large.
This pool design available as 36 or 40 feet long.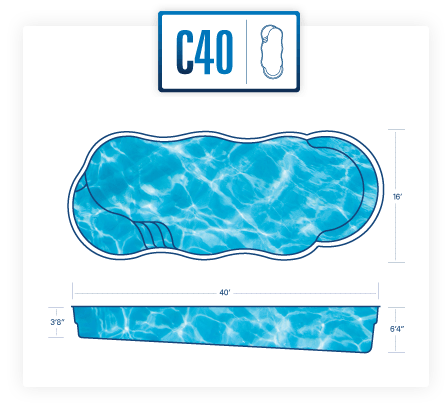 Want to learn more about fiberglass pools?
As you decide on the best inground pool for you and your family, take time to thoroughly research all the details to ensure you get exactly what you're hoping for.
If you'd like to learn more about fiberglass pools, our ebook provides deeper information about the features and accessories you can get with them.
We want to help you make the most of your space and your budget!
If you're interested in a River Pools design, drop us a line! We respond within 24 hours.
Up Next:
Are Deep End/Diving Pools Really a Good Idea?
---
Editor's note: This blog article was updated on April 17, 2019.