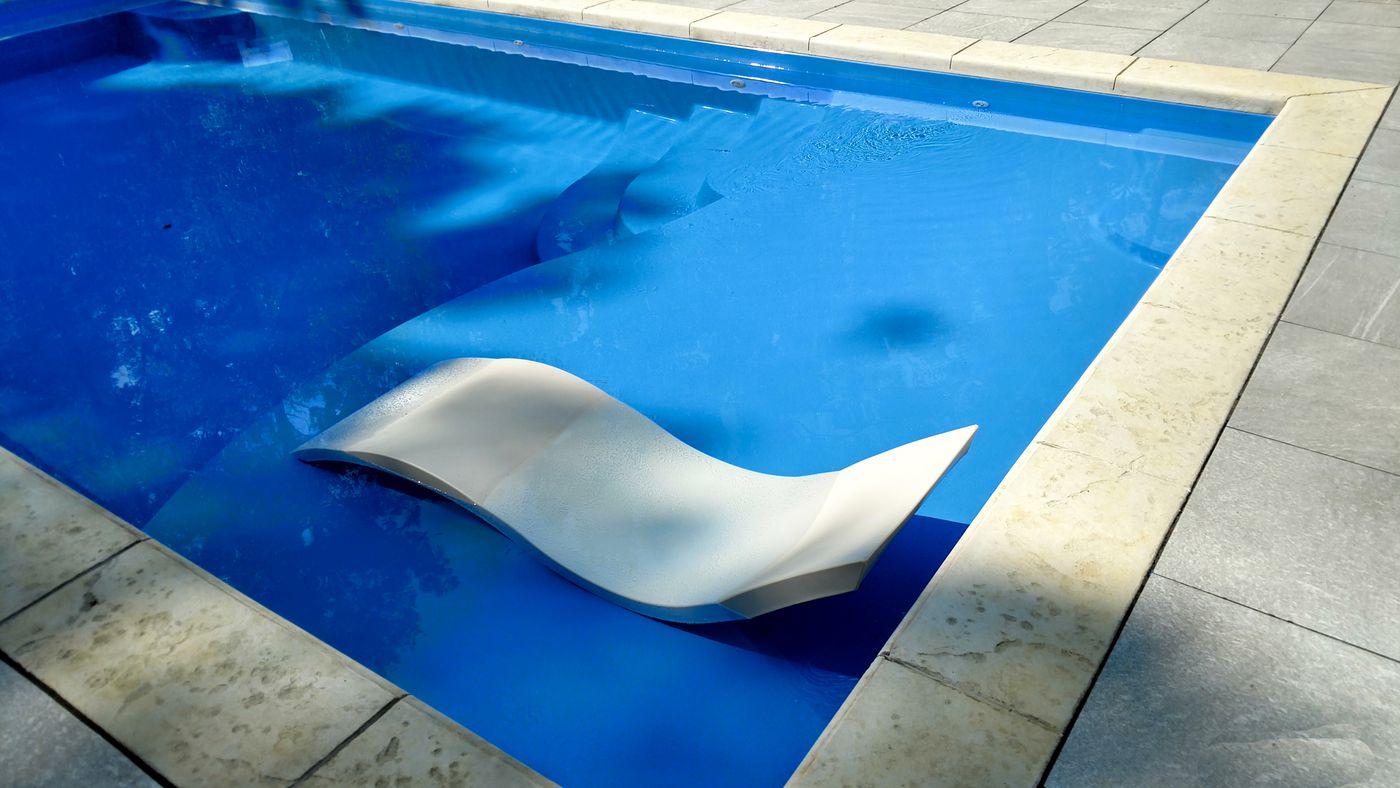 Subscribe
Are Tanning Ledges on Vinyl Liner Pools Really a Good Idea?
Options and Accessories | Swimming Pool Accessories | Swimming Pool Design | Vinyl Liner Pool Information
Pools aren't always for exercise, so why should they all be designed as if they are?
Story time!
Back in the day, my siblings and I invented a lot of pool games, including Shark Attack and The Little Mermaid (which is reenacting the entirety of Disney's The Little Mermaid), but the best one we ever invented is called Iceberg.
One of us reclines innocently on a floating lounge chair. Caveat: sometimes this person doesn't know they're playing.
Another sibling (or two) swims under them, bumps up hard, flips them off the chair, and yells, "Iceberg!" The flipped person then stands up and sinks straight down into the water like the Titanic.
It's a kind of morbid game, upon reflection.
Why this is relevant: Iceberg, like most pool games, becomes serious exercise after the first few rounds. If it goes on for more than 15–30 minutes, I need a rest. Even though I like to stay in the water, I'm usually stuck either A) huddling on the pool steps or edge of the pool or B) retreating all the way back to the patio. That just makes me sad.
Solution: an area of the pool made not for active swimming, but for relaxing without leaving the water.
Tanning ledges create this middle ground, adding another dimension to the inground pool experience.
What is a tanning ledge?
We're talking here specifically about an integrated part of the pool that holds 8–12 inches of water. This pool feature is also called a tanning shelf or Baja ledge.
Rather than chilling on the patio, you can be partially in the water even if you don't want to swim. You're in the pool but not in the pool.
Say you have a three-year-old. They're not swimming. You can set them in a float or on the steps, or hold them yourself, but they can't really do anything. A tanning ledge lets them have a better time: they can sit in the water and splash and throw toys (for someone else to fetch, but not you).
The kids and dog can play there. Alternatively, you can recline in a chaise lounge under an umbrella and read a book.
With all the interest in tanning ledges, it begs the question: are they really a good thing?
Do we recommend tanning ledges?
In our opinion, tanning ledges are awesome.
As fiberglass pool specialists, we love that we can manufacture pools with tanning ledges and know that the customer will have zero concerns about damaging their pool because fiberglass is so durable.
However, we can't say the same for vinyl liner pools.
Why are tanning ledges questionable on vinyl liner pools?
With a vinyl liner pool, the vinyl covers the tanning ledge as the floor surface. (A plastic surface is possible, but we haven't seen it before.)
Vinyl liners are extremely thin. They're usually 20–30 mils thick, about 8–10 sheets of paper stacked together. That's little protection against the up-close-and-personal forces of dog claws and chair legs.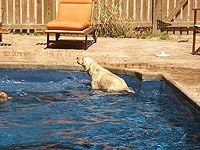 Dogs and vinyl liners typically don't go together very well. If you have eight inches of water and a medium-to-large dog walking on the tanning ledge, it will most likely puncture the liner, and you'll have to either patch or replace it.
Lounge chairs are also abrasive. Over time, the friction will wear the liner out. If the chair has been set on the concrete or another rough surface and the bottom of the plastic is scratched up, the rough surface could damage the liner as well. More drastically, if you sit down and the chair moves too far too fast, it could tear the liner.
Kids won't generally hurt the liner. But one incident—just one—and you're either trying to patch it up, which may or may not last, or you're spending $4500 to replace the liner. No thanks.
For this reason, we don't recommend adding tanning ledges to vinyl liner pools.
Fiberglass examples of integrated tanning ledges
At River Pools, we're fans of tanning ledges, so we've integrated them into our D Series, C Series, and L36 model. If you're interested in an inground pool with a tanning ledge, you might want to consider checking out these fiberglass pool designs.
D Series
The D Series is a great multipurpose design, with a big tanning ledge in the shallow end as well as two-person seats on each corner of the deep end.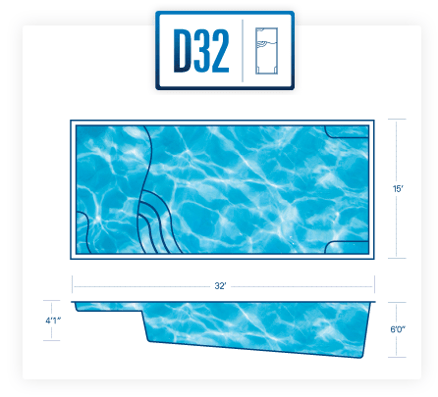 Suggestion: Use the deep-end seats to preside as judge over all the other swimmers.
C Series
The tanning ledge of the C Series swoops at the top edge, and its deep-end bench seat curves around the entire bottom of the pool.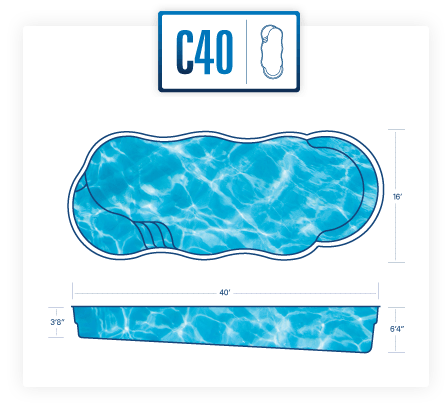 L36 Model
The L36 model mixes an open swim area in the middle with giant ledges on both ends.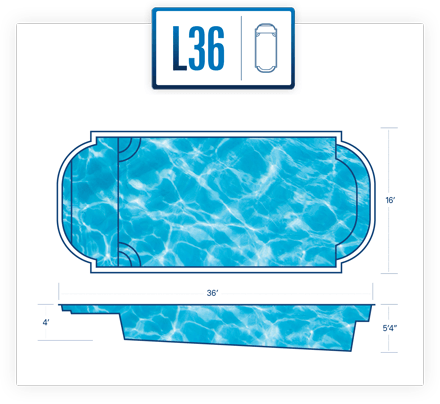 Suggestion: Keep the relatives you like on your ledge and put the relatives you don't like on the other one. Everyone has an awesome place to chill out, but you don't have to listen to Uncle Fred talk about his stamp collection again. Win-win.
Bonus: Puppy
Here's another picture of a dog on a fiberglass pool's tanning ledge, because dogs make everything better.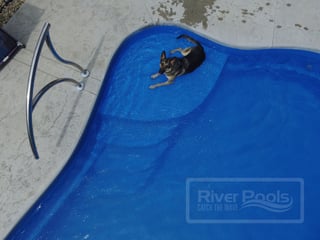 Your next step
We're the first to say a tanning ledge isn't for everyone. Maybe it's not in your top priorities, or maybe you just know you won't use it. But if you know that you'll use and love a tanning ledge, it's research time!
To decide on the best inground pool for you and your family, take time to thoroughly research all the details to ensure you get exactly what you're hoping for. To start your research on the various inground pool types, be sure to download our free ebook below for a full comparison of fiberglass, vinyl liner, and concrete pools.
At River Pools, we manufacture world-class fiberglass swimming pools for customers across North America. Take a look at our pool models today and visit our gallery to see what we can do for your pool project.
Wondering how much your fiberglass pool might cost? Contact us to request pricing and discuss the needs of your pool project, and in the meantime, try out our fiberglass pool pricing calculator below.
---

Want to see about how much that cost will be with all your favorite pool accessories?
Use our Design and Price Tool to walk through your options and approximate price!
---
Up Next:
How to Install a Fiberglass Pool with a Tanning Ledge—the Right Way
Should You Get a Tanning Ledge? (Infographic)
How Deep Should a Tanning Ledge Be?
---
Editor's note: This blog article was updated on April 17, 2019.