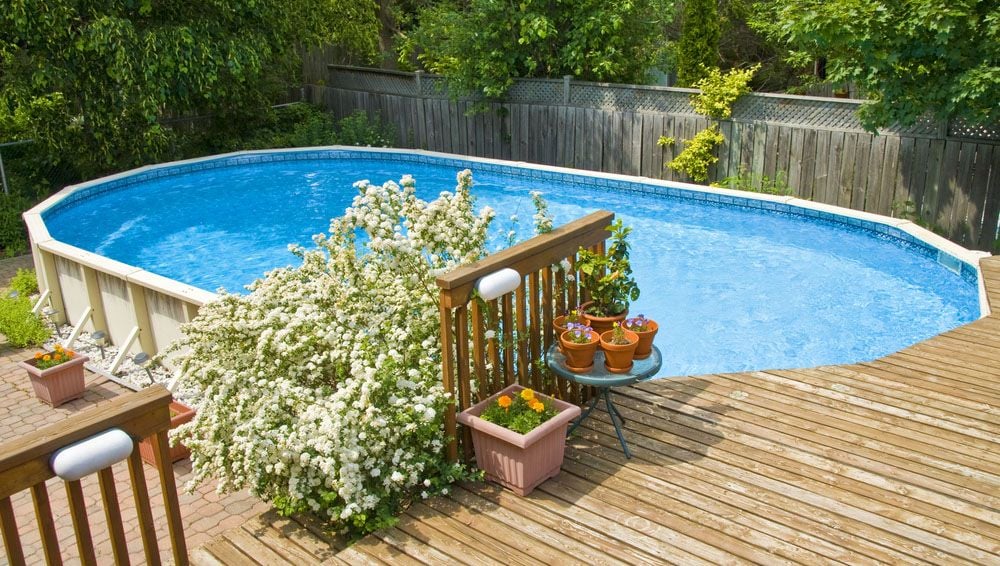 Subscribe
Above Ground Pools: Types, Prices, Dimensions
Cost and Pricing | Swimming Pool Design
Need to get an affordable swimming pool ASAP? We already covered how you can get an inground pool fast and cheap, but what if you want a less permanent option, like an above ground pool?
As fiberglass pool manufacturers, we focus primarily on inground pools, but we know that many people are working with smaller budgets. We also know that some savvy shoppers like to try things out first before they make any bigger commitments.
In this article, we'll break down above ground pool sizes, types, and costs to help you choose the best above ground pool design for your family.
Above Ground Pool Sizes
The first thing to consider when you're looking to install an above ground pool is the size. This includes both the shape of the pool and the dimensions.
Most above ground pools are offered in two different shapes - round and oval. Smaller, more conservative pools are 12 to 18 feet in diameter while larger pools can go up to 33 feet round or 21x41 feet in the oval shape.
Important Fact: Pool measurements are based on the water dimensions of the pool, so it's imperative that you allow for extra space.
How deep are above ground pools?
Most above ground pool measurements range from 48 to 54 inches deep, or 4 to 4.5 feet, but the exact depth will vary by manufacturer and model.
Above Ground Pool Types
Once you've chosen the size and shape of your pool, it's time to decide which type of pool you want. The two main above ground pool types are soft side, and rolled-wall or slat wall.
Soft Side Pools
If you're looking for something quick, easy, and cost-effective, then a soft side pool might be your best option. Soft sided above ground pools typically range from $100 to $1,000 in price and come in one box that includes the pool, pump, and filter. Additionally, they tend to be smaller making your operation costs lower.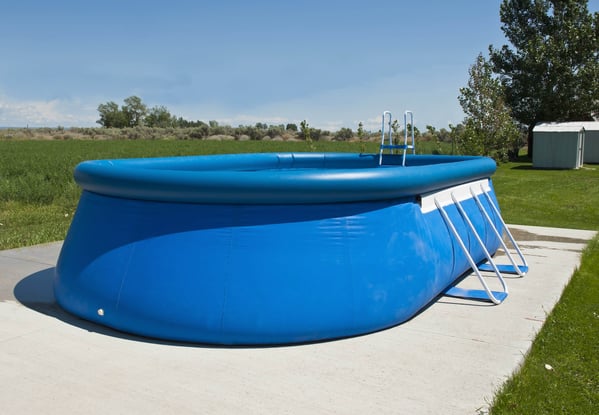 Pros of Soft Side Pools
A great trial option - Soft side pools can be easily installed on a patch of flat grass, no professionals required. They can also give you a feel for whether you'd like to have a more permanent swimming pool.
Mobility - You can move it to different locations if needed.
Easy to find

- This type of pool can be purchased from many online retailers or even picked up while you're shopping for groceries.
Cons of Soft Side Pools
Not permanent - Though it may be convenient to move this type of pool as needed, it is not a permanent option and must be taken down completely at the end of the season.
No durability - This is not a pool that will last many years. In fact, you'll be lucky to get a few in.
The overall look -

It's harder to customize a temporary pool. Lack of landscaping and deck can take away from the aesthetic of the rest of your yard.
Rolled-Wall and Slat Wall Pools
Easily the most common above ground pools, rolled-wall and slat wall pools are usually made from corrugated rolled steel, aluminum, or resin walls with vertical columns and horizontal top seats. The inside of the pool is made waterproof with a fitted liner. These pools can cost as little as $6,500 and as much as $27,000.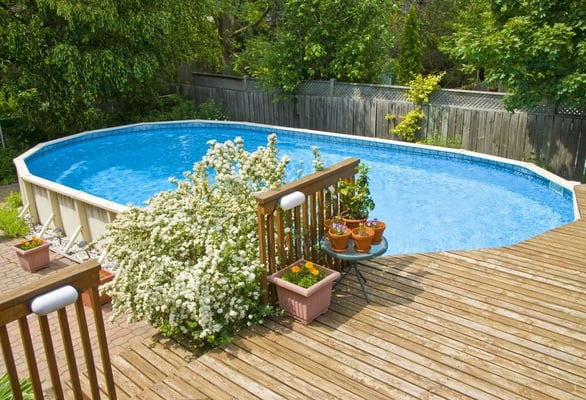 Pros of Rolled and Slat Wall Pools
Long-lasting - With proper maintenance, rolled and slat wall pools can last 10 plus years.
Nice look - Rolled wall and slat wall pools have continued to get better in appearance and now can be easily integrated into your backyard design.
Better filtration -

With professional-grade pumps, rolled and slat wall pools tend to have clearer, cleaner water than soft side pools.
Cons of Rolled and Slat Wall Pools
Not weather resistant - Strong storms, harsh winters, and lots of wind can do severe damage to rolled and slat wall pools, which is often not covered under a warranty.
Maintenance costs - Between liner replacements, chemical upkeep, and accessories (pool covers, filtration system, etc.), regular maintenance costs can add up.
Rust and Corrosion -

With any metal structure, rust and corrosion will eventually take hold over time. This process is sped up due to the water and chlorine.
Additional Above Ground Pool Costs
Like most things, your above ground pool will come with additional costs such as pool accessories, chemicals, and even toys. Here's what to consider before you buy an above ground pool:
Liner pricing - The price of your above ground pool liner is usually around $700 and up, depending on the size of the pool.
Filter and pump - There are several different types of filters to choose from, depending on where you shop. Pumps that offer 1-2 speeds start at around $200.
Pool ladder and decking - Don't forget that you'll need a way to get into the pool. Pool ladders can be as inexpensive as $65, but if you want a full wrap-around deck, you're looking at thousands.
Water - You'll need to pay for the water to fill the pool and top it off over the summer.
Cleaning supplies - Above ground pools may be smaller than most inground pools, but you'll need to keep cleaning supplies on hand to keep the pool clear. This may include a skimmer net, pool vacuum, pool brush, and most importantly, pool chemicals.
What's the Best Above Ground Pool for You?
If you're shopping for an above ground pool because you're not ready to make a major commitment in space or costs, you might want to choose something like a soft side pool so that you can try it out first.
Rolled-wall or slat wall pools are better options for those who want an above ground pool that will last several years. You may have to deal with rust (if the walls are metal) and work on maintaining the liner, but your family will be swimming for at least a few summers. Remember, if you live in a stormy or windy area, a rolled-wall or slat wall pool may not be your best option.
If you know that you like the look of an above ground pool and you want to fully integrate one into your backyard, you may want to consider building an inground pool above ground. This includes vinyl liner, fiberglass, and concrete.
Keep in mind that you can always go with a temporary option and graduate to a more permanent pool type if you enjoy the experience and responsibilities of being a pool owner.
Bottom line, the best pool for you is the one that brings the most joy to your family. After all, having a pool is supposed to be exciting, fun, and relaxing.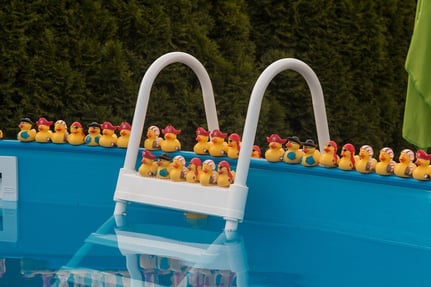 Are you interested in getting an inground pool but concerned about the cost? You can contact us using the button below and we will walk you through your pricing options for a more durable and permanent addition to your home.
At River Pools, we manufacture world-class fiberglass pools for customers across North America. If you'd like to explore your fiberglass pool options, you can browse our catalog of models, try out our fiberglass pool cost calculator, or download our free ebook below!
Up Next:
How Much Is My Fiberglass Pool Really Going to Cost?
What is an Above Ground Concrete Pool? Cost, Construction, Problems
Should I Install My Pool in Fall, Winter, or Spring?