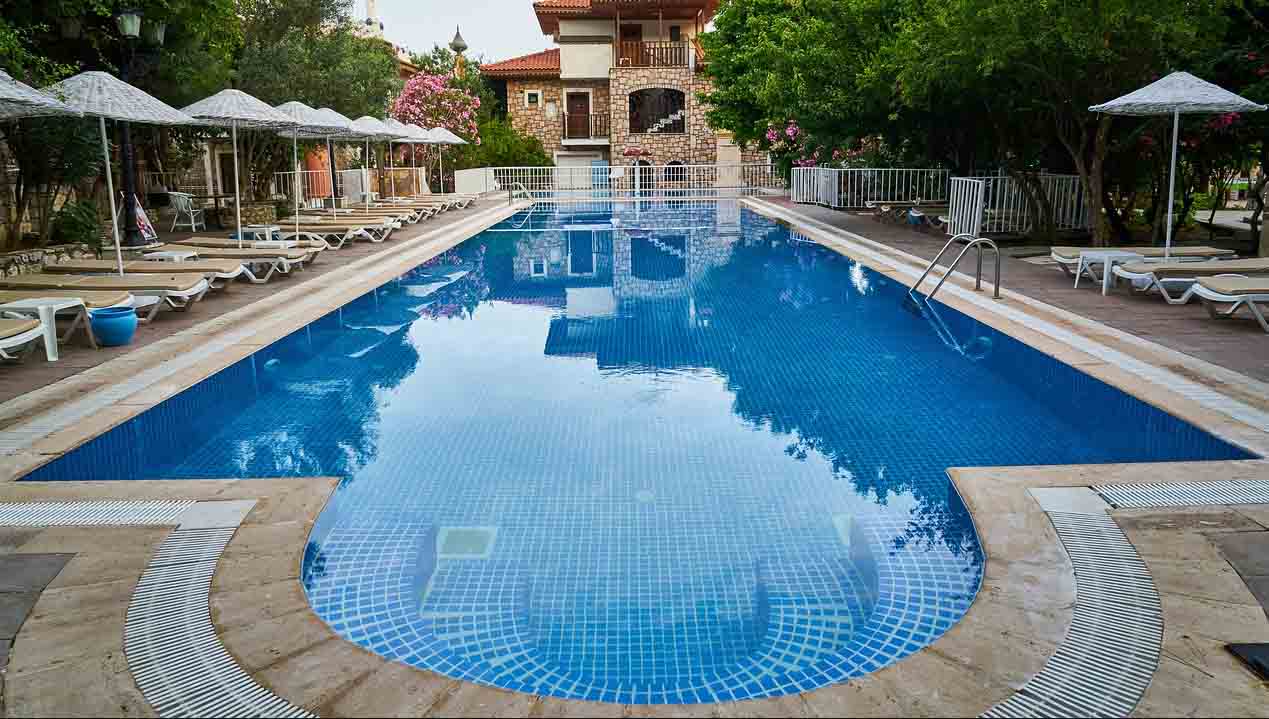 Subscribe
How Much Does a Tile Pool Cost? Ceramic, Stone, Glass
Cost and Pricing | Concrete Pool Information
A tile pool is the most luxurious type of concrete pool available, but it does come at a cost.
We're talking tens of thousands of dollars on average for swimming pool tile alone.
There are three main types of pool tile that you can use: ceramic, stone, and glass. Ceramic is the classic choice, and it tends to be the most affordable. Stone is good for a natural or lagoon pool aesthetic, while glass is typically the most high-end option.
Because tiling a pool can be a hefty financial investment, we're going to break down pool tile pricing and discuss a few pros and cons to choosing each type. The following overview should help you weigh your options before you shell out the cash for this pricey upgrade.
Using our expertise as fiberglass pool manufacturers, we'll also discuss installing waterline tile on concrete and fiberglass pools as a more budget-friendly option at the end of this article.
Let's jump straight into tile pool pricing.
How much does a tile pool cost?
A tile pool might cost between $75,000 and $150,000 or more on average, depending on the pool size and the type of tile that you choose. In comparison, a regular plaster pool may cost $50,000 to $100,000 or more.
You might be able to get a fully tiled pool for less than $75,000, but it will likely be a smaller design with cheaper tiles.
To give you a better idea of how much your tile pool might cost, here are the average price ranges that you can expect across the different types of pool tiles.
| | |
| --- | --- |
| Pool Tile Type | Average Cost Per sq ft |
| Porcelain pool tile | $1.60 - $50 |
| Glass pool tile | $7 - $50 and up |
| Stone pool tile | $5 - $30 |
Stone Pool Tile
Stone tiled pools can use a wide assortment of stone types, including granite, sandstone, limestone, slate, quartz, and marble. Stone pool tile is both durable and slip-resistant, making it a good option for the waterline, steps and beach entries, or the entire pool.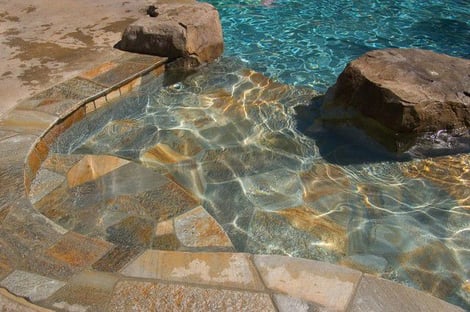 Keep in mind that it might also be rough and may not be comfortable to walk or sit on.
Ceramic Pool Tile
As you might have guessed, you can't just use any tile on a swimming pool. Non-porcelain ceramic tiles are cheaper than porcelain, but they also absorb water and aren't ideal for swimming pools.
Porcelain is made from fine-grained clay and other additives and is fired at a much higher temperature than other ceramics. These properties make it so that porcelain cannot absorb water, and it's why you often see it in swimming pools and spas.
Porcelain pool tiles can be hand-painted and glazed in a wide range of colors, which increases your design options for your swimming pool's interior and allows you to incorporate unique patterns.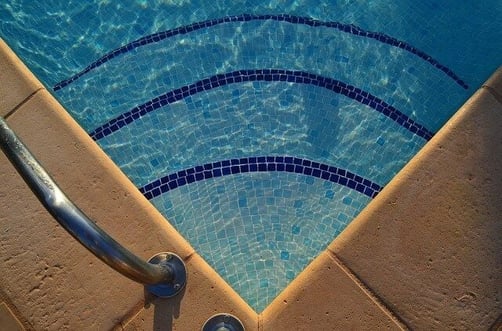 Porcelain pool tile is not quite as durable as glass tile and it's also prone to chipping over time, but it does create a smooth and comfortable pool surface.
Glass Pool Tile
Glass pool tile is durable, UV resistant, and stunning to look at, but it's also usually very expensive. Pool owners often mix up their tile colors to create sparkly mosaics along the pool floor and walls.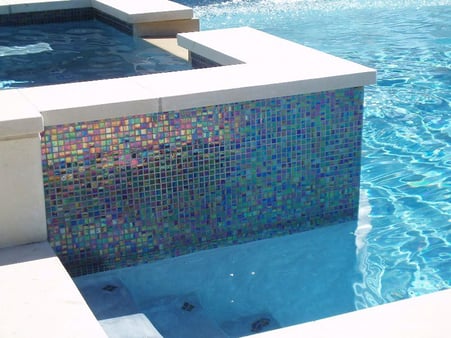 On a more practical note, glass pool tile makes maintaining proper pool chemistry simple, and it's smooth to walk on (provided it is installed correctly and doesn't have sharp edges poking out).
Why get a tile pool?
The biggest benefit to splurging on a tile pool is the durability of the surface. Tile pool surfaces can last 20 years or longer with proper upkeep, and they look incredible. The longevity of pool tile is credited to the durability of the materials themselves and their resistance to pool chemicals.
A plaster pool surface might only last 5-10 years on average before it needs to be refinished, while an aggregate pool surface may last 10-15 years. Over 30 years, you could easily spend $30,000 resurfacing your plaster or pebble pool.
In the long run, you might spend around the same amount of money replastering or redoing the aggregate on your pool as you would on a tile pool surface. The difference would be that one is a steep upfront cost (tile) and the other is spread out over time (plaster).
Waterline Pool Tile
If an all tile pool surface seems too expensive, an alternative option would be to install a nice waterline tile. Typically, putting tile along your waterline might cost $1,800 to $2,500 upfront, which is significantly lower than tiling your entire pool.
You'll have the same options for waterline tile as you would for a fully tiled pool, including glass, hand-painted porcelain, glazed porcelain, slate, granite, quartz, and other types of stone.
Fiberglass Pool Tile
Concrete pools aren't the only types of pools that can be tiled. Pool tile can also be incorporated on fiberglass pool bottoms, steps, and waterlines, with waterline tile being the most popular.
Fiberglass pool surfaces are smooth and durable and don't actually require waterline tile.
Pool tile on a fiberglass pool is purely for aesthetics as the water doesn't stain the gelcoat surface. Fiberglass pools are also easy to maintain, cost less to maintain than concrete pools, and don't usually need to be resurfaced.
If you want to explore your fiberglass pool options while shopping for the perfect inground pool for your home, feel free to browse our swimming pool gallery, try out our pool pricing calculator, or request a custom quote using the button below.
At River Pools, we manufacture world-class fiberglass pools for customers across North America. You can download our free ebook below to learn more about buying a fiberglass pool, or visit our video library today for more educational resources!
Up Next:
8 Things You Must Know Before You Build a Concrete Pool
What Is an Infinity Pool? Cost, Ideas, FAQ