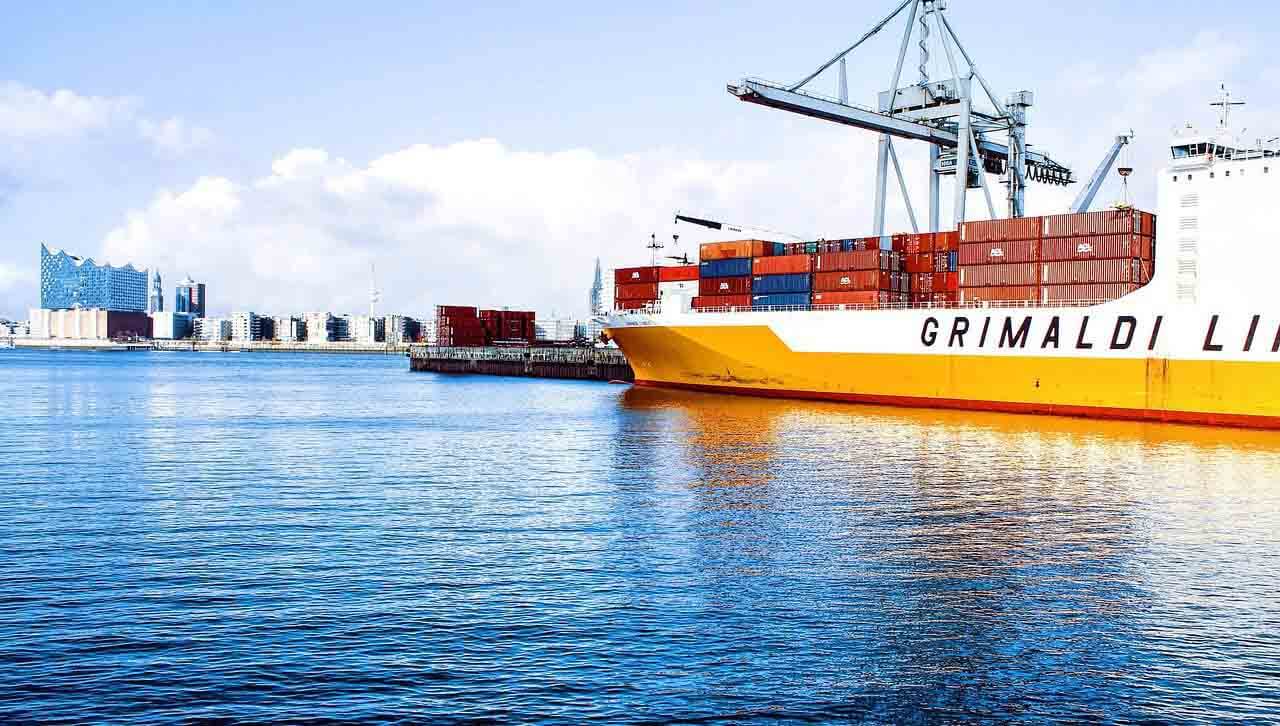 Subscribe
Shipping Container Pool vs. Fiberglass Pool: Cost, Shapes, Features
Fiberglass Pool Information | Swimming Pool Design
Shipping container pools are growing in popularity thanks to their quick installation and unique look, but how does a shipping container pool compare to a traditional inground pool?

Because we manufacture fiberglass swimming pools and consider ourselves experts in our field, we decided to make an in-depth comparison of fiberglass pools vs. shipping container pools to highlight the key differences between them.

We hope that by the end of this article, you'll understand the main factors that separate container pools and traditional inground pools so that you can choose the best swimming pool for your home.
Let's review how fiberglass pools and shipping container pools compare across the following categories:
Installation
Shipping Container Pool
Most shipping container pools are installed above ground and only take a few days to set up on your property. The actual process of creating a shipping container pool is done offsite, so you won't have to deal with a lengthy construction project in your backyard.
Some may choose to install their shipping container pool inground by digging a hole and setting it in place, but that does not make it a true inground pool.
Many people also choose to build a deck around their above ground shipping container pool for 360-degree access rather than putting it in the ground, but this can add significantly to your overall costs.
Fiberglass Pool
Fiberglass pools are installed inground 90% of the time, but many people choose to build them semi-inground as well. They can also be reinforced for an above ground installation, which typically includes building a wrap-around deck.

Like a shipping container pool, most of the building process of a fiberglass pool happens in a factory rather than your backyard, so the installation is also quick compared to other inground pool types. Generally, a fiberglass pool can be installed within 2 to 4 weeks.

Check out our construction steps here to see what goes into a fiberglass pool installation.
Interior Finish
The interior finish of a shipping container pool will vary by manufacturer, but you'll see four main choices across all container pool builders:
Fiberglass insert

Epoxy and elastic polymer

Vinyl liner

Concrete and plaster
A fiberglass pool has a gelcoat finish that's smooth, durable, and resistant to algae. These gelcoats are relatively low-maintenance and don't typically need to be refinished. Some shipping container pools use fiberglass inserts, which will come with the same benefits provided they are manufactured well (see how a fiberglass pool should be manufactured here).

Many shipping container pools use a combination of epoxies and elastic polymers or other waterproofing coatings to make the interior of the pool ready for swimming. These types of coatings may only last 8 to 10 years or less before they need to be refinished.

Any container pool that uses vinyl pool liners will need a fresh liner about every 5 to 9 years, just like a traditional inground liner pool. Vinyl liner container pools aren't quite as common, and you may need to order a special liner for your pool's dimensions.

Finally, some shipping container pool makers will spray the interior with concrete and waterproof it with plaster. This classic pool building technique creates a rougher texture that harbors algae and requires more intensive maintenance. Plaster might only last about ten years before it needs to be refinished.
Shape
Shipping Container Pool
Container pools are only offered in two shapes: rectangle and square. Most models are rectangular and narrow like lap pools, but you may be able to get a wider square option from certain manufacturers.
Fiberglass Pool
Fiberglass pools come in many different shapes, including rectangle, roman end, and freeform. Vinyl liner and concrete pool shapes can be customized, with concrete being the most customizable when it comes to pool shape options.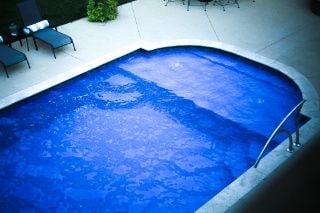 Roman end fiberglass pool
Size
Shipping Container Pool
Shipping container pools are only about 8 feet wide and can be up to 40 feet long. Most large models will be about 8x40 feet, and the smallest models might be around 8x12 feet. Your shipping container pool depth will likely not exceed 8 feet, which is not deep enough for a diving board or some slides.
Fiberglass Pool
Fiberglass pools can go up to around 16 feet wide and 40 feet long (though some models may extend a few more feet, depending on the manufacturer). Fiberglass pools can also be manufactured with a deep end for diving (must be at least 8.5 feet deep and meet other requirements). Vinyl liner and concrete pools can be even bigger with no width or depth limitations, especially concrete pools.
Features
Shipping Container Pool

Your shipping container pool may have some bench seating, but it might not have other features like a tanning ledge, a built-in spa, or a beach entry.

One of the key features that sets shipping container pools apart from fiberglass pools is their glass features. Glass windows can be installed on any side of the shipping container, which makes for excellent photographs and an interactive swimming experience.

Some shipping container pools may feature very small tanning ledges, and others can be used as spas with a few modifications. However, this would be considered an exception and not the rule.

Fiberglass Pool
Fiberglass pools come with features already built-in, like spas, tanning ledges, bench seating, and even beach entries. A fiberglass pool will have enough space for these built-in features while leaving plenty of room for swimming as well.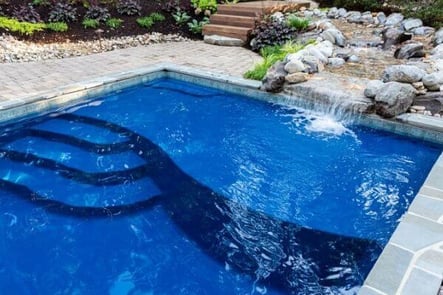 Fiberglass pool with tanning ledge
Sanitation
Fiberglass pools use a wide variety of sanitation methods, but the most common are traditional chlorine and salt systems. (With a salt system, you pour salt into your pool and a salt chlorine generator converts it to chlorine.)
Shipping container pools usually stick to regular chlorine as salt systems can accelerate corrosion on the metal parts of the container shell. Some manufacturers say that it's okay to use a salt system with your container pool, but just keep in mind that it can speed up the deterioration of your pool's structure and shorten its lifespan.
Warranty
Shipping Container Pool

Warranties on shipping container pools tend to be much shorter than warranties on fiberglass pools. Some shipping container pool warranties might even be as short as three years. Your warranty can also be voided if you move your pool without following the steps provided by your manufacturer.

Fiberglass Pool



Fiberglass pool warranties will often last the lifetime of the pool, with surface warranties lasting ten years or more. For example, at River Pools, we offer a limited lifetime structural warranty and a 15-year finish warranty on all of our pool models. If you sell your home, the warranty can also be transferred one time to the new homeowner.

Read more: 4 Questions to Ask about a Fiberglass Pool Warranty

Mobility
Shipping Container Pool

One of the unique things about a shipping container pool is that you can take it with you when you move. It will require some heavy machinery, and you'll need to ensure that you have the permits to own a pool in your new home, but it can be done. Shipping container pools are possibly the most mobile pool types aside from temporary inflatable pools.
Fiberglass Pool



Contrary to what many believe, you can't really take a fiberglass pool with you when you move. Fiberglass pools are installed in the ground and anchored to the surrounding concrete patio, so although they do come to your home in one unit, they are eventually integrated into your yard as a permanent part of your property.

It would cost almost as much to remove, transport, and reinstall your old fiberglass pool as it might to get a new pool (and you can damage your pool shell in the process). Generally, we don't regard fiberglass pools as mobile, but you might be able to relocate yours if you installed it above ground.
Cost
Shipping Container Pool

Small shipping container pools can cost as little as $17,000 or less, while bigger shipping container pools can cost $40,000 or more. They definitely make a great option for budget shoppers who don't want a traditional above ground pool or a vinyl liner pool (the cheapest inground pool you can get).
Keep in mind that the interior finish and warranties of a shipping container pool may not last as long, and the metal shell will be prone to rust and corrosion.
Fiberglass Pool
Fiberglass pools cost more than shipping container pools, with average starting prices at $40,000 (they can also go up to $85,000 or more). While fiberglass pools do come with a higher price tag, they also offer more swim space, use more durable materials, and can last decades.

As a bonus, fiberglass pools are incredibly cheap to maintain compared to the other inground pool types.

Ultimately, the price of your fiberglass pool project will depend on the pool's size, upgrades, and accessories. You can see how much your fiberglass pool might cost with your favorite add-ons using our free fiberglass pool cost calculator below:
---

Want to see about how much your fiberglass pool might cost with all your favorite accessories?
Use our Design and Price Tool to walk through your options and approximate price!
---
At River Pools, we manufacture world-class fiberglass pools for customers across North America. If you'd like to explore your fiberglass pool options, you can browse our catalog of models, visit our pool gallery, request custom pricing, or download our free ebook below. Happy swimming!
Up Next:
What's the Best Small Fiberglass Pool for Your Needs? Costs, Sizes, Features
25 Small Inground Pool Ideas for All Budgets