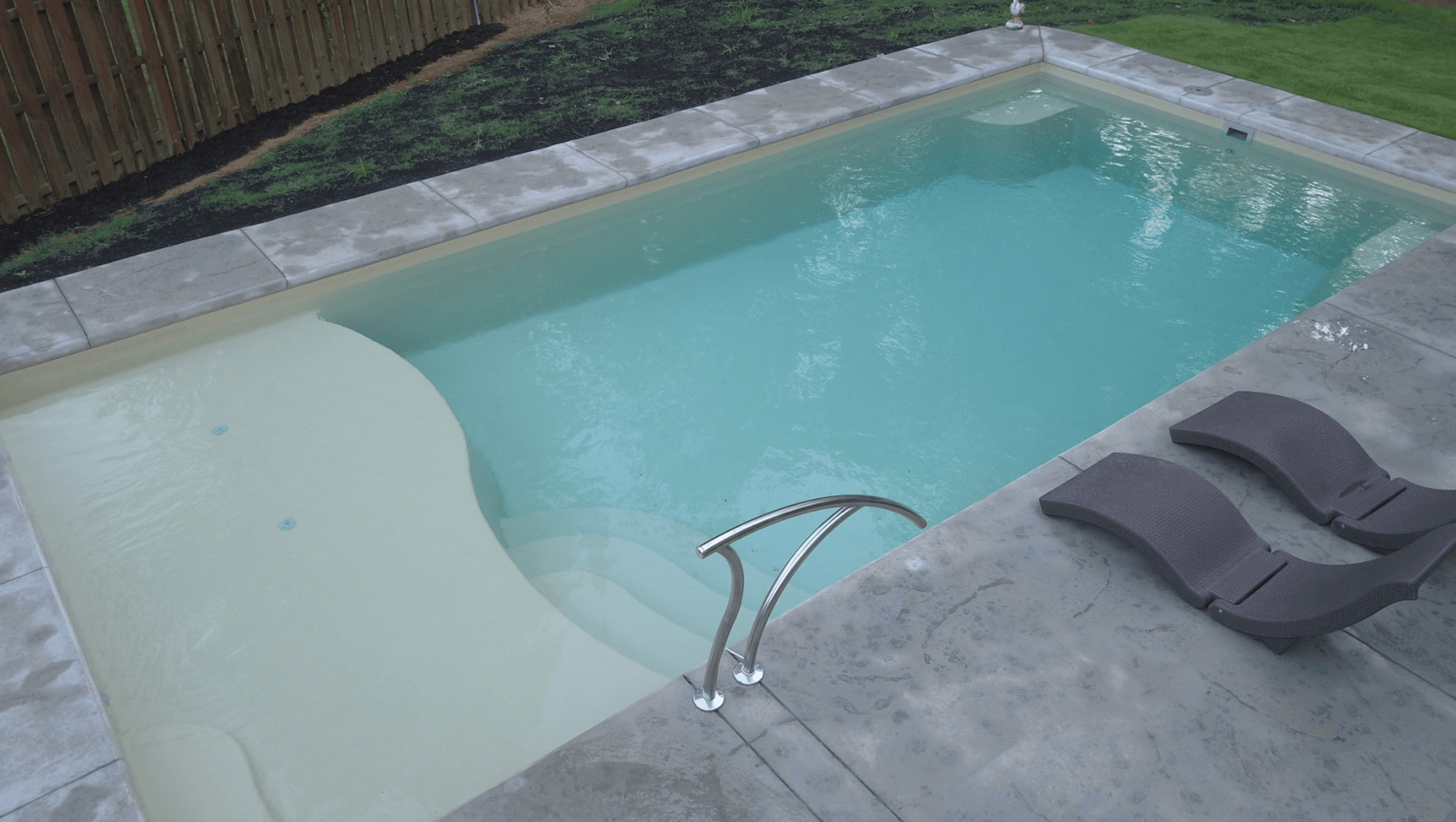 Subscribe
Small Inground Pools FAQ
Which is better: a small inground pool or a large inground pool?

Why do you think so?
If you said that large inground pools are better, here's a little known secret for you: small inground pools come with a longer list of advantages than large inground pools.
Large swimming pools are fantastic for pool parties, racing, exercising, diving, and much more. But what can a small inground pool bring to the table that a large inground pool can't? What are some of the top reasons people choose small inground pool designs?

In this article, we'll share what we've learned about small inground pools over the years as fiberglass pool manufacturers and answer some of the most common questions that inground pool shoppers ask.

Let's start with one of the questions that we hear most often.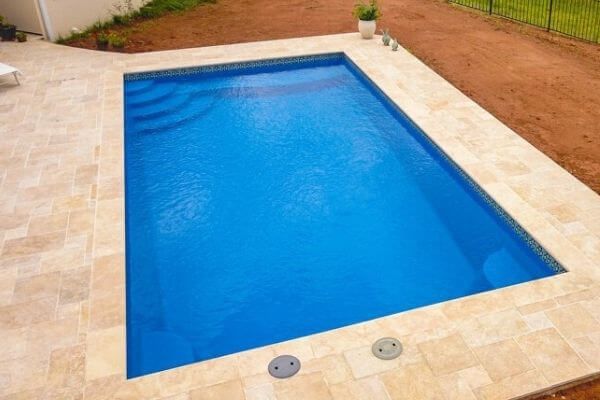 Will a small inground pool be big enough?
There is a wide range of inground pool sizes, with some being not much bigger than a traditional swim spa. However, the average small inground pool is around 12 by 24 feet, which should provide plenty of room for swimming, playing, and relaxing for the typical family. Plunge pools and spools may be even smaller.
Planning on hosting a ton of pool parties? Here's how to decide if the pool will be big enough for your guests:
1) Calculate the average number of people who will likely occupy the pool at the same time.
2) Account for fifteen square feet of space for each person in the water (the pool can become an unsanitary environment if you exceed the recommended user load).
3) Determine whether the total number of square feet fits the surface area of your pool design.
For example, let's say that you would like to host a pool party for your child's next birthday and invite 16 of their friends. Assuming that all 17 children (the 16 friends plus your child) are in the water at the same time, your pool should have a surface area of 255 feet. A 12x24 foot pool has a surface area that covers 288 feet, so it should be big enough for your needs based on this rough calculation.
Note: If you'd like to keep your pool as safe and sanitary as possible, you can find out the exact calculations for the recommended user load here.
Is a small inground pool easier to maintain?
Yes, a small inground pool is generally easier to maintain than a similar pool of a larger size.

The simple fact is that the smaller the pool, the less you'll have to vacuum, brush the pool, and clean it up.
Is a small inground pool cheaper to maintain?
Small inground pools are also known to be cheaper to maintain than similar pools of a larger size. Let's break down why small pools are cheaper to operate:
A pool with a lower volume of water will require fewer chemicals

You won't have to run the pool filter as long

Small pools don't take as long to heat or chill

Replastering, retiling, or otherwise refinishing a small pool will be cheaper

Refilling the pool after draining it (for repairs, acid washing, etc.) will cost less
Important: Ease of maintenance and cost will also depend on the pool type. For example, a small gunite pool with a plaster finish will likely be more work and will cost more to maintain than a medium to large fiberglass pool because the surface will require more maintenance.
Read more: The Ultimate Guide to Inground Swimming Pool Maintenance
What are the small inground pool sizes?
Small inground pool sizes will vary based on the pool contractor or manufacturer. But there are a few sizes that we see across all pool builders and manufacturers.
Standard small inground pool dimensions
Most small inground swimming pools are around 10 to 12 feet wide and no longer than 26 feet.

Small swimming pools are also usually around 4 to 5 feet deep, with most being no deeper than 5.5 feet.
What is a good size for an inground pool?
The average small inground pool is around 12 feet wide and 24 feet long and a little over 5 feet deep. A pool of this size can adequately provide space for everything that most average households need.
It's also one of the most popular inground pool sizes among pool shoppers. In fact, you can find dozens of fiberglass pool models, vinyl liner kits, and concrete pool designs with these dimensions.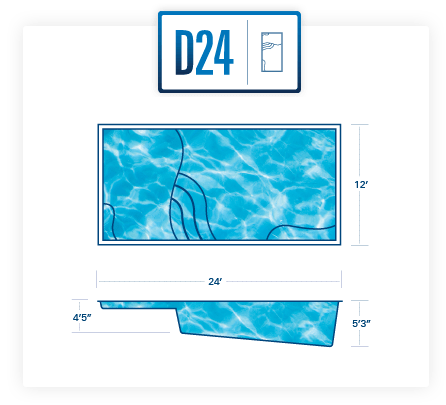 Our D24 fiberglass pool model dimensions
How small is too small for a pool?
Any swimming pool smaller than 12 by 14 feet will probably be too small for swimming, playing, and exercising. Some tiny pools are made specifically for relaxing and cooling off in the summer, but you won't get the traditional inground pool experience with anything smaller than 12x14 (or 400 square feet).
Will my small inground pool need a heater?
Most outdoor pools do not need a heater, but this can depend on the climate in which you live. Some northern areas will virtually require a swimming pool heater, while hotter climates won't.
The good news with a small inground pool is that the volume of water is lower, so you can expect it to heat much faster if you decide that a pool heater is necessary. That, in turn, can help you save on heating costs, especially if you use a heat pump or gas heater.
Alternative pool heating methods, like solar covers, solar rings, and heating mats, are also more effective on smaller inground pools.
Read more: Swimming Pool Heaters: Types, Costs, Pros & Cons
Can you put a slide on a small inground pool?
Yes! Just keep in mind that your options will depend on the slide and the pool's depth. Most slides designed for small children don't require the pool to be very deep, and the same goes for many slides designed for users 48 inches and up. In fact, you can get many swimming pool slides as long as your pool is at least 3 feet deep (and most small inground pools are).
Read more: Inground Pool Slides: Costs, Types, Safety
Can you put a diving board on a small inground pool?
You will need a much deeper pool to get a diving board on the deep end, unlike with pool slides. At least 8 feet deep, to be exact. Most small inground pools do not go that deep, and you probably will not find a small fiberglass or vinyl liner pool that does.
If you want a small inground pool with a deep end that you can dive into, your best bet would be to build a custom gunite pool. A small diving pool will restrict your shallow zone, which is where people spend most of their time, but it can be done.
How long does it take to build a small inground pool?
All inground pool projects stick to similar time frames:
Fiberglass pools: 2-4 weeks
Vinyl liner pools: 4-8 weeks
Concrete pools: 3-6 months
Does that mean that a small inground pool will take as long to build as a large inground pool? Not necessarily. You might be able to shave off a few days with a smaller pool and patio, but in general, you can expect the building times to remain the same.
Read more: Pool Construction: Comparing Concrete, Vinyl Liner, and Fiberglass Installations
Which small inground pool is the cheapest?
When it comes to inground pool prices, there's simply no competing with vinyl liner pools. Concrete pools typically start at a price tag of $50,000, (even the smaller sizes), and fiberglass pools usually cost a minimum of $40,000. You might be able to get a small gunite pool for closer to $40,000 and a small fiberglass pool for closer to $30,000, but you will have more options in the under $30,000 price range if you narrow your search to small vinyl pools.
Read more: What Is the Cheapest Inground Swimming Pool?
What are the advantages of small inground pools?
Like we said at the beginning of this article, small inground pools come with more advantages than large inground pools. Let's break those down:
Small inground pools are cheaper to build and maintain (compared to larger pools of the same type)

Small inground pools are easier to maintain (compared to similar large pools)

Small inground pools heat faster

Small inground pools can still have pool slides

They leave more room for other outdoor living accessories (think pool house, fire pit, gazebo, outdoor kitchen, etc.)

They offer adequate space for swimming, playing, and relaxing

Many small inground pools integrate top features like spas, bench seating, and tanning ledges

They can fit in most backyards

They are less expensive to close in
Why are you interested in building a small inground pool? Let us know in the comments!
Here are a few more resources to help you continue your small inground pool research:
Small Inground Pools: Sizes, Shapes, Cost, Pros, & Cons
What's the Best Small Fiberglass Pool for Your Needs? Costs, Sizes, Features
What is the Best Small Pool Design for a Small Yard?
25 Small Inground Pool Ideas for All Budgets
At River Pools, we manufacture world-class fiberglass pools for customers across North America. If you are interested in buying a fiberglass pool for your home, you can browse our pool models, try out our pool pricing calculator, or request custom pricing using the button below.