As we take our last dips in the pool and start deflating our giant pizza slices and rainbow unicorn floats, we are reminded that all good things must come to an end. At least until next summer. Within a few weeks, it will be time to close up your sparkling oasis and say goodbye for the winter. And if you don't want your pool to become a swampy mess until then, you might want to consider adding a pool cover.
If you've been shopping around for inground fiberglass pools, we're guessing that the name Latham has come up at least once. If you're new to Latham, they're a well-known brand within the industry and they have acquired a few other popular fiberglass brands, including Viking, Trilogy, and Blue Hawaiian. They also sell vinyl liner pools and other accessories.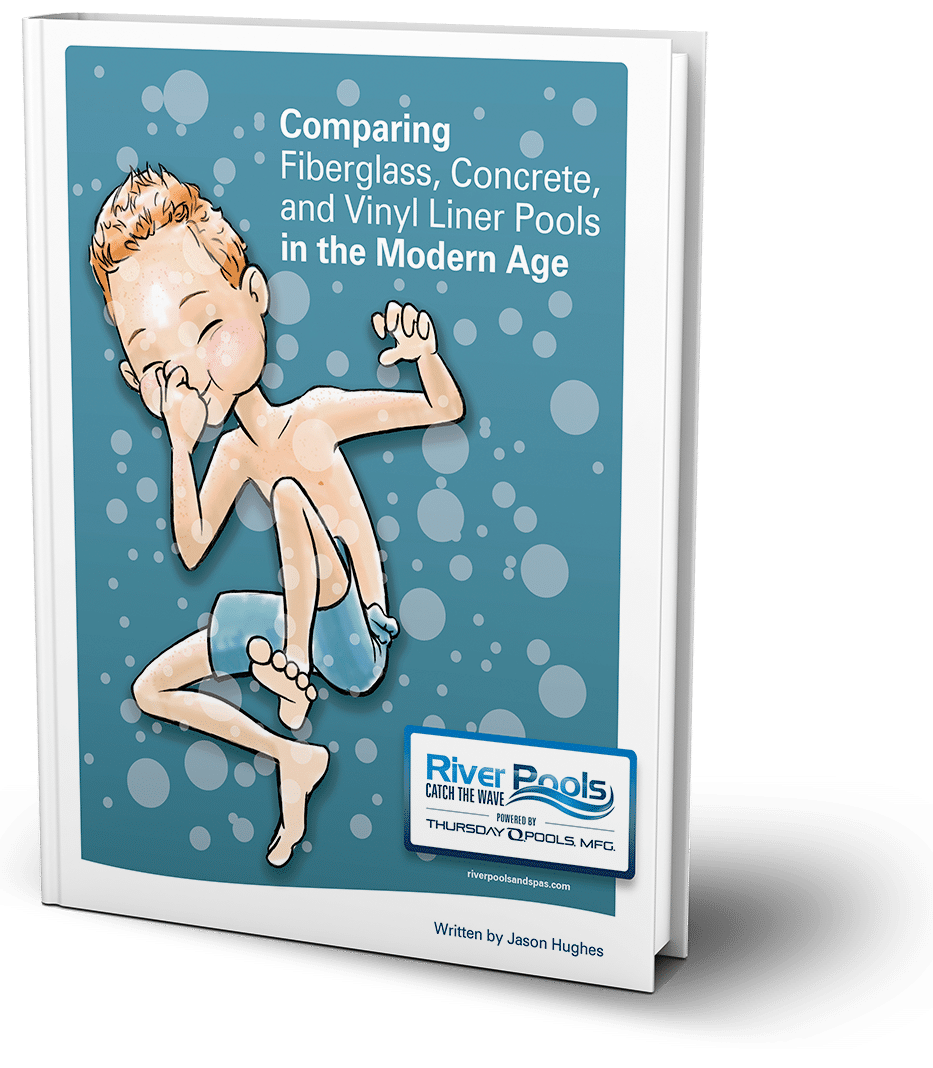 Comparing Fiberglass, Concrete, and Vinyl Liner Pools in the Modern Age
Don't blindly wonder if a fiberglass, concrete, or vinyl liner pool is right for you. Our educational ebook does a deep-dive comparison of the 3 types, all while noting the advantages and disadvantages of each.
Options and Accessories | Patio and Coping | Pool landscaping
Are you one of those people who kills your plants every time you try to start a garden? Do you put off home improvement projects until your house is literally falling apart? Or maybe you just like to make your life as simple as possible so that you have time for things that are really important to you. Whatever the case, if you're looking for an outdoor living space that's super low maintenance (and not just a slab of concrete with a picnic table), keep reading!
When it comes to sanitizing your pool, most people choose between traditional chlorine and a salt system.
The archaeologists at River Pools are back at it again! Only this time, they dug up something a little spookier than an undisclosed utility line.
Are you browsing inground pool options for your home in Louisville? How about a fiberglass swimming pool? The three main inground pool types are concrete, vinyl liner, and fiberglass, with fiberglass being the lesser well-known of the three.
Do you ever wish that you had a natural pond or swimming hole in your backyard? What if you could escape to a tropical tiki paradise every day after work? If this sounds like your dream, a lagoon pool may be the swimming pool style that you're looking for. At River Pools, we install our fiberglass pools in a wide variety of styles from ultra-modern to Mediterranean to tropical lagoon, and we know what goes into each of the different inground pool designs. In this article, we'll explain what a lagoon pool is, how much it may cost to create this pool style, and the pros and cons of having one.
Fiberglass Pool Information | Installation & Construction
Do you like the idea of having a fiberglass pool but aren't sure if you can actually get one? With us at River Pools being the only fiberglass pool manufacturer with installation experience (more than 1,500 fiberglass installs to date), we're kind of experts in our field. And over the years we've heard every installation question under the sun, including:
The Louisville area has more than its fair share of awesome water parks to satisfy your longings for some pool fun. But what if you just want to relax and play in your own pool at home? You know, without the crowds. If you're shopping for inground pools in Louisville, KY, you've probably discovered that swimming pool shopping is not always easy. Between all of the different pool types, manufacturers, builders, prices, and accessories, you'll have hundreds of decisions to make. It's no wonder we get millions of website visitors looking for inground pool information every year.
Options and Accessories | Pool Maintenance
Congratulations! We heard you're getting a new inground pool. Once your pool builder is done with the construction of your beautiful swimming pool, it will be your job to keep it in good shape so that you can enjoy it for years to come. If you're new to inground pool ownership, we'd personally like to welcome you to the club. You'll quickly find that owning a pool can be great for the health and happiness of you and your family. As fiberglass pool manufacturers and installers, we've helped hundreds of new pool owners get set up and ready to go with their new inground pools. So, to help you get a great start to your life as a member of the pool owner's club, we broke down which pool supplies you'll need by the time your swimming pool is in the ground and ready to use. In the following sections, you'll learn what you need to keep handy around your pool, why you need it, and how much it might cost. We also threw in a few extras for you to consider if you want to upgrade your experience. Let's dive in.