Options and Accessories | Pool Maintenance | Swimming Pool Accessories
I've lost count of the times I've addressed my parents' Amazon Echo with "Hey Google." There are just so many virtual assistants, it's hard to keep them all straight. Alexa, Siri, Google Home/Assistant, and Cortana (wait, who?)... If I can barely remember which one I'm addressing, I certainly can't keep track of all the things they automate or simplify for us. A pool automation system creates this convenience for handling your pool and its features, without the multi-brand confusion. (But hey, some of them can also connect to Alexa and co.! Score!)
"No runs, no drips, no errors."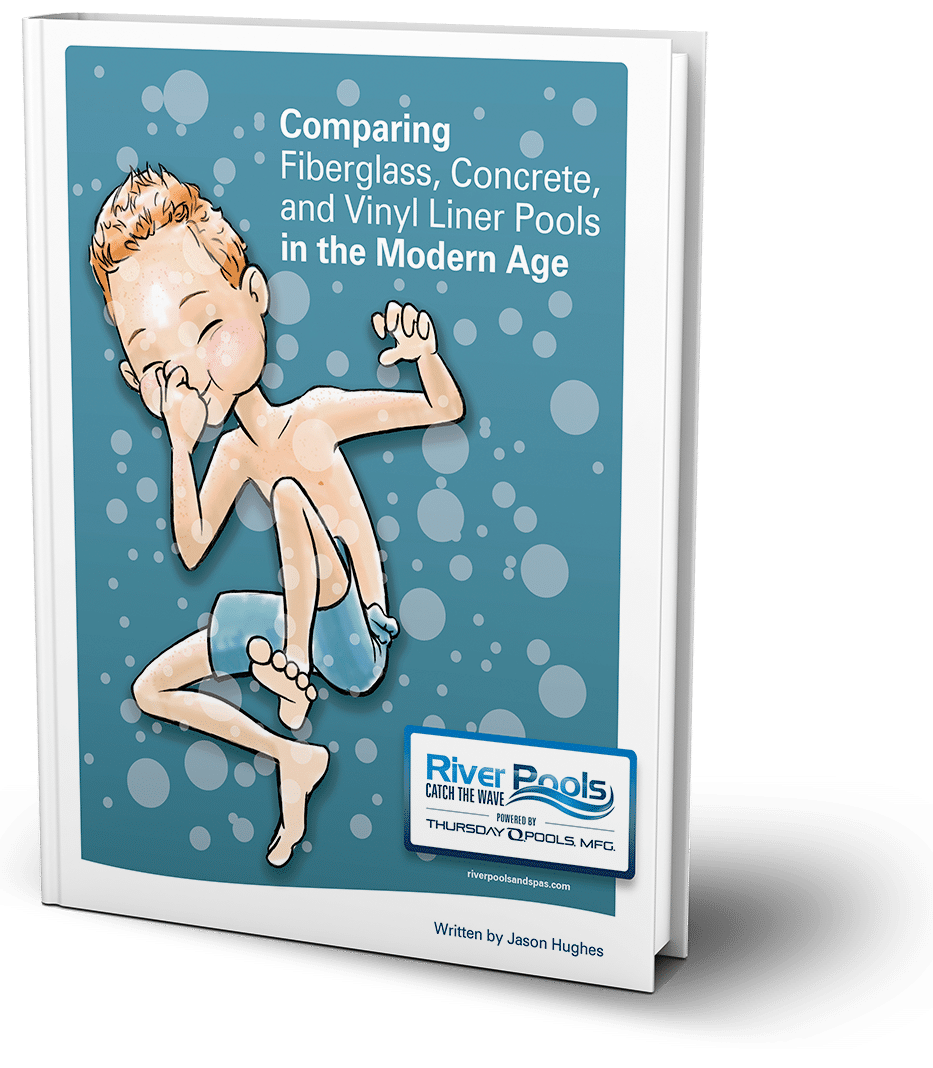 Comparing Fiberglass, Concrete, and Vinyl Liner Pools in the Modern Age
Don't blindly wonder if a fiberglass, concrete, or vinyl liner pool is right for you. Our educational ebook does a deep-dive comparison of the 3 types, all while noting the advantages and disadvantages of each.
Options and Accessories | Pool Maintenance | Swimming Pool Accessories | Swimming Pool FAQs
Technology is hard. It's even worse when you can't pick the equipment out of a lineup. But we're here to make your life easier, in every way we can. So today... let's talk filter systems.
You designed your dream backyard. The pool, the landscaping, the patio. So much effort, and so worth it. It's a beautiful thing. Except you didn't design the aggressive bubbles shooting out of the returns on the pool walls. So what's up with that? Why are you getting air bubbles in your swimming pool? This is a common problem, especially when you're first opening your pool for the season. A few bubbles in the pool or the pump is normal, but noisy churning and lots of bubbles indicate that you have a problem.
Patio and Coping | Pool Design Guides
One of the biggest debates that pool shoppers have during the process of building their swimming pool is which type of concrete to use for their patio. There are many, many types of patios that can go around a swimming pool: brushed concrete, stamped concrete, pavers, stone, brick, overlays, etc. This article will solely focus on helping you to understand the pros and cons to brushed (aka broomed) vs. stamped. By so doing, you will be able to make the best choice for you and your family.
Fiberglass Pool Information | Pool Design Guides
I was at an appointment recently with a customer who asked a question that I've heard so many times before. In the midst of her struggle to justify a swimming pool purchase, this is what she said: It's a tough call, Marcus. We are just not sure if we should take the plunge... I just wonder if a swimming pool is worth the money we are going to put into it?
Cost and Pricing | Installation & Construction | Patio and Coping | Pool Design Guides
Let me just say...if you're reading this article, it's pretty safe to say you have good taste. How do I know? Because if you're researching pool coping, you already know you want something special. Am I right?
When we consider the different aspects of keeping our pool water sparkling and crystal clear throughout the summer, one of the most often over-looked aspects to water clarity maintenance is filter cleaning. When a pool's filter is not working up to capacity, its water will obviously suffer, with cloudiness and algae being the end results. This article will discuss the two main types of filters used by our customers and the proper cleaning for each medium.
Is there an unbiased comparison of fiberglass inground pools, vinyl liner pools, and concrete pools on the internet? A client who recently reached out to me doesn't think so. He stated in an email: As you're no doubt well aware, it's a desert wasteland when trying to find information on pools... Sorting through the internet for usable information is difficult in the extreme. Of the few forums I've found, most devolve into trolls arguing gunite pools vs. fiberglass pools vs. vinyl liner pools - over and over and over and over. "What would help a great deal is to find some kind of unbiased information that explains each pool in detail and then backs off - letting me (or the customer) make the final decision." This article is my effort to provide an objective source of information about the three types of inground swimming pools. The approach is simple. I list the advantages and disadvantages of fiberglass inground pools, vinyl liner pools, and concrete pools...then back off so you can form your own opinion.
Options and Accessories | Swimming Pool Accessories
Did you ever swim in the ocean, get a mouthful of seawater, and think, "Yum, I wish my pool at home tasted like this"? Yeah, probably not. Lucky for you and your taste buds, that's not what a saltwater pool is.