Fiberglass vs Concrete vs Vinyl Liner
Are you shopping for an inground swimming pool but not sure which type is right for you?
Concrete Pool Information | Cost and Pricing
A tile pool is the most luxurious type of concrete pool available, but it does come at a cost. We're talking tens of thousands of dollars on average for swimming pool tile alone. There are three main types of pool tile that you can use: ceramic, stone, and glass. Ceramic is the classic choice, and it tends to be the most affordable. Stone is good for a natural or lagoon pool aesthetic, while glass is typically the most high-end option.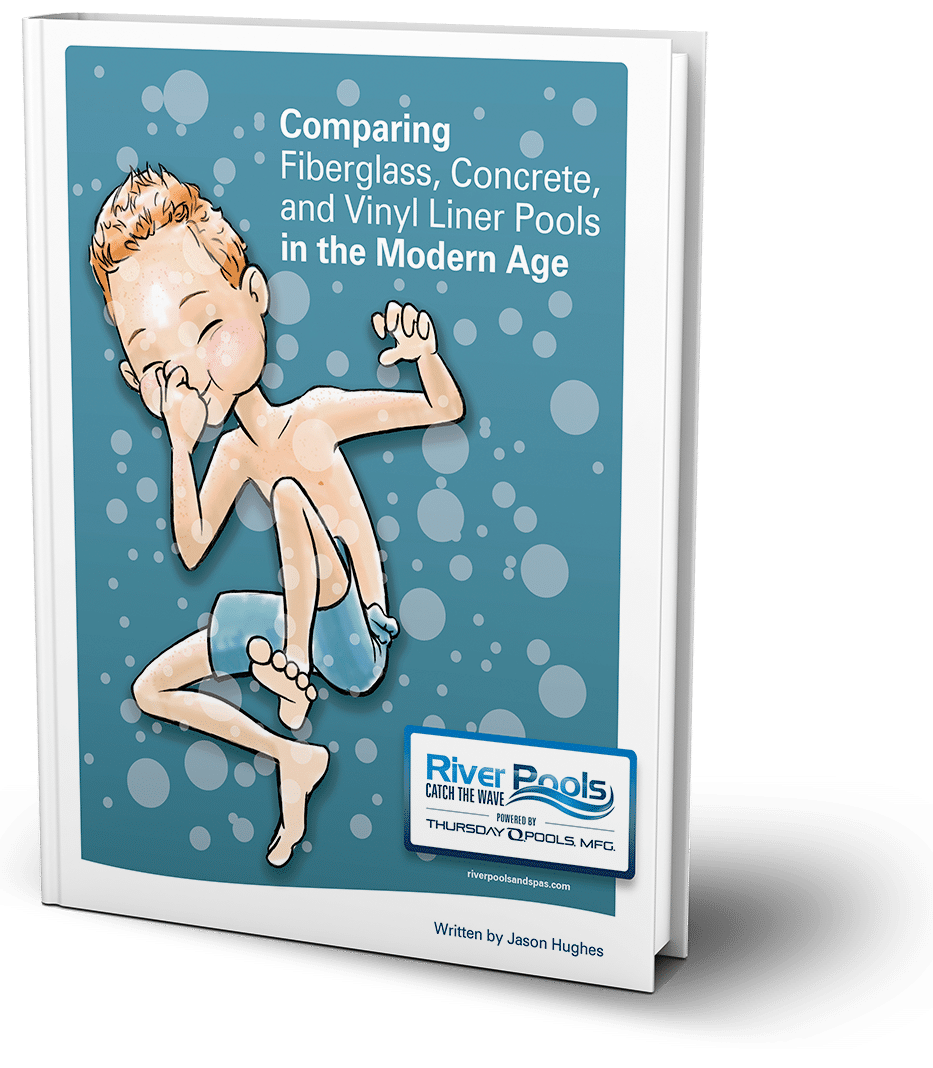 Comparing Fiberglass, Concrete, and Vinyl Liner Pools in the Modern Age
Don't blindly wonder if a fiberglass, concrete, or vinyl liner pool is right for you. Our educational ebook does a deep-dive comparison of the 3 types, all while noting the advantages and disadvantages of each.
Cost and Pricing | Installation & Construction | Pool Design Guides | Swimming Pool Design
Infinity pools are among the most modern and sought after pool designs today. If you have a gorgeous landscape or waterfront view that you want to show off, an infinity pool can make having that view ten times better. But what is an infinity pool, how does it work, and does it cost more to build?
Fiberglass Pool Information | Swimming Pool Design
Shipping container pools are growing in popularity thanks to their quick installation and unique look, but how does a shipping container pool compare to a traditional inground pool? Because we manufacture fiberglass swimming pools and consider ourselves experts in our field, we decided to make an in-depth comparison of fiberglass pools vs. shipping container pools to highlight the key differences between them. We hope that by the end of this article, you'll understand the main factors that separate container pools and traditional inground pools so that you can choose the best swimming pool for your home.
Concrete Pool Information | Installation & Construction
Do you have plans to build a concrete pool? First of all, we want to congratulate you on taking your first steps towards getting a new swimming pool for your home! Nothing compares to the joy and fun that a pool can bring to the whole family, and that's why we continue our work of manufacturing fiberglass pools year after year. But before you build a concrete pool, we encourage you to do your research so that you can know exactly what you're getting.
Fiberglass vs Concrete vs Vinyl Liner | Pool Maintenance
Did you know that people in some northern states ice skate on their inground pools during the winter? Yep, it gets that cold. If you live in an area where people skate on their pools as much as they swim in them, you might have questions like: What is the best type of pool for cold climates? What problems can occur when a pool freezes? Are fiberglass pools ok in cold weather? What about concrete and vinyl pools?
Concrete Pool Information | Cost and Pricing
Pebble pools (also known as aggregate pools) are extremely popular among concrete pool owners thanks to their diverse range of colors and materials. If you are new to the different pool surfaces, a pebble pool is a concrete pool with a stone, quartz, or glass pebble finish. The pebbles can be exposed (a bit bumpy but looks nice) or ground down for a smoother surface, as shown below.
Are you in the stages of planning a budget pool project? Did you know that there are many cheap pool accessories that you can add to make the pool a little bit more enjoyable and easy to maintain? If you're trying to keep your costs low, we get it. Here at River Pools, we manufacture fiberglass pools and speak with inground pool shoppers every day. Many of the thrifty pool buyers who reach out to us make it clear that they want just the pool, plumbing, and patio without any bells and whistles. Maybe you're also looking for the basics and nothing more. But if you haven't explored all of your options when it comes to pool accessories because you think it will cost too much, we encourage you to at least research your options before you build. To make that simple for you, we rounded up a list of the top affordable pool accessories to consider adding to your budget inground pool project (and we promise they won't break the bank). Let's jump in!
Are you hoping to be swimming in your own inground pool next summer? Depending on where you live in the country, that might not be a possibility. At River Pools, we manufacture fiberglass pools and work with a wide range of inground pool professionals who have all said the same thing: inground pool construction projects are already booked through 2021 and even into 2022 in many areas.
Cost and Pricing | Fiberglass vs Concrete vs Vinyl Liner
Are you interested in buying an inground pool for your home in Salt Lake City? Salt Lake is the perfect location for a swimming pool, but you may still have questions like: How much will my pool really cost? Which pool type is right for me? How much does a pool cost to maintain?