Options and Accessories | Swimming Pool Accessories
We all know that one of the most important parts of owning an inground pool is keeping it clean. Slacking on maintenance can damage your pool and let's face it, no one wants to see their sparkling oasis turn into a swamp. Luckily, you have a few options when it comes to keeping your pool clean.
Cost and Pricing | Fiberglass vs Concrete vs Vinyl Liner
If you're thinking about purchasing a new inground swimming pool, there's a very good chance you're wondering about the cost and what your overall price tag for such a backyard project would be. As you may be aware, here at River Pools, because we manufacture and install pools throughout North America, we comfortably talk about the cost and price factors of swimming pools all the time.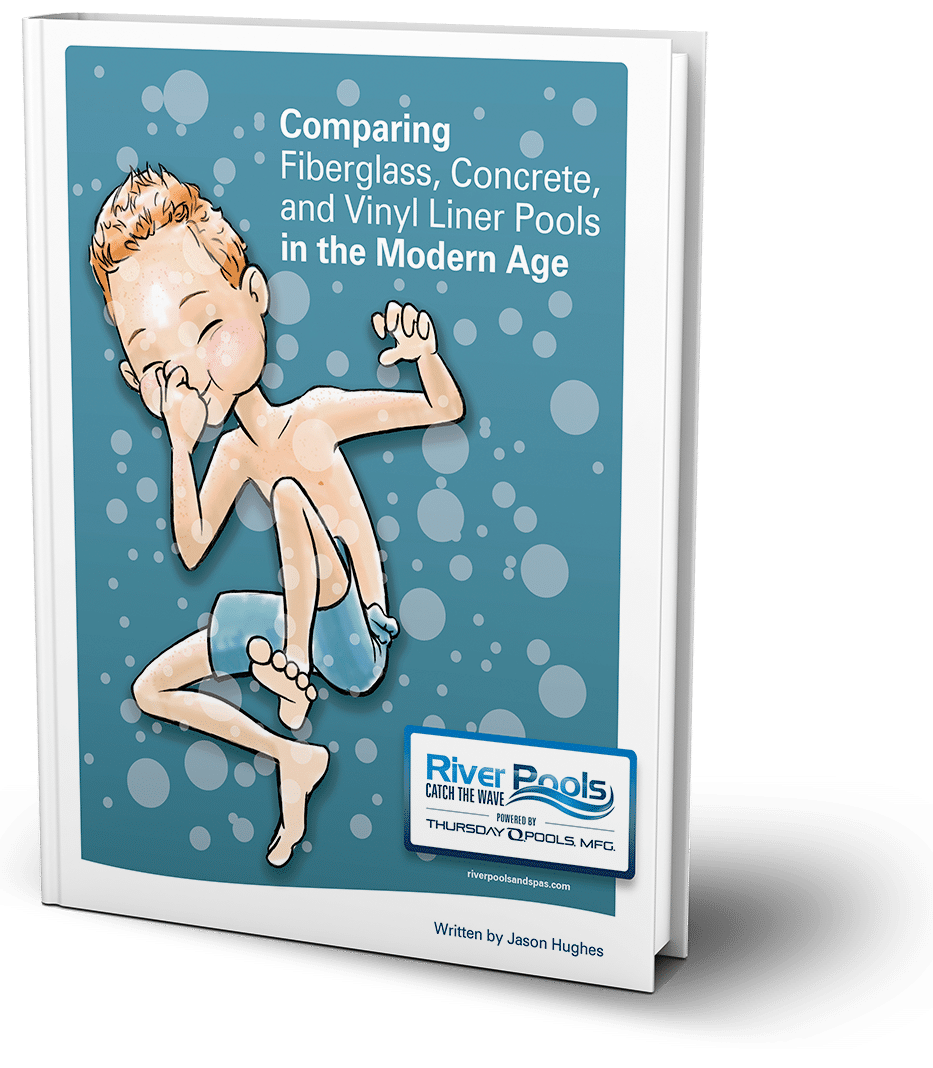 Comparing Fiberglass, Concrete, and Vinyl Liner Pools in the Modern Age
Don't blindly wonder if a fiberglass, concrete, or vinyl liner pool is right for you. Our educational ebook does a deep-dive comparison of the 3 types, all while noting the advantages and disadvantages of each.
Concrete Pool Information | Pool Maintenance
Close your eyes and picture the sidewalk on your street. I myself live on an ominous back road—no sidewalk or concrete, just loose gravel and abandoned houses. But it branches off the main street, which is paved and has a sidewalk. Fancy. This sidewalk features trip hazards and aesthetic issues: multiple cracks, salt stains, little holes and etching, and (bonus) a set of footprints from a small dog. Concrete has its own set of issues, but let's think about those salt stains and etches for a moment. That's just from the occasional weather maintenance, like the trucks that spray salt all over the road and the sidewalks (and your car if you're driving behind them). Water in a concrete pool wears at the plaster all day every day. Now add a salt chlorine generator to that mix. Salt + water + concrete. See how that might be an issue?
Pool Design Guides | Swimming Pool Design | Swimming Pool FAQs
If you're looking for a cozy spot that brings life to your home, a cocktail pool can do the job. They're a lot smaller than your standard pool, but that's what some people love about them. Cocktail pools have tons of benefits: they're ideal for entertaining in small spaces, they can be affordable, and they are more environmentally friendly than large pools. But are they really worth the money?
Fiberglass Pool Information | Fiberglass vs Concrete vs Vinyl Liner
There is an excitement that comes with getting a new pool that's hard to describe. You find yourself dreaming about lounge chairs, the smell of sunscreen, and how magical your pool will look at night. Then reality hits, and you remember that these aren't the only things you have to worry about as a pool shopper. Cost, upkeep, environment, and safety are all factors to keep in mind when choosing which type of pool to purchase.
Concrete Pool Information | Cost and Pricing | Fiberglass vs Concrete vs Vinyl Liner | Pool Maintenance
If you're looking into getting an inground swimming pool, you might be asking yourself, "Should I get a concrete pool?" Here At River Pools, although we may be exclusively in the fiberglass pool manufacturing and installation business, we readily admit that concrete pools are sometimes a better fit for some people. In fact, there are even times when we encourage shoppers to choose a concrete pool over other types. Why would we do that?
Installation & Construction | Swimming Pool FAQs
Like many, you're probably dreaming about having your own swimming pool in your backyard. After all, it is an amazing thing to be able to go swimming whenever you want. No more public pools.
Options and Accessories | Retaining Walls, Fence, and Landscaping
So you're getting that beautiful swimming pool and now you're asking yourself, "OK, what type of fencing should I choose? Which is best for me? How do I get the protection I want without sacrificing the look and feel of my wonderful backyard?"
Pool Design Guides | Tanning Ledges
Gone are the days of either lying next to the pool or standing in it. Enter the tanning ledge: a place where you can actually lie down in the pool, with or without furniture (and without having to hold your breath!). If you don't know what a tanning ledge is (some call it a baja shelf, sun shelf, or tanning shelf), think of it as a very shallow zone in or next to the main pool where you can relax and keep cool.
Pool landscaping | Pool lighting
You may be asking yourself, "Do I really need landscape lighting around my pool?" Good question, and the answer in most cases is yes for two main reasons: form and function. As manufacturers and installers of inground fiberglass swimming pools around the U.S., we've overseen thousands of inground pool projects over the years.