Options and Accessories | Swimming Pool FAQs
Fun fact: Saltwater crocodiles are the largest living reptiles in the world. They can grow up to 23 feet long and weigh over 2,000 pounds. But we're not here to talk about crocodiles. We're here to talk about saltwater pools. As fiberglass pool manufacturers who work with a network of installers across the country, we can confirm that saltwater pools are growing more and more popular every year. While public opinion clearly supports installing or switching to a salt system, people still have a ton of questions.
Cost and Pricing | Fiberglass vs Concrete vs Vinyl Liner
Are you shopping for a swimming pool in Richmond, Virginia? Tired of having to go to the river or public pool for a swim? We get it. We also get that inground pools aren't always cheap. As fiberglass pool manufacturers with years of installation experience, we have spoken with many customers and have heard their concerns. Over the years, we've learned that the pool's cost is often the biggest factor when deciding which inground pool to purchase.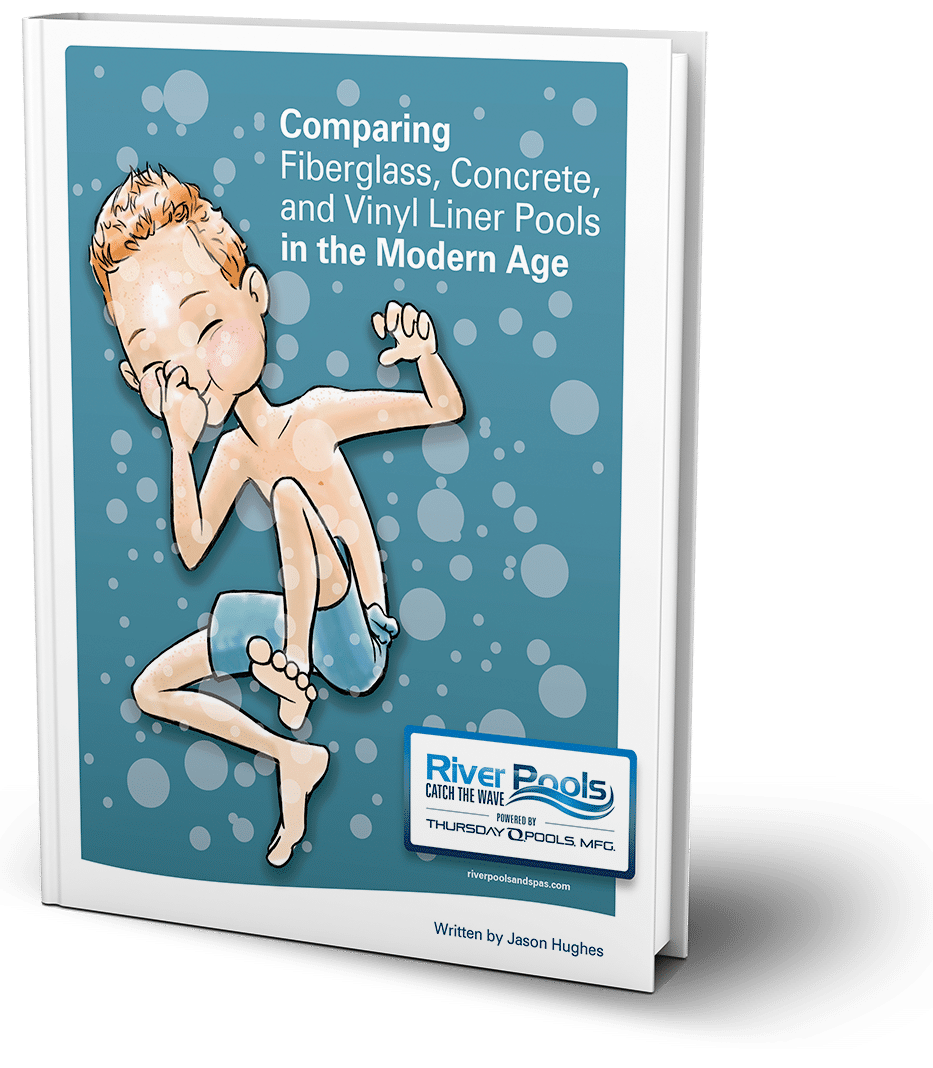 Comparing Fiberglass, Concrete, and Vinyl Liner Pools in the Modern Age
Don't blindly wonder if a fiberglass, concrete, or vinyl liner pool is right for you. Our educational ebook does a deep-dive comparison of the 3 types, all while noting the advantages and disadvantages of each.
Which is better: a small inground pool or a large inground pool? Why do you think so? If you said that large inground pools are better, here's a little known secret for you: small inground pools come with a longer list of advantages than large inground pools.
Cost and Pricing | Installation & Construction
Does the sweltering summer heat have you thinking about getting an inground swimming pool? Are you searching for pool cost estimates online but can't seem to find what you need? With decades of experience in the inground pool industry (now specializing in fiberglass), we know exactly how much inground pools can cost to build and own. Our goal is to empower pool shoppers like you with information so that you can make the right choices without any lingering buyer's remorse.
Fiberglass Pool Information | Fiberglass Pool Manufacturers
If you are shopping around for a fiberglass pool shell, you'll find no shortage of options. Alaglas, Thursday, San Juan, Latham, Sun Pools, and Leisure are just some of the well-known names in the fiberglass pool industry, and each of those offers a wide selection of pool shapes and sizes. As fiberglass pool manufacturers with a reputation for top-quality pool shells, one of the most common questions that we are asked is, "How does River Pools compare to other fiberglass pool manufacturers?"
Cost and Pricing | Fiberglass vs Concrete vs Vinyl Liner
The first question pool shoppers usually ask us is, "How much do inground pools cost?" Nine times out of ten, this question is followed by, "What's the cheapest inground pool that I can buy, and how can I keep my costs down?" As fiberglass pool manufacturers and installers, we hear these questions every single day.
Options and Accessories | Swimming Pool Accessories | Swimming Pool Design
Inground pools aren't just for people with big yards and big budgets. Actually, some of the coolest projects we've worked on have been with small swimming pool models. While there are tons of reasons why you may want a small inground pool, we've discovered over the years as fiberglass pool manufacturers that people prefer small inground pools because they tend to cost less and fit in most spaces.
Cost and Pricing | Pool Design Guides | Swimming Pool Design | Swimming Pool FAQs
Are you finally ready to install an inground pool? If you are, you might find yourself having the discussion of indoor vs. outdoor pools. As fiberglass pool manufacturers, we know that most pool shoppers go down that road, even if it's just for a brief moment. If you're currently in the middle of this debate, we want to help you decide which is right for you so that you can know without a doubt that you are building the pool of your dreams.
Options and Accessories | Swimming Pool Accessories
If we've learned anything during our many years in the swimming pool industry, it's this: Kids LOVE swimming pools, no matter the type, size, or cost. Throw in a couple of pool toys, and they won't get out for the rest of the summer. Add a pool slide, and the pool practically becomes Disneyland.
There's no place like Raleigh, NC. With pleasantly warm but not too hot summers, the Raleigh area is perfect for picnics, bike rides, and of course…swimming!