Cost and Pricing | Options and Accessories
We'll be upfront with you - a saltwater pool costs about as much as a traditional chlorine pool. If that's what you were looking for, feel free to exit this page. If, however, you'd like to learn more about saltwater pool costs, keep reading because we're going to cover all angles of this topic.
Concrete pools are classic. Even though we exclusively manufacture and install fiberglass swimming pools, we'll be the first to tell you that concrete offers some things that other pool types can't. These things include unlimited shapes, widths, and depths, and all tile or pebble surfaces. On the flip side, the surfaces can be rough. Concrete pools are also high maintenance, and they are typically the most expensive of the inground pools to build. They are certainly the most expensive to maintain.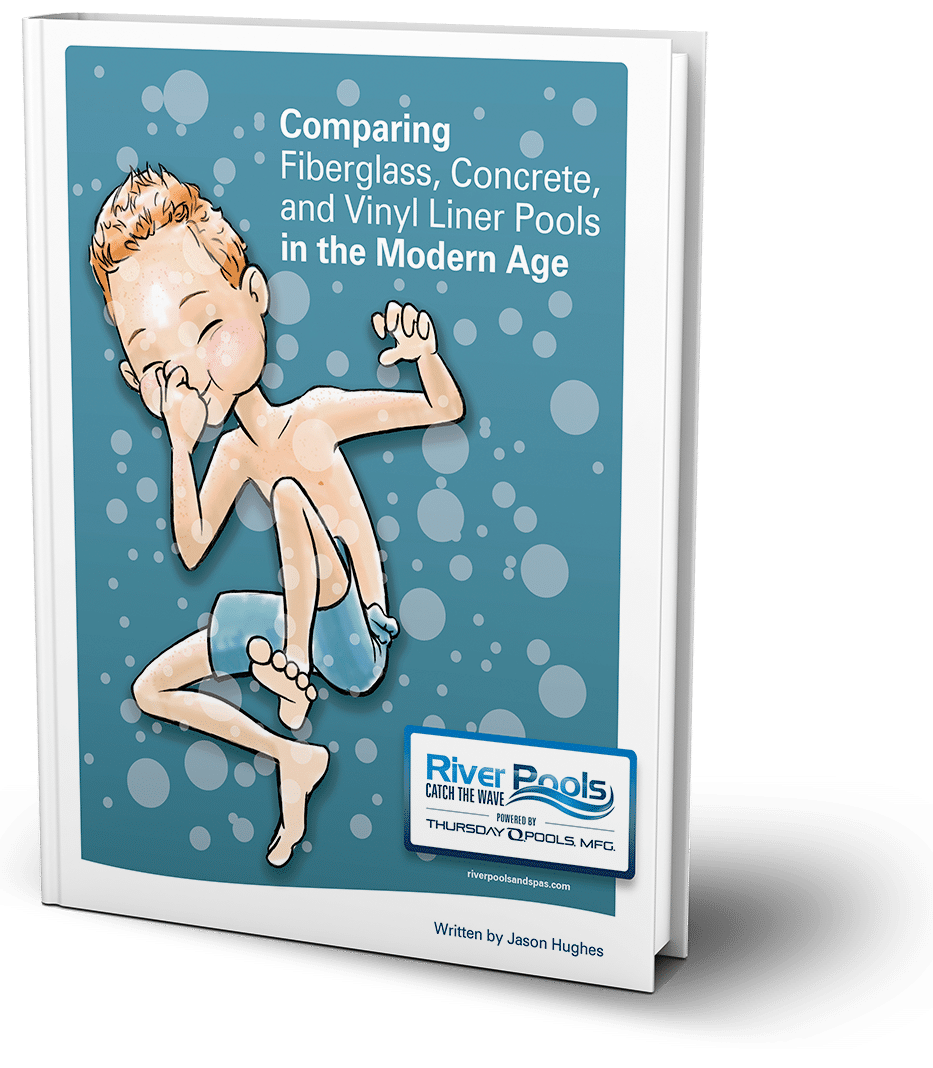 Comparing Fiberglass, Concrete, and Vinyl Liner Pools in the Modern Age
Don't blindly wonder if a fiberglass, concrete, or vinyl liner pool is right for you. Our educational ebook does a deep-dive comparison of the 3 types, all while noting the advantages and disadvantages of each.
Concrete Pool Information | Installation & Construction
Stuck with an old concrete or gunite pool that's just not worth the work anymore? We get it. Concrete pools look great, but they're high-maintenance and expensive to operate and maintain (acid washing, resurfacing, constant cleaning, etc.). Fixing up an old, neglected concrete pool is an even more demanding job and can take a lot more time, energy, and money.
Pool Maintenance | Vinyl Liner Pool Information
Do you own a vinyl liner pool and need to replace the liner? Maybe you're still pool shopping and looking into what it will take to replace your liner in the future. Whether you have a pool now that needs maintenance or you're just educating yourself on the upkeep of your soon-to-be swimming pool, we've got you covered.
Cost and Pricing | Fiberglass Pool Information
Having your own swimming pool is one dream that we don't think should be kept from anyone regardless of yard size or budget. Of course, we know that a swimming pool is a big investment, but we also know that it will provide years and years of use and countless hours of fun for the family, maybe even the whole neighborhood.
DIY Fiberglass Pools | Fiberglass Pool Information
We're not psychics, but we're guessing you're thinking about getting a fiberglass pool kit. After all, that's why you're here, right? While we don't have mind-reading superpowers, we are pretty great at manufacturing and installing fiberglass swimming pools. Since you're looking for information on fiberglass pool kits, like how much they cost, what they include, and mistakes to avoid, we want to help you out by sharing as much of our knowledge as we can.
DIY Fiberglass Pools | Fiberglass Pool Information | Pool Maintenance
So, you're finally ready to get your own inground swimming pool. Chances are, this is something that you have been dreaming about for years, and we couldn't be more excited for you. At River Pools, we have installed 1,400 fiberglass swimming pools for our customers over the years, and we know just how exciting buying a pool can be. In fact, we feel that's exactly as it should be.
Fiberglass Pool Information | Swimming Pool FAQs
Have you been contemplating getting a fiberglass pool? Maybe you've already explored the pros and cons of going with fiberglass and have compared it to other inground pool options, or maybe you already know that you like fiberglass, but you're still not 100% sure. If you have any reservations about getting a fiberglass pool, we're here to help you out.
Installation & Construction | Swimming Pool Design
Interested in getting your own swimming pool? You have two options: inground and above ground. But what if you want a little bit of both? That's what they call a semi inground pool, and technically, it's a third option.
Finding the right swimming pool contractor can be a lot of work. The reality is that there are many swimming pool builders to choose from across the state of Virginia, and they don't all offer the same services (or build the same types of pools!). So, how do you find a good swimming pool contractor without spending days sifting through your options?