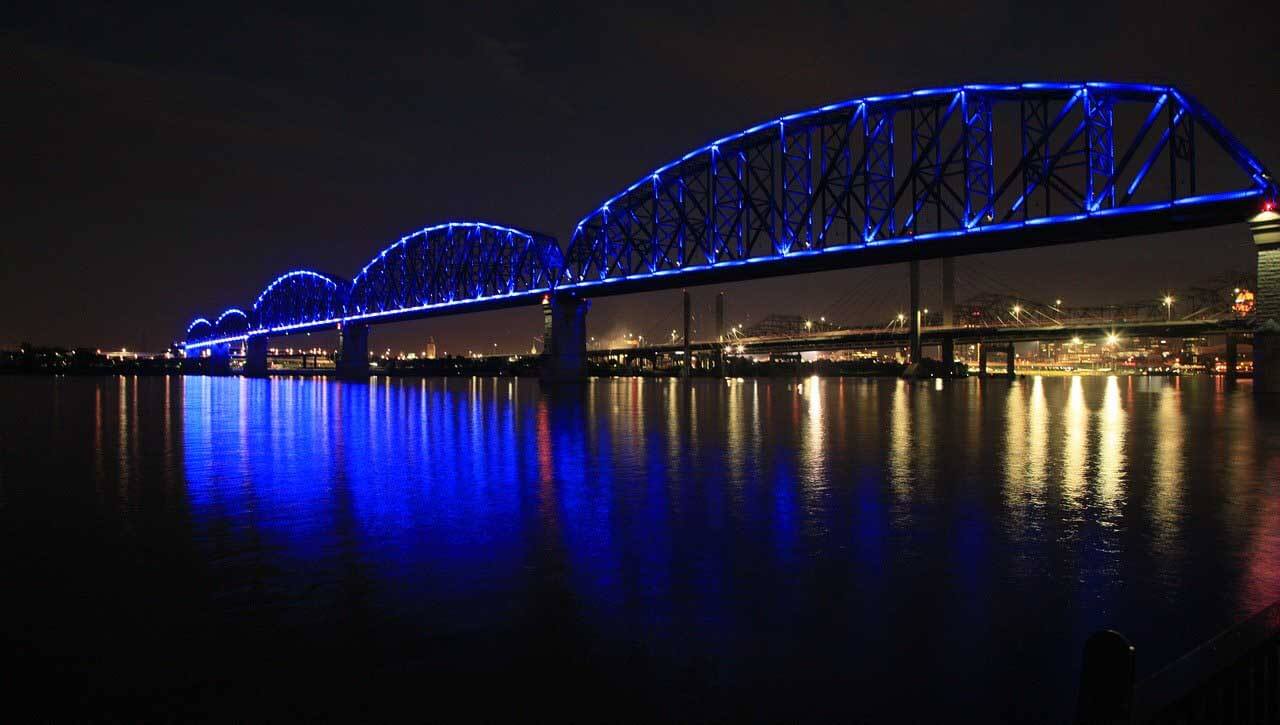 Subscribe
How Much Does an Inground Pool Cost in Louisville?
The Louisville area has more than its fair share of awesome water parks to satisfy your longings for some pool fun. But what if you just want to relax and play in your own pool at home? You know, without the crowds.

If you're shopping for inground pools in Louisville, KY, you've probably discovered that swimming pool shopping is not always easy. Between all of the different pool types, manufacturers, builders, prices, and accessories, you'll have hundreds of decisions to make. It's no wonder we get millions of website visitors looking for inground pool information every year.
At River Pools, we manufacture fiberglass pools, but our goal is to educate swimming pool shoppers like you so that you can find the inground pool that will work best with your home and budget.

So, we're going to break down the cost of an inground pool in Louisville, KY for all of our Louisville readers to help you decide which inground pool would make the best addition to your home.
Inground Pool Prices Louisville, KY
If you're not in the mood to do a ton of reading, here's a quick overview of the average cost of inground pools in Louisville, KY. Keep scrolling for more pricing information on fiberglass, concrete, liner, saltwater, and DIY pools.
Average Cost of Inground Pool in Louisville KY
| | |
| --- | --- |
| Inground Pool Type | Inground Pools Louisville, KY Prices |
| Concrete | $50,000 to $100,000 |
| Fiberglass | $40,000 to $85,000 |
| Vinyl Liner | $25,000 to $65,000 |
How much does a concrete pool cost in Louisville, KY?
On the low end, you can expect to pay around $50,000 for a custom gunite or concrete pool in Louisville, KY. That cost will increase as you upgrade your pool size and customize it with accessories and add ons. Concrete pools can cost as much as $100,000 or more for turn-key packages or very large pool designs.

The Benefits of a Concrete Pool in Louisville
Customizable shape and features

Unlimited size

Durable pool structure

Nice looking
If you want to design your pool shape, concrete is probably the way to go. It's the most customizable pool type and can be any size or shape that you can imagine. Although the surface of a concrete pool is not as durable, the structure should last you many years. You may experience issues with cracking or leaks over time, but overall your pool should be sturdy enough to withstand years of movement and freezing.
Note: Concrete pools are the most expensive inground pools to maintain and the most prone to algae. They also take the longest to build and often have a rough surface, so keep these things in mind while weighing your options.
How much does a liner pool cost in Louisville, KY?
Liner pools are known for being the cheapest inground pools that money can buy with starting costs of around $25,000. Your pool might be even cheaper if you DIY the project (just make sure you know what you're doing before you try to build your own pool). On the upper end, liner pools can cost as much as $65,000 or more.
Note: Custom pool shapes, thicker liners, larger pool sizes, and polymer wall panels can all increase the cost of your project.
The Benefits of a Vinyl Pool in Louisville
Lower upfront cost

Easier to DIY

May customize shape

Less prone to algae

Smooth surface
Liner pools have a lower upfront cost than any other inground pool type, but they can be expensive to maintain with regular liner replacements (about $4,500 every 5 to 9 years). Liner pools are also the easiest pools to DIY if you have some construction experience.
Your manufacturer may allow you to customize your liner pool's shape and size, but many of them come in a box with a pre-made design. Unlike concrete pools, the smooth surface of a liner pool makes it less prone to algae, but you might see algae collect at the liner seams and steps.
Note: Vinyl liner pools are not known for their durability and may not increase the value of your home.
How much does a fiberglass pool cost in Louisville, KY?
A fiberglass pool in Louisville KY might cost you $40,000 for a standard package that includes the installation of the pool with some concrete around it. Fiberglass pools can typically cost up to $85,000 or more depending on the pool size and installation package.
Pro tip: The bigger the pool and the more bells and whistles you add to the project, the more it will likely cost.
The Benefits of a Fiberglass Pool in Louisville
Fast installation

Low maintenance

Low long-term costs

Algae resistant

Durable

Attractive
Fiberglass pools are the fastest inground pools to install at an average timeframe of 2 to 4 weeks. Vinyl liner pools usually take between 4 and 8 weeks, while concrete pools can take 3 to 6 months (not to mention your pool builder will have you spraying the concrete pool shell with water every day for 28 days).
The smooth and durable surface of a fiberglass pool makes it resistant to algae and extremely low-maintenance. The pool structure is also flexible enough to withstand movement, freezing, and thawing without breaking or cracking.
Note: Fiberglass pools are not customizable, and they are typically no larger than 16x40 feet.
Think a fiberglass pool might make a good addition to your home? You can browse our pool gallery for inspiration, request custom pricing, or try our free pool cost calculator below for a fast estimate.
---

Want to see about how much that cost will be with all your favorite pool accessories?
Use our Design and Price Tool to walk through your options and approximate price!
---
Salt Water Pools in Louisville, KY
If you can't stand the smell of chlorine or don't want to handle hazardous pool chemicals, you might be the perfect candidate for a saltwater pool. A saltwater pool in Louisville will cost about as much as a traditional chlorine pool, so it will really come down to what you prefer.
However, it's important to note that not all inground pools work well with salt systems. If you plan on building a vinyl liner pool, for example, make sure to choose polymer wall panels. The salt can corrode metal pool walls and force you to make costly replacements. Plaster surfaces on concrete pools can also wear down quickly with the constant contact with salt, so you may have to pay to resurface your pool more often (around $10,000 each time).
In our many years of owning fiberglass pools and working with fiberglass pool owners, we have not seen any problems with fiberglass pools and salt systems. The gelcoat of a fiberglass pool does not get worn down by salt, and there is no metal to corrode within the structure of the pool.
Note: You can always switch to a salt system later if you find that you don't like working with traditional chlorine, but it may not be the best idea if your pool isn't salt-compatible.
Inground Pool Kits in Louisville KY
If you're up for the challenge of DIYing your inground pool, you can purchase an inground pool kit for your home in Louisville. Inground pool kits can be found for vinyl liner, fiberglass, and concrete pools, but liner pool kits are the most common. Some fiberglass pool manufacturers may sell you the pool shell with basic plumbing equipment, but you'll need to pay for the machinery and construction materials to finish the job. Concrete pool kits are minimal, and concrete pools are also the most challenging to DIY.

Because we have been in the pool business for so long and we know how tricky pool installation can be, we strongly recommend finding an experienced pool builder to help you out before getting started with your DIY project. Most pool shoppers discover that it's worth the extra money to have a pro pool builder install the pool right the first time (and you won't risk voiding your warranty).

Read more: Inground Pool Kits 101: Types, Costs, Tips
Inground Pool Installation in Louisville, KY
Like with other cities and counties, the cost to install an inground pool in Louisville will vary by the pool type, size, package, and time of year.

Now that you know how long your pool might take to build and how much it might cost, you might be asking, when is the best time to build a pool in Louisville?

Most pool installations occur in the summer when the weather is warm and cooperative, but there are plenty of spring, fall, and even winter inground pool installations in the Louisville area. Weather can be a problem and cause delays during certain times of the year, but you'll have your pool in the ground and ready to go by the time summer rolls around again. You might even get a discount if you build your pool during the off-season.
In Louisville, you might experience some building delays due to freezing weather between late October and April (especially with a concrete pool), but your pool builder should be able to arrange an optimal schedule with you before construction begins.
Read more: Can You Build a Pool in the Winter or Fall?
Want to compare how much the different inground pools cost based on their size? You can check out this article for some rough estimates.
If you're still torn between one or more inground pool types, you can download our free ebook below for an in-depth comparison of vinyl liner, fiberglass, and concrete pools. Happy swimming!
At River Pools, we manufacture world-class fiberglass pools for customers across North America. If you'd like to explore your fiberglass inground pool options for your home in Louisville, you can browse our pool models or visit our video library today for more information.
Up Next:
5 Ways to Make Your Pool Project More Affordable
7 Pool Extras That Won't Break the Budget