Pool Closing/Winterization | Pool Maintenance
The joys of summer: pools and convertibles. My best friend has a red Mustang convertible named Sally (i.e., Mustang Sally). In the summer we love to drive with the top down to get Slurpees. However, with a heavy heart, she has to cover Sally up for the winter. Likewise, you should bundle up your pool during the chilly months. We know it's a sad day. We won't judge if you cry a little.
Fiberglass Pool Information | Pool Maintenance
No one wants to be labeled "high-maintenance"—and we don't particularly want to live with someone or something high-maintenance either. Well, you're in luck! Your fiberglass pool is as low-maintenance as they come.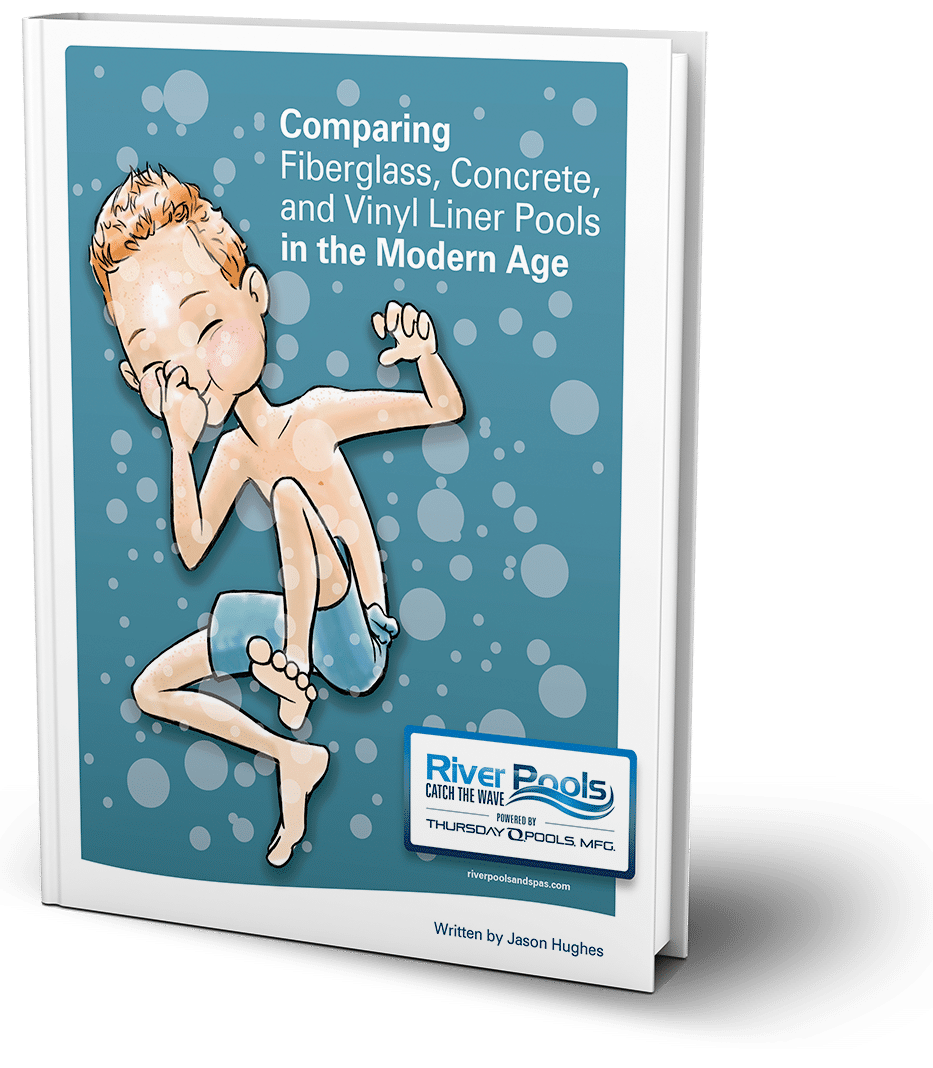 Comparing Fiberglass, Concrete, and Vinyl Liner Pools in the Modern Age
Don't blindly wonder if a fiberglass, concrete, or vinyl liner pool is right for you. Our educational ebook does a deep-dive comparison of the 3 types, all while noting the advantages and disadvantages of each.
Concrete Pool Information | Cost and Pricing | Pool Maintenance
When I'm not taking the pool industry by storm, I like to write novels. I plan ahead obsessively: think 10-page character sheets, hand-drawn world maps, and color-coded plot diagrams. "Congratulations on overthinking everything," you say, "but I'm not writing a book. I'm buying a pool." Don't give me that look! For pool purchases and maintenance, you, too, need to plan ahead. Maps and diagrams included, probably.
Fiberglass vs Concrete vs Vinyl Liner | Pool Maintenance
Don't you hate when you're trying to smooth frosting on a cupcake and it keeps showing the dents from the spoon or knife? If you know how to do it right, tell me your secrets. Bakers must have sold their soul to figure out the magic trick for that. Sure, the cupcakes taste the same either way, but it just looks so much better when they're smoothly swirled. Welcome to the world of trowel marks on a pool.
Pool Maintenance | Swimming Pool FAQs
Odds are, you've heard pool people tell you, frantically and with tears in their eyes, "Don't drain your inground pool!" They mention hydrostatic pressure as the reasoning before running off to warn the next pool owner they can find. It's nice of them to alert you…but what are they talking about? Why shouldn't you drain your pool, really? What does "hydrostatic" even mean? Not to worry, friend. I have your back. Let's talk pool physics.
Let's be honest: we all like to seem super skilled and smart. My personal tricks include: Reciting all of "Beauty and the Beast" from memory Counting on my fingers how many novels I've written, using dramatic pauses Using the phrase "nonlinear progression of time" (I may not be much fun at parties, now that I think about it.) Anyway, my point is, here's a topic that you can try out for yourself: science! Science may not be your specialty, but you can impress your neighbors if you casually explain some chemistry to them in precise scientific terms, so it's worth a shot.
Pool Closing/Winterization | Pool Maintenance | Swimming Pool FAQs
I have zero tolerance for the cold. My family teases me for my wimpiness. I've accepted it.
Pool Maintenance | Swimming Pool FAQs
Green: the lovely color of freshly mowed grass, summer leaves fluttering in the breeze, and the protagonist's eyes in any teen novel in the local library. It's not so lovely when it's the color of algae in your inground pool.
Installation & Construction | Pool Maintenance | Swimming Pool FAQs | Vinyl Liner Pool Information
Liner wrinkles are part of owning a vinyl liner pool. A liner is very thin, and when it's initially installed, it's not uncommon to have some wrinkles in the pool. Wrinkles can also develop slowly over time, which is unfortunately true for both pools and people.
Fiberglass vs Concrete vs Vinyl Liner | Installation & Construction | Pool Maintenance | Swimming Pool FAQs
Ah yes, the relaxing rush of a waterfall. Such a beautiful, soothing noise…until you remember that you're sitting by your pool and didn't install a waterfall. Yikes.