If you've been researching inground pools for a while, you probably know that owning a swimming pool comes with its fair share of expenses. For those of you who are new to the pool scene, you can expect to pay for pool chemicals (to sanitize the pool and maintain balanced water chemistry), testing kits, maintenance service, and utilities for running the filter, pump, and heating or cooling. Water is another regular expense as well as refinishing the pool or replacing the vinyl liner. (Read more about all of that here.)
The Louisville area has more than its fair share of awesome water parks to satisfy your longings for some pool fun. But what if you just want to relax and play in your own pool at home? You know, without the crowds. If you're shopping for inground pools in Louisville, KY, you've probably discovered that swimming pool shopping is not always easy. Between all of the different pool types, manufacturers, builders, prices, and accessories, you'll have hundreds of decisions to make. It's no wonder we get millions of website visitors looking for inground pool information every year.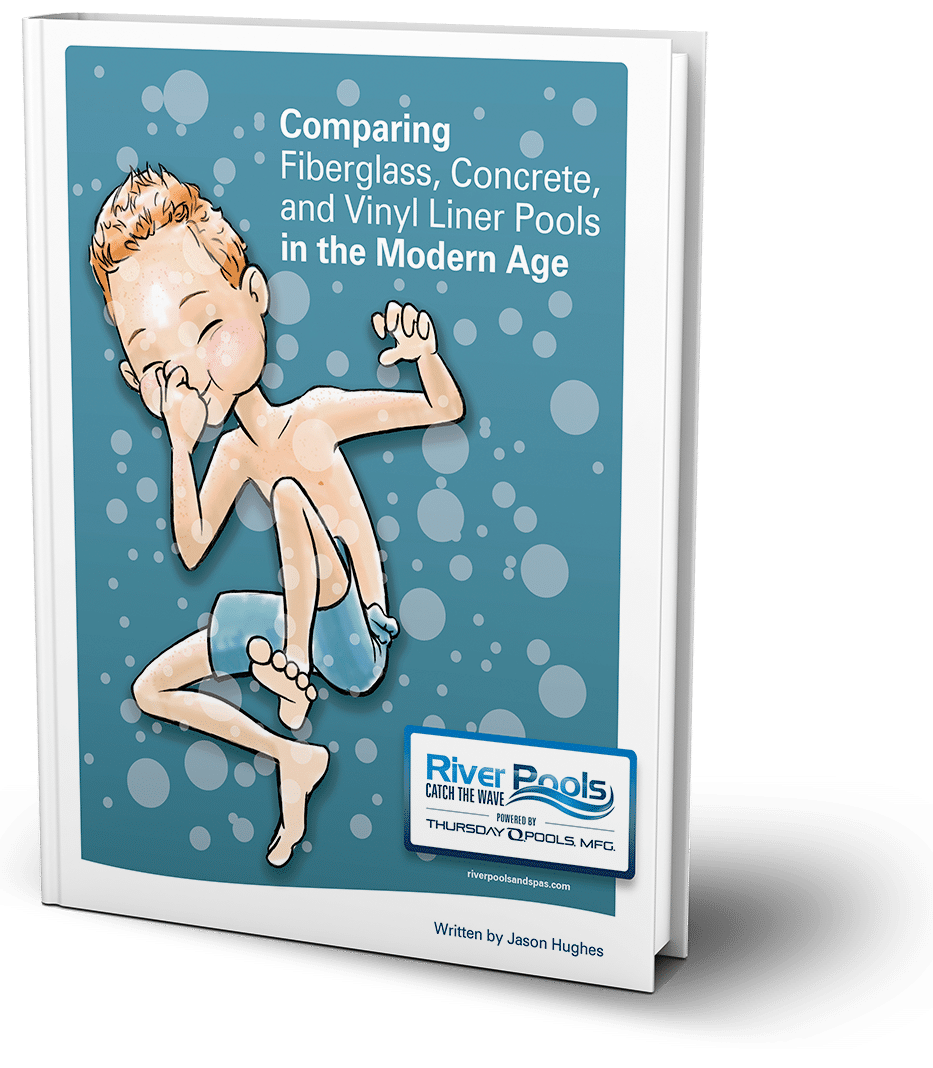 Comparing Fiberglass, Concrete, and Vinyl Liner Pools in the Modern Age
Don't blindly wonder if a fiberglass, concrete, or vinyl liner pool is right for you. Our educational ebook does a deep-dive comparison of the 3 types, all while noting the advantages and disadvantages of each.
Cost and Pricing | Swimming Pool Accessories
Fun fact: Some states virtually demand that inground pool owners have a pool cover. Others are less picky. In certain situations, pool shoppers are even required to cough up the cash for an automatic pool cover during the pool's construction (we're experienced fiberglass pool manufacturers and contractors, and we see this from time to time). Needing a pool cover is not necessarily a bad thing, though.
Cost and Pricing | Fiberglass vs Concrete vs Vinyl Liner
During the summers, Arizona residents have three things on their minds: How to cool down from the heat, How to cool down from the heat, and finally How to cool down from the heat Like many people, you might find yourself wanting to cannonball into a refreshing swimming pool on scorching summer days.
Cost and Pricing | Fiberglass Pool Manufacturers
As you've likely already realized, here at River Fiberglass Pools, our obsession is your education. Simply put, we want you to be as informed as possible, which means we listen intently to our customer's questions and then do everything we can to answer them on this website.
Cost and Pricing | Fiberglass vs Concrete vs Vinyl Liner
Are you shopping for a swimming pool in Richmond, Virginia? Tired of having to go to the river or public pool for a swim? We get it. We also get that inground pools aren't always cheap. As fiberglass pool manufacturers with years of installation experience, we have spoken with many customers and have heard their concerns. Over the years, we've learned that the pool's cost is often the biggest factor when deciding which inground pool to purchase.
Cost and Pricing | Installation & Construction
Does the sweltering summer heat have you thinking about getting an inground swimming pool? Are you searching for pool cost estimates online but can't seem to find what you need? With decades of experience in the inground pool industry (now specializing in fiberglass), we know exactly how much inground pools can cost to build and own. Our goal is to empower pool shoppers like you with information so that you can make the right choices without any lingering buyer's remorse.
Cost and Pricing | Fiberglass vs Concrete vs Vinyl Liner
The first question pool shoppers usually ask us is, "How much do inground pools cost?" Nine times out of ten, this question is followed by, "What's the cheapest inground pool that I can buy, and how can I keep my costs down?" As fiberglass pool manufacturers and installers, we hear these questions every single day.
Cost and Pricing | Pool Design Guides | Swimming Pool Design | Swimming Pool FAQs
Are you finally ready to install an inground pool? If you are, you might find yourself having the discussion of indoor vs. outdoor pools. As fiberglass pool manufacturers, we know that most pool shoppers go down that road, even if it's just for a brief moment. If you're currently in the middle of this debate, we want to help you decide which is right for you so that you can know without a doubt that you are building the pool of your dreams.
Cost and Pricing | Swimming Pool Design
Need to get an affordable swimming pool ASAP? We already covered how you can get an inground pool fast and cheap, but what if you want a less permanent option, like an above ground pool?