As Salt Lake City's Best Inground Fiberglass Pool Company we proudly serve Clinton, Cottonwood Heights, Davis County, Farmington, Herriman, Highland, Hooper, Kaysville, Layton, Lehi, Orem, Pleasant Grove, Riverton, Salt Lake, Sandy, Saratoga Springs, South Jordan, South Weber, Salt Lake City County, Tooele County, and Utah County.
Why is River Pools considered the Salt Lake Area's Swimming Pool Builder of Choice?
River Pools designs and manufactures the world class fiberglass pools they install.
What does this mean to you?
It means that you can have a single trusted source for the manufacturing and installation of your fiberglass pool.
We find that too often, people struggle with the fact that they need to research and find at least two different companies: a fiberglass pool manufacturer, and an independent local installer or dealer of that brand.
During this process, some find a fiberglass pool manufacturer they like, but unfortunately, the local dealer doesn't resonate with them.
Conversely, they may have a good rapport with a local dealer but are underwhelmed with certain aspects of the fiberglass pool manufacturer they carry.
We offer a unique solution: One trusted brand, one amazing experience!
River Pools is the manufacturer and installer of world-class inground fiberglass pools.
Want to learn how we do it? Check out our Advanced Manufacturing and Advanced Installation processes.
Our Service Area
Our service area is approximately a 100-mile (2-hour) radius from Salt Lake City, UT.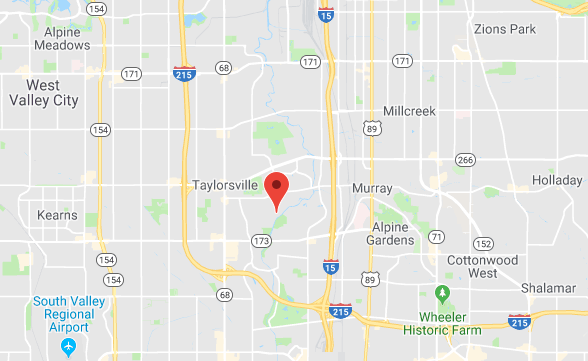 Why Should You Trust River Pools of Salt Lake City As Your Local Pool Installer?
River Pools of Salt Lake is managed by Kristina & Eric Gale. This dynamic duo is dedicated to growing their team to provide customers with both shorter lead times and continued quality service. They have been installing pools since March of 2018 and, as of the beginning of 2022, have installed over 150 pools.
Our mission is to use swimming pools as a means:
to bring joy to families
to provide the opportunity for financial peace to all team members
to improve the swimming pool industry
to make a positive difference in our community and in the world
The decision to become River Pools of Salt Lake and focus on installing fiberglass pools stemmed from a desire for homeowner education: this means more time for enjoying the pool with their family and less time worrying about maintaining the pool.
"Personally, with six kids and building a sustainable business, our lives are too busy to spend time worrying about or figuring out our pool. River Pools Fiberglass pools and the River Pools Way of manufacturing and installation was the answer for us and we believe it can be the answer for many wonderful families looking to bring their families together with a pool in their backyard." - Eric & Kristina Gale
In Salt Lake City, the way a fiberglass pool is installed is very important. Our advanced installation techniques have virtually eliminated the most common problems associated with fiberglass pool installations, such as:
Settlement or shifting of the pool shell
Leaks in plumbing lines and around jets and other pool fittings
Separation between the pool and patio
Bulges in the side walls of the pool
The River Pools Way: Advanced Installation will create a backyard you'll love for decades to come.
How Much Do Inground Pools Cost in the Salt Lake City area?
Inground pools in the Salt Lake City, Utah area typically start around $85,000 and can go upward of $200,000 with an average price range of a fiberglass pool typically being between $90,000 and $100,000.
Some of the factors that affect the price of an inground swimming pool in Salt Lake City are:
1. The pool type (fiberglass, gunite, or vinyl)
Gunite pools are typically the most expensive type of pool to install and own in the Salt Lake area.
Vinyl liner pools are the least expensive to install initially, but the cost of liner replacements over time make them more costly in the long run.
Fiberglass pools have the advantage of having a lower initial price than gunite, and a lower lifetime cost of ownership than both other pool types.
This is due to the unmatched durability of fiberglass pools.
With a lifetime warranty on the structure of the pool and an amazing low maintenance gelcoat finish, a fiberglass pool shell will typically not require any repair or refinishing work for decades.
2. Access to the backyard
Pool construction requires moving a tremendous amount of construction materials (dirt, stone, concrete, the pool shell, etc.) in and out of your backyard. Because of this, the accessibility of trucks and other equipment to the site plays a factor in the price of your pool.
This can impact the price of pool installation as much as $5,000 or $10,000 in the most extreme cases.
3. The scope of the project
River Pools of Salt Lake City specializes in designing and building pool projects of all sizes, but it all begins with an amazing pool and patio.
According to your budget and needs, the design often integrates other elements such as gazebos, pergolas, pool houses, hot tubs, custom retaining walls, etc.
As the scope of the project grows, so does the budget.
At River Pools, we are experts at helping you develop your long-term vision for your backyard and creating a plan to get you there, whether implemented all at once or phased in over time.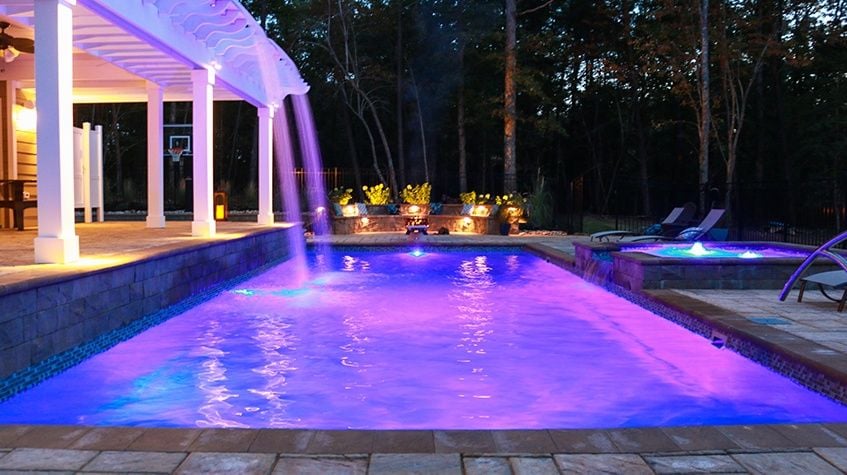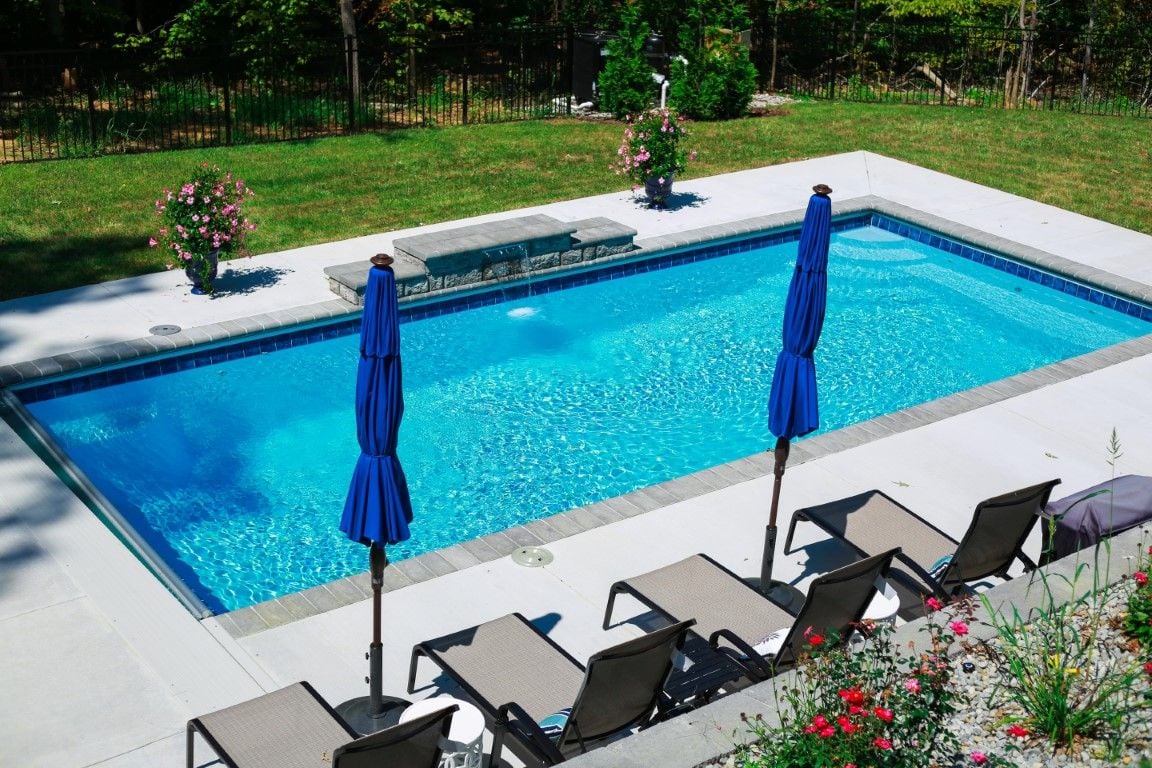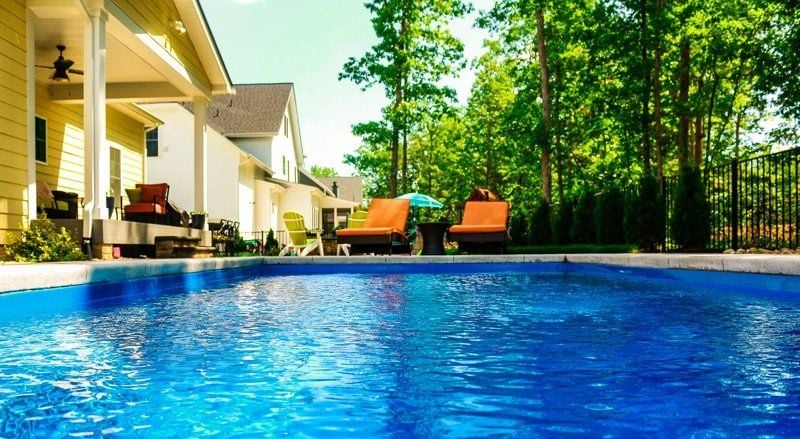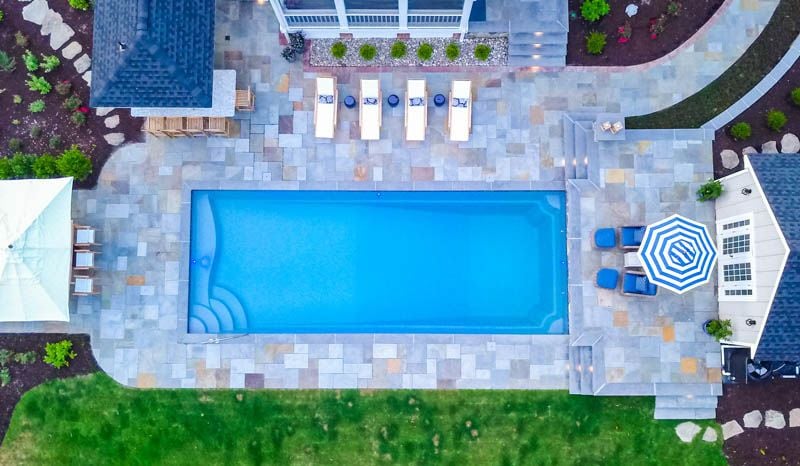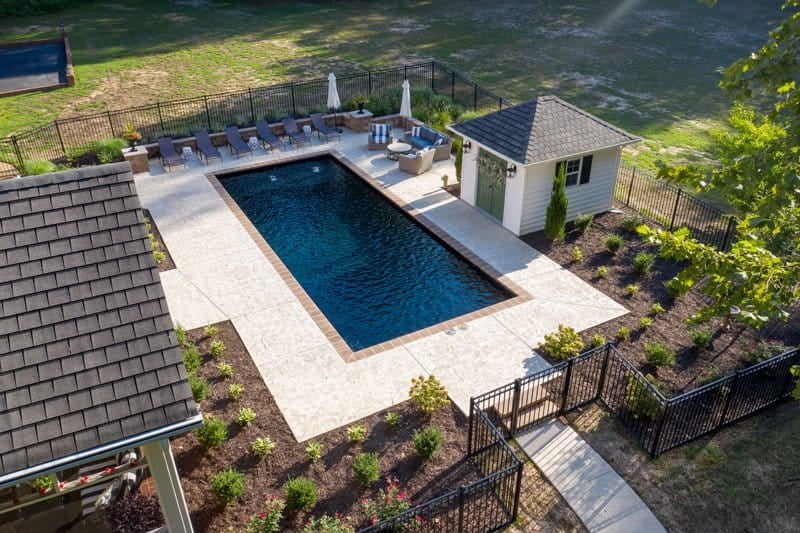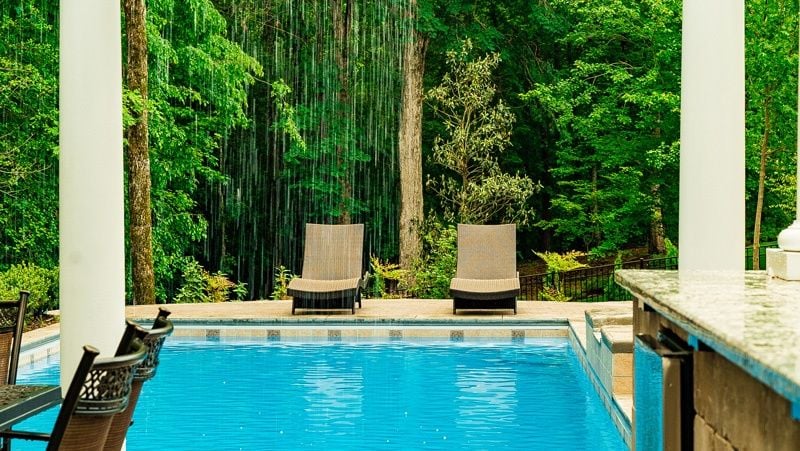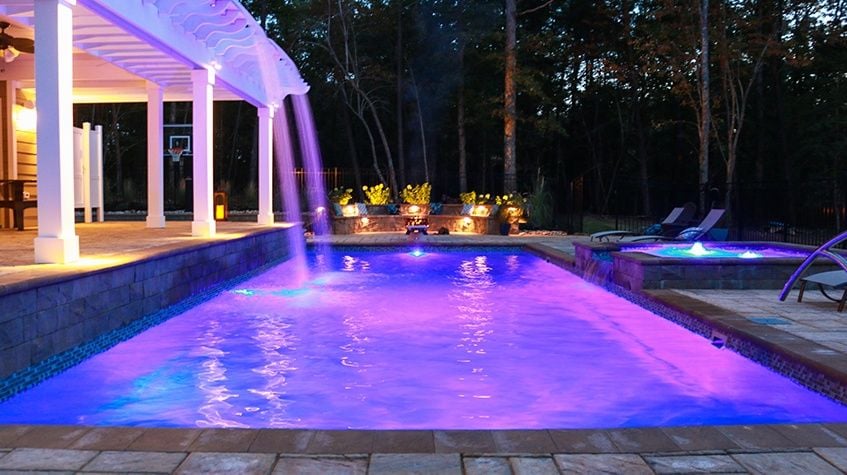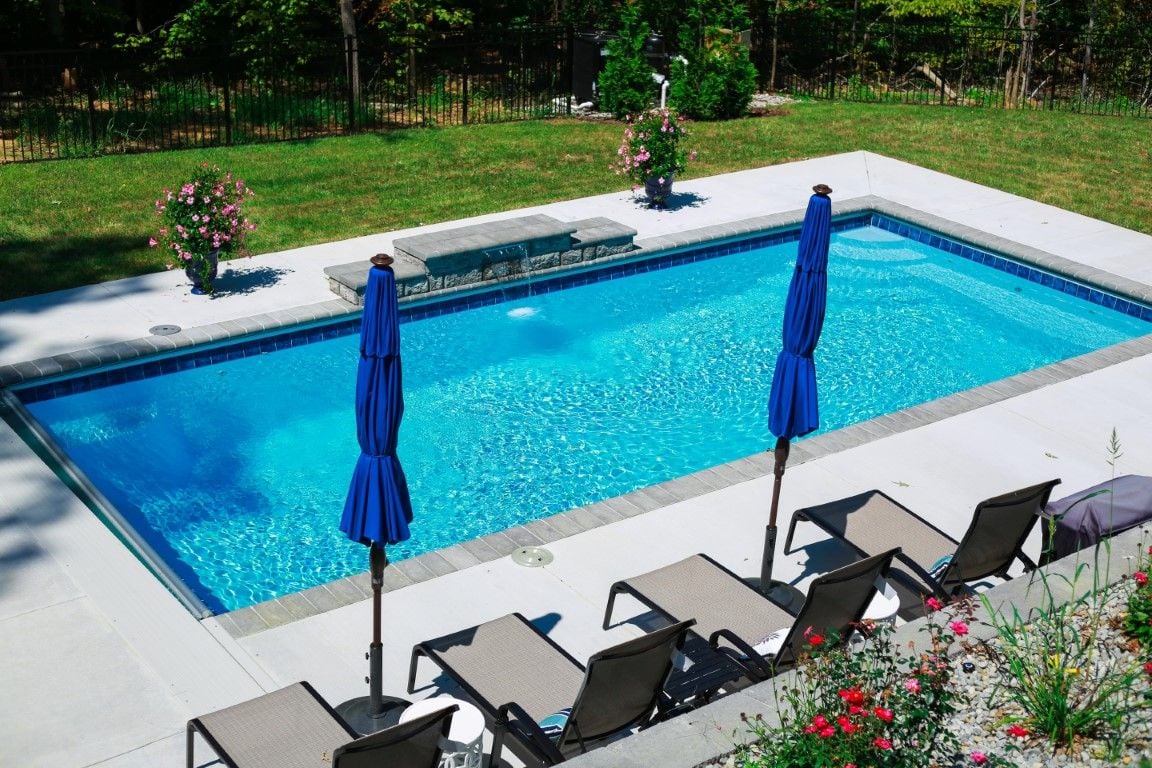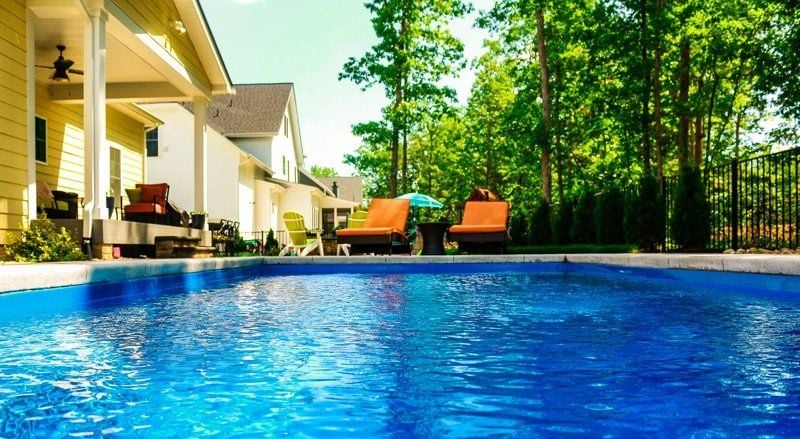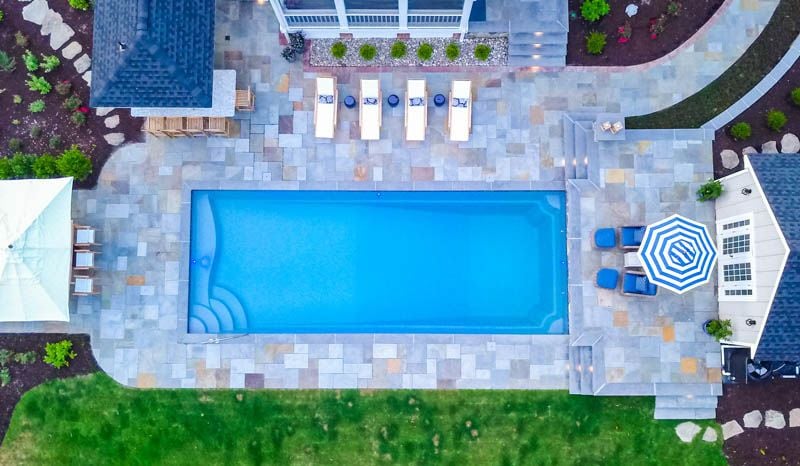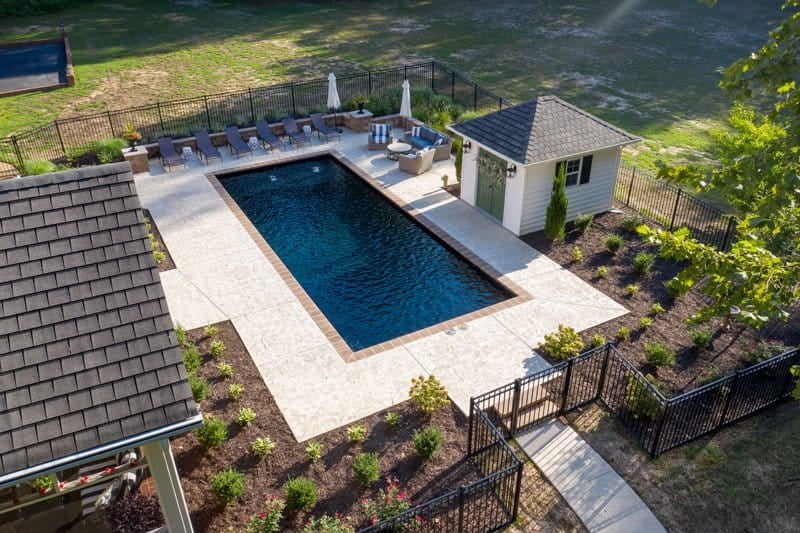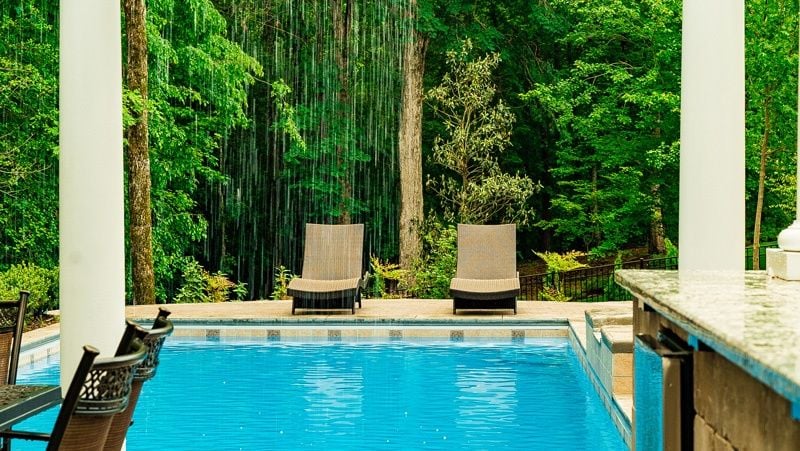 Are Fiberglass Pools Really Better than Concrete or Vinyl Liner Pools in the Salt Lake City Area?
Fiberglass pools have tremendous benefits.
It's no surprise they're becoming extremely popular in Utah, but they are not for everyone.
If you would like to capitalize on the following benefits, there's a good chance fiberglass pools are a good fit for you.
Beautiful aesthetics
Low maintenance
Low lifetime cost of ownership
Quick installation
Automatic Cover Friendly
Integrated steps, benches, and tanning ledges
Manufactured in a controlled environment
Smooth surface (A great swimming experience compared to an abrasive concrete pool finish)
To learn more about the benefits of fiberglass pools and how they compare to concrete or vinyl liner pools check out our Inground Pool Comparison Page.
Why choose a River Fiberglass Pool?
We ensure our manufacturing plant is the perfect atmosphere for building your pool, from temperature to technique.
We're one of the only manufacturers that uses 100% vinyl ester resin to provide maximum durability for your pool surface. Our hand-laid layers of woven roving and honeycomb structural materials provide support exactly where it's needed.
You can trust The River Pools Way: Advanced Manufacturing to create a pool that stands the test of time.
If you are considering an inground pool in the Salt Lake City area and would like to learn more about how the process of buying an inground pool works, simply fill out the form below to get the process started!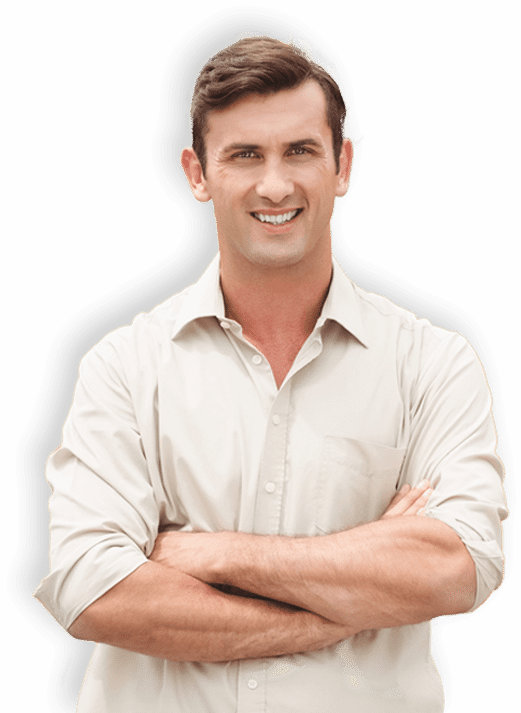 Ready for Pricing for Your Salt Lake City Fiberglass Pool?