Is your concrete pool in need of repair or renovation? Are you tired of dealing with a rough plaster surface or tiles that fall off the pool walls? You may have heard that you can apply fiberglass to a concrete pool, but how does it work, and how does it compare to a traditional fiberglass pool?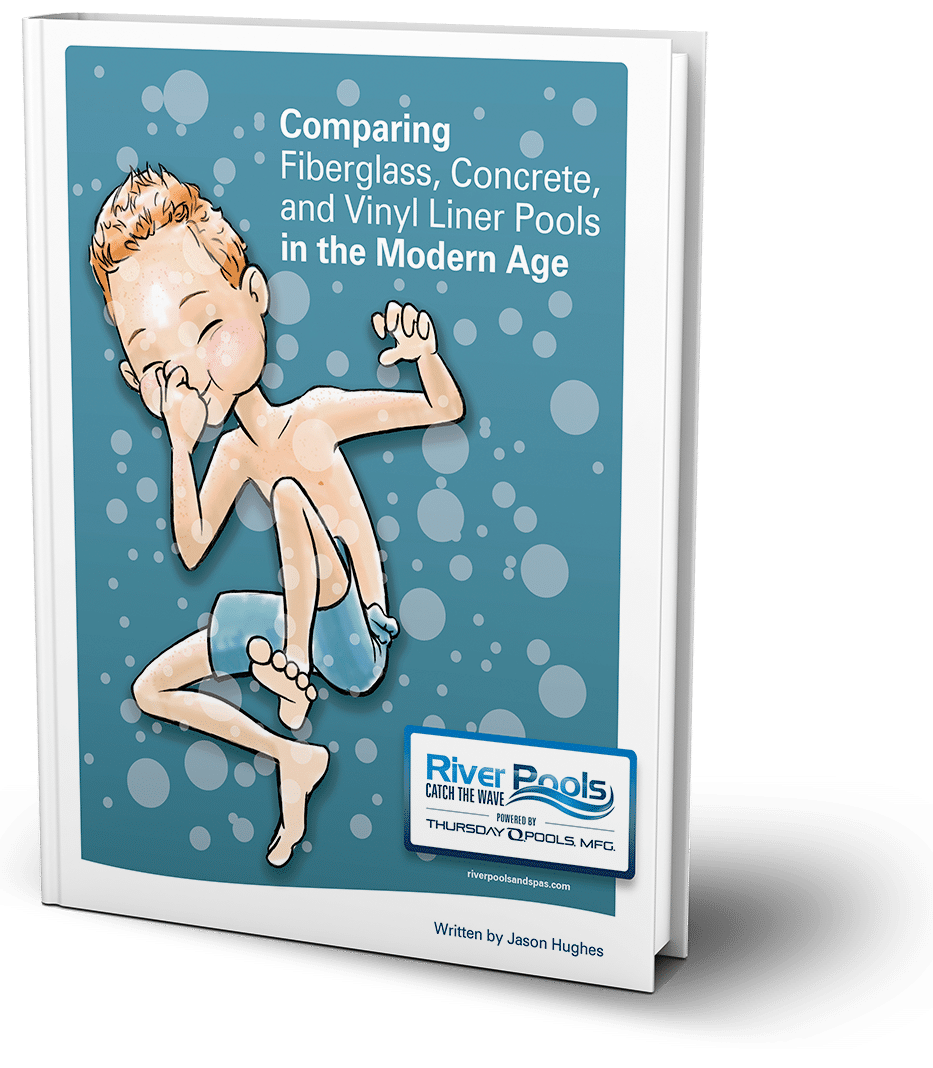 Comparing Fiberglass, Concrete, and Vinyl Liner Pools in the Modern Age
Don't blindly wonder if a fiberglass, concrete, or vinyl liner pool is right for you. Our educational ebook does a deep-dive comparison of the 3 types, all while noting the advantages and disadvantages of each.
Installation & Construction | Pool Design Guides
Are you thinking about buying an inground swimming pool but don't like how long they take to install? We're fiberglass pool manufacturers and inground pool experts, and we know that swimming pools can take months to build. Concrete pools can even take up to half a year to complete. But what if you could get an inground pool quicker without much of the noise or mess?
Installation & Construction | Vinyl Liner Pool Information
Are you hoping to install a vinyl pool in your backyard this year? As fiberglass pool manufacturers, we understand the joy that getting a pool can bring to the whole family, and we are excited that you are taking your next steps in your inground pool journey. But what are some of the vinyl pool problems that you need to consider before you buy your swimming pool? What do vinyl pool owners wish they were aware of ahead of time? In this article, we'll review ten things that people wish they knew before they bought a vinyl pool to help you decide if it's the right choice for your family. Let's dive in.
Cost and Pricing | Installation & Construction | Pool Design Guides | Swimming Pool Design
Infinity pools are among the most modern and sought after pool designs today. If you have a gorgeous landscape or waterfront view that you want to show off, an infinity pool can make having that view ten times better. But what is an infinity pool, how does it work, and does it cost more to build?
Concrete Pool Information | Installation & Construction
Do you have plans to build a concrete pool? First of all, we want to congratulate you on taking your first steps towards getting a new swimming pool for your home! Nothing compares to the joy and fun that a pool can bring to the whole family, and that's why we continue our work of manufacturing fiberglass pools year after year. But before you build a concrete pool, we encourage you to do your research so that you can know exactly what you're getting.
Fiberglass Pool Information | Installation & Construction
Do you like the idea of having a fiberglass pool but aren't sure if you can actually get one? With us at River Pools being the only fiberglass pool manufacturer with installation experience (more than 1,500 fiberglass installs to date), we're kind of experts in our field. And over the years we've heard every installation question under the sun, including:
Installation & Construction | Swimming Pool FAQs
Is your backyard super tiny? Is it more of a courtyard than a backyard? If you are dreaming of getting an inground pool but think your backyard is too small, you've come to the right place.
Cost and Pricing | Installation & Construction
Does the sweltering summer heat have you thinking about getting an inground swimming pool? Are you searching for pool cost estimates online but can't seem to find what you need? With decades of experience in the inground pool industry (now specializing in fiberglass), we know exactly how much inground pools can cost to build and own. Our goal is to empower pool shoppers like you with information so that you can make the right choices without any lingering buyer's remorse.
Installation & Construction | Options and Accessories
Starting to wonder if you should finally take your pool to the next level with a pool house? Have you ever considered it before? A pool house may seem like a luxury that's just out of reach - too expensive, too much work, and takes up too much space. But the reality is that pool houses come in all different shapes, sizes, and styles that can work with a range of budgets.