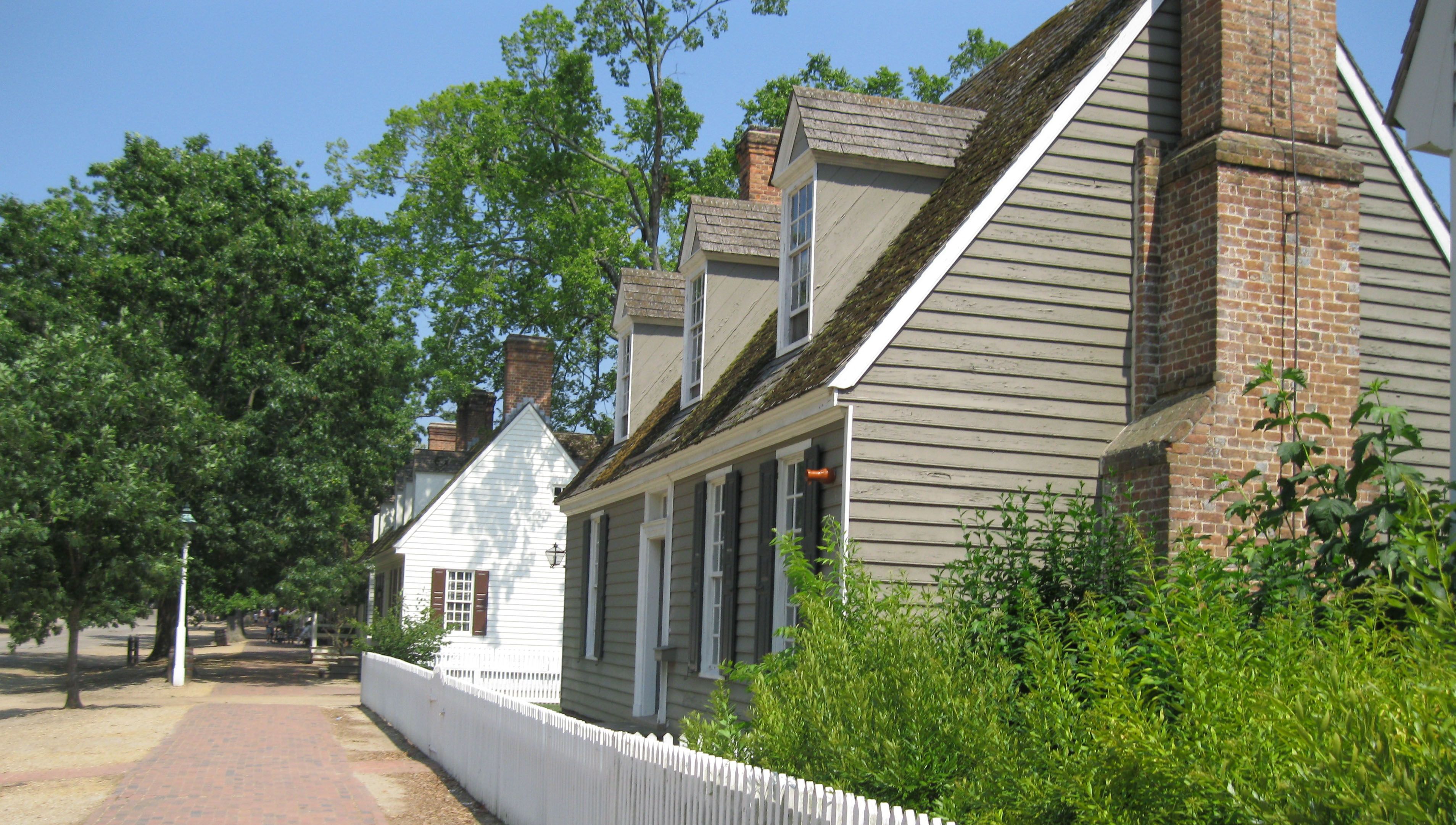 Subscribe
Building a Swimming Pool in Williamsburg: 7 Things You Should Know
Williamsburg, Virginia might be one of the most beautiful cities in the United States. If you're lucky enough to live in Williamsburg or you're thinking about moving to Williamsburg, you might be wondering what your life will look like in the next several years.
Do you own a home? Will you buy a home? Will you renovate the home or build a swimming pool?
If you have swimming pools on your mind, there are a few things that you need to know before you take those first steps towards becoming a pool owner.
At River Pools, we manufacture and install fiberglass swimming pools across the state of Virginia (and the rest of the country through our many dealers). We understand some of the challenges and requirements that you'll face to get a pool in the ground, so in this article, we'll share some of the most important factors that you need to consider.
1. Your swimming pool will need to have a fence
The Williamsburg code of ordinances says that a fence is defined as a "close type vertical barrier not less than four feet in height above ground surface."
This can be a woven steel wire, chainlink, picket, a solid board fence, or something similar - anything that will prevent "the smallest of children from getting through."
A few more requirements that your pool fence needs to meet are:
It needs to be within two inches of the ground at the bottom

It should have a self-locking gate

It needs to surround the pool completely

It needs to be at least four feet from the edge of the pool at any point

A pool fence should cost between $8 and $25 per linear foot and up on average, depending on the length and material. If your pool fence doesn't meet the necessary requirements, you might be able to comply with the law by installing a pool cover. For the pool cover to meet the safety requirements, it needs to be a powered safety cover (between $12,000 and $22,000).
Read more: 16 Pool Fence Ideas That Will Upgrade Your Yard
2. You will need to have permits for your pool
This is usually something that your pool builder will handle for you, but if you want to DIY your swimming pool, you need to follow the approval steps before getting your permit.
The code of ordinances in Williamsburg says that "no person shall begin construction of a swimming pool without first having submitted plans and specifications to the director of public health for review and approval and obtained a permit to construct the swimming pool."
Here's where you can get more information and apply for your pool permit:
Williamsburg Building Design & Permit Information
3. You will need to budget for a pool deck
In Williamsburg, you need to have a pool deck that is at least four feet wide and that extends around the entire perimeter of your pool. It needs to be made with concrete or another material that has a non-slip but smooth finish.
Keep in mind that your swimming pool deck will also add to the cost of your project. Since it needs to surround the pool on all sides, the size of your pool will also affect how much you will need to pay for your pool deck materials.
Read more:
What Are the Best Materials for a Pool Patio?
Should You Get a Concrete Pool Deck?
4. Your swimming pool will likely need lights
The Williamsburg codebook of ordinances also states that "where pools are used after dark, the swimming pool area shall be equipped with lighting fixtures of such number and design as to light all parts of the pool."
The average cost for a pool light is between $450 and $1,700, depending on the type of light. The number of lights that your pool needs will also depend on the shape and size of your inground pool, so keep this in mind when planning your design.
Read more: Inground Pool Light Cost & Other Common Lighting Questions
5. You might need additional approval if you live in a historic neighborhood
The preservation of historic buildings and neighborhoods draws people to Williamsburg from all over.
If you live in a historic neighborhood in Williamsburg, the Architectural Review Board will need to consider whether any renovations or improvements to your home are compatible and appropriate for the area's historical standards before construction can begin.
The 15 historic residential neighborhoods in Williamsburg include:
West Williamsburg

West Williamsburg Heights (including the Arts and




Cultural District)

College Terrace

Braxton Court

Downtown

Crispus Attucks

Pollard Park

Chandler Court

Cary/Griffin/Newport area

Indian Springs

Burns Lane

Capitol Extension

Capitol Heights

Pinecrest

Penniman/Second Street
It doesn't mean that you can't build a swimming pool if you live in one of these neighborhoods. However, if your new pool is approved, the historic preservation regulations can still dictate the type of fence that you can build (i.e., no chainlink, vinyl, etc.).
These fencing and design requirements can also bring in unexpected costs and make paying for the pool a little more difficult for those on a tighter budget.
Pro tip: While shopping around for pool prices, be sure to shop around for fencing and decking materials that meet your historic neighborhood's requirements to get a better idea of what your overall costs will be.
6. Your inground pool will cost around $25,000 to $100,000 and up
Overall, your inground pool price will vary depending on what type of pool you want to build. If you want a lower budget vinyl liner pool, you'll likely pay anywhere from $25,000 to $65,000. A fiberglass pool might cost $40,000 to $85,000 and up. A concrete or gunite pool will likely cost $50,000 to $100,000 and up.
Keep in mind that maintenance costs aren't the same across all three pool types. Our chart below shows how much you can expect to pay for each over a ten year period: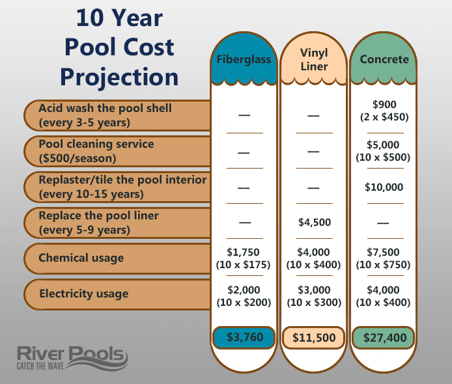 7. Where to get a pool in Williamsburg
There are several reputable pool builders in Williamsburg as well as others from outside the city who do installations in Williamsburg. To help you get started, we created a list of pool builders in Virginia with a short review of each:
A Massive Review of Swimming Pool Contractors and Installers in Virginia
Who Are the Top Pool Builders of Williamsburg, Virginia? (Reviews/Ratings)
At River Pools, we manufacture world-class fiberglass swimming pools for customers across Virginia and the United States. If you're interested in learning about fiberglass swimming pools, feel free to browse our pool models, visit our learning center, or download our free ebook below.
Up Next:
Inground Concrete Swimming Pool Cost and Price Guide 2020

Inground Saltwater Pool Cost: Salt, Cells, Generators, and More

What's the Best Small Fiberglass Pool for Your Needs? Costs, Sizes, Features