Cost and Pricing | Finding A Pool Contractor | Patio and Coping | Pool Design Guides | Swimming Pool Accessories | Swimming Pool Design
Most people shopping for a pool think that they know just what they want. For example, 90% of the people who want a diving board think they need it. But after education on the pros and cons of a diving board, only 10% of those people will still get a diving board. You're spending a lot of money on this swimming pool investment. You expect that the person that you invite into your home will be an informed professional and have your best interest at heart. In reality the person who shows up will probably be a salesperson trying to earn a commission that will feed his family or lifestyle. That's what is in his/her best interest, not yours. All too often, the homeowner says, "I want a pool this size and a deck this big," and the salesperson quotes them on what they ask for. It's far easier to sell a pool when the homeowner knows what they want, so why rock the boat? That's the mentality of most salespeople today. The problem: in most cases, what the homeowner thinks they want, and what they really want, are two different things.
Retaining Walls, Fence, and Landscaping | Swimming Pool Design
Few yards are perfectly flat. (Well, maybe in Ohio, which is so flat I can see Cincinnati from Toledo. But in normal places, no.) Some yards have only a teeny-tiny grade (2 ft. or less), so pool builders can grade the dirt off the patio to compensate for the difference. However, not every situation is so simple. When you have a big slope, you need a big solution. How will you keep the water from running onto the pool deck? How will you keep the pool in place? Enter retaining walls, stage left.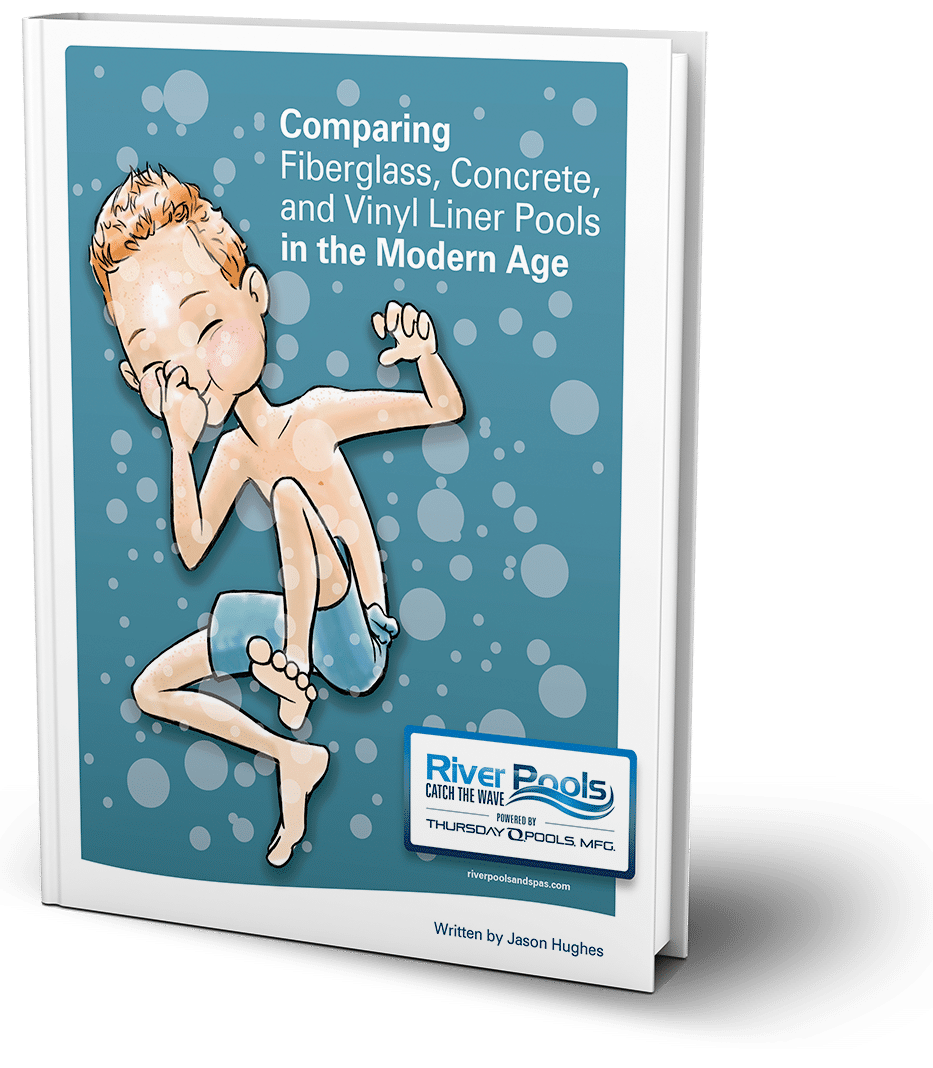 Comparing Fiberglass, Concrete, and Vinyl Liner Pools in the Modern Age
Don't blindly wonder if a fiberglass, concrete, or vinyl liner pool is right for you. Our educational ebook does a deep-dive comparison of the 3 types, all while noting the advantages and disadvantages of each.
Installation & Construction | Pool Design Guides | Pool Manufacturing Process | Swimming Pool Design
You know something I think is cute about humans in general? Our love for small things. Think about it! Even if we like the thing itself, we love the tiny version. A pig? Kinda gross. A tiny pig? Awww! A teacup? Classy. A tiny teacup? I need it right now! A house? Fine. A tiny house? Perfect! A cat or dog? Beautiful. A kitten or puppy? I want to die of happiness!
Retaining Walls, Fence, and Landscaping | Swimming Pool Design
Some of us (like my friend Ed and my mother) have a green thumb. Some of us (like me) have a black thumb. I either over-water or under-water any houseplants I try to nurture; low-maintenance succulents are the best I can manage, and even that is hit or miss. When you're planning the plants to put around your pool, you'll of course want to pick the prettiest species. But hold your horses! Yes, beauty is important, but there are more strategic elements you need to consider too.
Fiberglass Pool Information | Swimming Pool Design
We can all admit that, back in the day, fiberglass pools used to be a bit of an eyesore. But science is an amazing thing: the technology has developed so that not only are these pools now gorgeous, but you can find the exact design and accessories to create your dream backyard. We at River Pools take nigh-parental joy in creating fiberglass pool shapes and designs to fit all kinds of needs. Disclaimer: The shape and size of fiberglass pools can't be customized the way concrete or vinyl liner pools can. A, they're built from existing molds, rather than from scratch. B, they have to be 16 ft by 40 ft or smaller, since they travel via highway to get to your house. It's sad, I know. However, that's not to say you have no choices! There are plenty of options available, and every fiberglass pool manufacturer produces different designs. Most people are able to find a fiberglass pool design that they love and that fits their needs.
Options and Accessories | Swimming Pool Design
Ever notice how some people insist on using a $5 word when a 10¢ word would suffice? (I know I just used the word "suffice," but hear me out.) The first time I heard the phrase "exposed aggregate" for a pool finish, I thought it was a pretentious way to say "Pebble Tec." But it's actually the correct term. Not all exposed aggregate pool finishes are products of the Pebble Tec company. Exposed aggregate finishes are sometimes called Pebble Tec in the same way that we often call tissues Kleenex—one brand has become representative of the product. So we're going to talk about exposed aggregate finishes as a whole.
Options and Accessories | Swimming Pool Design | Vinyl Liner Pool Information
Ever watched "What Not to Wear"? I wish Stacy London would hand me $5,000 for new clothes. The catch: those clothes didn't come off the hanger magically the right shape. All those outfits were tailored to the shopper. They looked amazing afterward, yes, but that tailoring also used up a big chunk of their shopping money. Now prepare yourself...that's basically what you have to do to a vinyl liner pool.
Fiberglass Pool Information | Fiberglass Pool Manufacturers | Swimming Pool Design
Are you in the market for a freeform fiberglass pool and looking for the perfect model for your family? We're here for you!
Pool Design Guides | Swimming Pool Design | Swimming Pool FAQs
A lot of people with medium-sized pets like to let them play in the pool. Have a dog? Sheep? Llama? Small horse? They might be interested!
Options and Accessories | Pool Design Guides | Swimming Pool Design | Swimming Pool FAQs
For my family, a diving board is a runway. It's all very dramatic. We waddle like penguins, strut like models, wave like royalty, and stroll like oblivious pedestrians...and then drop into the deep end of the pool, still "walking."