Subscribe
What's the Best Concrete Pool Design for Your Needs?
Pool Design Guides | Swimming Pool Design | Concrete Pool Information
Every pool owner has different goals. This affects the design—pools don't have to be (and shouldn't be) one-size-fits-all. You can customize concrete or gunite pools to fit almost any look you like, which is a huge advantage for this pool type. However, most don't vary that much.
You're looking for a concrete pool that A) is large enough for your needs, B) fits with your overall design, and C) has features that correspond to what you want to do with the pool.
Here at River Pools, we specialize in fiberglass pools, but we aim to be the best educators in the pool industry as a whole.
We're here to help you find the best solution!
Purposes
So, what are your goals?
Most people use a pool in these three ways:
Socializing

Family play

Exercise
Even if you hope for all three of those, odds are good that you'll mostly use your pool for one reason (or even two). Now is not the time to lie to yourself about how often you exercise or how many friends you have.
Once you know your main purpose for the pool, you can determine what shape and features will achieve it.
Concrete Pool Shapes
All pool shapes basically boil down to these two types: linear and freeform.
Linear or rectangular pools tend to be more traditional with clean lines, although they can look modern as well.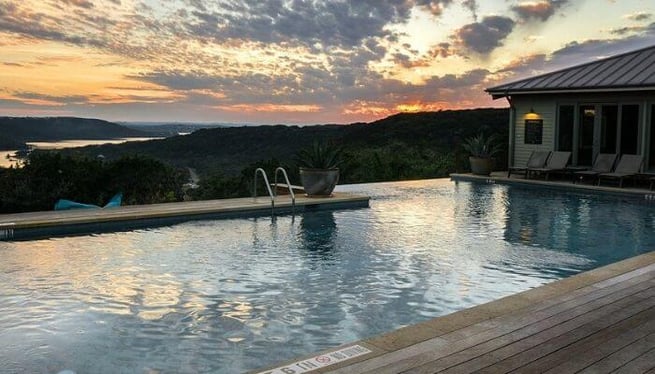 Freeform pools feel more tropical and informal. They can be ambiguously cloud-like or mimic a specific object, such as a fish or piano. Or a fish on a piano, if you're into that. Just remember that you (and your friends and family) have to look at your pool design for years to come. Choose wisely.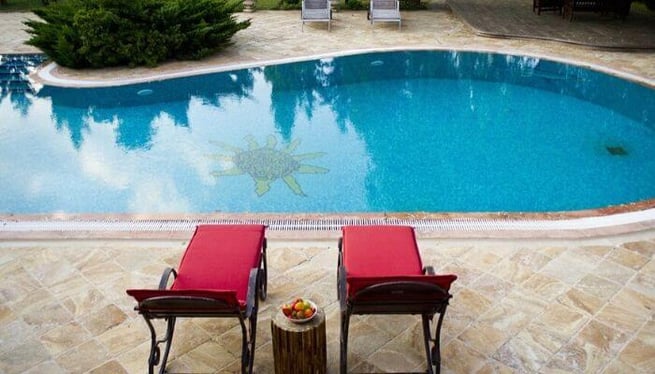 You need to decide the pool's depth as well as its overall shape.
Your main uses for the pool will dictate how deep it should be:
Kiddie play area: 3 feet or less
Recreational sports: 3.5–4 feet
Lounging/cooling off: 3.5–4 feet
Swimming: 3.5 feet or deeper
Jumping in (feet first): 4 feet or deeper
Diving (head first): 9 feet or deeper
Since you pay more for every square foot of surface, you might not want to invest in a deep end if you won't use it.
Do fiberglass pools offer these shapes?
Although you can't customize the shape of each individual fiberglass pool, we design our pools to meet the greatest need.
At River Pools, our R Series, deep-end T40 model, and D Series pools all use a rectangular frame.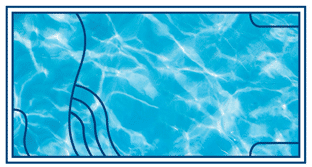 If you want a cool twist on the linear look, check out the Roman-end L36 pool model.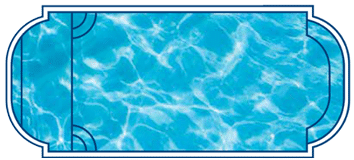 Our I Series and C Series pools are freeform to create casual lagoon-y curves.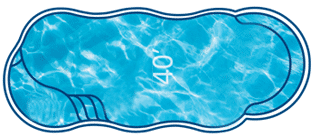 Note: If you need a super custom shape, fiberglass may not be for you. Most of the time, fiberglass pools only go up to 16 feet wide, 40 feet long, and 8.5 feet deep because they're transported to the installation site by vehicle and have to meet highway regulations.
Concrete Pool Features
Some people like to integrate these fun features into their concrete pool designs:
Tanning ledges

Interior steps

Bench seats

Swim jets
A tanning ledge is a shelf with 6-12 inches of water for you to sunbathe in a chaise lounge, for dogs to play, or for kids to splash around. Depending on your interior finish, the tanning ledge on a concrete pool may be rough on your skin.
Unlike vinyl liner pools, concrete pools can include classy steps inside the pool without extra effort or expense.
Bench seats inside the pool provide a nice place to sit and relax.
Jets can provide hydrotherapy on a bench seat or even an artificial current for you to swim against as exercise.
Does fiberglass offer these features?
Yes, fiberglass pools incorporate all these features and more.
Bonus: the gelcoat of a fiberglass pool is smooth, unlike the rough interior finishes for concrete pools, so you won't scrape your skin when you relax on a tanning ledge or bench seat.
At River Pools, our D Series, L36 model, and C Series include a tanning ledge.
All seven of our fiberglass pool models include both textured interior pool steps and bench seats.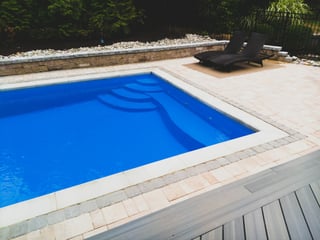 We've also had many customers who added bubblers on tanning ledges and therapeutic jets along the bench seats. It's super doable!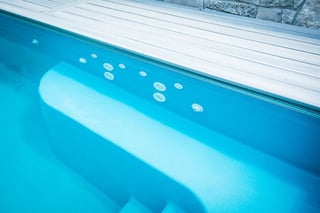 Best concrete pool designs for each pool purpose
Social pools
Social pools do well with bench seats and tanning ledges, where people can hang out without frolicking.
The pool can be relatively shallow (3.5–4 feet deep) since active swimming isn't a priority.
Social pools can be freeform or linear as long as the benches and ledges are within communication distance.
Family play pools
Pools for family play need space to play games, both inside the pool and around the perimeter, where add-ons like pool slides can be installed for extra fun. A wide open center works well for this. Bench seats could provide an area for a quick rest between games.
They should be 3.5–4 feet deep, with a deep end or shallow tanning ledge for little ones to splash in if you'd use those.
Exercise pools
Most exercise pools are for swimming laps, so they need to be at least 3.5 feet deep.
They should generally be at least 35 feet long with no obstructions. Linear shapes lend themselves better to this than freeform. When less space is available, a tether device or artificial current may work for you instead.
Alternatives to concrete pools
Concrete pools are the most customizable of the three pool types, but they're not the only option—and they are the most expensive one.
Vinyl liner pools also provide some opportunity to customize, but at extra expense. It's difficult to cut a liner into creative shapes, and the liner has to be replaced every 5–9 years on top of that.
Fiberglass pools, on the other hand, include features like bench seats and ledges as part of the original design. And even with other bonus features that may catch your fancy, fiberglass pools' low lifetime maintenance means they cost you the same or less than a vinyl liner or concrete pool in the long run.
Concrete, vinyl liner, and fiberglass pools each have advantages. Before making your final decision on this lifetime investment, you should compare all three pool types to be sure you're getting what suits your needs best. Start your research by downloading our free ebook below.
At River Pools, we manufacture and install world-class fiberglass swimming pools for customers across North America. If you think fiberglass might be a good fit for you, take a look at our catalog of models and visit our gallery to see what we can do for your pool project.
Wondering how much fiberglass pools cost? Contact us today to request pricing, and in the meantime, try out our pool pricing calculator below for a fast estimate:
---

Want to see about how much that cost will be with all your favorite pool accessories?
Use our Design and Price Tool to walk through your options and approximate price!
---
As always, if you have any questions about concrete, fiberglass, or any type of inground pool, please leave them in the comments below.
Up Next:
Which Pool Type Is More Prone to Leaks? Fiberglass vs. Vinyl Liner vs. Concrete
A Massive Review of Concrete Swimming Pools: Costs, Maintenance, Longevity, and More
---
Editor's note: This blog article was updated on April 17, 2019.