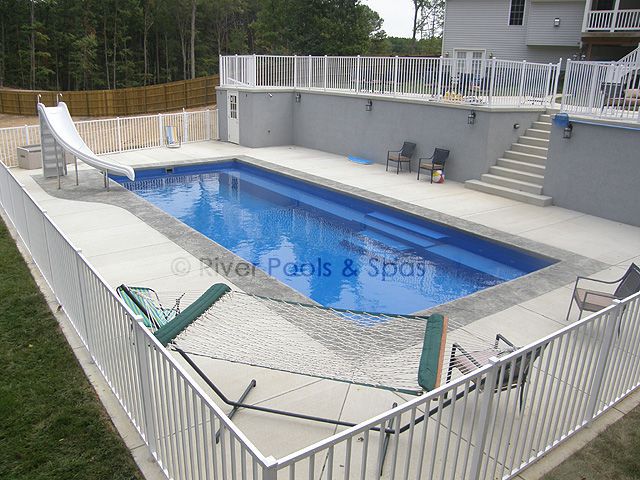 Subscribe
Concrete, Vinyl, and Fiberglass Pool Fading: Which Fades the Worst?
Fiberglass vs Concrete vs Vinyl Liner | Installation & Construction
In a continued effort to point out the pros and cons of all types of swimming pools on this blog, this article will discuss a common issue that can arise with a swimming pool over time—fading. As you are likely aware, any surface of any product is going to lose some color and brilliance with time. So the main goal here is to give you an accurate expectation of each type of pool, as well as the factors that can dictate color loss.
Vinyl Liner Pools
Without a doubt, vinyl liner pools have more fading and color-loss issues than any other type of swimming pool. Whether it's an above ground or an inground, the liner is produced the same, with an extremely thin colored pattern overlayed on the vinyl material.
There are two main causes of color loss for a liner:
Although the second cannot be deterred or managed (unless you have an automatic cover), chemicals are almost always the downfall to a vinyl liner, namely chlorine.
Because chlorine is a halogen (bleach), it will inevitably over time cause the design on the liner to fade. Combined with the bleaching power of the sun, a liner will often lose serious amounts of color within the 5–7 year mark, and can even eventually turn completely white. Obviously, this number can vary drastically, especially if a homeowner puts too much chlorine in their pool or shocks it too often. This is another benefit of a using a salt chlorine generator—because it causes the chlorine production to be consistently low, yet effective, without 'shocking' the pool and elevating the chlorine levels drastically.
Read more: What is a Saltwater Pool? Chemistry, Lifespan, Cost, & More

Concrete Pools
In the past, most concrete/gunite pools were white plaster, but today more and more consumers are choosing to utilize colored finishes with their concrete pool. In general, these pools look much better than their antiquated white counterparts, but they do surprisingly deal with quite a bit of color loss over time.
Anyone that has had a colored concrete patio will typically recognize the sun's dulling effects over time, which is certainly the case with a concrete swimming pool. The sunlight, combined with the chlorine, will typically have a significant effect on colored concrete surfaces in the 8–12 year mark.
Read more: Your Swimming Pool Color Options: Concrete, Vinyl Liner, and Fiberglass
Fiberglass Pools
Like concrete, fiberglass pools in the past were mainly 'white' or 'baby blue' in color. But today, with the soaring popularity of colored finishes on fiberglass pools, most consumers are choosing to go with darker finishes for their aesthetic value.
Just like vinyl and concrete, fiberglass pool finishes will be affected by the sun, but the main question is how much. I've written quite a bit about this on other posts, but there are some fiberglass pool manufacturers that make great color finishes, a handful that make utilize average finishes, and then a few that use substandard finishes.
In general, quality fiberglass finishes will start to experience some fading at the 8–12 year mark, but if the pool is well maintained it will still continue to look great for decades.
Read more: Do Fiberglass Pools Need to be Resurfaced?

Questions about pool finishes and color loss? As always, feel free to leave your comments below.
At River Pools, we manufacture world-class fiberglass pools for customers across North America. If you'd like to explore your fiberglass pool options, you can browse our catalog of models, try out our pool pricing calculator, or request custom pricing using the button below.
Up Next:
Can You Put an Inground Pool in a Small Backyard?
12 Outdoor Living Space Accessories to Add to Your Home