Subscribe
What Are the Best and Worst Types of Swimming Pools and Why?
Fiberglass Pool Information | Fiberglass vs Concrete vs Vinyl Liner
Well, you're in the market for a swimming pool. Congratulations!
Yes, I know, you may be thinking a pool is going to be a lot of work. But these days, it clearly doesn't have to be, especially if you choose a few options that will make pool ownership much, much easier.
In order to help you find the type of pool that will best suit your needs, here are some helpful tips.
Best Swimming Pool for Shape Customization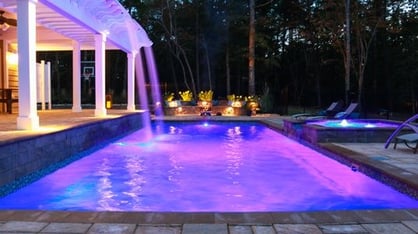 This would go to vinyl liner or concrete inground pools.
With the ability to get any shape or size you want, the possibilities are pretty endless if you have a flare for the dramatic.
Although fiberglass pools come in many shapes, complete shape/size customization is not possible.
This is because they're pre-fabricated from an existing mold. In every other aspect, fiberglass pools are just as customizable as concrete and vinyl liner pools.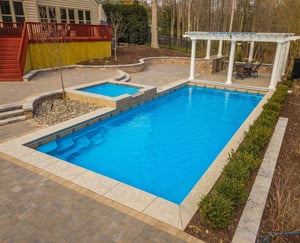 Best Swimming Pool for Low Maintenance and Longevity
Fiberglass pools take the cake on this one.
Over the past 10 years, these pools have exploded around the country for good reason—they are extremely easy to take care of because of their surface.
In addition, they rarely require major work later in life (unlike concrete and vinyl liner).
Read More: How Much Is My Fiberglass Pool Really Going to Cost?
Best Swimming Pool for Play
Generally speaking, any pool that is in the 3'–5' depth range is ideal for play.
For example, most above-ground pools are a uniform depth of 4'.
Some above grounds come in round shapes that are 18', 21', 24', 27', and 30' in diameter. This can create a massive play area.
Worst Swimming Pool
If you've had your eyes open over the last 5 or so years there about a 100% chance you've seen these massive blue blobs in yards all over America.
Heck, you may have even owned one yourself.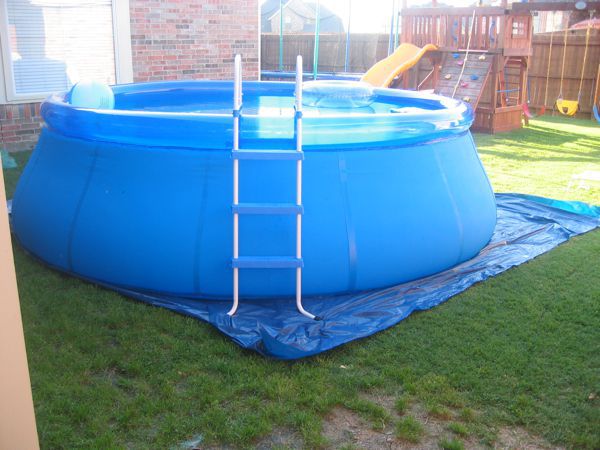 Sadly, these set-and-fill pools not only are an eyesore, but their filter systems are extremely under powered, and thus cannot deal with the bather load that comes with so much water.
This is why many people that buy this type of pool get so frustrated—they're almost impossible to keep clean, vacuum, and prevent algae.
Furthermore, they generally only last one season before having to be replaced.
Questions about any of the above mentioned pools? Don't hesitate to leave your thoughts below!
You can also browse our catalog of fiberglass pool models, try out our pool pricing calculator, check out our extensive video library, or download your free ebook to learn more about inground pools.
Up Next:
Above Ground Fiberglass Pools: Can and Should They Be Built?
What's the Best Small Fiberglass Pool for Your Needs? Costs, Sizes, Features
---
Editor's note: This blog article was updated on March 2, 2020.