Well, it's that time of year again, folks. And after the winter we had here in Virginia, I say good riddance! But with the warmer weather, the 'swimming bug' will soon be affecting all of us. (That is, if it hasn't already done so.) In fact, as I write this article and sit in my car at a parking lot in Yorktown, Virginia, the temperature outside is about 93°F degrees on April 7. Wow, now that's what I call skipping spring!
Pool Maintenance | Pool Videos
We recommend cartridge filters for fiberglass pools with salt water systems. They work the best and are easy to clean.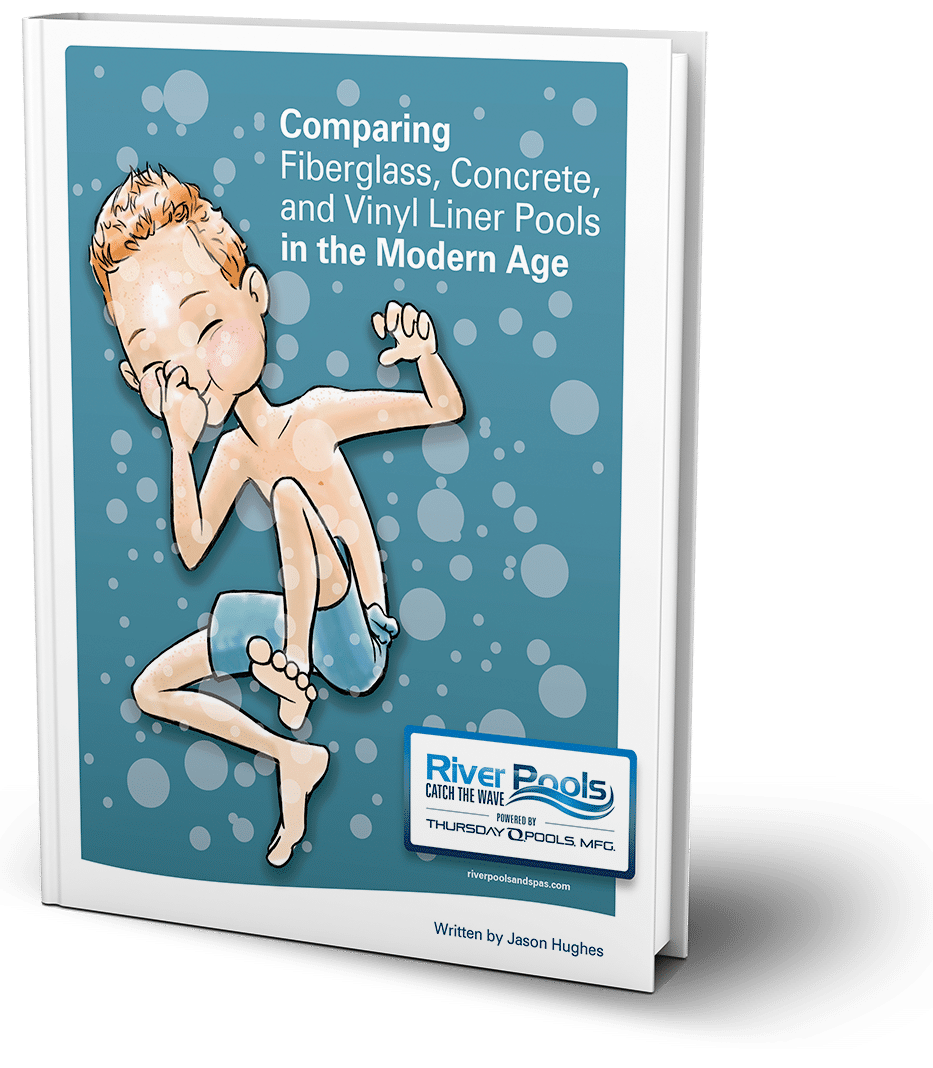 Comparing Fiberglass, Concrete, and Vinyl Liner Pools in the Modern Age
Don't blindly wonder if a fiberglass, concrete, or vinyl liner pool is right for you. Our educational ebook does a deep-dive comparison of the 3 types, all while noting the advantages and disadvantages of each.
As a current pool owner or someone who is looking to purchase a pool, somewhere along the way, you may have asked yourself, what's the difference between a salt water pool and a chlorine pool? Which is better? Should I get a salt water generator for my swimming pool?
Before I give my frank observations on the happenings of last week's national dealer conference, allow me to reflect a little if you wouldn't mind.
Fiberglass Pool Information | Fiberglass vs Concrete vs Vinyl Liner
Although this photo might confuse you at first, it's showing a fiberglass display pool at our headquarters here in Warsaw, VA, after some serious wind gusts that have been plaguing the state over the last couple of days. What normally is a pool shell on its side with the trailer as its base, mother nature decided to blow it over with some serious force behind it, causing the shell to slam to the ground. Even better though, the shell was unharmed. Its flexibility and tensile strength, as always, saved the day.
Fiberglass Pool Information | Fiberglass Pool Manufacturers | Pool Design Guides
In the past, we at River Pools and Spas have taken the time to recognize the different advances and developments in the fiberglass pool industry over the years, many of which have been the most read articles on this blog to date. So as 2013 is now here, we felt it time to discuss the best inground fiberglass swimming pool designs we're seeing in terms of functionality and creativity in 2013. Also, as a side note, this article is not about the quality of the included manufacturers, but rather our opinions on their designs. Here goes!
Often times when homeowners are considering the purchase of an inground swimming pool, they want to know how it will affect the value of their home—which is a very important and legitimate question. Interestingly enough, the type of pool you choose for your backyard will greatly dictate the return on investment for the pool itself.
Cost and Pricing | Fiberglass Pool Information
We've talked extensively about the cost of fiberglass pools here on this blog over the years but as 2013 approaches, I wanted to take a look at where pricing is headed in this industry and what it means for consumers and pool builders as a whole.
Fiberglass Pool Information | Fiberglass vs Concrete vs Vinyl Liner
Well, you're in the market for a swimming pool. Congratulations! Yes, I know, you may be thinking a pool is going to be a lot of work. But these days, it clearly doesn't have to be, especially if you choose a few options that will make pool ownership much, much easier. In order to help you find the type of pool that will best suit your needs, here are some helpful tips.
Fiberglass Pool Information | Fiberglass Pool Manufacturers | Swimming Pool Design
With the prolific growth of the fiberglass pool marketing over the last 10 years here in the United States, consumers are getting more and more options, sizes, and accessories to choose with their fiberglass swimming pool. This being said, the size of fiberglass pools will always have some limitations due to the fact that they are built offsite in a factory and then shipped on highways. With most wide-load laws preventing anything to travel on the highway that is more than 16' wide, this can make it very difficult to produce anything of a greater size.