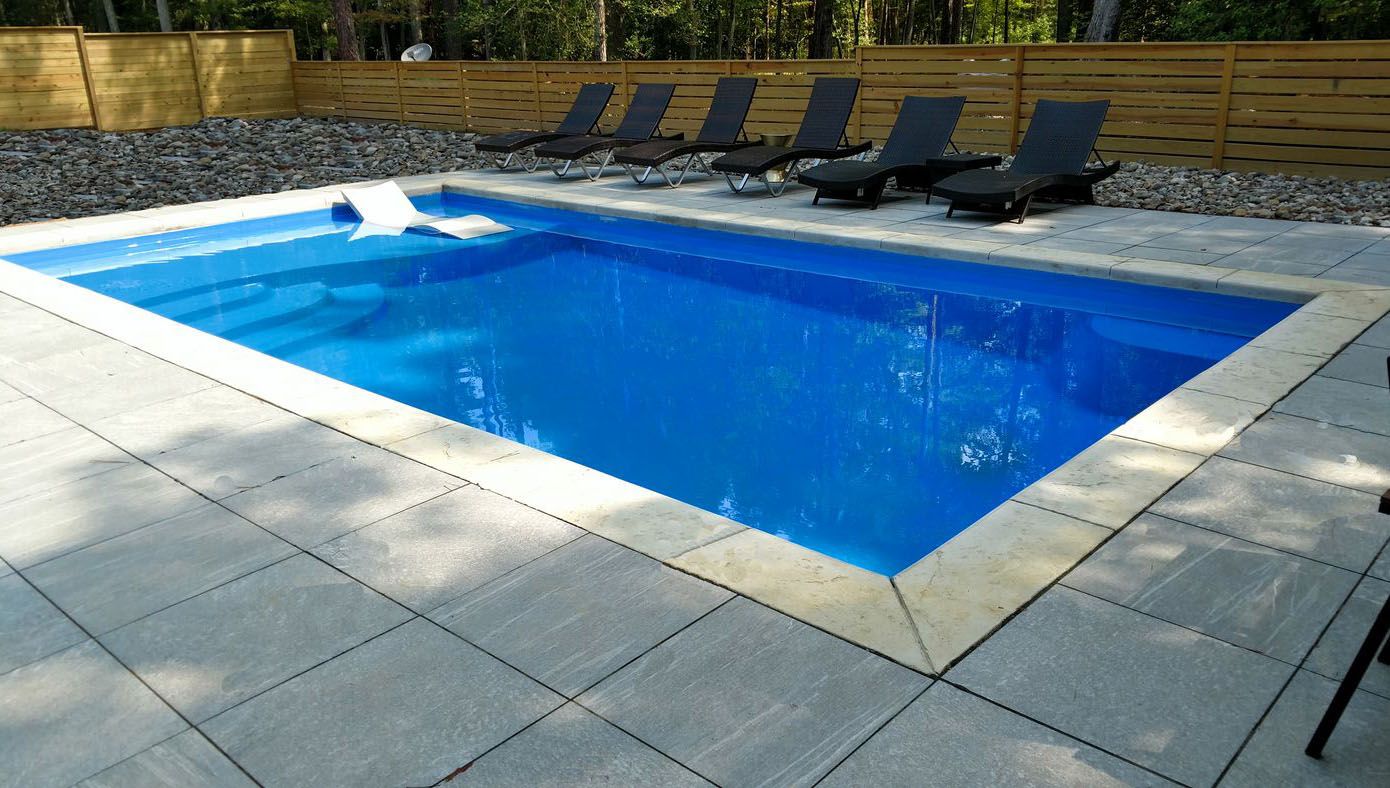 Subscribe
How Much Does a Fiberglass Pool Cost in Texas?
Texas is a great place for a swimming pool, and it's an even better place for a fiberglass pool.
Why?
Fiberglass pools are low maintenance, quick to install, and cheaper to own over time than other inground pools.
In addition, choosing a fiberglass pool in Texas can minimize risks that are associated with long installation timelines, which is crucial for those living in windy or stormy areas (we see you, Houston).
But how much does it cost to put one of these fiberglass pools in your yard?
At River Pools, we're experts at manufacturing and installing fiberglass swimming pools, so we know how much it costs to do a wide range of installations. In this article, we'll explain how much you can expect to pay for your fiberglass pool in Texas and where you can get one.
Let's start by breaking down the cost.
How much does it cost to buy a fiberglass pool in Texas?
To give you an upfront estimate, you can expect to pay between $30,000 and $85,000 on your inground fiberglass pool, depending on the size and other package details. A small inground fiberglass pool of around 12x24 feet would start on the lower end in the $30-45k range, even with installation and patio work. This may include pools like our D24 or the R20.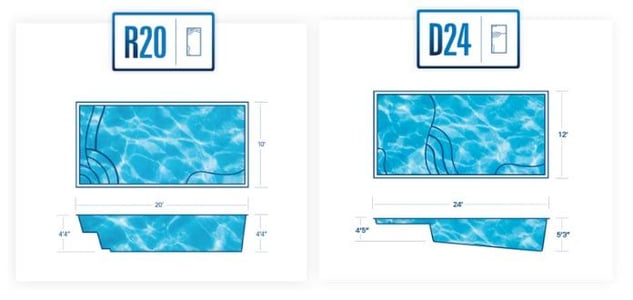 On the upper end, you could pay a minimum of $50,000 for a very large pool like the 16x40 T40 including installation, patio, and water features. You can also choose other upgrades, like a spa, an automatic pool cover, or a waterfall, which will also increase the cost. Learn more about inground pool costs by size in this complete guide.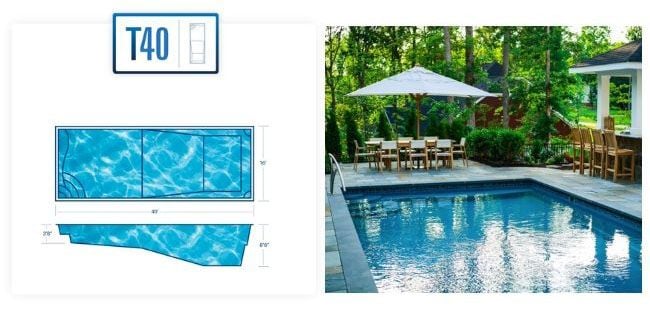 As we mentioned before, the final price of the pool will also depend on the type of package that you choose in addition to the size of the pool and your selected add-ons (like a spa or a separate tanning ledge).
Keep in mind that the price of your project will not just be determined by your pool size and add-ons. Some of the costs will come from modifying the landscape and preparing the ground and surrounding area for a swimming pool, depending on the needs of your property.
Let's quickly break down what you can expect in each one of these fiberglass pool installation packages.
Fiberglass pool installation package costs
In general, you will be able to choose from three basic packages: self-installation, basic installation, and turn key.
Self-installation
A self-installation is exactly what it sounds like. This type of package includes the pool shell and the delivery of the pool, but you'll have to do all of the hard work of getting the pool in the ground yourself. The pool shell and delivery can cost between about $10,000 to more than $26,000.
You'll also have to pay for equipment, labor, and your coping and patio. Doing a DIY fiberglass pool can be a challenge, so be sure that you really know what you're doing before your choose this option.
Want our advice? Steer clear of a self-installation unless someone who is experienced in installing fiberglass pools is directly involved with the installation process. It will be much more cost effective in the long run to hire a professional to do it for you. This also protects your warranty and prevents major problems with the structure or plumbing.
Your pool builder might also offer an assisted installation package in which they set the pool, set up the plumbing and pump and filter system, and partially backfill the pool. These are the most difficult parts of the installation, and many DIYers opt for this instead of a full self-installation.
An assisted installation can cost between roughly $30,000 to $52,000, but this does not include other essential parts such as coping, fencing, patio, equipment, or labor.
Basic Installation
Your basic, standard fiberglass pool package includes the pool shell, delivery, the pump and filter system, full installation, water, maintenance and cleaning equipment, and some concrete around the pool. This package starts at around $40,000 and is one of the most popular.
Turn Key
If you want to have your pool in the ground (and much more) without the hassle of managing all of the aspects of your project, a turn key package could be right for you. With this package the fiberglass pool company oversees all of the work including the installation, patio, and other parts like fencing or landscaping.
This will typically cost between $45,000 to $85,000 and up, depending on the add-ons that you choose and your preferences when it comes to patio materials, fencing, etc.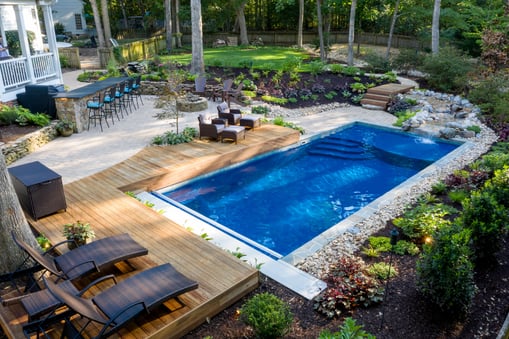 Where to buy a fiberglass pool in Texas
If all of this sounds great to you, a fiberglass swimming pool might be a good fit for your home. At River Pools, we manufacture and install fiberglass pools for customers across Texas through our certified dealers. Check out the map below to see where our dealers are located and view the following list to see whether they service your area.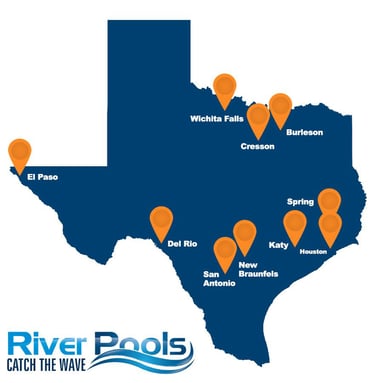 Our dealers currently service the following areas:
Del Rio, Spring, Wichita Falls, New Braunfels, Cibolo, Schertz, San Antonio, Seguin, Pleasanton, Dilly, La Vernia, George West, Alice, Corpus Christi, Odem, Rock Port, Victoria, Cuero, Gonzales, Flatonia, Columbus, Bastrop, El Paso, Austin, Hutto, Round Rock, Pflugerville, Georgetown, Boerne, Spring Branch, Mcqueeney, Castroville, Katy, Houston, Sugar Land (and all surrounding areas).
If you'd like to get a River Pools fiberglass pool in your backyard, contact us today by clicking the button below, and we will get in touch with you soon to discuss the needs of your project.
---

Contact us today to learn more about your fiberglass pool options and to get connected with a dealer who services your area
---
Want to learn more about installing fiberglass pools in Texas? See our original guide here to learn when a fiberglass pool is the right choice (and when it isn't).
Up Next:
What Is the Life Expectancy of a Fiberglass Pool?
Inground Swimming Pool Maintenance Costs: Chemicals, Electricity, and More
Are Fiberglass Pools Toxic? A Look at Their Environmental Impact