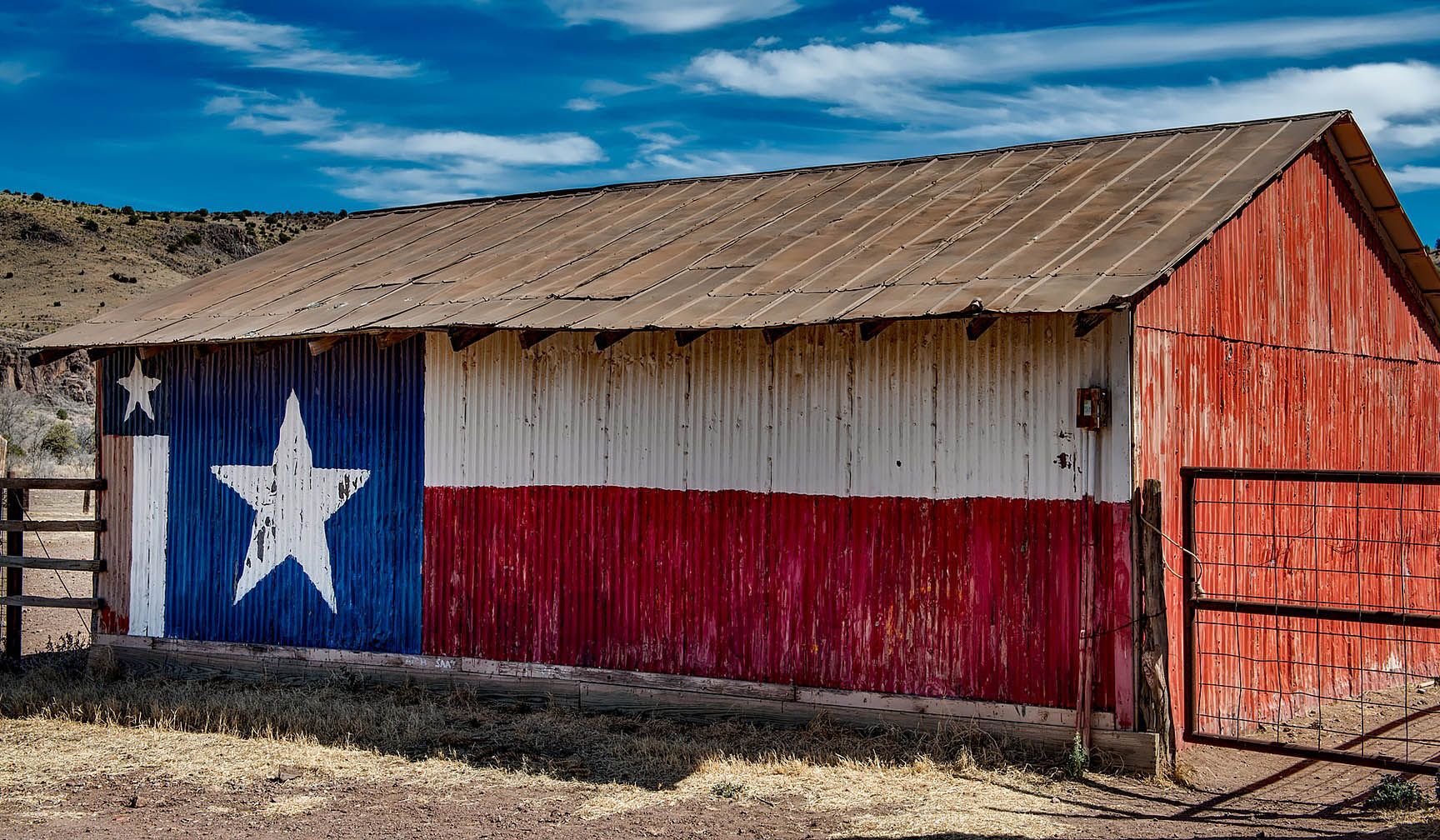 Subscribe
Should You Buy A Fiberglass Pool in Texas? 4 Points of Consideration
Ah, Texas. The land of BBQ, football, and...intense heat.
The temperature in Dallas gets up in the 90s throughout June, July, and August. El Paso gets up to over 100 degrees on the regular, and Houston, Austin, and San Antonio are stuffy and humid during the summer months.
It's no wonder that so many Texans want inground swimming pools.
But wouldn't it be great if your swimming pool could be installed quickly and require less maintenance over its lifetime?
Well, with a good fiberglass pool, you could be spending most of your time in the water rather than around it doing maintenance chores, and you could have your pool within just a few months from this very moment.
At River Pools, we specialize in manufacturing and servicing inground fiberglass pools across North America, and because we have been in business for years, we know when a fiberglass pool is right for a customer and when it's not. In this article, we'll share why you might want to choose an inground fiberglass pool for your home in Texas as well as why it may not be right for you.
Let's go...
Should you get a fiberglass pool in Texas?
#1 Fiberglass pools are low maintenance
Anyone who is either from Texas or has been to Texas knows that the state can get HOT. It covers a massive area, but from El Paso to Lubbock to Corpus Christi, the summers can be sweltering.
In fact, Texas is one of the three states with the highest average temperatures during the summer. We're talking in the 90s and even over 100 degrees in many areas.

What does that mean for you as a pool owner?

This means more maintenance to keep the pool running and to keep algae from taking over. There is a clear correlation between high temperatures and algae growth, and fiberglass pools are the best for keeping algae at bay.
Why?
The gelcoat surface of a fiberglass pool is smooth and nonporous, leaving nowhere for algae to collect. Because algae is less of a problem, fiberglass pools also require fewer chemicals.
Concrete pools typically have extremely porous surfaces that rapidly collect algae and make it hard to get rid of. Vinyl liner pools often collect algae at the seams such as the area around the steps or stairs.
You probably want to spend more time in the pool swimming, floating, or enjoying a Big Red on the tanning ledge, not battling algae. A good fiberglass swimming pool can give you that freedom.
How do you know if a fiberglass pool is of good quality?
Read about our manufacturing process or watch our video series on how our premium fiberglass pools are made starting with the mold.
Fiberglass swimming pools also don't require heavy periodic maintenance like liner replacements or resurfacing (like vinyl liner and concrete pools do). With a fiberglass pool, you get to enjoy the additional time that your pool is open without incurring high costs.
#2 Enjoy lower lifetime costs
"Great," you say. "So, how much does a fiberglass pool cost?"
If you're looking to save money on upfront costs, a fiberglass pool may not be what you're looking for. However, if you want a swimming pool that will last a very long time and save you thousands of dollars over the years, a fiberglass pool is your best choice.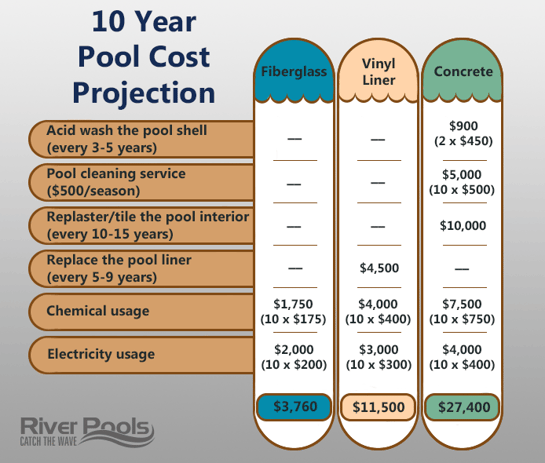 In general, you can expect to pay a minimum of $40,000 for your inground fiberglass pool. This covers a basic package that may include the pool shell, delivery of the shell, pump and filter system, gravel for backfill, installation, water to fill the pool, maintenance and cleaning equipment, the building permit, and some concrete around the pool.
However, you'll only end up paying about $4,000 to maintain your swimming pool over a ten year period. Compare this with vinyl liner pools which require you to spend around $11,500 over a ten year period. Concrete pools require you to spend the most at almost $30,000 over ten years on maintenance alone.
With a fiberglass pool, you get the most durable and affordable pool in the long-run.
Check out our full inground pool maintenance guide for a full breakdown of the maintenance costs.
#3 Fiberglass pools have the fastest installation times
There are really two main points here to consider:
If you live in Texas, you might want to think about choosing an inground pool over an above ground pool.

It might be a good idea to choose a swimming pool that has a faster installation timeline (fiberglass is the quickest to install).
Why are these things important? Choosing an inground pool over an above ground pool might be a safer option for many people living across the Lone Star State.
Many regions in Texas are prone to high winds, even tornados, and if you've lived in Texas long enough, you've probably had your roof blown off once or twice. An inground pool will stay safely in the ground while an above ground pool can literally end up in your neighbor's yard after a bad wind storm. Yikes.
In fact, Texas has seen all kinds of storms, including hurricanes, blizzards, tornados, dust storms, thunderstorms…you name it! An inground fiberglass pool will stay put in a storm, and it's less likely to get torn up like a vinyl liner would.
If you have a vinyl liner pool, debris from a storm could easily puncture a hole in the vinyl lining, forcing you to replace it sooner than necessary.
As a bonus, inground pools are naturally a few degrees cooler than above ground pools in the summer heat.
It's clear to see why an inground pool beats an above ground pool in a storm, but why does the installation time matter?
Imagine this: your pool guys have been working on your concrete pool for months (they can even take up to 6 months to build under some circumstances). You find out that a hurricane is coming through your town, so you find somewhere safe to ride out the storm. Luckily, your home is okay, but your swimming pool has popped out of the ground before you ever got to take your first dip.
Simply put, long installations leave your pool vulnerable to the elements. Any inground swimming pool is safer once it's fully installed and full of water (the water keeps it from cracking and coming out of the ground).
The fiberglass pool shell can be in the ground within a day, making it a good option if you're weary of a storm coming through.
#4 Fiberglass pools have a long lifespan
Good fiberglass pools can last a long time. In fact, the structure of the pool itself can last more than 50 years, and the surface can last 20-30 years without needing significant maintenance.
This is a big plus for many pool owners because it minimizes both costs and the time needed to invest in its upkeep.
Why you may not want a fiberglass pool in Texas
At River Pools, we value transparency and always present the other side to the customer so that you can do what's best for you. Here are a few reasons why you may not want a fiberglass pool in Texas.
#1 Fiberglass pools have size limits
They say everything is bigger in Texas, but a fiberglass pool can't always be as big as the customer wants it to be.
Of course, fiberglass pools can be quite large. Just look at our T40 model which is 40 feet long, 16 feet across, and 8 1/2 feet deep! But if you want a true mammoth of a swimming pool, especially one that spans more than 16 feet across, you may find that a concrete swimming pool is your best option.
T40 Fiberglass Swimming Pool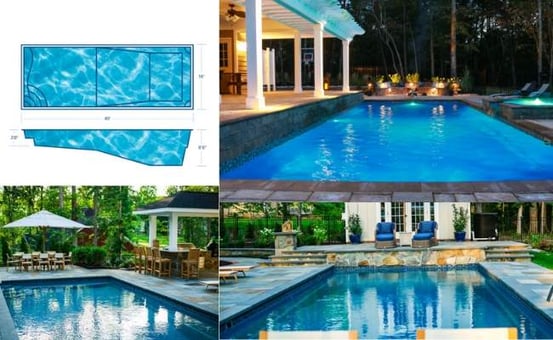 Look inside the T40...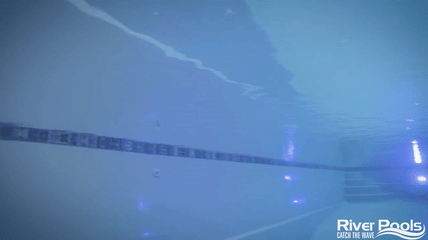 #2 Fiberglass pools have shape limitations
If you want to get your very own Texas-shaped pool, you may not be able to find any fiberglass options. Again, you'll probably have to go with concrete because it's limitless when it comes to shape, size, and overall dimensions.
We make our fiberglass pools offsite in our manufacturing facility, and our molds can't be customized on a client by client basis. However, we do have fantastic models that have some of the most popular features built-in at no additional cost, including tanning ledges and benches.
C Series and D Series Fiberglass Pools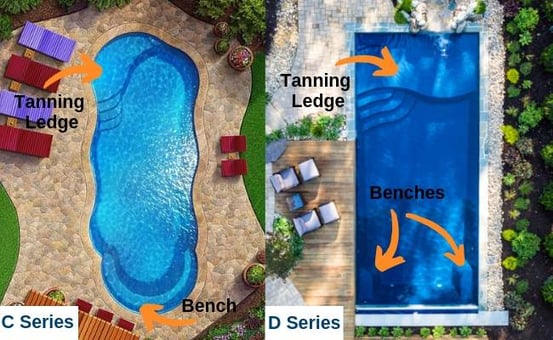 Where to get a fiberglass pool in Texas?
There are many fiberglass pool manufacturers serving Texas, including River Pools through partners and dealers throughout the state, but not all fiberglass pools are created equal. Check out this article explaining how and why we manufacture and install our pools for maximum quality and durability.
Ready to connect with a River Pools dealer? Here's where they're located in Texas and how to get in touch with them: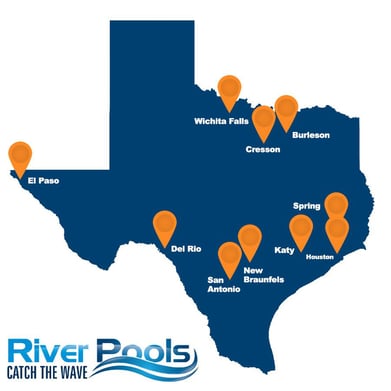 Areas our dealers are currently serving:
Del Rio, Grapevine, Wichita Falls, New Braunfels, Cibolo, Schertz, San Antonio, Seguin, Pleasanton, Dilly, La Vernia, George West, Alice, Corpus Christi, Odem, Rock Port, Victoria, Cuero, Gonzales, Flatonia, Columbus, Bastrop, Austin, Hutto, Round Rock, Pflugerville, Georgetown, Boerne, Spring Branch, Mcqueeney, Castroville, Katy, Houston, Sugar Land (and all surrounding areas).
Let's get connected!
---

Contact us today to learn more about your River Pools fiberglass pool options in Texas and get connected with a dealer who services your area
---
Before you go, take a look at some of our popular models that can be installed in small to large backyards.
Want to know how much a durable, low maintenance fiberglass pool will cost? Try out our fiberglass pool cost calculator today to see how one of our models will fit with your budget (it's 100% free).
Still unsure about which type of inground pool is best for you? Download our free ebook below comparing fiberglass, concrete, and , vinyl liner swimming pools.
Up Next:
Ultimate Pool Planning Guide: 11 Things to Consider Before Installing an Inground Pool
A Guide to Inground Swimming Pool Size, Costs, and Prices: Everything You Should Know