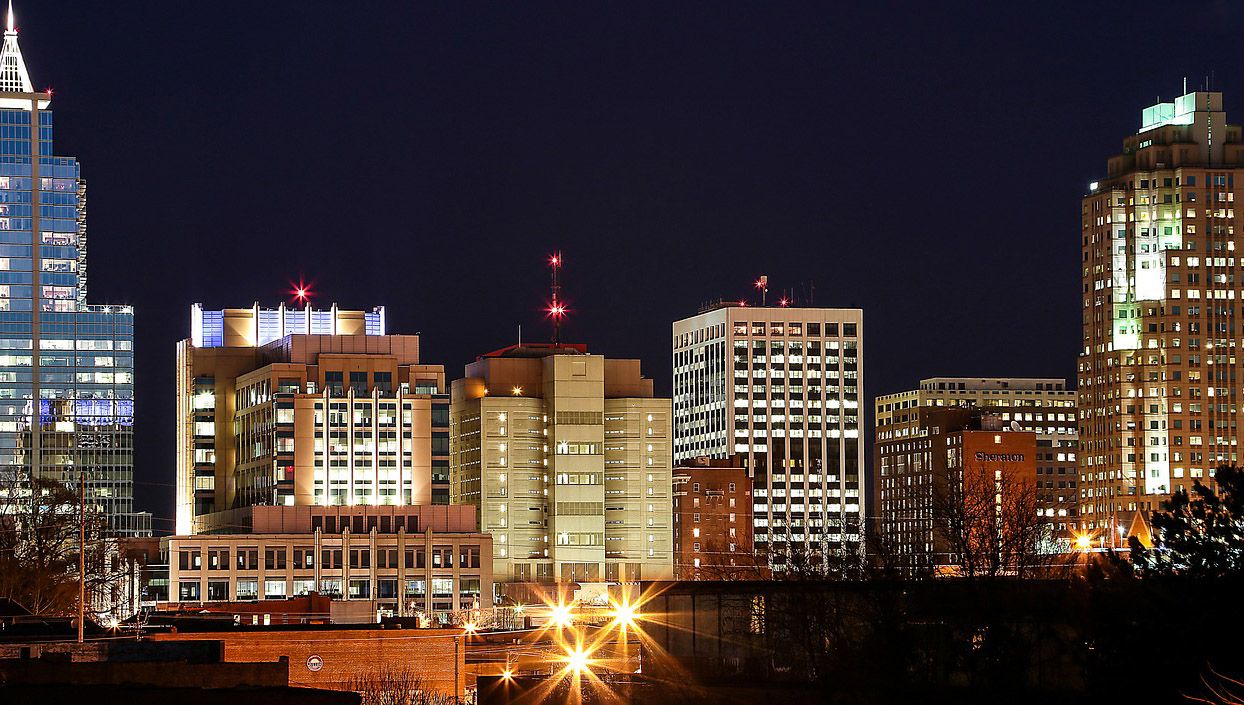 Subscribe
How Much Does an Inground Pool Cost in Raleigh?
There's no place like Raleigh, NC. With pleasantly warm but not too hot summers, the Raleigh area is perfect for picnics, bike rides, and of course…swimming!
If you wish you could spend your summers swimming in your own inground pool, you might be concerned about things like:
How much does it cost to build an inground pool in Raleigh?
How much will my pool cost to maintain?
What will I need to do to maintain my pool?
What problems do I need to consider?
As fiberglass pool manufacturers, we hear clients ask these questions all the time. To give you a jump start on your inground pool research, here are the answers to some of the most common inground swimming pool questions.
How much is a vinyl pool in Raleigh NC?
We start with vinyl liner pools because they're often the most affordable, and they are perfect for people who want to DIY their pool construction.

A vinyl liner pool in Raleigh might cost you anywhere from $25,000 to $40,000 and up to build, with smaller pools being cheaper. You can expect your costs to increase as you upgrade your pool's size, liner, steps, coping, and other materials.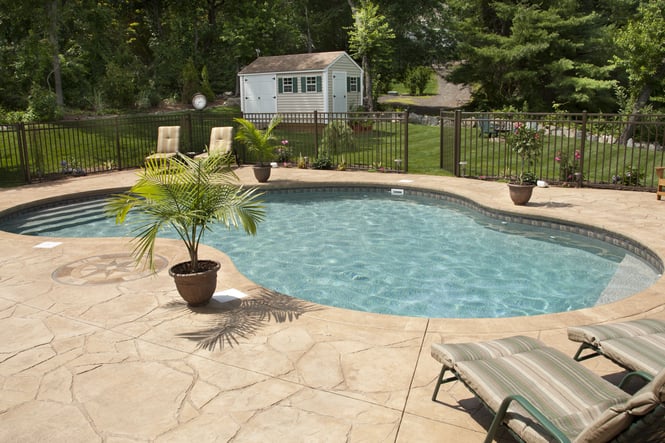 How much can you save with a DIY vinyl liner pool?
If you decide to take on the challenge of a DIY liner pool, you can probably save around $5,000 or more. If you are concerned about your lack of experience, you can also consider doing only part of the project like the excavation or patio.
How much do vinyl liner pools cost to maintain?
The first year that you install your liner pool should be easy. You probably won't have to spend more money on your pool for the first several years, aside from chemicals, water, and routine maintenance.
Eventually, and probably within the first 5-9 years of owning your vinyl pool, you'll have to replace the liner. This costs $4,500 on average, and you will need to replace it around every 5-9 years as long as you own the pool. You can also expect to pay upwards of $7,000 for chemicals, electricity, and water for your vinyl pool over a ten year period. If your pool lasts thirty years, be prepared to pay over $35,000 on maintenance.
Vinyl Pool Pros and Cons
So, what are the pros and cons of owning a vinyl liner pool in Raleigh? Here are the main points that you need to consider:
Pros
Cheaper to build

Faster to install than a concrete pool

Can be inground, above ground, or semi-inground

Wide range of color and pattern options

Can DIY all or part of the construction

Soft, comfortable surface

Can order a custom shape
The Breakdown: Vinyl pools are among the most affordable inground pools on the market today. They're also faster to build than concrete pools at an average timeframe of 4-8 weeks. Your vinyl pool can also be installed inground, above ground, or semi-inground, depending on your yard and the style you like best.
When it comes to liners, you'll have hundreds of color and pattern options across all vinyl pool manufacturers. Vinyl pools are also DIY friendly, and they have a soft, comfortable surface for walking and playing. Finally, some vinyl pool companies may build a custom shape for you at an extra cost.
Cons
Liner needs to be replaced every 5-9 years

Not durable

May not add to the value of your home

Vinyl pools with metal walls won't work with a salt system

Not pet friendly

Algae
The Breakdown: Your pool's vinyl liner is not made to last forever. Anything from tree branches to your dog's claws can puncture and destroy the soft liner. The cost to replace it every 5-7 years may be around $4,500 each time depending on the pool size, liner type, and how much you can DIY. If the pool lasts 30 years, this adds up to $13,500 to $27,000 for liner replacements alone over the course of the pool's lifespan.
Because vinyl pools aren't considered permanent structures, they may not add to the value of your home, making it a less profitable investment than a concrete or fiberglass pool. Algae can also embed in the seams of your liner and may be difficult to remove. Finally, If you have hopes of getting a salt system, you'll need to steer clear of metal pool walls (cheaper than polymer) because you'll likely have problems with rust over time.

How much is a concrete pool in Raleigh NC?
Concrete pools are the classic inground pool option, but they are also the most expensive to build on average and the most labor and cost-intensive to maintain.

You can expect to pay anywhere from $50,000 to over $100,000 to build a new concrete swimming pool in Raleigh. The cost of your pool will go up as you increase the size and depth and upgrade your materials and design. Tile will cost much more than plaster, for example, and an infinity pool will cost more than an inground pool.
Want to save money on your concrete pool? Here are our best tips:
Choose a smaller size

Install a plaster finish

Skip the fancy features for now

Build in the winter or fall if possible

How much do concrete pools cost to maintain?
Let's say your concrete pool lasts forty years. It may cost you an additional $80,000 or more to maintain throughout its lifespan. This includes acid washing every 3-5 years (about $450 each time), resurfacing every ten years ($10,000 and up each time), chemicals, electricity, and water. Because most people choose a plaster finish, you'll likely spend more time and money preventing and battling algae on the pool walls.
Note: These figures do not include costs for incidental repairs or new additions like an automatic pool cover.
Concrete Pool Pros and Cons
What do you need to know before buying a concrete pool in Raleigh? Here are the main pros and cons to consider:
Pros
Customizable shape

Unlimited size

Multiple surface options

Can be inground, above ground, or semi-inground

Structurally durable
The Breakdown: Concrete pools are by far the most customizable inground pools there are. If you want a custom shape or plan to build a moat style pool around a backyard castle, you can actually do that with concrete. You also won't have to deal with any size limitations if you want a super wide pool or a lap pool that's longer than 40 feet. With a concrete pool, you can choose between three main surface options: plaster, aggregate (pebble), or tile.
Aggregate and tile are more expensive, but they look nice (and you can do cool things with tile like underwater murals). Like vinyl and fiberglass pools, concrete pools can be installed semi-inground and above ground as well, giving you even more customizability. Finally, although concrete pools aren't immune to structural damage, they are known for their structural durability and can last many decades.
Cons
Algae mecca
Expensive to build and maintain
Labor intensive
Long installation time
Rough surface
The Breakdown: It might sound silly to say that a concrete pool is a mecca for algae, but in a way, it's true. The porous plaster surface creates just the types of nooks and crannies that algae love. This is another reason why you'll end up spending more time and money on a concrete pool than any other inground pool type. Concrete pools are also the most expensive pools to build and are not the best option for anyone looking to save money.
They can also take 3-6 months to build on average, which is much longer than a vinyl or fiberglass pool project. Finally, that rough surface that algae love so much is also very uncomfortable on feet, knees, and toes and can lead to a lot of scrapes over the course of a summer.
How much is a fiberglass pool in Raleigh NC?
Fiberglass pools may not be as DIY friendly as vinyl pools (though it is possible), but they require much less maintenance and the structure and surface of the pool are both durable.
A fiberglass pool in Raleigh might cost $40,000 to $85,000 and up, depending on the pool's size and installation package. As a general rule, the larger the pool and the more upgrades and accessories you add to the project, the more it will cost.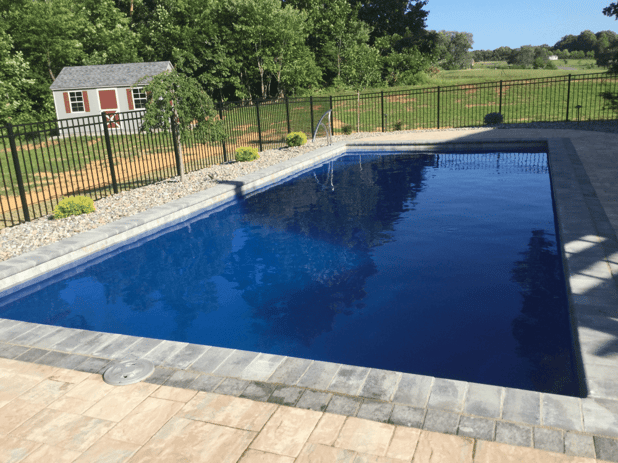 How much does a fiberglass pool cost to maintain?
When it comes to caring for your fiberglass swimming pool, you're going to have three main expenses:
Water

Chemicals

Electricity
These three expenses combined might cost you around $4,000 or more over a ten-year span, depending on your current utility rates.

Because fiberglass pools don't require frequent liner replacements, acid washing, or replastering, the main costs you'll need to worry about are related to general maintenance.
Note: The gelcoat surface of your fiberglass pool can last your pool's entire lifespan, but if it doesn't, you can have it resurfaced for about the same amount that you would pay to replaster a concrete pool. Fiberglass resurfacing is not a guaranteed, recurring cost, but it's something that you should consider while shopping around for the right inground pool. Remember that if you do need to resurface your fiberglass pool, it probably won't be until 20 plus years into your pool ownership.
Read more: Do Fiberglass Pools Need to be Resurfaced?
Fiberglass Pool Pros and Cons
Wondering what the pros and cons are of owning a fiberglass pool in Raleigh? Here's what you need to know:

Pros
Durable in structure and surface

Can increase the value of your home

Cheapest to maintain

Built-in features

Smooth, comfortable surface

Algae resistant

Fastest to install

Can be inground, above ground, or semi-inground
The Breakdown: Fiberglass pools are durable in both structure and surface and can last 50 years or more. They can also increase the resale value of your home, making them a worthy investment even if you plan to move in the future. They're also the cheapest of the inground pools to maintain and the least labor-intensive with a smooth, algae-resistant surface.
Fiberglass pools come in a wide range of shapes, sizes, and designs with built-in features across all manufacturers. If you need a pool that's partially or entirely above ground, a fiberglass pool is suitable for both. Finally, fiberglass pools are the fastest to install at around a timeframe of 2-4 weeks. The pool itself will be in the ground and full of water by day two.
Cons
Limited size range

Shapes are not customizable

Not as DIY friendly
The Breakdown: The biggest drawback to fiberglass pools is their size limitation, but this is only a problem if you want a very wide swimming pool. Fiberglass pools generally can't be wider than 16 feet or longer than 40 feet for transportation purposes. Since fiberglass pools are also made in a manufacturing plant from a pool mold, you won't be able to design a custom shape for your home.
Finally, a DIY fiberglass pool can be difficult if you're inexperienced with fiberglass pool installation, so we recommend handing it over to an experienced fiberglass pool builder.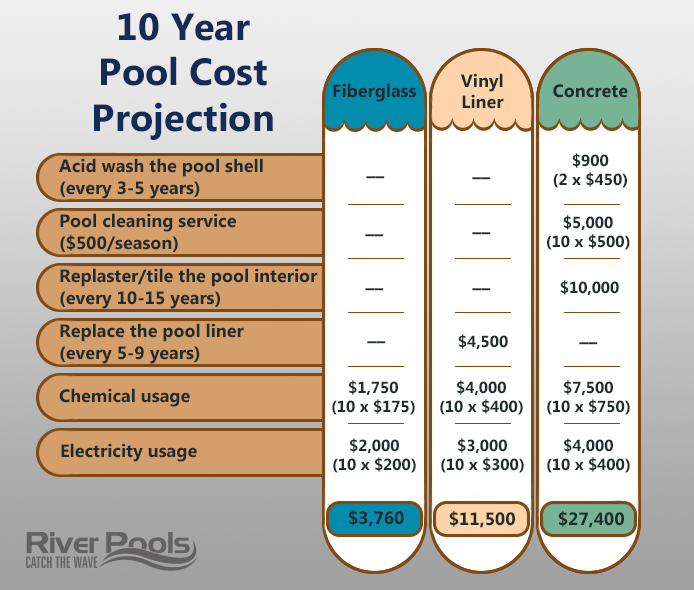 Should you buy an inground pool in Raleigh NC?
Now that you have a basic idea of how much pools cost in Raleigh, it's time to decide if an inground pool is right for you.

An inground pool may be perfect for you if you…
Have a construction budget of at least $25,000 (you can also get a pool loan to help you out)

Can pay the additional monthly and yearly pool maintenance expenses (concrete is the most expensive and fiberglass is the least expensive)

You like the look of an inground pool and want to have your pool for more than just a few years

You're ready for the responsibilities of pool ownership (you'll need to keep unwanted guests out for the safety of your family and community)
On the flip side, you might want to hold off on an inground pool if you…
Are working with a budget of less than $25,000 (and don't plan to DIY)

Can't cover the monthly and yearly maintenance expenses

Can't pay for pool covers, fencing, and other mandatory safety features
Need help choosing the best inground pool type for your home? You can get a deeper look at them here or download our free ebook below!
At River Pools we manufacture world-class fiberglass pools for customers across North America. If you'd like to learn more about your fiberglass inground pool options, you can browse our catalog of models or pool gallery, try out our fiberglass pool cost calculator, or request custom pool pricing using the button below!
Up Next:
Which Pool Type Is More Prone to Leaks? Fiberglass vs. Vinyl Liner vs. Concrete
A Beginner's Guide to Pool Landscape Lighting: Types, Tips, and Other Considerations