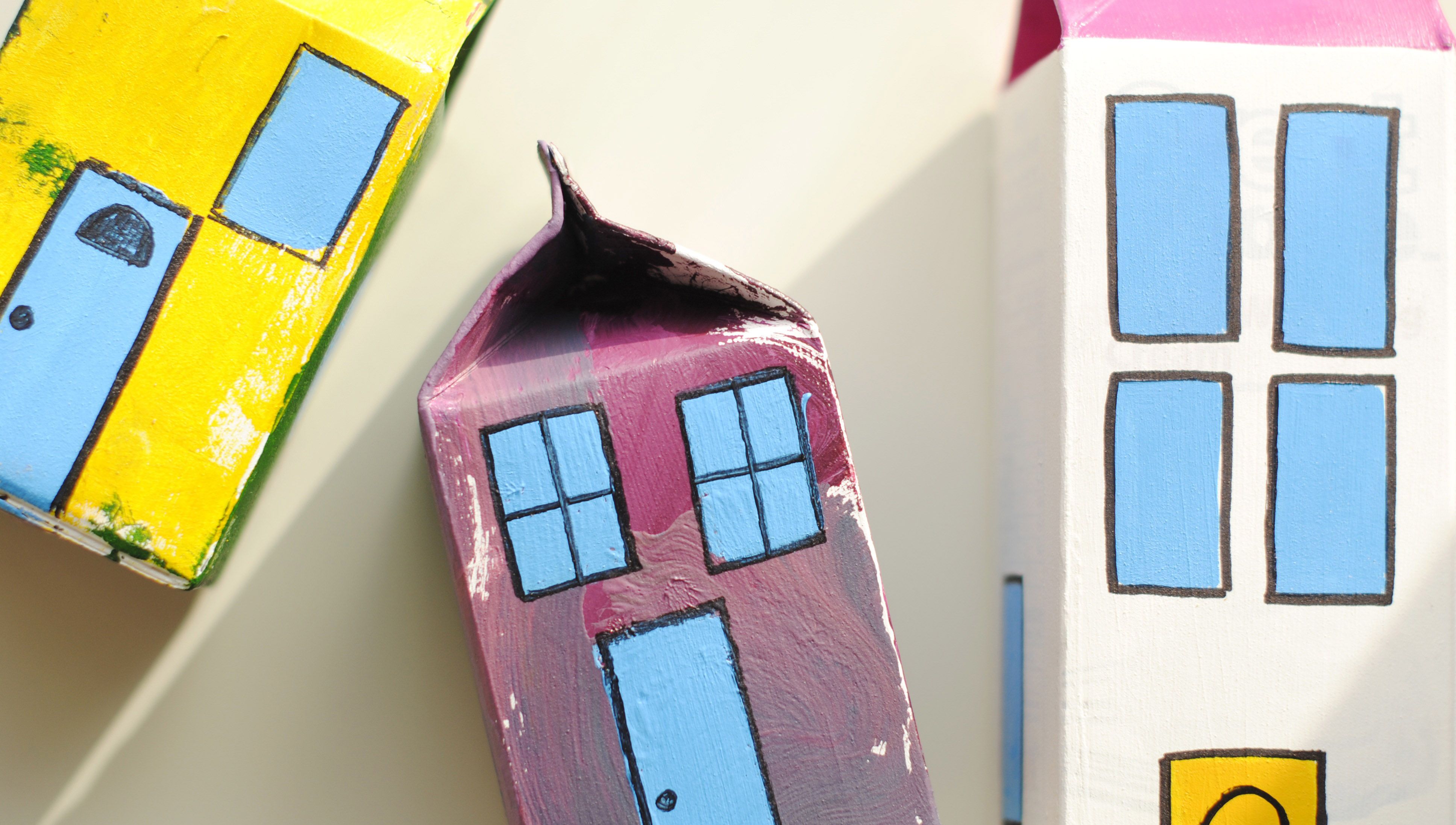 Subscribe
27 Ideas for a Home Staycation with Kids
These days have been anything but ordinary. As many of us begin to adapt to life at home, you may find yourself wondering what to do in place of your spring and summer plans.
We know that many have been asking questions like:
Is a vacation still an option at this time?
Can I still take that trip that I planned?
What will I do during my vacation now?
Several people have told us that their answer is to have what is called a "staycation," a vacation where you stay home. Traditionally, this means having fun in your home town and might include staying at a hotel and seeing your local attractions.
Under the current circumstances, most families will be staying inside their homes and will have to limit the majority of their activities to their living spaces.
To that, we say challenge accepted!
At River Pools, we manufacture fiberglass pools for family homes across North America. Because we care about families and want to help you stay safe while spending time at home this year, here are our top ideas for hosting a staycation with kids.
27 Home Staycation with Kids Ideas
Camp out together in the living room
Build a fort, tell spooky stories, and camp out together for one night or the entire staycation. This can deepen the family bond that we often develop while staying in hotel rooms together on trips.
Bring the museum to you
Wishing you could take your kids to your local museums? You can make your own version of your favorite museum exhibitions, no matter where they are in the world, and bring the museum to your home. Try making paper mache dinosaur bones, recreating famous paintings, or building a mummy out of recyclables (many museums have photos and information about their exhibitions online).
You can also write about the items on notecards and watch documentaries about them while you create. Enjoy walking through your personal museum and share online for your friends to see!
Host a science camp for your children
Even if you're not prepared for a full-blown science camp, there are many simple but exciting science experiments that you can all do as a family. You can also watch fun science shows (think MythBusters and Bill Nye) to get more project ideas. Read more about how to throw a science camp here.
Make ice cream and other special treats
Even if you don't have an ice cream maker, anyone with a baking sheet and a freezer can make rolled ice cream. Try different flavors and experiment with ingredients to discover a new family favorite. Showing your kids how to make things from scratch is a memory they'll never forget.
Race tiny F1 race cars
Everyone in the family can make their own toy race car out of scrap materials, or you can pair up into teams. Racing the cars on different surfaces provides both fun and a mini science lesson for kids.
Have a game night
Each person in the family can choose a game, or you can have one big family tournament with your favorite game. Gather around the table, throw on some music, and settle in for some good old fashioned family-friendly competition. Don't have board games? How about a video game tournament or a round of charades?
Have a movie night
Most of us have those memories as a kid of the whole family surrounding the TV for a movie. The excitement was almost overwhelming. Here's how you can take it beyond a bowl of popcorn:
Step 1: Make it a double feature. Choose two of your top movies.
Step 2: Have the kids prepare the living room with pillows and blankets.
Step 3: Create a concession stand. Lay out options of candy, individual bowls of popcorn, and drinks.
Step 4: Dress for the occasion. Nothing but PJ's allowed on movie night.
Create art together
This is the perfect time to let go and get a little messy. Break out the glue, glitter, crayons, markers, and any other art supplies you have sitting around the house. Need some inspiration? Try these fun ideas:
DIY Marble Run from Toilet Paper Rolls
Start a family band
Have instruments in the home? Why not show your kids how to play? It takes more than a few days to learn to play an instrument, but you can have some fun figuring it out together. For a more interesting twist, try DIYing your instruments first.
Unplug
Now is the perfect time to unplug everything for a day. Some of us can remember the days when a home only had a telephone connecting it to the outside world (and it was tethered to the wall). Going back to that for a day will give everyone a "tech break" and help you grow closer as a family. Try crafting, reading, or playing games together instead.
Theme it up
Another good way to get your staycation started right is to have a theme for every day. For example, Monday could be Wacky Pants Day, Tuesday could be Pajama Day, and so on. Have the kids help pick the themes at the beginning of the week.
Celebrate a holiday
Who says that you can't celebrate Halloween in April? How about all of your favorite holidays in one week? That is sure to be a family staycation that your children will never forget.
Make your favorite meals
Vacations are no time for a small piece of chicken on a wilted salad. This should feel like a vacation, so take turns making each of your favorite meals throughout the week and ALWAYS finish it off with dessert. If your kids are old enough, have them cook with you.
Write and act out a play
If your kids are interested in writing or acting, this could be the perfect activity for your family. Incorporate some crafting by building a DIY set and making costumes. You can even livestream your performance for friends and family at the end.
Choreograph a dance
Are your children involved in dance? You can choreograph and practice a new dance together as a family. Or you can always just turn down the lights and dance the night away to your favorite playlist.
Record a short film
YouTube is full of short films with unique and exciting storylines. You can find anything from comedy to drama to thriller movies as short as a few minutes long. If you like making videos, why not film and upload your own?
Have a formal tea party
Now's the perfect time to dust off those formal gowns hanging in the back of the closet and get out the good china. Offer a variety of teas and pastries and enjoy your time together over a steaming cup of chai (or a caffeine-free option for young kids).
Organize a scavenger or treasure hunt
An oldie but goodie, kids always appreciate a treasure hunt! Leave hints and clues lying around the house, and be sure to offer a neat prize when they finally get to the end.
Have a birthday celebration for everyone
Even if it's nobody's birthday, get out some balloons, bake a cake, and sing happy birthday just for fun. Take a note from Alice in Wonderland and can call it an "unbirthday" party.
Outdoor Family Staycation Activities
Go for regular walks
If possible, consider going for regular walks together as a family to get your daily exercise and fresh air. Live near a trail? Try hiking together and see who can spot and name the most animals and bugs.
Go for bike rides
If your family prefers riding bikes, plan to ride your bikes together around your neighborhood or on a nearby trail. If you can, pack a lunch and stop along the way for a picnic. This also gives everyone a chance to get out of the house and exert some energy.
Have a water balloon fight
Nothing says summer like a water balloon fight. Make some lemonade and get out the water guns while you're at it.
Plant in the garden together
Now's the perfect time to teach your children how to garden, and it will nurture their skills in self-sufficiency. Some of the easiest foods to grow include tomatoes, carrots, beans, cucumbers, and herbs like basil.
Build a treehouse
Don't have a tree? Try making a DIY hut in the backyard. It can be as simple or as fancy as you like, and it will provide your kids with a new safe space to explore outdoors.
Camp in your backyard
Not everyone loves camping. But camping in your garden with easy access to a bathroom doesn't sound so bad, does it? Set up a tent, get cozy with blankets and sleeping bags, and take turns telling each other stories. Make s'mores ahead of time so that everyone has something to munch on while relaxing under the stars.
Picnic in your backyard
Why not grab your basket and checkered blanket and take your meal outdoors for some sunshine and fresh air?
Barbecue by the pool
If you have a swimming pool, a staycation is the best time to go for a swim and throw some food on the grill. Swimming can give your family the fresh air, exercise, and sunshine that we all need to stay happy and healthy.
Remember, when planning for your staycation, it's important to make it feel like a vacation. Put the chores away, don't open your email, stop yourself from cleaning out the closet. Instead, cuddle an extra minute with your kids in the morning, eat an extra big breakfast, lounge in your pool for hours. Enjoy it.
Want some more staycation tips? Read our article on the top at-home staycation tips next.
What are your best ideas for a home staycation with kids? Share them with us in the comments!
At River Pools, we manufacture world-class fiberglass swimming pools for customers across North America. If you're interested in installing a fiberglass pool this summer, feel free to take a look at our catalog of models, try out our fiberglass pool pricing calculator, or contact us to request a quote using the button below.
Still not sure which inground pool type is right for you? Download our free ebook for an in-depth comparison of the three main inground pool types. Happy swimming!
Up Next:
What's the Best Small Fiberglass Pool for Your Needs? Costs, Sizes, Features
The Pros and Cons of Fiberglass Pools