Installation & Construction | Swimming Pool Design
Whether you're building the pool yourself or contracting it out, you need to know the differences between the material options for your wall panels. It's only the second step in the construction process, too, so you can't make much progress until you decide. And this decision will be with you for a long time.
Fiberglass vs Concrete vs Vinyl Liner | Installation & Construction | Pool Maintenance | Swimming Pool FAQs
Ah yes, the relaxing rush of a waterfall. Such a beautiful, soothing noise…until you remember that you're sitting by your pool and didn't install a waterfall. Yikes.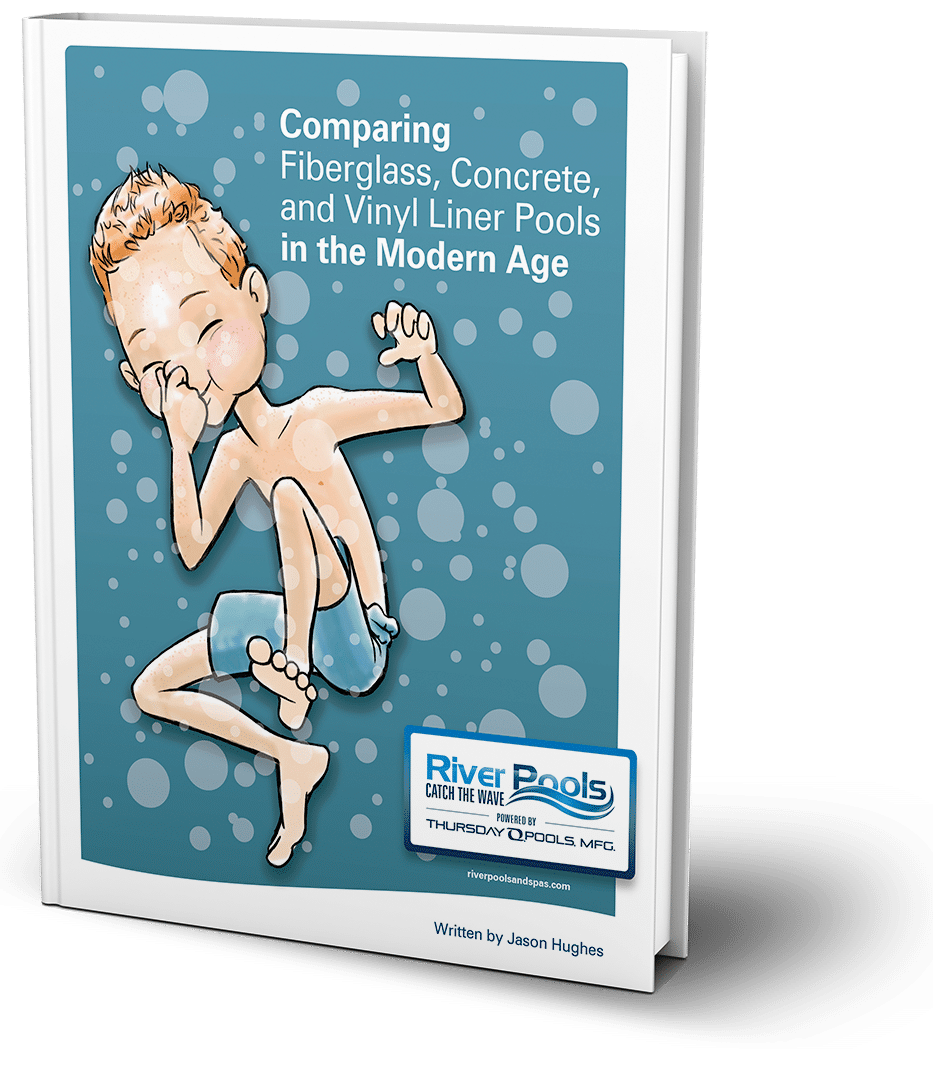 Comparing Fiberglass, Concrete, and Vinyl Liner Pools in the Modern Age
Don't blindly wonder if a fiberglass, concrete, or vinyl liner pool is right for you. Our educational ebook does a deep-dive comparison of the 3 types, all while noting the advantages and disadvantages of each.
Cost and Pricing | Installation & Construction | Options and Accessories | Swimming Pool FAQs
How much will my vinyl liner pool cost? What do I need to budget for? You've already asked yourself these questions—you know that buying a pool is a big financial decision. You don't need us to tell you that. River Pools aims to provide you all the information so you can make the best decision in your pool search. We suggest ways to make your pool project more affordable and provide a pricing guide for all three of the major inground pool types. Now we'd like to help you budget by providing an overview of the areas you should take into account when planning your dream backyard pool: the factors for both initial and lifetime costs.
Installation & Construction | Pool Manufacturing Process | Swimming Pool Design | Swimming Pool FAQs
Are you shopping for liners for your vinyl liner pool and uncertain what thickness is best? Want to verify in layman's terms what your pool builder has offered? Unsure what a "mil" measurement even means?
Fiberglass vs Concrete vs Vinyl Liner | Installation & Construction
Over the years we've helped answer millions of questions from potential pool buyers and found that when people understand the basic construction process, it empowers them to make a more confident decision regarding which type of inground pool is right for them. In this article we provide an overview of the basic construction phases of concrete, fiberglass, and vinyl liner pools. For a more in-depth look comparison of these pool types, be sure to check out our free eBook "Comparing Fiberglass, Concrete, and Vinyl Liner Pools in the Modern Age". Concrete Pool Construction Phase 1: Concrete Pool Excavation This phase is similar for all three types of inground pools. Earth is excavated and either hauled off-site or used on the property. This is not a decision to make the day excavation begins. Even if your builder does not address dirt removal, be sure to bring it up in advance as it often requires time to find a dump location plus there can be associated costs. Duration: Several hours to two days depending onthe pool size, equipment used, soil type, and the means of dirt removal. Project Time Frame: Day 1 Phase 2: Steel Placement Concrete has a very high compressive strength, meaning it is resistant to crushing forces. However, it has a relatively low tensile strength, meaning it doesn't naturally flex or bend very well. Adding steel to concrete structures, such as swimming pools, increases the structure's ability to flex and move with it's environment. A cage of steel bars, also called rebar, is tied together and eventually encased in the concrete shell creating a web of strength and help prevent structural failure.
We recently received a comment on our blog asking: "What is the process of removing dirt during an inground pool installation?" We find that this is a question that most folks have when considering an inground pool. Today you're in luck because in the following jobsite video we tackle this, as well as other common excavation/dirt related questions. But before we jump into the video, here are some other questions about the removal of dirt on an inground pool project that we receive on a daily basis: