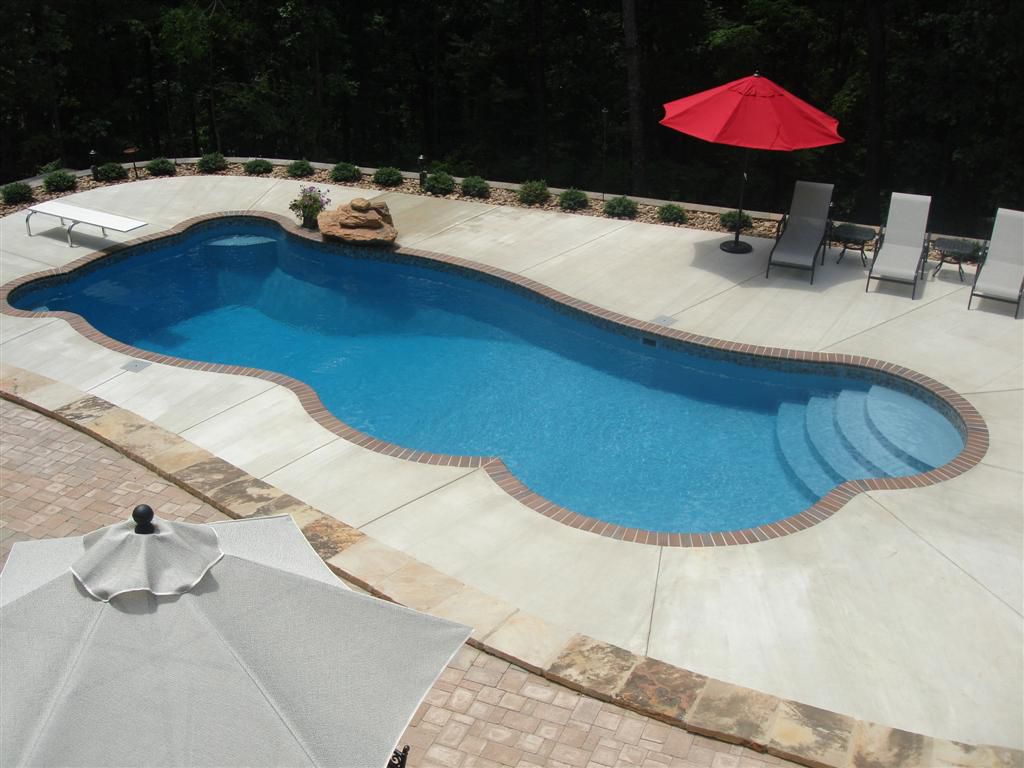 Subscribe
The Best Inground Fiberglass Swimming Pools/Designs of 2013
Fiberglass Pool Information | Fiberglass Pool Manufacturers | Pool Design Guides
In the past, we at River Pools and Spas have taken the time to recognize the different advances and developments in the fiberglass pool industry over the years, many of which have been the most read articles on this blog to date. So, as 2013 is now here, we felt it time to discuss the best inground fiberglass swimming pool designs we're seeing in terms of functionality and creativity in 2013. Also, as a side note, this article is not about the quality of the included manufacturers, but rather our opinions on their designs. Here goes!
Best Diving Free-Form Pool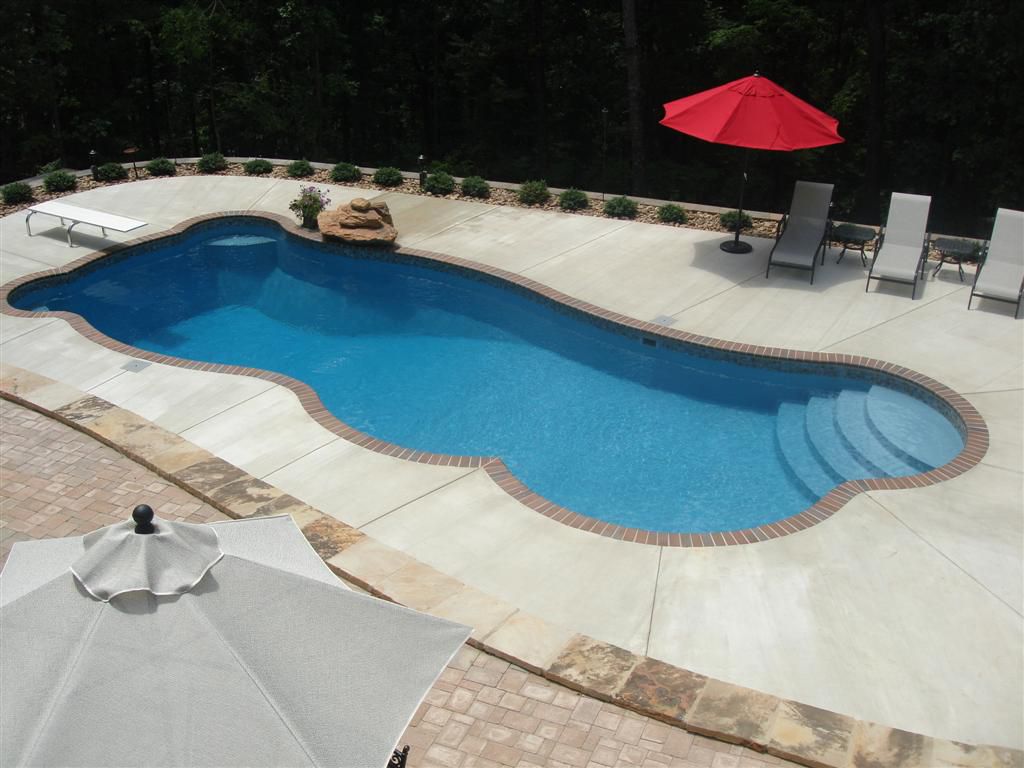 Some really nice diving pools have come out in the fiberglass pool industry over the past decade but one of the best is the Genesis by Trilogy Pools. Why, you ask? Well, the foremost reason to give the Genesis credit is the fact that it's one of the deepest pools in the industry, with an 8'6" diving well. Combine that with a smooth 42' design and some really nice bench/step designs, the Genesis deserves mention here.
Best Diving Rectangular Pool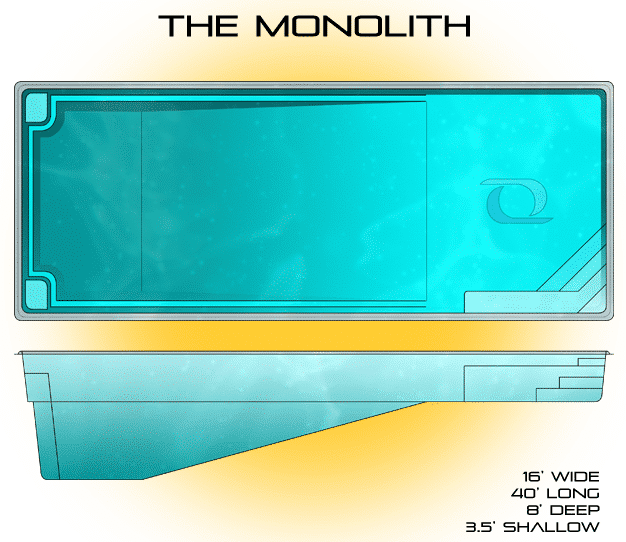 Just as with the previous category, many companies could be mentioned for their rectangular diving pool models, but one company that has done a nice job is Thursday Pools, with their Monolith 16x40 model, with a roomy shallow end and small steps coming out of each of the deep end corners.
Best Non-Diving Rectangle Pool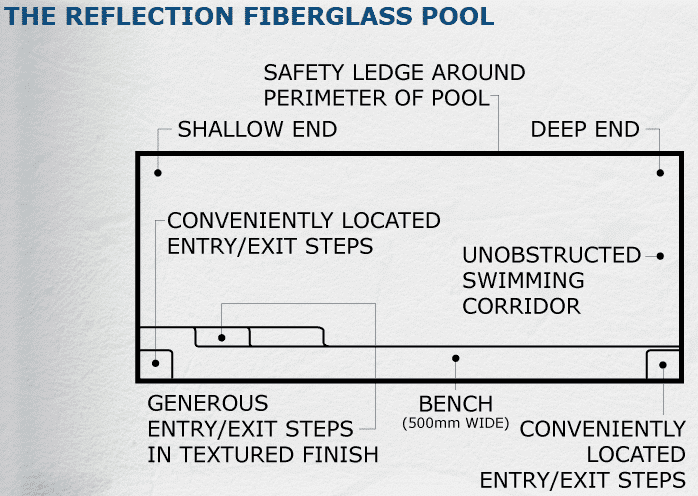 When it comes to 40' non-diving rectangle pools in the fiberglass pool industry, there are many shapes that deserve mention and could easily make a large family happy for years to come. That being said, the one that may offer the best design is the Whitsunday 1 by Barrier Reef Pools. This 15'8" x 40' Rectangle goes from 3'11"-6'10" in depth and has great seating and steps in every corner of the pool. But not only that, if you're the type that wants to swim laps, the design has a large swim lane in the middle of the pool, making it easy for lap swimmers to enjoy without obstacles in their way.
In addition to the Whitsunday 1, the Reflection by Leisure Pools (shown above) is a 40' rectangle that deserves mention here as well.
Most Original Design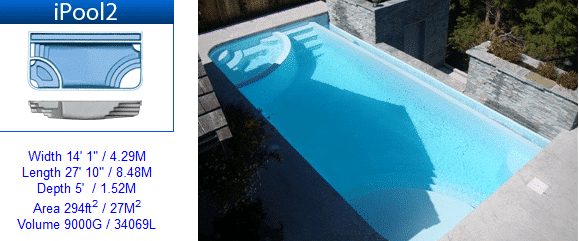 One of the main reasons why fiberglass pools have done so well in terms of product awareness growth over the last decade is due to the fact that so many more shapes, sizes, and features are now available to the public. As an example of this, a few years ago San Juan Pools came out with the iPool, and to this day, despite the fact that it may not have a large swim area, is certainly one of a kind in the industry with its negative edge capabilities and vast array of benches, ledges and more.
Best Kidney-Shaped Pool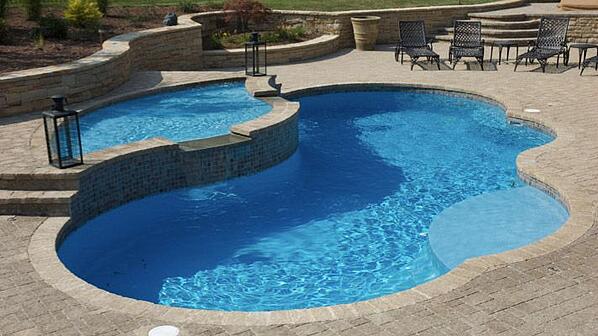 Just about every fiberglass pool manufacturer has a kidney style pool that works well, but one that always seems to stand out from the crowd is the Gemini by Trilogy Pools. Unlike most "standard" kidney designs, the Gemini has an extra curve that allows for a unique and functional tanning ledge—a feature that many swimming pool owners love.
Best Classic Shapes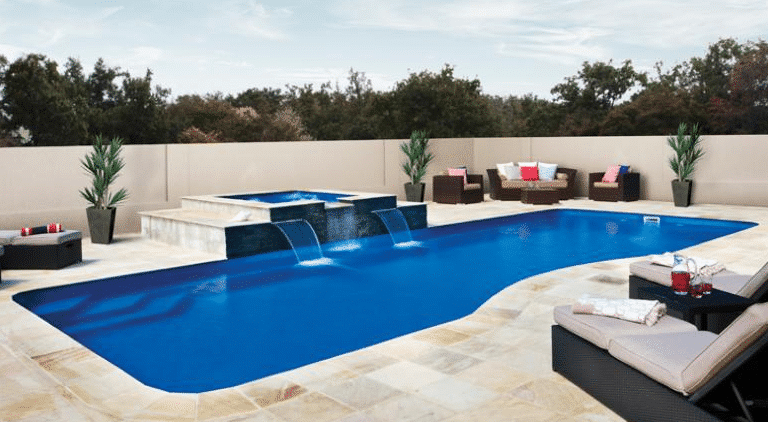 If you're looking for a classy feel to your fiberglass pool experience, there are two designs that would likely make you pretty happy. The first is the Poseidon from Viking Pools, which is a 16x40 modified rectangle. If you're looking for something similar but smaller, the Moroccan by Leisure Pools (shown above) is a great option.
Before you go, check out our current fiberglass pool designs here.
As we stated earlier, because the fiberglass pool industry has grown so much over the year there are many more categories we could discuss here. If you have any questions or comments about shapes or manufacturers, don't hesitate to contact us directly or leave a comment below.
Up Next:
Fiberglass Swimming Pools 101: Manufacturing, Cost, and More