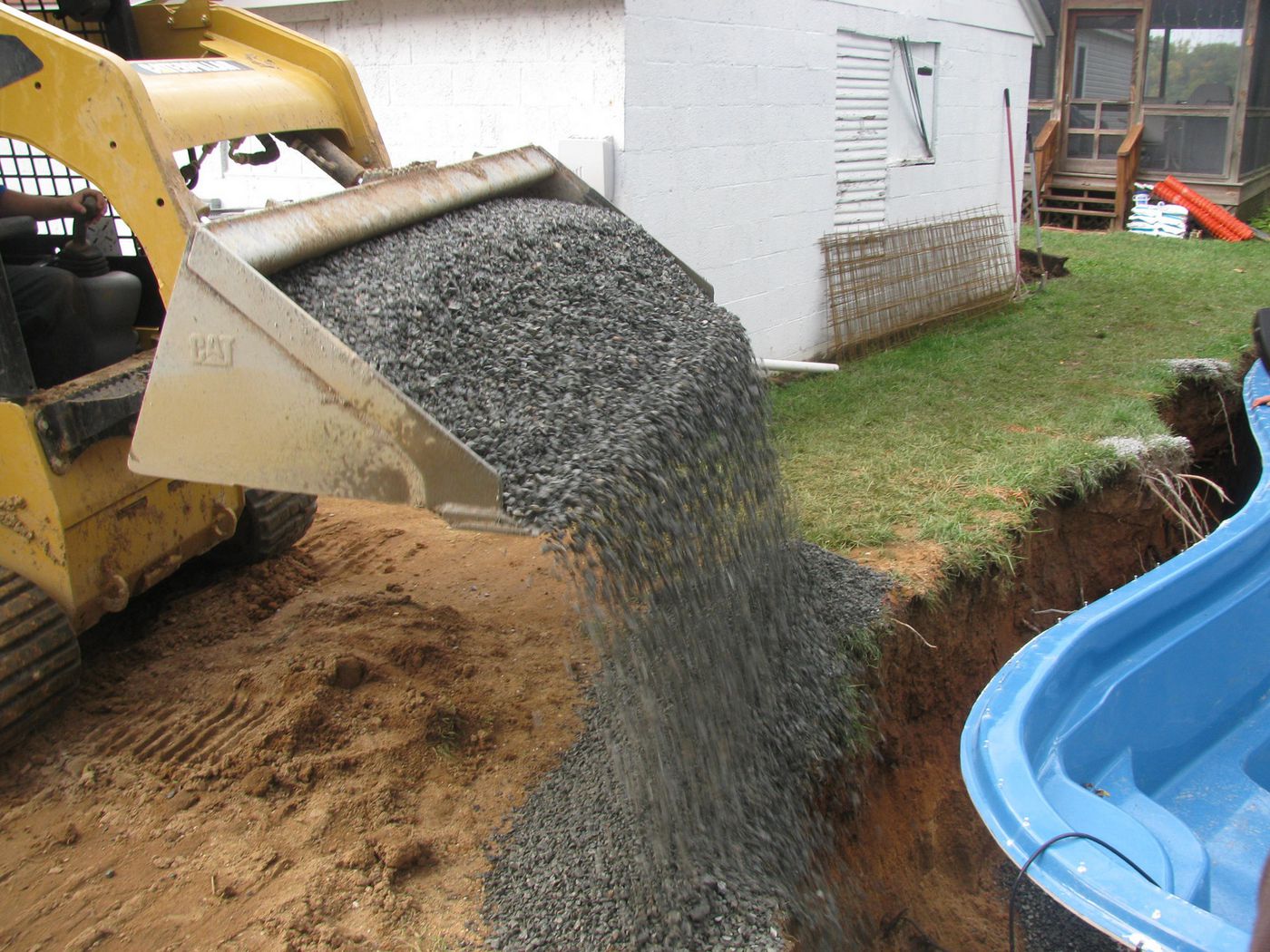 Subscribe
4 Swimming Pool Construction Questions...Finally Answered!
Are you in the market for an inground swimming pool?
If so, we at River Pools understand that this can be an overwhelming process. Initially, when shopping for a pool, we encounter what seems like a never-ending flood of budget, design, and construction questions. Furthermore, It can be difficult to find credible and unbiased information.
Well, today you're in luck because we are going to share our answers to common swimming pool construction-related questions that hundreds of our inground pool clients have asked over the years.
Let's jump right in!
What is the swimming pool construction process?
It depends on the type of pool.
There are three basic types of inground pools: fiberglass, concrete, and vinyl liner.
We happen to specialize in the manufacturing and installation of fiberglass pools, but all three have their advantages and disadvantages. You can learn about these differences on our comparison page or you can download our free ebook Comparing Fiberglass, Concrete, and Vinyl Liner Pools In the Modern Age.
Here's a basic overview of how each are constructed.
Fiberglass Pool Construction
Fiberglass pools are "constructed" in two phases: manufacturing and installation.
The fiberglass pool shell is crafted from a mold, off-site.
---
Learn why we expanded to manufacturing fiberglass pools and how our methods revolutionized the industry.
---
Then the pool is shipped to your house in one piece.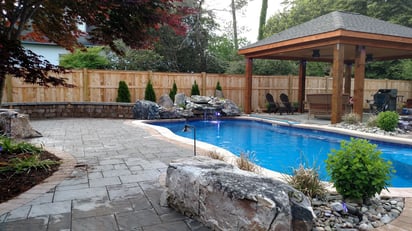 The hole is excavated, then a base material is placed in the bottom of the excavation for the pool to sit on.
Then the pool is lowered into place with a crane or other piece of equipment.
Once the pool is leveled, material is placed around the outside of the pool at the same rate the inside of the pool fills with water.
There are a variety of ways to accomplish this and our experience has taught us that some methods produce much better results than others.
If you'd like to learn about fiberglass pool installation best practices, check out our unique advanced installation methodology.


Concrete (Gunite) Pool Construction
Concrete pools are fully constructed on site from a combination of concrete, steel, and plaster.
After the initial excavation, steel rebar is bent and tied into place.
Concrete is either then poured or shot into place forming the shell of the pool.
Tile and coping work are then completed, then the plaster finish is troweled onto the surface of the pool shell.
Vinyl Liner Pool Construction
Vinyl Liner pools use a thin pliable liner—about the thickness of ten sheets of paper—to hold the pool water in the structure of the pool.
The pool structure is formed using plastic or metal side walls and a cement-based product that is troweled onto the earthen floor of the pool.
How long does swimming pool construction typically take?
It depends on the type of pool.
A typical turn-key fiberglass pool project will usually take anywhere from 3 to 6 weeks to complete...although the pool shell is in the ground and full of water after a couple days!
This speedy install time is certainly an advantage on fiberglass pool projects that begin in the spring to early summer as these folks will be able to enjoy their pool during the peak of swim season.
Because concrete pools are fabricated completely on site, they take much longer to complete, typically anywhere from 2 to 5 months on average.
Vinyl liner pool installations are relatively quick, usually taking a little longer than a fiberglass pool installation.
What are some common swimming pool construction problems?
There are a multitude of swimming pool construction related problems, but we could broadly divide the majority of the major ones into two categories: leaks and structural problems.
Leaks could occur in the pool fittings such as the skimmer or return jets, or in the actual pool plumbing located below ground.
These types of leaks occur in all three types of pools, but there are some specific best practices that will virtually eliminate the risk of leaks developing in fiberglass pools. You can learn about that in our video and article Preventing Fiberglass Pool Plumbing Leaks: 2 Bulletproof Methods.
Structural problems can manifest in several ways.
In vinyl liner pools, the wall panels, if not properly secured with a concrete footing, can shift or move.
Concrete pools can potentially shift or crack, and the same can happen with a fiberglass pool if improperly installed.
Our Advanced Installation Methodology was specifically developed to prevent this from happening in fiberglass pools.
How do I find a reputable swimming pool contractor?
When your swimming pool project is complete, the beauty and durability of your investment will be determined by one thing: your pool contractor.
Consequently, the decision of which contractor to choose is of utmost importance. But how do you go about finding the right pool contractor for you?
Here are some resources that have helped thousands of people find a contractor they can trust:
We hope you have found this helpful!
If you think a fiberglass pool could be a good fit for you, perhaps you'd like to check out our pool designs, or even request a quote for your very own backyard pool. For a fast estimate, try out our free fiberglass pool pricing calculator tool:
---

Want to see about how much that cost will be with all your favorite pool accessories?
Use our Design and Price Tool to walk through your options and approximate price!
---
As always, feel free to leave any questions or comments below.
Still shopping around for the right inground pool? Download our ebook to learn more about the three main inground pool types. Happy swimming!
Up Next:
Swimming Pool Design Guide: Friendly Advice From A Pro!
Small Pools 101: Shapes, Dimensions, Features And Other Considerations
Fiberglass FAQ: 14 Most Common Questions about Fiberglass Pools
---
Editor's note: This blog article was updated on December 28, 2018.