Subscribe
Easy Fix for a Cracked Return Fitting in a Leaking Fiberglass Pool
Are you losing water in your fiberglass pool? Perhaps you've scanned the pool surface and cannot find any damage to the pool shell, so you're wondering where to turn next.
At River Pools, we've installed countless fiberglass pools and have dealt with these kinds of situations before. This article will walk you through the steps that you should take if your inground fiberglass pool is losing water.
Step One: Inspect the Return Fitting
If this is the case, I would suggest checking the inside of your return (jet) fitting along the threads where you're "eyeball" screws in.
You can do this from the topside of the pool by simply grabbing a small mirror, holding it below the fitting, and visually inspecting the inside of the fitting.
You can also use leak detection dye (or food coloring) to help identify if this is the source of the leak.
Step Two: Use Fitting Saver to Make the Repair
If you find that the inside of your return fitting is indeed cracked, a product specifically designed to repair will fix your problem.
In the past, this repair involved removing or tunneling under the patio and replacing the fitting, but now the "fitting saver" sold at leaktools.com can fix your problem for well under $100.
We have no affiliation with the company; we just feel this is a product that would help a lot of people out there :)
How to Prevent This Problem from Occurring
When we began installing fiberglass pools back in 2001, we basically followed the standard process that was accepted within the industry.
However, after some time, we began to see issues arise that we found troubling.
As we continued to encounter and correct more and more of these installation related problems (such as cracked return fittings), we began to re-assess the entire process of installing inground fiberglass pools.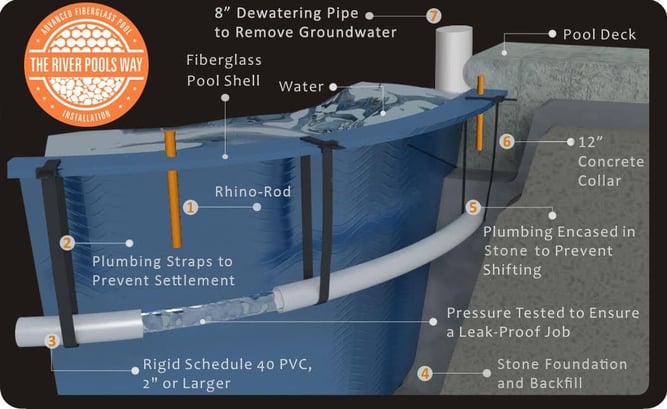 We eventually developed our unique advanced installation methodology, which is a collection of best practices that virtually eliminates the most common fiberglass pool related installation problems.
Some of these issues include cracked return fittings, settlement of the pool shell, inadequate drainage around the pool shell, separation of the pool and patio, wall bulges, etc.
If you are considering the purchase of a new fiberglass pool, take a look at our fiberglass pool designs to see if a durable fiberglass pool is right for you. Wondering how much your pool might cost? Try out our pool pricing calculator and contact us to request pricing using the button below.
Thanks and if you're having leak problems, feel free to leave a question below and we'll do our best to respond.
Happy Swimming!
Up Next:
Fiberglass Pool Plumbing: 2 Bullet-proof Ways To Prevent Leaks [Video]
4 Swimming Pool Construction Questions...Finally Answered!
---
Editor's note: This blog article was updated on December 28, 2018.