Wondering Which Type of Inground Pool is Best for You? Check Out the Following Articles, Videos, and Information!
Fiberglass vs Concrete vs Vinyl Liner Pools: The Ultimate Guide!
Ok, so as you probably know by now, there are three types of inground pools: fiberglass, vinyl liner, and concrete (also called gunite).
Below is a detailed comparison of these three pool types. You'll also find the most comprehensive library of fiberglass vs vinyl vs concrete pool articles known to man. By the way, it's imporant to note that even though we are strictly a fiberglass pool company, we feel that there are certain cases where a vinyl liner or concrete pool could be a better fit, so we've attempted to be as unbiased in our analysis as possible.
That being said, our reference list is bursting at the seams with well over 600 fiberglass pool owners throughout Virgina and Maryland who are estatic about their pools...so we do have a strong conviction that fiberglass pools rock! (but we'll try to tame our enthusiasm:)
Ok, let's dive in. First off, let's look at the following comparison chart that outlines specific pros and cons for each type of pool on a scale from one to five (green means good):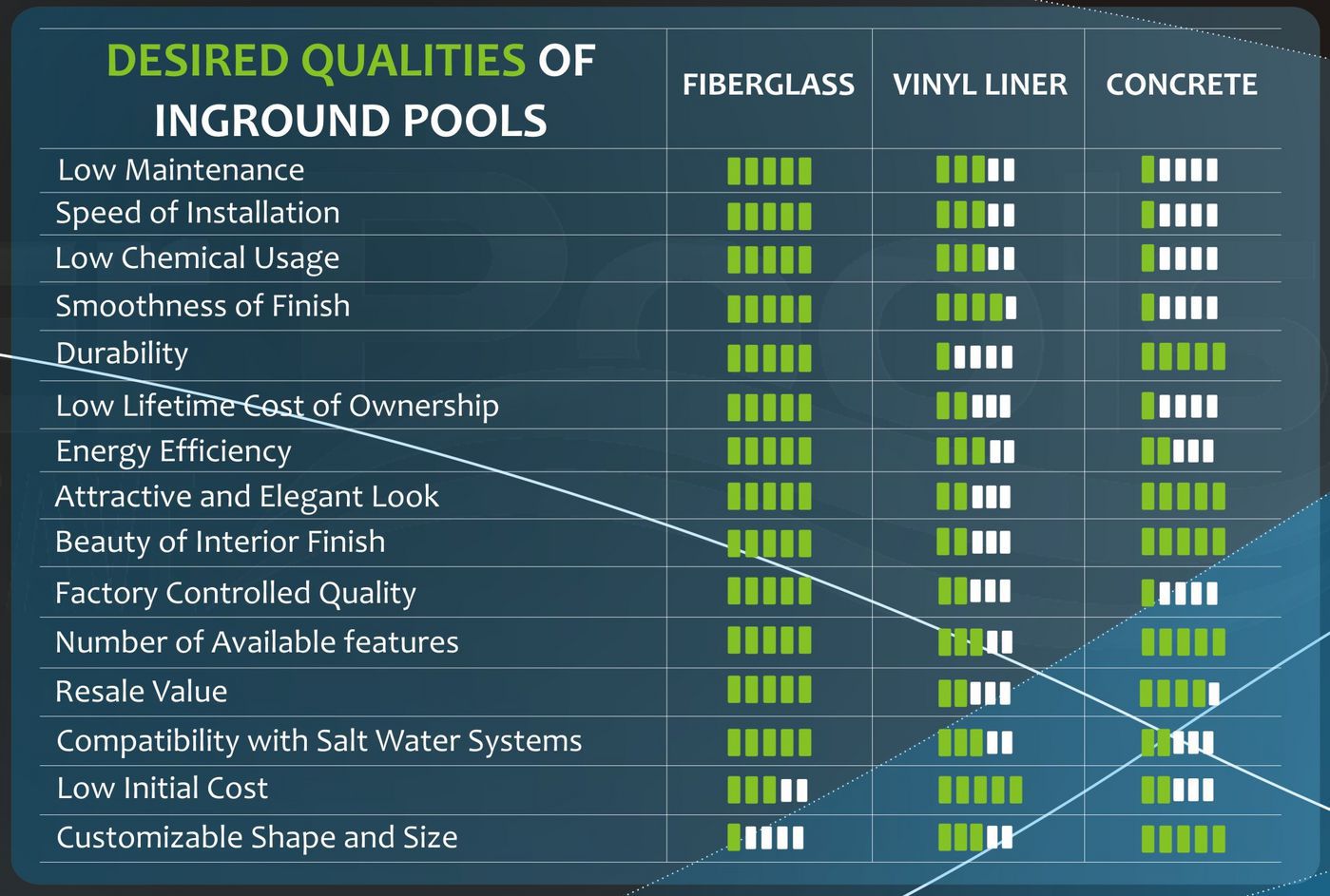 Let's discuss this chart for a moment. As you can see, fiberglass pools have some substantial advantages over vinyl and concrete, but there are some disadvantages as well.
Fiberglass Advantages:
Low Maintenance
Why are fiberglass pools so easy to maintain? Basically, the surface of a fiberglass pool, in contrast to a concrete pool, is non-porous. This prevents algae from imbedding in the surface of the pool and consequently reduces the amount of time and chemical usage by around 75% compared to a concrete pool.
Speed of Installation
Because the fiberglass pool shell is manufactured off site, the installation of the shell typically occurs in about two days. Compare this with three to six months with a concrete pool and we're talking about a huge difference in the duration of time your entire yard is in dissaray.
Durability
Because fiberglass pools have no liner, there's no need to concern yourself with puncturing the pool surface, which with a liner, can cost upwards of $4-$5k to replace. This can happen from dogs getting in the pool, tree branches, patio furniture blown into the pool, etc.
Compatibility with Salt Systems
Salt chlorinators have proven to be a low maintenance, high water quality option for pool owners. However, if you have ever seen what de-icing salt does to the surface of a sidewalk you can guess what it does to the surface of a concrete pool. In our opinion this makes the combination of salt systems and concrete pools unfavorable. Also, many vinyl liner pools are constructed with metal wall panels and most have aluminum coping around the perimeter of the pool....this is also a terrible scenario for a salt system. The liner will eventually leak and good-by wall panel! In comparison, fiberglass pools and salt systems go together like peanut butter and jelly. With no adverse effect on the fiberglass shell, you can enjoy the low maintenance benefits of salt with confidence that your pool is not comprimised.
Low Lifetime Cost of Ownership
Check out the following chart to compare what the average pool owner would spend over a 10 year period with each type of pool:

Fiberglass Disadvantages:
Initial Cost Higher than Vinyl Liners
As you can see from the chart above, even though the initial cost of fiberglass is a bit more than a vinyl liner, you spend far less in the long run when factoring in the cost of liner replacements every 5 to 9 years. In fact, the video that's posted the the upper right of this page (The Ultimate Fiberglass vs Vinyl Video) shows a 15 year old vinyl liner pool that was needing it's fourth liner replacement!
Shapes and Sizes not Customizable
So you can't change the shape, size, or depth of fiberglass pools...this is the one major disadvantage. So the question is then, can you find a fiberglass pool model that you're happy with? We've found that about 95% of people find a fiberglass pool that perfectly meets their needs.
Assuming that's the case with you, we feel that it makes sense to go fiberglass. However, if you need a pool that's 10' deep, or some ultra customized shape, fiberglass probably isn't the best fit for you. You can check out our shapes and sizes here.
Feeling certain fiberglass is the best fit for you? Awesome!...simply click here to contact us for a quote.
Not there yet? That's cool, take a minute to check out the following library consisting of some of our most popular articles that discuss in great detail the differences between Fiberglass, Vinyl, and Concrete pools.
Fiberglass vs Concrete vs Vinyl Liner Articles:
The Ultimate Guide to Fiberglass vs Concrete vs Vinyl Liner Pools!
Fiberglass vs Concrete vs Vinyl Liner Pools: An Honest Comparison
Concrete, Fiberglass, or Vinyl Pool Fading: Which Fades the Worst?
Inground Pool Cost of Ownership: Fiberglass vs Vinyl vs Concrete

Fiberglass vs Vinyl Liner Articles:
Top 5 Vinyl Liner Problems and Solutions
How Long Will Vinyl Liners Really Last?
Fiberglass vs Vinyl Liner Pools: Which is Better?
How to Replace a Vinyl Liner Pool with a Fiberglass Pool
Fiberglass vs Concrete Articles:
Fiberglass vs Concrete Pools: Which is Better?
The Crazy Buying Decisions People Make When Debating Fiberglass vs Concrete!
The Myth That Fiberglass Pools Cost More Than Concrete Pools
10 Reasons Fiberglass Pools are Better the Concrete
Will My Fiberglass Pool Require a Weekly Service Company?
Fiberglass Pool Owners: Never Tell Your Friends with Concrete Pools These 5 Things!
Despite Advances: Some Concrete Pool Companies Hanging on to the Past
Fiberglass Pools Gain Market Share with Educated Customers
Can Concrete Pools Float: Crazy Pictures!
Cheap Concrete Pools, The Economy, and Swimming Pool Buying Mistakes