Subscribe
Do It Yourself Fiberglass Pools: The Ultimate DIY Project!
DIY Fiberglass Pools | Cost and Pricing
by Jason Hughes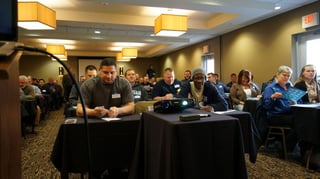 Since 2001 we at River Pools have installed over 1,000 fiberglass swimming pools and we are asked many questions about DIY fiberglass pool installations on a daily basis. The purpose of this article is to address many of these questions and also provide a resource that can assist with the installation of your own fiberglass pool.
If you're just starting your research, you're probably thinking: 'Fiberglass pools are conceptually very easy to install. You just dig a hole and set it in....right?'
Well, yes but even though it may not be quite as simple as it seems at first glance, fiberglass pools are a perfect Do it Yourself project for anyone with basic excavation and plumbing experience.....and of course time. If you are considering a DIY fiberglass pool you probably have several questions like:
How much money do I save with a DIY fiberglass pool?
What resources do I need to provide that are not normally included with the fiberglass pool shell?
What are some common problems associated with Do It Yourself fiberglass pools?
Is there a comprehensive installation guide available that can walk me through every aspect of the fiberglass pool installation?
How much money does a DIY fiberglass pool really save me?
This is a great question. Be careful not to get too excited after checking the initial price of the inground fiberglass pool shell. There are a lot of expenses that are not covered in that price which are discussed below. You want to be thorough on the front end so your budget doesn't get obliterated by a surprise expense during the project. To answer the question of how much do you save, let's look at an example. A fully installed inground fiberglass pool around 30' long without any concrete patio would normally cost anywhere from $28k-$33k in our area. A DIY installation of the same fiberglass pool would probably equate to a savings of $6k-$10k.
What do I need to purchase that is not normally included in the fiberglass pool shell price?
You will need the equipment to complete the excavation, a crane to set the pool if needed, water to fill the pool, the backfill material, any necessary plumbing fittings and pipe, and the pool equipment if not included. Below is a very rough pricing guide to give you some concept of the expense of these items.
Equipment rental (one week): $2000
Crane: $400-$800
Water (trucked in): $700-$1200
Backfill Material: $1000-$2000
Misc plumbing: $300-$600
Pool Equipment: $700-$1200
Please note that these are averages and may vary dramatically from region to region.
What are some common challenges associated with Do It Yourself fiberglass Pools?
The most common challenge associated with DIY fiberglass pool installations is getting the pool level. For a first timer, this can be a frustrating experience. The key is to stick with it until you get it right. One word of advice here: be careful to give yourself plenty of time for pool leveling. If you're having water delivered, build in a couple extra hours before they arrive and budget some extra time for the crane to sit on site while you work on getting the pool level. Few things are more stressful than re-setting a pool over and over while everyone's standing around waiting on you. These situations can lead you to compromise and settle for a pool that's not as level as you would like. Don't do it...you'll kick yourself later. Another common challenge with straight wall pools is keeping those suckers straight. This requires constant monitoring as the pool is being filled and backfill placed. As soon as you set the pool run a string line from corner to corner and keep it spot on until the pool is full. If the wall gets bowed in our out, the pool will probably be fine, but you'll have to do some digging to get it straight again.
Is There A Comprehensive Installation Guide That Can Help Me With My DIY Fibergass Pool Installation?
If you'd like some help overcoming these challanges I developed a comprehensive fiberglass pool video guide that outlines every step of the fiberglass pool installation process.
The following are demonstrated on a real job-site:
Pool lay-off
How to shoot elevations with a transit
Excavation
Base and backfill material overview
Placing the pool base
Setting and Leveling The Pool
Installing Skimmers and other fittings in the pool
Plumbing the pool
Plumbing the filter sytem
Backfilling the pool and packing under the steps and benches
Bonding
and much more
This guide includes over 40 videos and is sure to reduce your learning curve.
If you're interested, check it out at DIYFiberglassPools.net
And please leave any questions you may have about installing your own fiberglass pool below and I'll do my best to answer them promptly.
Thanks and good luck!
Jason