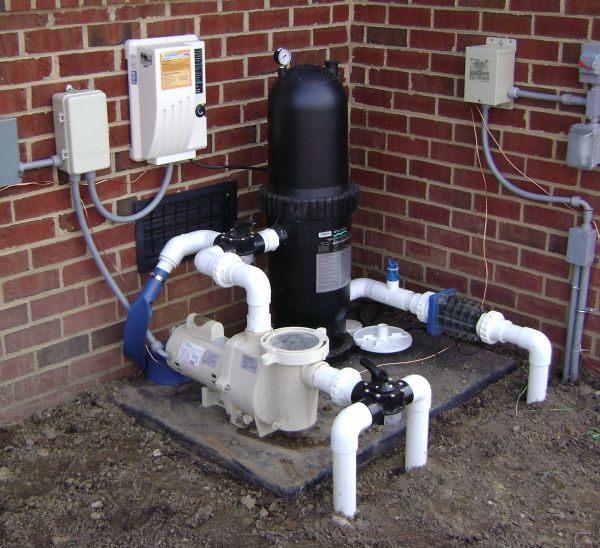 Subscribe
Where Should I Locate My Pool Filter System?
Pool Maintenance | Options and Accessories
One of the first questions asked by pool clients is where they should locate their pool equipment. Before we answer that question let's cover some basic information about pool pump and filter systems.
A basic filter system consists of a pump, filter, and a sanitation system such as a salt chlorinator, ionizer, or erosion fed chlorinator (chlorine tablets).
This basic equipment usually takes up an area approximately 4'x4'.

It is usually located within 40'or 50' of the pool, but could be further away if needed.

Pool heaters, when purchased, are usually located directly beside the filter system and take up another 4'x4' area.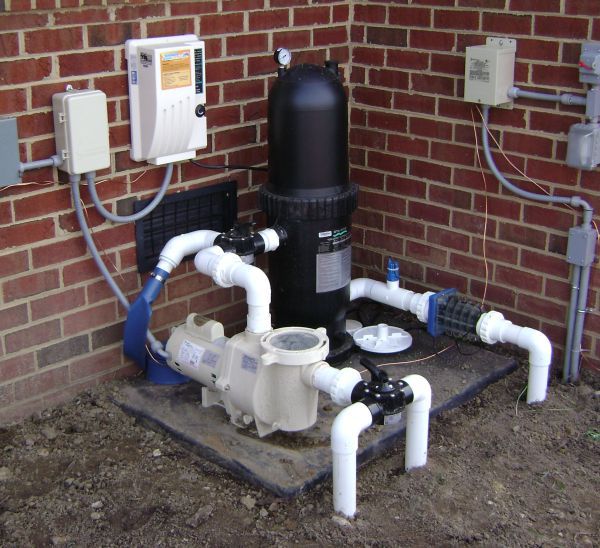 Here's a picture of a standard filter system with a pump, cartridge filter, and salt chlorine generator.
Now back to our question: Where should you locate your pool equipment?
Here are 5 guidelines to help ensure you find the right spot for your pool equipment.
Remember that these are only guidelines and many projects cannot accommodate one or more of these suggestions.
How do I know where to put my pool filter system?
Pick an inconspicuous place

Locate equipment at the house if possible

Try to keep the equipment at the level of the pool or lower

Stay close to the pool

Have a gate close by
1. Pick an inconspicuous place
Your pool filter system is no different than any other equipment around the house: the more hidden, the better.
Some ways to accomplish this are to put the equipment around the corner of the house or behind a shed.
Sometimes this is not possible at all, so screening the equipment with lattice or shrubs is a great alternative.
2. Locate equipment at the house if possible
Try to keep the filter system as close to the electrical panel as possible.
Because pool equipment is commonly wired to the house panel box, locating the equipment at the house will usually reduce the length of wire runs and trenching which will keep the wiring cost down.
Many times this is not possible or isn't compatible with the design layout.
This is fine, but if the option is open; why not save the money?
3. Try to keep the equipment at the level of the pool or lower
Placing the filter system above the water level in the pool puts more strain on the pool pump.
Inground pool pumps are built to handle minor lifts of two or three feet, and high head pumps that have much more capacity are available if required.
Still, it's good practice to keep the equipment close to pool level or lower if possible.
4. Stay close to the pool
If circumstances allow, stay close to the pool.
Shorter pipe runs = less work for the pump which extends the life of the pump and uses less electricity.
Our projects typically average a distance of 20–40 feet from the pool to the equipment, but as stated earlier, much longer runs are sometimes required.
5. Have a gate close by
If your pool equipment is located outside of the pool fence, make sure a gate is installed in the path from the pool to the equipment.
Otherwise you'll be shaking your head every time you have to take a nature hike to get to the filter system.
Many people are also concerned about the amount of noise generated by pool equipment. Pool pumps are relatively quiet.
Two speed pumps, when running on low speed, are so quiet you sometimes don't know they are running. Pool heat pumps are about as loud as a normal house heat pump.
If you are concerned about noise outside a bedroom window, remember that timers are available that would allow the use of the pump during daytime hours only.
But the most important thing to remember is that pools are fun, and that will be the case no matter where you put your pool equipment!
At River Pools, we manufacture fiberglass swimming pools for homeowners across North America. If you'd like to get a fiberglass pool for your home, you can browse our catalog of models, visit our pool gallery, try our pool pricing calculator, or request a custom quote using the button below!
Up Next:
How Does a Swimming Pool Filter System Work? (Video)
Fiberglass Pools: Manufacturing, Installation, Pros, Cons
7 Pool Extras That Won't Break the Budget
---
Editor's note: This blog article was updated on November 16, 2020