Why Rhino-Roc Construction?
The Problem
We began installing fiberglass pools in 2001 and did it according to industry standards. In fact, we received formal training from the manufacturer we carried at the time and followed their instructions perfectly.
However, over time we began experiencing problems with these projects.
We always returned to fix the issues, and every customer remained on our extensive reference list, but it came at a great cost of resources.
After several years of costly repairs, we finally took a step back and began to question everything.
The Solution
We determined that there had to be a better way to install fiberglass pools.
We looked at the root cause of the problems and worked to develop a solution for each one.
Once we put these solutions into practice, the problems vanished virtually overnight.
Because of the tremendous success these solutions brought about, we decided in 2011 that this methodology deserved its own name, and that was the genesis of Rhino-Roc Construction.
Since that time, we've dedicated ourselves to teaching consumers and pool builders alike what we've discovered.
Over the years, we taught fiberglass pool installation classes based on Rhino-Roc principles to hundreds of pool professionals at national and international pool and spa events across the country.
What Types of Pool Problems Does Rhino-Roc Solve?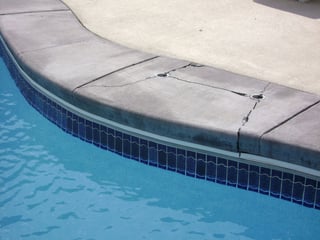 Some of the problems we encountered were:
Settlement or shifting of the pool shell
Leaks in plumbing lines and around jets and other pool fittings
Separation between the pool and patio
Bulges in the side walls of the pool
For example, this image shows a pool that has settled, causing the concrete to crack and separate from the pool shell.
We've found that the real challenge with inground pool related problems is that they are all connected. In other words, one issue will typically lead to another.
For example, settlement around the pool can lead to a leak, then the infiltration of water can lead to additional shifting and movement. This results in an unfortunate chain reaction that, if never remedied, never ends.
The fundamental philosophy of Rhino-Roc is to understand and prevent the root cause of these problems.
This equates to a trouble-free pool for you, and a delighted customer for us.
This is the benefit of Rhino-Roc and why we feel it's worth the effort.
What Are the Components of Rhino-Roc Construction?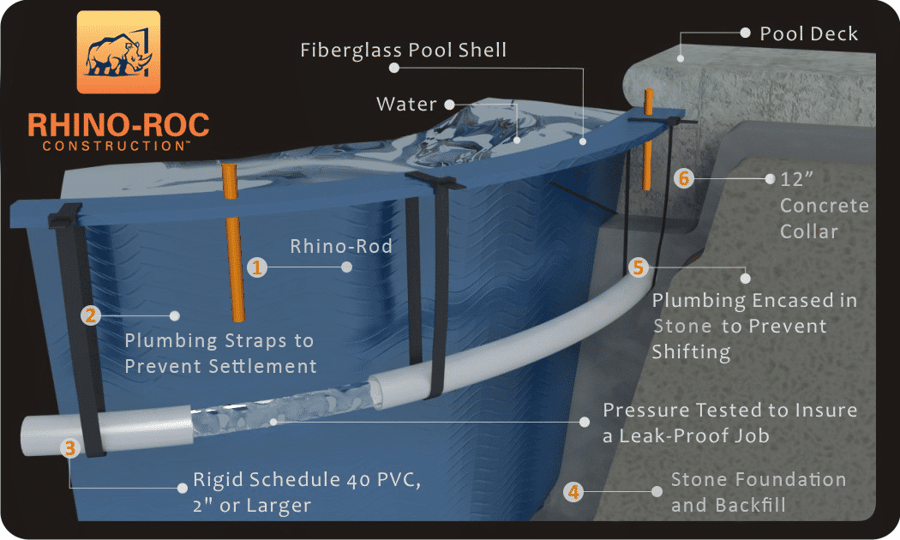 1. Our "Rhino-Rod" Fuses the Fiberglass Pool Shell and Patio Together
One area of concern is where the pool shell and patio join.
We developed our Rhino-Rod to fuse the fiberglass pool shell and patio together to prevent shifting, settlement, or movement of any kind that could result in structural failure.
The Rhino-Rod is a 12-inch-long composite rod that we install into the top of the pool shell. It becomes encased in the concrete bond beam that we pour around the perimeter of the pool.

2. Plumbing Straps Secure Plumbing to the Pool Shell
One of the major causes of pool plumbing leaks is movement.
When pipes shift, this sets in motion a chain reaction that puts undue stress on the pipe, plumbing connections, and the attached components of the pool such as return jets, skimmers, and drains.
In Rhino-Roc Construction, we secure the plumbing by fastening the pipes to the pool shell using a strap system. This ensures no stress is placed on any component of the plumbing system.
Related Content: 5 Keys To Perfect Fiberglass Pool Plumbing
3. All Schedule 40 PVC Hard Pipe
When installing a pool, there are basically two types of plumbing pipe to choose from: hard pipe or flexible pipe.
In Rhino-Roc Construction, we only use hard pipe.
Because it does not flex and bend with the contours of the pool, it does require more effort to install. But because flexible pipe is actually not rated for underground use, we don't feel it's worth the risk.

Related Content:
4. Crushed/Chipped Stone Backfill Material
What is backfill material?
It is simply the material that we place under the pool and around the outside of the pool shell after it is set in the excavated hole.
The use of clean, crushed stone backfill is imperative to the long-term success of a fiberglass pool installation.
Sand is the traditional material used in the industry, and it works well in areas with pure sandy soils. But it doesn't take a soil specialist to understand what happens to sand when it becomes saturated with water: it liquifies.
Consequently, we've experienced a much higher percentage of fiberglass pool installation issues when using sand as a backfill material:
The pool shell settles after installation
Leaks develop from pressure on plumbing as a result of sand settlement
The side walls of the pool shell bulge
These are challenges we faced and fixed early on, but they virtually went away overnight the moment we stopped using sand and began using clean, crushed stone as our backfill material.
The plumbing is encased in stone as well, which prevents plumbing settlement.
Unlike sand, the right stone backfill will not move or settle. This creates a condition for long-term plumbing success.
It drains better, it doesn't move, and doesn't change its properties when wet.


Related Content:
7. 12"-Thick Concrete Bond Beam Around Perimeter of Pool
All inground fiberglass pools need some concrete poured around their perimeter to stabilize the pool shell.
With Rhino-Roc Construction, this concrete bond beam is poured extra thick and flows under the lip of the fiberglass pool shell and encases the Rhino-Rod.
As this concrete "bites" around the Rhino-Rod and the lip of the pool, it locks everything into place. This ensures the pool and patio will be structurally secure for many, many years.
8. Sump Pipe for Monitoring/Removing Ground Water
Eventually, all fiberglass pools will need to be drained.
You must be able to inspect and remove any ground water around the outside of the pool shell to prevent damage.
Because we think long-term, our Rhino-Roc Construction includes a sump pipe so you can do just that.


Related Content:
The Continual Evolution of Rhino-Roc
We're recognized as thought leaders in the industry because of our efforts to continually innovate new and better installation practices, and because of our desire to share what we've learned with the world.
We have been listed as one of the Top 50 Pool Builders in America.
We teach fiberglass pool installation classes at Industry Trade Shows on the National and Regional levels.
Millions of folks just like you read our articles and watch our videos to deepen their understanding of the process.
Next, check out How Fiberglass Pools Are Installed to learn about the process from excavation through completion.
Ready to Request a Quote?