The History of River Pools and Spas
The year was 2001, and Jason Hughes (shown here), who was only 23 years old, was working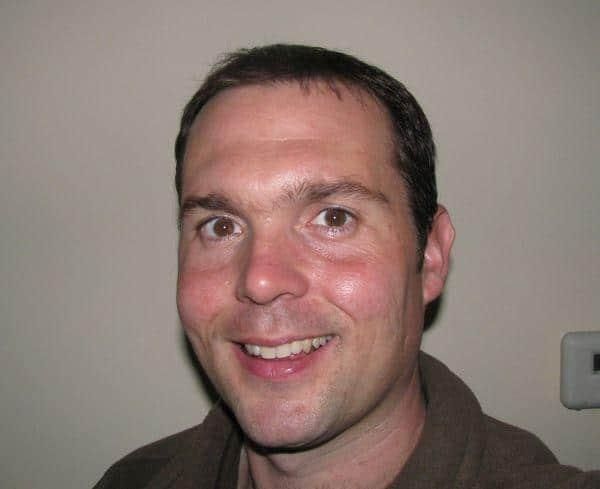 part-time as a builder on one of Jim Spiess' (who at the time owned Prestige Builders of Lancaster Virginia) construction crews. Impressed with Jason's incredible work ethic and capacity to learn quickly, Jim invited him to a position of full-time, year-round employee. The only problem with this invitation was that Jason would trade building homes each summer for another type of construction he truly loved: Building swimming pools, something that he had been doing since he was a teenager. Jason even told Jim that if he had the financial backing, he would start his own pool company. This sparked Jim's
interest
and he replied by asking Jason to put some numbers together, which he did immediately and quickly followed back up with what turned out to be River Pools and Spas' first business plan.
Humble Beginnings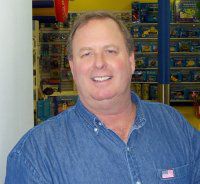 This plan was just enough to give Jim and Jason the needed enthusiasm and vision to start what today has become one of the premier pool and spa companies in the Va/Md area. As a business, the growth River Pools has seen over the past 7 years has been nothing short of meteoric. During their first year in 2001, Jim(shown on the right) and Jason installed a handful of above ground pools and a couple of ingrounds as well. They were working out of a one-room office in Lancaster Va. and proudly used an old, beat-up Chevy Sonoma as their vehicle of choice. But with the promise they saw in the pool and spa industry, as well as a sheer determination to make River Pools successful, the tiny Lancaster office was closed at the end of the year to make room for a pool and spa showroom in Warsaw. This store became the next stage of business for the company and soon after Marcus Sheridan (photo below) was hired to be Jim and Jason's first employee, and became the store's manager. Through his hard work and excitement for learning about the industry, the two owners realized that this was the type of employee they wanted for the long term. At the time, Marcus was seriously contemplating a career in teaching and coaching at Northumberland High School, but after an invitation from Jim and Jason, he elected to become a final partner in the business.
Tremendous Growth
2002 was a year of solid growth for River Pools, during which time they installed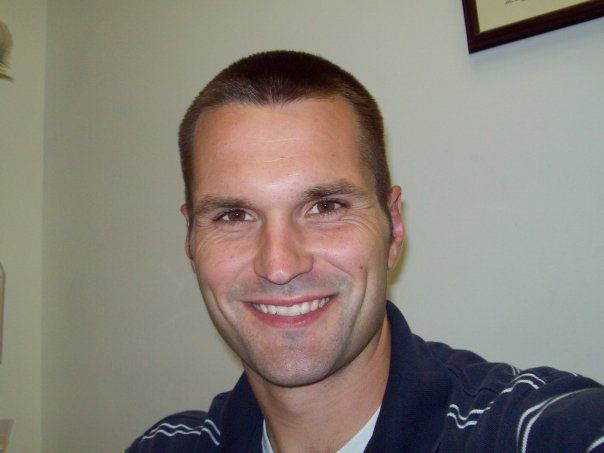 roughly 30 above ground pools and about 10 ingrounds. Despite the record rainfall in 2003 and 2004, which led to a large number of pool companies in America to go out of business, River Pools still managed to grow leaps and bounds. By year's end in 2004, the company had installed over 35 inground pools. At this point, their business model changed its focus and decided to move away from installing vinyl-liner above-ground and inground pools. Although they would still offer above ground pools and spas, there was now an understanding within the company, based on surveys in the industry, that customers in today's world desire a pool that consists of three main qualities:
1. Low maintenance

2. Longevity/Exceptional warranties

3. Aesthetics appeal.
Because no type of pool fits these requisites better than fiberglass/composite, the change was made.
Beating the Odds, and the Economy
This renewed focus brought about another record year in 2005, with over 75 inground pool installations, 20 full-time employees and a beautiful new 10,000 square foot showroom/warehouse in Tappahannock, Va. Despite being a down-year for many companies, 2006 continued to show great promise for the future of the company, with another 80 inground pools being installed in the area. 2007 may have been River Pools' greatest accomplishment to date. In an industry that started to slide in most states due to the slow housing market, River Pools continued to excel and demonstrate strong growth. Their final results 2007 were 88 fiberglass pool installations. And even when the economy went from bad to worse in 2008 and 2009, River Pools managed to install 86 and 71 fiberglass pools, respectively.
Such growth has put River Pools and Spas in the top 5 percent of all inground pool companies in the country. One might assume that this growth has hurt quality, but this thought quickly becomes irrelevant when a potential pool owner receives a reference list with every inground pool customer (over 550!) the company has ever installed a pool for, including the homeowner's name, address and telephone number. They've also during this time established the most popular and informative educational blog and video library in the swimming pool industry. The ability for River Pools to do this, unlike any other known company in Virginia and Maryland, shows their commitment to excellence, and their refusal to accept the idea that every customer cannot have a great pool-building experience.
A Different Type of Company
As owners of the company, Jason, Jim, and Marcus want their customers to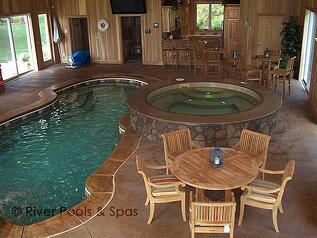 understand that they do not so much specialize in swimming pools as they specialize in making families happy. Customers are treated the way they would expect to be treated. River Pools installations are done by literally the leading fiberglass pool installers in America so needless to say, quality control is an absolute imperive. Having the "Lowest Price" or "Best Deal" is not the company's #1 concern, but rather the highest quality, finest workmanship, and best value. As members of The Church of Jesus Christ of Latter-Day Saints, Jason, Jim, and Marcus are all very family oriented, basing their personal, spiritual, and temporal matters on Christian principles and standards. These are all reasons as to why River Pools and Spas has grown so much in such a short few years; moral values, great employees, dedicated customers, quality, service and integrity.