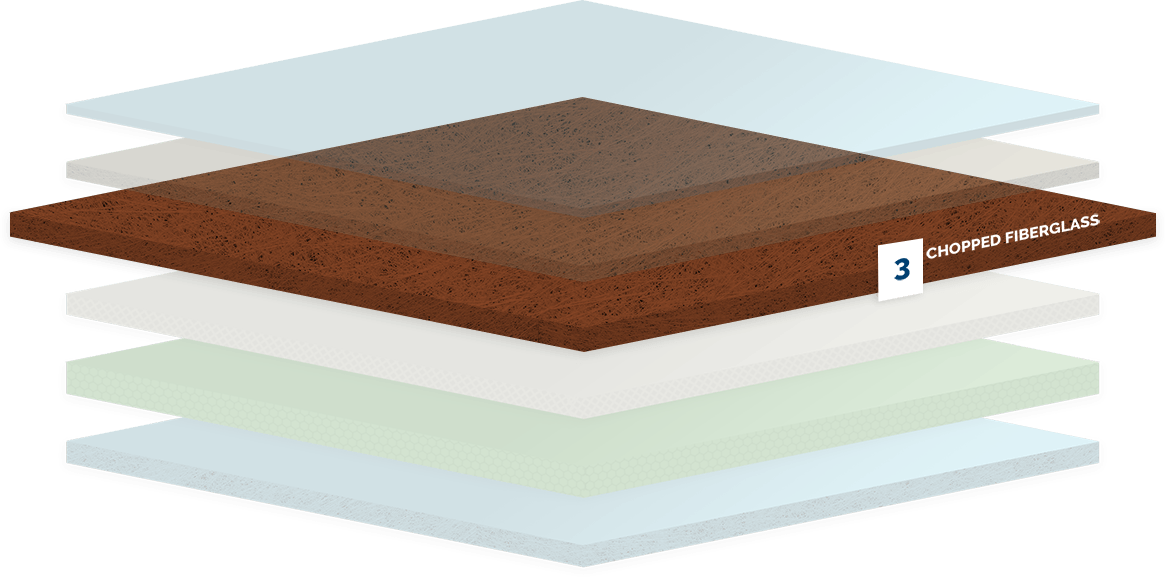 {embed_html=
, source_type=html, supported_oembed_types=[photo, video, link, rich]}
Now that we have our gelcoat surface applied and our corrosion and blister resistance covered, it's time to start building the strength of the pool shell. We apply chopped fiberglass by a "chopper gun" that simultaneously chops continuous strands of glass fiber into roughly 1" pieces while spraying resin and catalyst all onto the mold. We then roll it out to consolidate and remove air.


Why Do We Use Chopped Fiberglass vs. Hand-Laid Fiberglass to Build Strength?
We have done it both ways, and we prefer chopped fiberglass for several reasons:
Chopped glass actually gives the pool the perfect balance of flex and strength. We have found that pools that are more hand-laid than chopped are actually more flexible than we prefer. The pool needs to be strong enough to lift, transport, and set, and also rigid enough to hold its shape. We feel that chopped fiberglass in bulk strikes that perfect balance.
We do not have a lot of employee turn-over. One of the disadvantages of chopped fiberglass from a manufacturing standpoint is that it requires a lot of skill to produce a consistent thickness. In contrast, hand-laid woven roving has a set weight and thickness so it's easier to manage material use. However, because our fiberglass specialists are highly skilled and we keep the same teams year after year, we don't have a problem with consistency. This is evident by the cut-outs from every pool that show the true pool thickness and the fact that we weigh each and every pool as an internal quality control measure.
Ready to Request a Quote?